Summary of events over the last 7 days in the Big Brother Canada 7 house
***** Big Brother revealed 2 round HOH twist and then pulled it *****
The week ended with Jordan being evicted by a vote of 5-4 essentially flipping the house. Pili wins the HOH The Diapers back in power
Sindy overplays Jordan leaving. The rest of the house that flipped (Brittnee, Sarah, Bruno and BObby) come clean to the Diaper alliance. Sindy tries to get Godfrey and Willow nominated by placing the blame of teh 5th vote on Willow. There was also a healthy dose of the house throwing Sindy under the bus.
Sindy campaigns to Pili / Kevin tells Zach about "The Fortress"
Pili decides she wants Sindy gone saying it's an easy target
Kevin pulls out the candy to talk game with Pili. His logic is sound but perception of where the house allegiances lay is flawed
Knowing she's in danger Sindy calls a house meeting in the HOH invites everyone but the chop shop. Blows the Chop shop up. Major scrambling ensues
Have nots competition results (Brittnee, Sarah, Kevin, Godfrey)
Nomination Ceremony goes down Pili tells Godfrey he's a pawn and Sindy is the main target this week (Pili and Kevin make out with mayonnaise)
Brittnee is pissed off about being the replacement nomination and called a pawn
Bruno and Godfrey agree they're number one targets are the showmances aka the diapers
Sarah and Brittnee agree they're number one threat in this game is the showmances
Power of Veto competition played Godfrey wins Willow gets to wear a ketchup costume
Sarah and Godfrey meet discuss how dangerous Zach and the couples as a whole are
Houseguests get to make masks Bobby's looks like a pen1s
Godfrey and Bruno ponder if perhaps Ashleigh is more dangerous than Zach because she's the bridge between the Kevin/Pilar showmance.
AShleigh and Pili decide Brittnee should be the replacement nomination
Power of veto ceremony results Godfrey uses the veto on himself Pili nominates Brittnee as the replacement.
Houseguests get a task to go coast to coast in 24 hours. Sindy tries hard to get Zach to keep her.
Bobby, Bruno, Godfrey and Willow become closer they're targeting Zach and his Diapers
Sarah, Bobby, Bruno, Willow, and Godfrey dead set on taking a shot at the Diapers
Twitter Spoilers
Thanks to @Hamsterwatch
Sindy evicted, Kevin wins HOH, Next week is triple eviction week
Results from the show
Zach votes to evict Sindy
Ashleigh votes to evict Sindy
Kevin votes to evict Sindy
Sarah votes to evict Sindy
Willow votes to evict Sindy
Bruno votes to evict Sindy
Bobby votes to evict Sindy
Godfrey votes to evict Sindy
Evicted houseguest is Sindy
Arisa says Triple eviction next week it all goes down one week from tonight.
HOH Winner is Kevin
Summary/Observations
There's three groups in the house
Bru Crew – Bruno/Bobby/Godfrey
No mans land – Sarah/Willow/Brittnee
Diapers – Zach/Ashleigh/Kevn/Pili.
The first two are targeting the Diapers. The Diapers think the Bru's Crew and No mans land is more or less targeting each other. If the Diapers win the HOH except Bru's Crew and No mans land to turn on each other. There's only 4 weeks left and still 10 people in the house how they are going to cull the herd is the BIG UNKNOWN
**in light of the HOH spoiler Kevin said last night that he wanted Bobby out if he won HOH **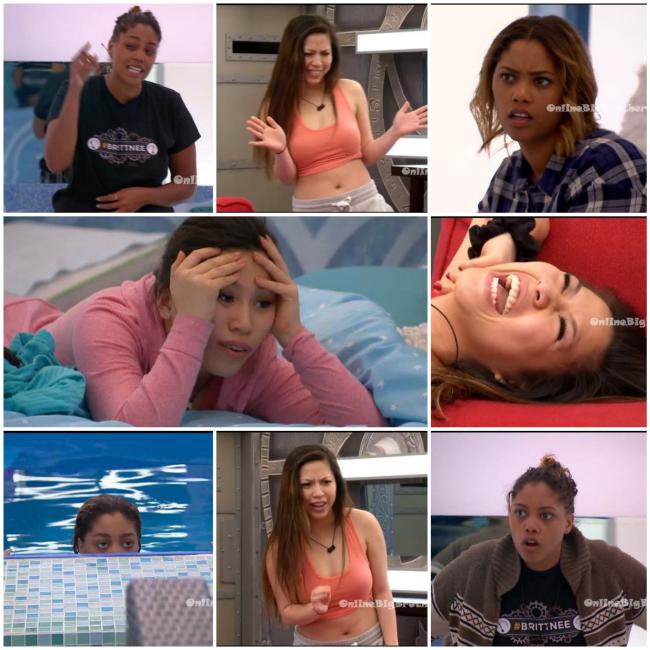 ALLIANCES IN THE HOUSE
There are always a lot of Alliance but we've tried to make sense of it all.. Read our alliance help guide
[polldaddy poll=8834825]
Share it YO!!
Tweet