POV Holder:
?
Next POV
April 24
POV Used
?
POV Ceremony
April 26
HOH Winner
Pili
Next HOH
April 29th
Nominations:
? and ?
Have Nots
Brittnee, Sarah, Kevin, Godfrey
POV Players
?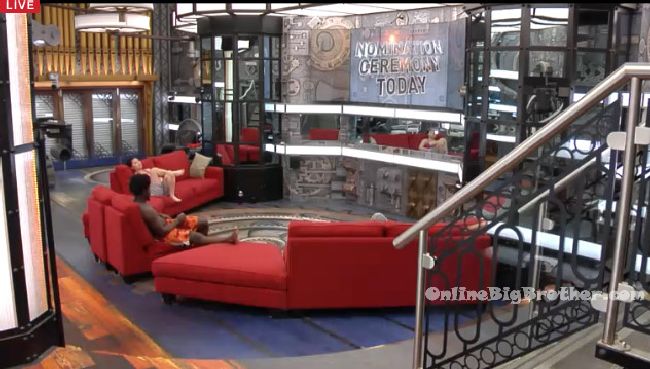 Pilar's nominations will be today!
The Havenots this week are: Brittnee, Sarah, Kevin, Godfrey

12:40pm – 3:25pmBig Brother blocked the live feeds for the HaveNot Competition to take place. It was a soccer related competition. When the live feeds return – Zach is laying on a bed in the bedroom. Pilar is wearing a referees outfit. In the kitchen Bruno comments to Willow you didn't get crunched too much did you. Willow says no. Godfrey says it was fun knocking people down. UP in the HOH room – Sarah comments that she is a havenot this week. Pilar comments to Sarah that she doesn't know who to trust any more. In the bedroom – Pilar tells Zach that she is going to nominate Godfrey & Sindy. Zach heads to the bathroom and tells Sarah and Brittnee that he is sorry. Sarah says we don't expect you to throw it. (Brittnee is also a havenot.) Brittnee says some of those hits were pretty hard. It was like you were trying to take some aggression out on me. Zach says oh no, I'm sorry!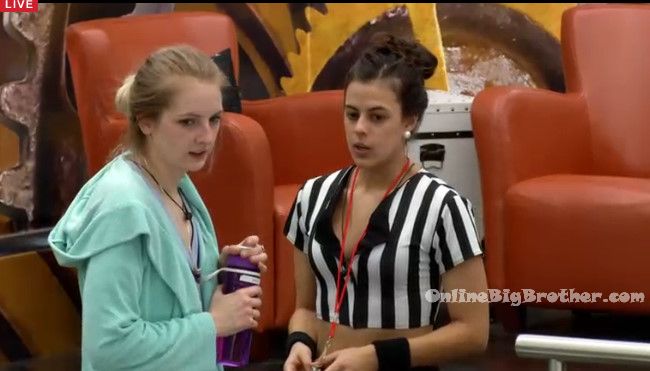 3:40 – 3:55pm In the bedroom – Bobby and Zach start whispering. After Zach tells Ashleigh we're still going to be okay. Zach heads to the storage room and talks to Bruno. Bruno asks you don't think Pili will put one of us up? Zach says no. Bruno says she talked game with me for the first time. I've never talked game with her before. Zach says here's the thing Pili and Ashleigh are super close. Zach says I told Ashleigh to work her a$$ off to keep Bobby and Bruno off the block. Bruno says as long as we're on the same page that's awesome. Zach says we are. Bruno leaves the storage room.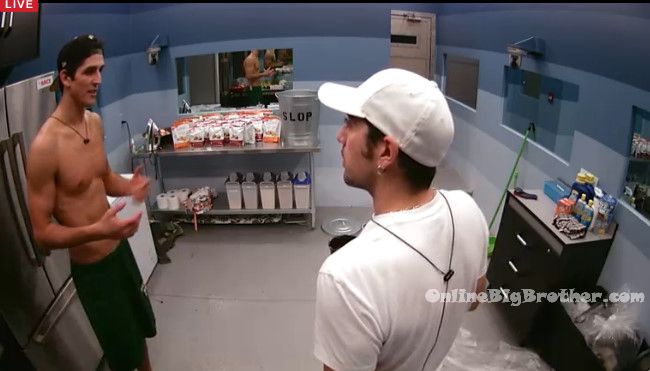 Willow puts on the Bear mascot head from the havenot competition: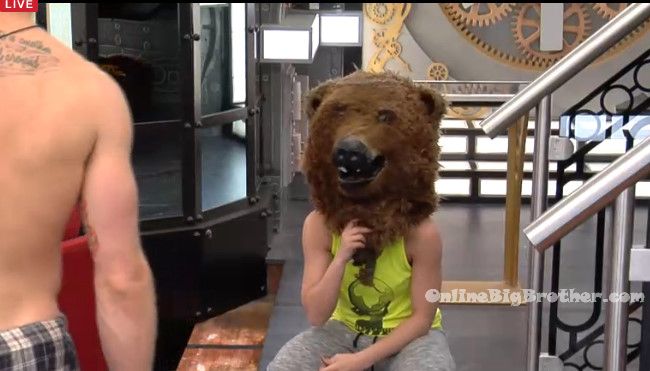 4pm In the HOH bathroom – Ashleigh tells Pilar to talk crap about us. Pilar says I hate this. People are going to hate me. I never want to be HOH again. Ashleigh says the more they don't know the better. Ash says just say you can't trust me game wise. Pilar says I know you're in two alliances. Ash says yes but you and Kevin are at the top. Then Bobby and Bruno because we need them. Ash says where does Willow stand. I want to trust her. Pilar says I can't trust her. Not one bit. Ash says if I was to talk to Bobby and Bruno and say lets stay close to each other. Ash says Kevin will be down with it even though Bobby was after him. Ash says I'll go up to Bobby and tell him that Godfrey knows because Sindy has a big mouth.

In the bedroom – Sarah complains about how Kevin has been in the diary room for 45 minutes and she pressed the button 3 times needing an advil and they knew that. She says that she thinks Kevin threw the havenot competition. Sindy says that Canada won't be happy if Pilar has the opportunity to flip the house and she doesn't. Brittnee says that if Bruno and Bobby actually think they're staying over Ashleigh and Pili …then they are lost.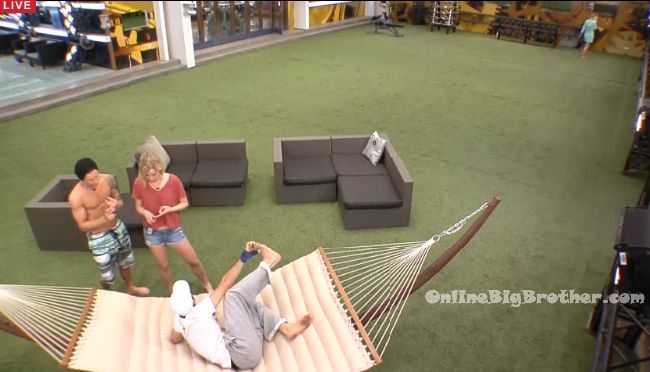 Out in the backyard – Ashleigh goes up to Bobby and Bruno and tells them that we need to work together. (Zach, Ash, Pilar, Bobby, Bruno, Kevin) Bruno says he is down with working together.

In the storage room –
Zach tells Godfrey if its you and Sindy on the block I am voting out Sindy. Godfrey says do you really think I am dumb enough to tell the house who I am going after? Why should you and I go after each other? Zach tells Godfrey the one thing about this game with me is that there are no hard feelings about anything. Godfrey says same with me. Zach says the game changes every day. Godfrey says I feel bad I didn't get to say goodbye to JP. Zach says I swear to god when I put you up my original plan was to do a b@ckdoor. Godfrey says it was a risky move and I hope by me calling you out shows where the house stands. Why should we go after each other. If I go out.. who do you think is next? We're taking out the strong players. Ashleigh is guaranteed a spot in the final 5 yo! Guaranteed!! Zach says they're smart they're pinning us against each other.. its smart. Godfrey says if I go up on the block again and I say I am coming after you .. they would probably keep me again. We're on the same page bro. Godfrey says there were 5 votes cast … they pretty much told you they're coming after you.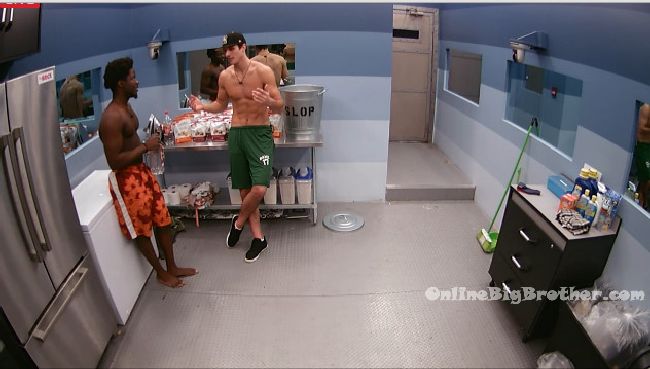 4:15pm – 4:40pm UP in the HOH room – Ashleigh tells Pilar, Kevin Bobby and Bruno that the chop shop is over. They agree to all work together. (Ash, Pilar, Kevin, Bruno, Bobby, Zach)
ALLIANCES IN THE HOUSE
There are always a lot of Alliance but we've tried to make sense of it all.. Read our alliance help guide
[polldaddy poll=8819718]