POV Holder:
Godfrey
Next POV
April 29th
POV Used
Yes
POV Ceremony
April 26
HOH Winner
Pili
Next HOH
April 29th
Nominations:
Sindy and Brittnee Godfrey
Have Nots
Brittnee, Sarah, Kevin, Godfrey
POV Players
Godfrey, Pilar, Sindy, Willow, Bobby, Kevin.
Host is Sarah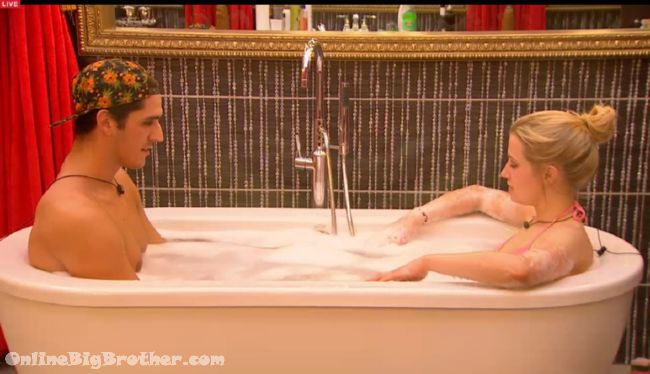 11:40pm HOH in the tub Ash and Zach
AShleigh is sore. Says she might not be able to walk tomorrow her butt is so sore.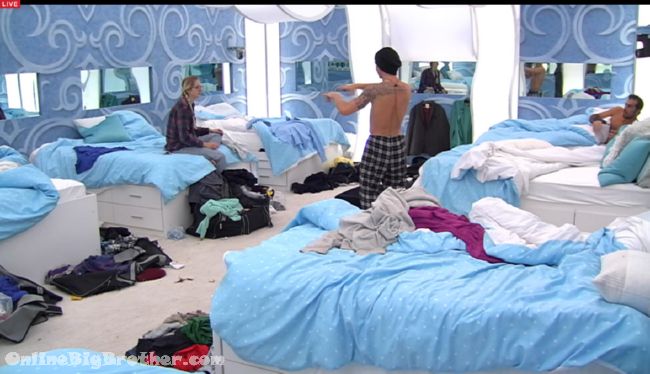 11:35pm Sarah and bruno
Sounds like at one point Big Brother asked them questions like who is their closest ally and who is their biggest threat. Sarah has been comparing people answers she thinks it might be a question in the HOH.
Sarah – "Just so you know my closest ally is B my biggest threat is Zach"
Big Brother keeps getting mad at them.
Sarah brings up that Zach came up to her and said you be neda and I'll be Jon, "I was like F*** this sh1t"
Bruno and Sarah were both amazed that the houseguest nominated Risha in the beginning, They felt it was going to be a popularity contest with showmances.
Bruno – I can't stress enough how bad we need it Wednesday
Sarah – both of them (Assuming it's double eviction)
Bruno – 100%
Sarah points out that once Zach or Kevin leave their girlfriend will have no one
Bruno – They'll have the other girl peel and Ash are tight
Sarah – AShleigh has been surprising me how much game she's talking..
Sarah says Pilar and Ashleigh have been letting people do the work for them so if Kevin/Zach go they will be lost.
Bruno – they are only doing it now because they realize they are f***
Bobby comes in Says he doesn't want to leave it at one person from the Diapers he wants them all gone.
Bruno – lets work together to get all 4
Bobby says once one of them goes home they will scramble
Burnio points out ahta AShleigh is starting to talk to people now
Sarah – it's a little late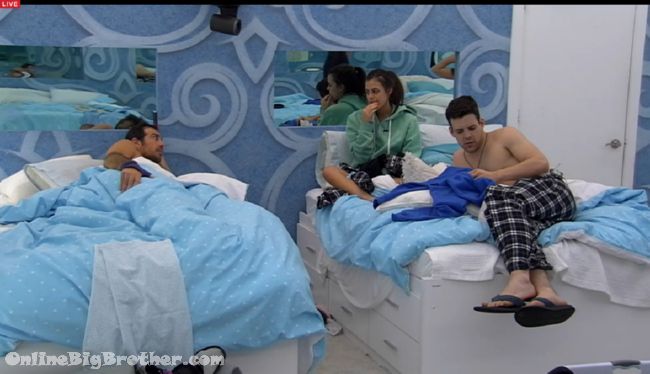 11:44pm Kevin, Willow, Bobby and Bruno
talking about who they are going to get rid of if they win HOH. (Keeping up the ruse they are all allied)
They say they have to get rid of Godfrey, Brittnee and Sarah.
Bruno, Pilar and Kevin. Bruno is chatting them up telling them about the final 7 plan how everyone is working towards that goal.
Kevin says once they get down to 7 "Good luck.. "
Bruno- I love that we've all come together we have to do this.. once it's 7 good luck
Pilar – ya ya.. we have to vote against each other eventually.. you guys have to win HOH you must..
11:56pm Bedroom Willow, Sarah and Willow
Bruno says it makes more sense that Double eviction is this week but it doesn't have to be this week could be next week.
Sarah thinks Bruno is right the more they assume it's double the greater chance of it not happening.
They start complaining about how dirty kevin is Sarah says they need to give him one towel, one plate, one sheet and put hi name on it. "Kevin this is it that is all you can use.. one set of sheets.. Every set of sheets if f***g stained to sh1t and I know it's one f**g person F**g disgusting"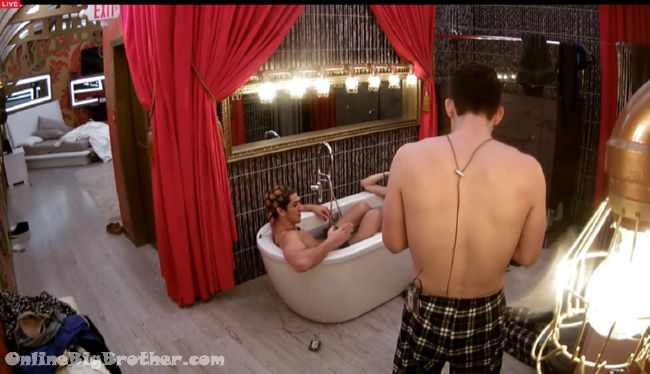 11:54pm HOH The Diapers
Zach wants to win the HOH so bad and not even give Godfrey a chance to play for POV.
Kevin says he just had a chat with Bruno/Bobby were totally up for final 7.
Ashleigh wants them to get rid of Bob/Bruno because Sarah/Brittnee are worse at competitions. Pilar agrees B and Sarah. Zach says if Bobby/bruno win HOH they will take a shot at Brittnee/Sarah
Zach warns them about Sarah says she's a very good social player. SHe wants Ashleigh to watch what she says to her.
Zach – if her (Sarah) and B get split up we'll take the other one and run with her
They start talking about splitting up Bobby/Bruno./ Zach says if they get rid of Bruno, Bobby will not have anyone. If they get rid of Bobby, Bruno will form an army against them. Zach says once they strike on the house they have to win every HOH or they will go up.
Zach – If we can wait those three weeks.. I think we should wait for 2 more people to go for sure because then we're at 9 .. you know.. at that point it can just be a slug battle.. If we jump the gun on the strike and anyone else wins it they will put us up. (Zach harnessing his inner Helen)
They talk about how there's only 4 weeks left so two people need to go per week.
Zach – week by week.. We really gotta get God out of this place.. Bobby and Bruno are going after Sarah..
Pilar – this HOH it really doesn't matter if the 7 of us win.. er 6
Zach – seriously doesn't
Pilar – once he start we have to win otherwise they'll come after us
Zach – for this double it will be four voters to send someone home.. after that it's three. so if one of us are in power we control who goes home.
Zach says Willow will vote out Godfrey next week. Zach adds if next week they can get Godfrey on the block after the POV they can get him out the door.
Kevin brushes his teeth by jams the toothbrush down his throat so he gags. Says that is where all the bacteria is.
Asheligh says she has no gag reflexes
Zach – neither does Johnny
Kevin – that he was very proud of
(Feeds block in the middle of this video)
12:20am Pilar and Kevin kissing
Conversation about Kevin's girl back home called Chantel says she was a real Cougar.
Kevin – you can't go 85 days without talking to a person in this situation.. great girl Chantel.. wonderful… she's a true cougar… she's turning 30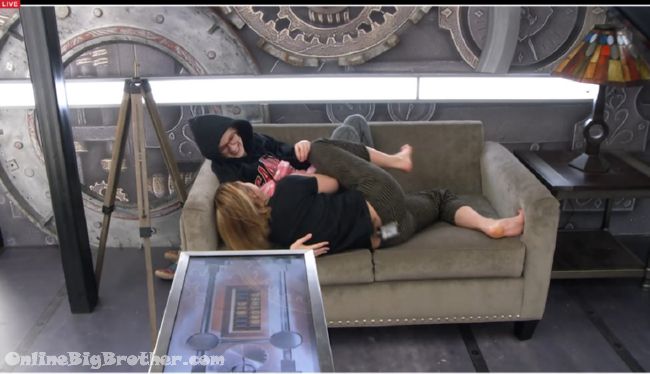 12:30am Willow and Sarah Cuddles
(Again feed 1-2 audio is cut happens most nights)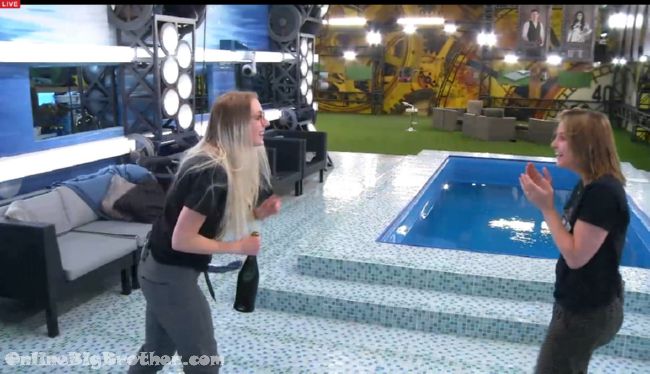 12:43am Willow and Pili HOH
Willow saying it's sad they never got anything for the "Car thing"
12:48am Sarah gets a bottle of wine for her and Willow Hides it near the pool
They agree to get wasted on the bottle of win and be hung over tomorrow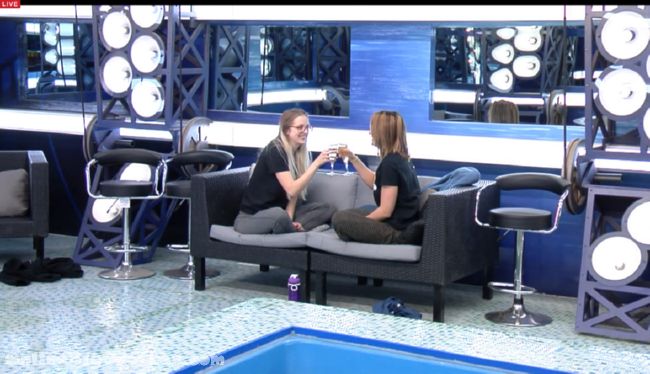 Final 2 deal is made.
Willow calls Kevin Dennis the menace says he needs to go.
Sarah – where did old Kevin go he's completely changed.
They feel that Bobby and Bruno are legit.. its the nomances vs the Showmances. Willow is a bit worried something else is going on.
They begin to compare notes with on the various alliances in the house. They do not care for Kevin and Zach.
Willow says Zach spits on her when he talks, "Zach's the worst piece of sh1t to me in life"
Willow says Graig never talked to her like Zach did. Willow brings up when Zach told her to go make him a sandwich, "you have to say please" they think it's gross that a 22 year old guy doesn't say please.
Sarah says all the people in teh game are nice people it's the game that's driving them nuts. Willow points out hat none of the guys respect her.
Feeds go down @ 1:10am ..
(Sarah is a have nots so not sure what's up with the special treatment. From what I gather Sarah went into the DR asked for wine and got it so she could have a date with Willow)
1:50am Feeds only showing sleeping houseguests. Feeds 3 and 4 which are on Sarah/Willow probably making out are cut.
1:53pm Pool Willow and Sarah
Sarah is going over game decisions involving the week her and Johnny were up. She goes over her gummy bear strategy talking
They kiss.. Sarah tells her she loves her
Willow says the boys you to say everything that comes out of Sarah mouth is poison.
Willow – do you know who has more respect the Jews in a concentration camps
Sarah – don't say that
Willow – Zach's the worst
Willow says she takes back what she said
Willow says Jordan peed in the hot tub and cried about it
Sarah says not to say that becuase the life feeders
Willow says it again so we can hear it.
Sarah breaks the wine glass.. party ends
2:18am Bathroom Sarah and Willow
chatting about Brittnee's HOH. Sarah says she truly wanted Bobby gone at the time.
Video of Willow's Jew comment (People are asking)

ALLIANCES IN THE HOUSE
There are always a lot of Alliance but we've tried to make sense of it all.. Read our alliance help guide
[polldaddy poll=8819718]