POV Holder:
Godfrey
Next POV
April 24
POV Used
?
POV Ceremony
April 26
HOH Winner
Pili
Next HOH
April 29th
Nominations:
Sindy and Godfrey
Have Nots
Brittnee, Sarah, Kevin, Godfrey
POV Players
Godfrey, Pilar, Sindy, Willow, Bobby, Kevin.
Host is Sarah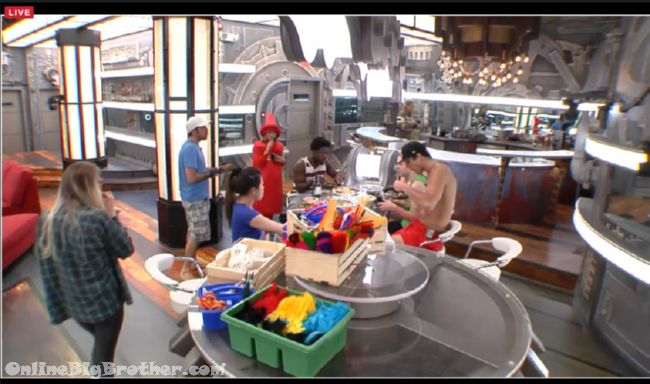 9:40pm House guests get sushi even the have nots . There's also arts and crafts.
They comment on how the have nots have gotten back to back food.
Brittnee says "this is the bomb dot com" (LOL)
Sindy says her real name isn't Sindy she's thinking about change her legal first name to Sindy and last name With an S. Her reasoning is she's just going to take her husbands last name anyways.
They mention how Big Brother has changed the time on the clock. Bobby chimes in that he changed it back to what he thought it would be
They start chatting about the different french requirements per province. Sarah mentions how Ontario's level of secondary school french was much higher than that of Calgary's.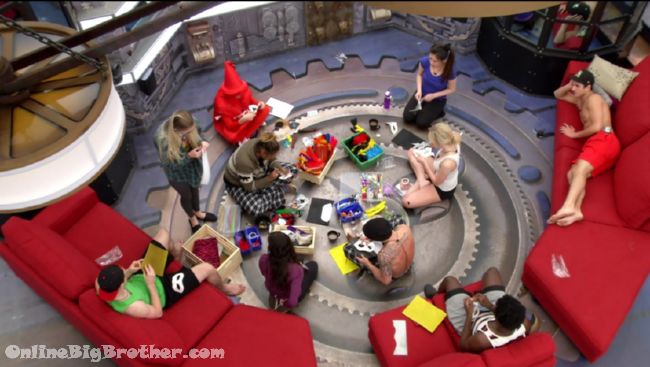 10:02pm houseguests making feather masquerade masks
They think there might be a masquerade party tonight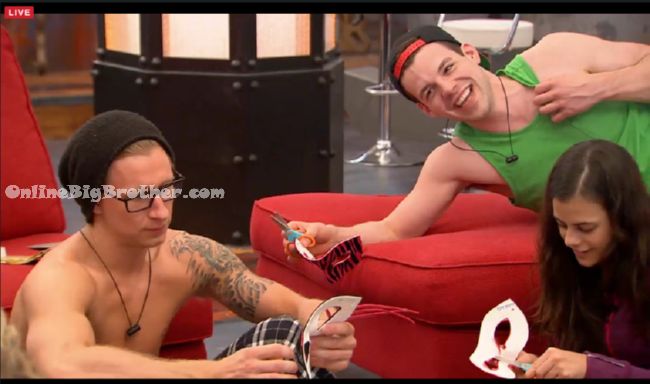 10:13pm Arts and Crafts
Kevin farts
Willow – Did someone fart
Kevin – I'm so sorry
Booby – that's the have not sh1t I've been talking about bro
Zach – Oh my god kev
Willow – It made my heart slow down
Brittnee – I can taste that bro
Bobby – I'm getting have nots flashbacks.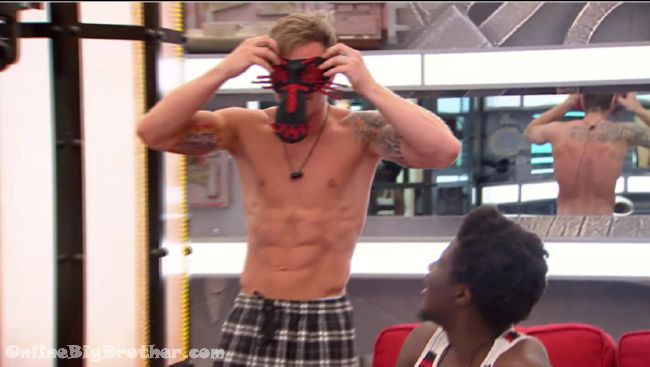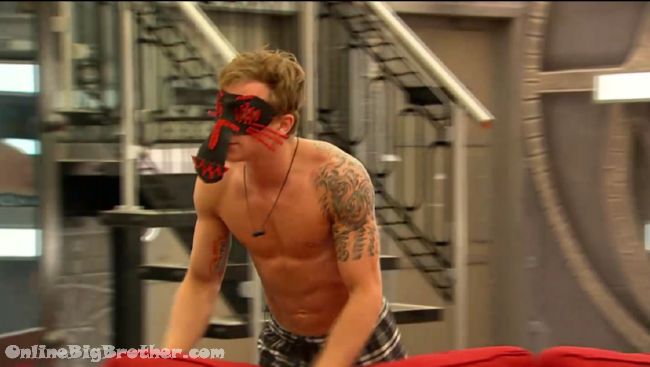 10:35pm Bobby's Mask
Ashleigh says it looks like a penis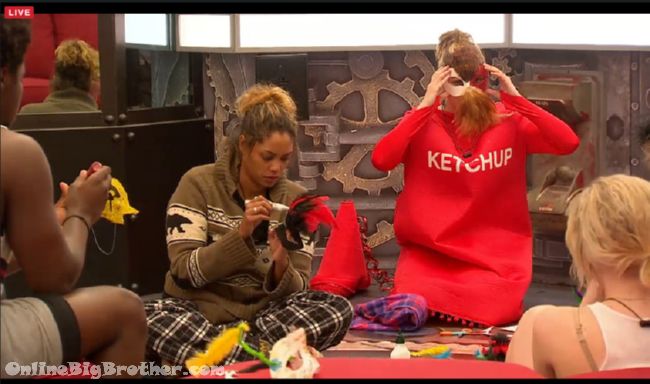 Willow's Mask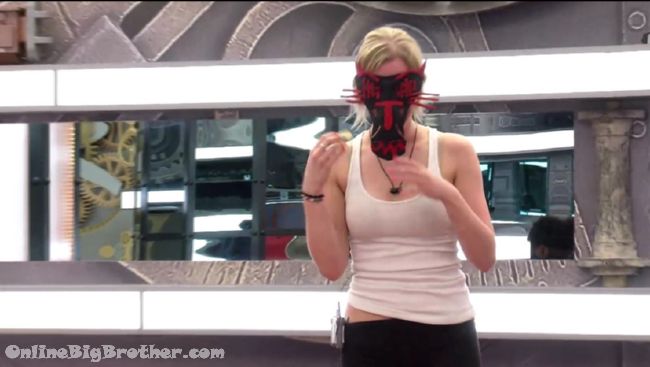 Ashleigh tries Bobby's mask on says it looks way less penisy
10:53pm Houseguests wonder if htey are going to get Alcohol.
Sindy wants Bubble tea "Bubble tea is my alcohol I go crazy swallowing those balls"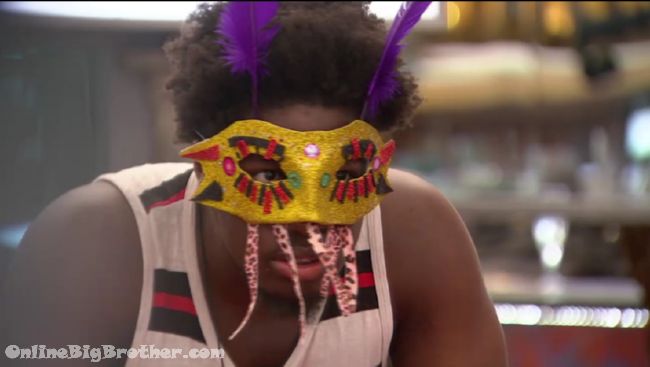 Godfrey's mask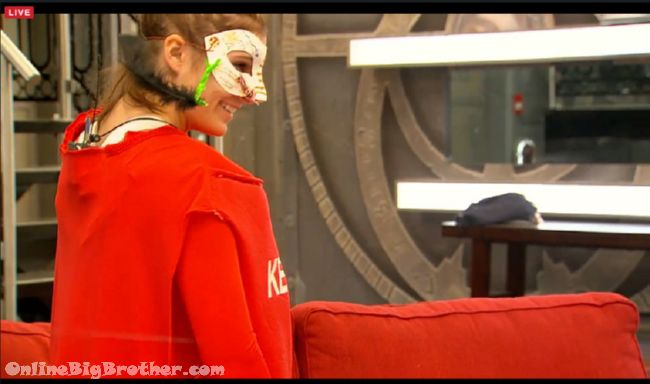 Willow wearing Zach's mask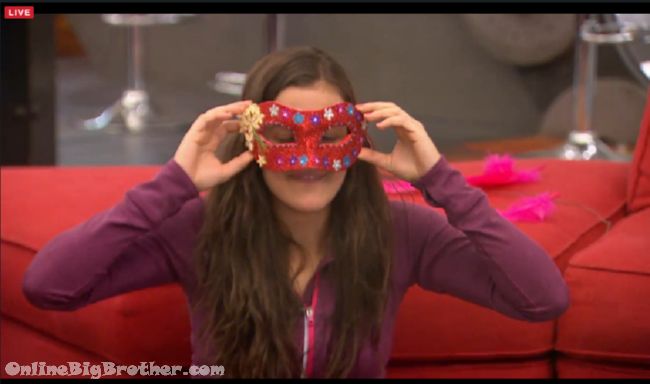 Pilis mask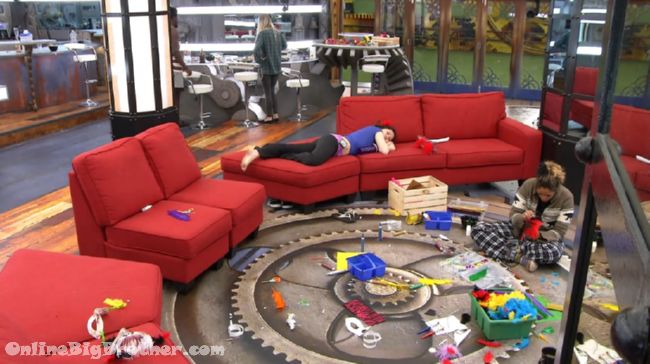 11:10pm Brittnee still working on her mask

11:10pm in The bathrooms The goblins messing with Zach splashing cold water on him while he showers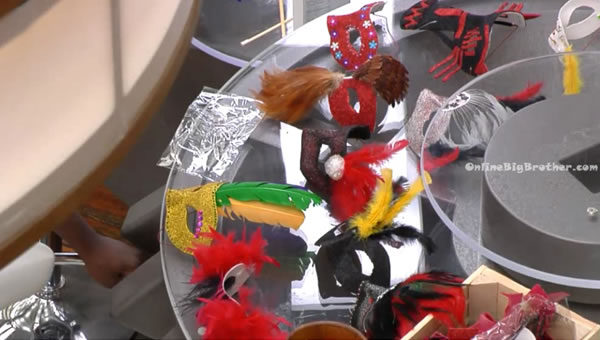 Godfrey thinks the masks says a lot about the people that made them he begins to psychoanalyze them all. Tells Willow her mask show "you with your split personality struggling with your duality"
11:21pm Willow and Bruno
11:25pm Zach and Willow
Zach tells her they were made to look stupid when the house flipped the vote.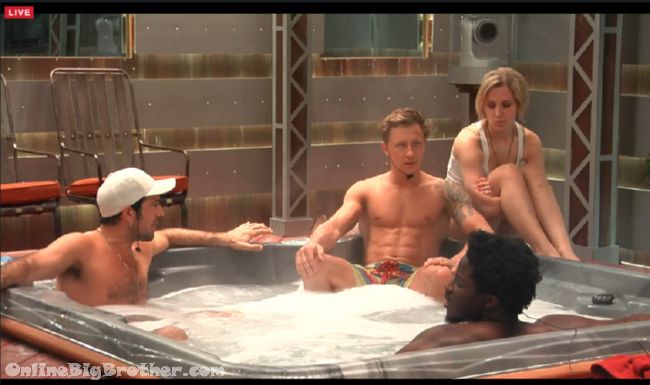 11:32pm Bobby and Bruno
Scheming to get Zach out. Saying if any of them win a Diamond power of veto Zach is going up and if he goes up he's going home. bruno tells him last week it was him and Bobby slated to go home 100%. Bobby thinks his fake veto saved them this week.
Bruno – Zach's coming for us he knows we're his biggest threat.
Bruno explains to him that Bobby is the only person he talks this deep about game with.
You gotta stay sharp man.. you can't get tired"
Bobby says he's trying 100% every HOH
Bruno – you have to
Bruno warns him if one of the couples win HOH Brittnee and Sarah will go up and one of them will get backdoored. They have to win the HOH this coming week.
Bobby says it bothers him how un-loyal people can be in this house.
ALLIANCES IN THE HOUSE
There are always a lot of Alliance but we've tried to make sense of it all.. Read our alliance help guide
[polldaddy poll=8819718]