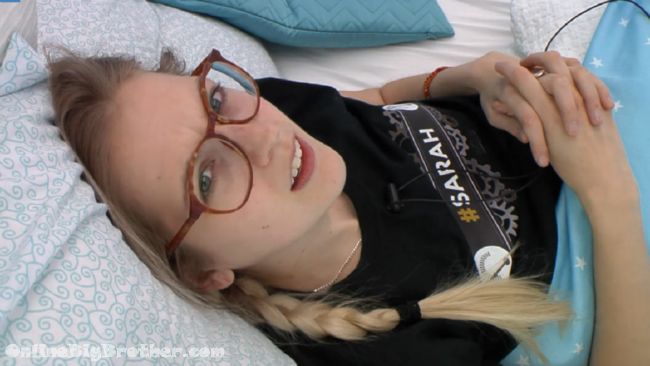 1:16am Sarah talking to the camera
Sarah – just me now Big Brother.. how you doing.. I got my Cafe press shirt on..
Sarah – Canada i'm trying to make this work i have a lot of obstacles here.. I'm doing a lot of BS'ing which I hate.. kissing a lot of a$$es not defending people.
Sarah says she wants to make big move she wants
Sarah – YA i'm been on the women train.. I don't hate men I like them.
Willow joins her. (really hard to hear Willow)
1:16am bathroom Bruno, Zach and Bobby
1:18am HOH Ashleigh, Kevin and Pilar
Ashleigh saying they have the numbers to get out Sindy so if she puts up Bobby it'll be fine Sindy will go home.
Pilar mentions Bobby's Veto
Ashleigh doesn't think she should talk about it because they always get in trouble she thinks Bobby wasn't supposed to mention it.
Pilar wants them to protect her tomorrow because she's going to be mauled by Sindy. Pilar tells her she's leaving towards Sarah and brittnee it's the safest bet.
1:20am The goblins and Zach
1:30am Brittnee and Sarah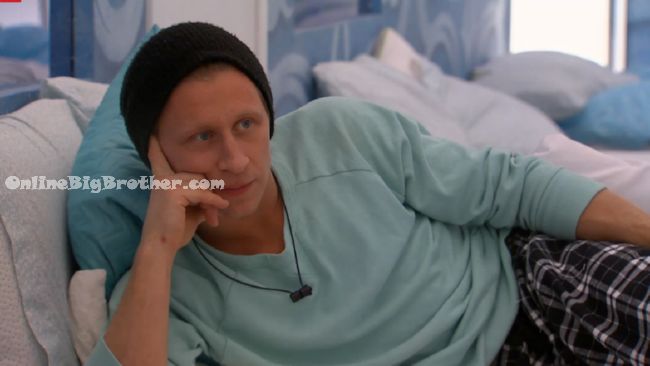 1:49am Willow, Bruno and Bobby
Willow asks them if there is a couples alliance
Bruno – there probably could be..
Bobby thinks the Chop shop is more genuine
Willow tells them that Zach is in Ashleigh's ear.
Willow got a slop pass during the POV sounds like she came in a close second.
2:07am Sindy, Brittnee and Sarah
Sindy crying feels it's futile. Brittnee knows Sindy fought hard to get back in the game. Sindy says if she wasn't here Godfrey would be gone.
Sarah tells her to play it cool until the Veto Ceremony they might put someone up they can work to get out., "They might put someone else up to throw us off" Sindy points out that the chop shop is still together it's so obvious.
Willow comes by gives Sindy a hug says she got in trouble because she wasn't wearing her hat.
Sindy – I know I'm going home but at least I made one big move in the house..
Sindy says canad would have hated her if she didn't
Willow wonders why she's hasn't got called in the Diary room she came in second in the POV. The girls have all noticed Kevin gets a lot of Diary room time. Willow hints he's Canada's player.
Sindy "They told us if we're not good in the DR we don't get any air time"
Sindy tells them Canada doesn't like Zach.
Brittnee – I'm surprised
Sindy – just because he's good looking no .. He plays a great social game but he's a snake because he makes an alliance with everyone in the house .
Sindy start to tell them about her time in the side show where everyone was cheering like crazy when Graig said he's taking out Zach.
Sindy mentions there was 'Team Bruno" there 6 people wearing white shirts were standing up cheering.
Sindy – the fact people were cheering more for Zach to go than Bobby that says something
Sarah tells her to talk to Pilar before the Ceremony be honest about the vote but make sure she doesn't mention Sarah/Brittnee's name
Sarah wants Sindy to try and get Bobby put up because he has the secret veto if Bobby uses the veto then they should put Bruno up Sarah calls bruno the tae kwon do master.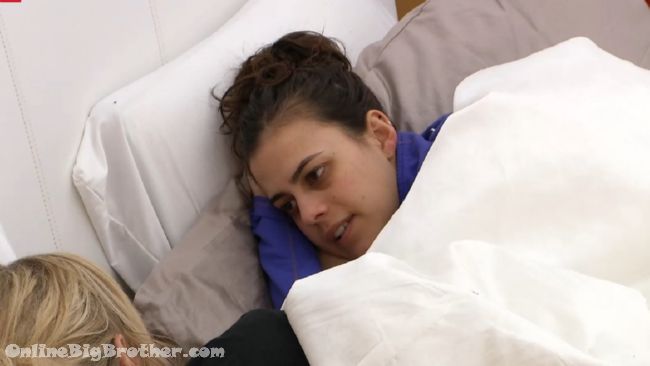 2:40am Pili and Asheligh
ASh – just go with your gut
Pili – I already drew the line right
Ash – yup you drew the line now you have to fill it in
Pili thinks this week is double eviction.
Ash says then godfrey will go and once he's gone "they are all gunning for B and Sarah"
Pili – This next HOh is so important.. an I can't play
Ash – you could win the second on which is nice ..
Ashleigh makes it clear her ultimate goal is final 4 with kev, "Could you imagine 2 showmance in the end.. That's never happened before"
Pili points out they've never had 10 people in the house before. They were down to 11 and Sindy came back.
ASh – Ya and the week after we'll be down to single digits
Pili – that's crazy ash..
Pilar asks her who is best for their game the four of them to be a pawn.
Ash – there's no way your pawn is going home this week.. Sindy is gone
Ash doesn't see her, Kev, Zach flipping all Sindy can Flip is Bobby, Sarah and bruno
Ash – 3-3 you're the tie breaker
They forget about Godfrey, Asheligh doesn't think Sarah will flip on Brittnee.
Pili – that's a good reason to put her up as a pawn Sarah will never go against her.
Pili says they have 4 votes for a fact and only 3 for them.
Pili wonders if Canada votes this week who would go home. Ashleigh thinks it'll be Sindy "She's sassy.. I dunno maybe they like her"
Ashleigh says Bobby and Bruno think they can reel him in but it's not going to happen.
Ashleigh says her and Zach are going to put Bruno/Bobby up because they want the final 4 to be the Diapers
Ashleigh starts to coach Pilar on what to say to Brittnee "B you're a 100% a pawn and you're a good pawn … B the people that flipped last week on GP will not flip on you.. just use that as an excuse"
AShleigh adds she can tell brittnee if she put up Bobby or Zach the house would flip.
Pilar wonder what she should say if Brittnee asks her why Sarah didn't go up
Ashleigh – Be like it was ultimately between you our Sarah and i litterly did like eenie meenie minie moe
Ashleigh – oh my god how fun would it be if the four of us were not on slop and had a massive sleepover up here..
Ashleigh adds it might make the house think they couples are together.

3:00am Asheligh tells Pilar that Bobby is possibly lying about the veto because there's no way he would be allowed to tell people about it. She adds that Bobby is now saying production isn't allowing him to talk about it. She wonders if they should flush the veto out by puting him up. She suggest they talk to Kev and Zach about it.
8am – 8:40am Big Brother blocks the feeds…
ALLIANCES IN THE HOUSE
There are always a lot of Alliance but we've tried to make sense of it all.. Read our alliance help guide
[polldaddy poll=8819718]
Share it YO!!
Tweet