POV Holder:
?
Next POV
April 24
POV Used
?
POV Ceremony
April 26
HOH Winner
Pili
Next HOH
April 29th
Nominations:
? and ?
Have Nots
?
POV Players
?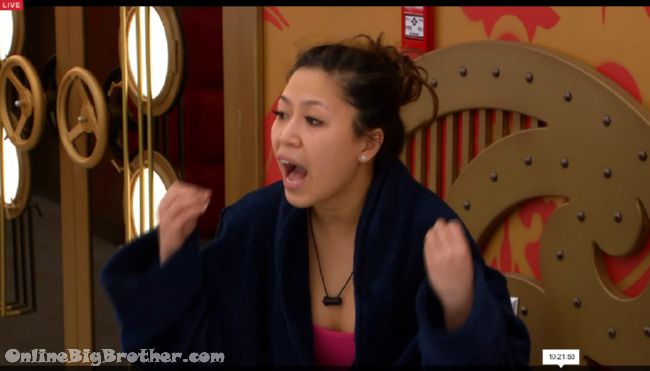 8:49am HOH sindy, Kevin and Pilar
Sindy tells them she's going to bring Brinttee, Godfrey and Sarah up so they can have a chat. They collect in the HOH.
Sindy tells them to restrain from screaming when she tells them, " I couldn't tell you this until one of us were in power"
She explains that they were all sequester together and were able to compare notes.
Sindy says there's an alliance called the chop shop, "Bruno, Zach, Bobby, Willow and AShleigh.. their goal was to take everyone down"

Sindy says she was the 5th person to evict JP she says she had to do it for numbers "We are the underdogs"
Sindy – I know you aren't going to put up Zach and Ashleigh
Sindy says Ashleigh's target is Pilar
Adds that Bobby told her while he was in Vault he vote a secret veto. Sindy is suggesting she puts up Bobby and Willow wo flush out Bobby's veto.
Sindy points out that Bobby and Bruno went against the chop shop to vote out Jordan.
Sindy says they have the numbers right now they are the underdogs, "we need godfrey to stay.. we need to stick together"
Sarah chimes in that Zach had two plans one to put up Kevin another to put up Bobby/Bruno
Sindy – We're the underdogs, Canada loves us for being the underdogs
Sindy says to Pilar taking out the Chop block is one the biggest moves in Big Brother History
Keven – That's crazy.. it's a lot to digest
Godfrey comes in Sindy fills him in with the Chop shop, "Bobby and Bruno are coming after you"
Sindy says she pushed for Godfrey to stay because Jordan was on their side and they needed the numbers, "WE can call ourselves the underdogs"
Godfrey knew something was fishy because "They" were always going after Graig's target's
Pilar is shocked "Guys we can't do this.. when are nominations"
Kevin – I can't believe that name where did they come with the name Chop shop
Sindy brings up the veto that Bobby says he has. Godfrey doesn't believe it.
Sindy says they should put Bobby/Willow up and if Bobby has the POV put Bruno up.
Sindy calls the chop shop the "The Biggest secret in Big Brother History"
Ashleigh come sin brifly to break up the meeting. Eventually everyone leaves except for Sindy, Kevin and Pilar.
Sindy start coaching Pilar what they should say to Bobby and Willow when she nominates them
Sindy – I was the reason why JP left.. he was working with Zach and he would go against us
Sindy tells them that the audience doesn't like Zach she mentions while she was on the sideshow they said they were going to take out Zach and the crowd went crazy.
Sindy calls this a game changer.
Pilar says he can't physically put Ashleigh up. Brittnee comes up says it feels weird now. Pilar wonders why Sindy didn't tell them last night. Sindy points out that everyone was up her butt she didn't have a chance.
Brittnee – I feel so played right now..
Pili – this is a zoo
Brittnee – this isn't a zoo it's a jungle
Kevin points out it makes sense why Graig shut down because his alliance turned on him.
Brittnee says Sindy is good at this game.
Sindy doesn't think she's good says she got lucky to get this information.
Brittnee – I feel so dirty right now
Sindy says Zach/Jordan and Ashleigh were working together and Zach had a final 2 with JP
If you are outside Canada and want to watch the FREE Big Brother Canada Live feeds sign up for a VPN service here https://www.hidemyass.com/vpn/r16399/. It's safe to use, easy to set up, and cheap. Need to know more check out this post explaining how to set it up.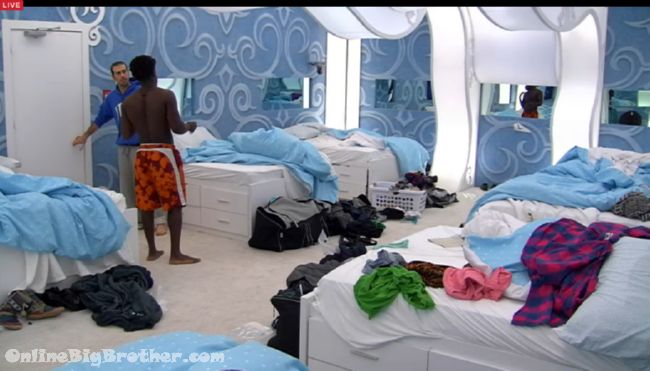 9:18am Godfrey and Bruno Bedroom
Godfrey tells him Sindy is up in the HOH saying Bruno, Graig, Zach, AShleigh and Bobby were all in an alliance. She want them to put up Bobby.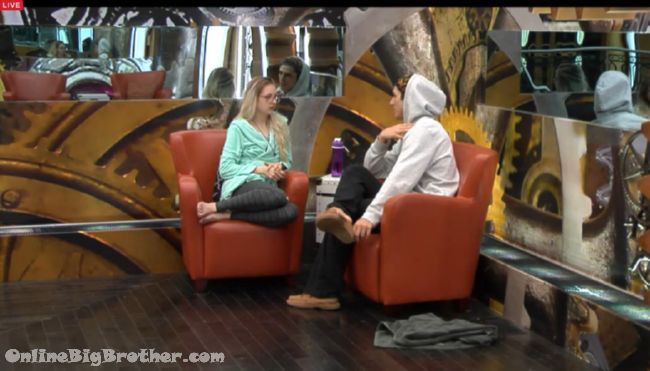 9:43pm AShlsigh and Godfrey
Godfrey tells her he's gong to take his bike to teh chop shop get it fixed up get it going Camera switches to Zach adn Sarah.
She's explaining the vote last night. Says that Jordan was manipulating her. Zach feels bad that he went on his HOH. Sarah doesn't think he should points out that Jordan threw that Veto. Sarah mentions how Ashleigh, Jordan and Zach would not let her in on conversations she was closer to them that Brittnee at the time.
Sarah says she adores Zach and Jordan. Camera switches to ASheligh and Bobby in the bathroom. Ashleigh says Godfrey brought up the Chop Shop..
Bobby – I'm telling you straight up right now it's not coming from me and Bruno.. I don't know what to tell ya.. Bruno tells me everything ASh.. there's no f***g way.. it must have came from Willow or Zach. Bruno comes up AShleigh fills him in that Godfrey knows about the Chop Shop.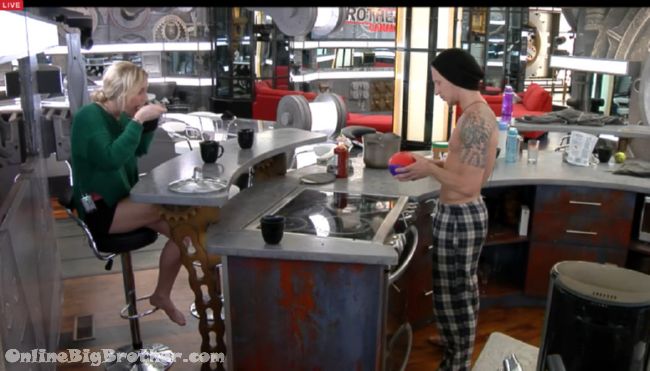 10:00am Bobby and Ashligh
Bobby swears to God him and Bruno never sold the Chop Shop to Godfrey. He thinks it was Willow. Zach and Bruno join them. Ashleigh – Godfrey knows about the chop shop
Bruno – I swear to god I didn't tell him
Brnuo asks Zach if he told JP
Zach says no
Bruno suspects Sindy say goodbye messages
10:05pm Pilar and Sarah
Pilar – I thought I could trust ASH I guess not I really trust kevin that's it
Sarah – you can trust me.. I trust you and Kevin
Sarah says she's gotten close to Kevin ever since he was on the block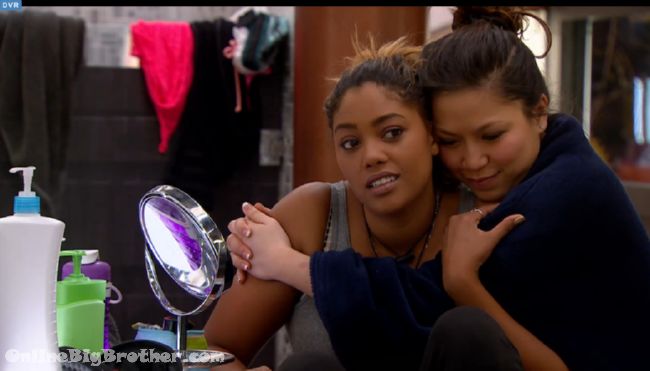 10:17am Sindy and Brittnee
More chop shop talk.. sindy says they need to put up Willo wand Bobby yo flush out the veto if Bobby does have the veto they need to backdoor Bruno. Sindy adds that PIlar won't go after Zach and AShleigh so they have to do it. Sindy thinks they can get them out during a instant or Double eviction.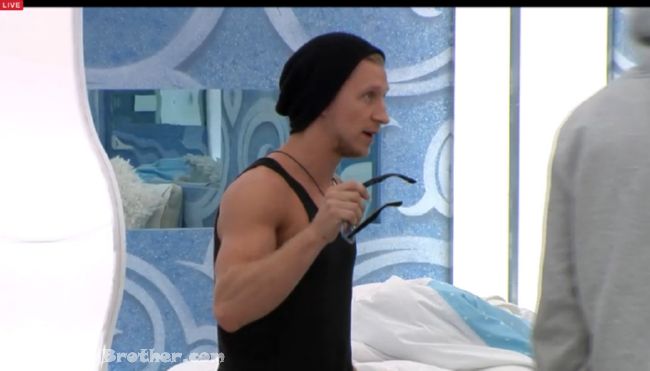 10:23pm bedroom Bobby and Zach
Bobby says Godfrey just filled him in Graig told Sindy about the chop shop They have to stick together now. Zach – F***G rights we have to stick together.. it's all about winning the comps
Zach tells Bobby he can talk to Pilar and Kevin
They assume the entire house is talking about it now. Bobby says they have to deny it "F***g Graig what a sore loser"
10:23pm HOH Willow and Ashleigh
AShleigh says Bruno and Bobby must have told Godfrey about the Chop shop. She doesn't believe it was sindy.
ALLIANCES IN THE HOUSE
There are always a lot of Alliance but we've tried to make sense of it all.. Read our alliance help guide
[polldaddy poll=8819718]