POV Holder:
Godfrey
Next POV
May 1st
POV Used
Yes
POV Ceremony
May 3rd
HOH Winner
Pili
Next HOH
April 29th ?
Nominations:
Sindy and Brittnee Godfrey
Have Nots
Brittnee, Sarah, Kevin, Godfrey
POV Players
Godfrey, Pilar, Sindy, Willow, Bobby, Kevin.
Host is Sarah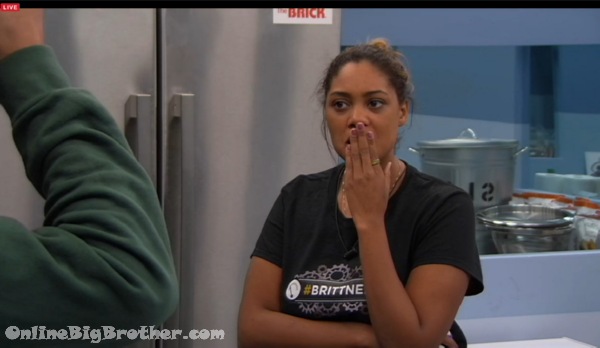 11:40pm Storage room Brittnee and Zach
Zach saying he's pretty sure it's a double eviction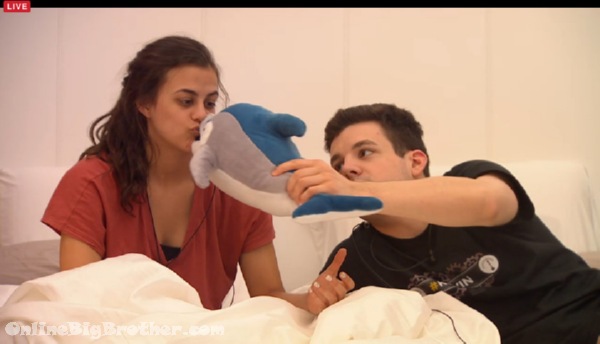 11:48pm Kevin, Zach and Pilar HOH
(This conversation is hilarious Zach is completely out to lunch with we're the house is)
Zach – Bobby Bruno aren't coming after us for sure..
Zach says even if it's a double eviction Bobby and Bruno won't come after them but Godfrey is he wants Godfrey out first, "He's immediately on our radar".
Zach – putting us up is a big move.. they are going to want to do it in 2 or 3 weeks.

Zach says the Bobby and Brittnee play (Nominated) is the safe play it's the sexy play
Kevin says if Bobby/Bruno win they want Sarah?
Zach – they want Sarah
Pilar – the only person that can't win tomorrow is Godfrey
Zach – ya
Zach – we have to get through the week through the double and not go into that next HOH straight guns blazing.. if we are we have Bobby and Bruno in that HOH.
Zach – if we can maintain the Bobby/Bruno relationship through tomorrow it's the best move
Pilar – right
Zach – we still want to get through this game without us 4 doing all the work
Kevin – It'll be pretty ideal if Bobby/Bruno picked up this double. Pillar YES YES
Zach – then we'll lose Sarah.. which is fine
Zach – Ideally I would like to see God walk out that door tomorrow
Zach – he doesn't have anyone in this game that he's working closely with and we know that
Kevin says if he wins the HOH they'll take out Godfrey what will prevent Bruno /Bobby joining with Brittnee/Sarah
Zach thinks Bobby/bruno are loyal to the chop shop
Zach says regardless what they do Bobby is going to survive tomorrow with the secret veto.
Kevin – Maybe they are that loyal (Bobby/Bruno)
Zach doesn't think Bobby is a schemer
Zach wants them to send out Godfrey next.
Zach is 100% convinced Bobby/Bruno are not working with Sarah and Brittnee. He goes on to say if Brittnee/Sarah are on the block Bobby/Bruno won't use the veto to save them.
Zach – we need willow off the block she's going to vote with us right
Pilar – it's true
Zach hopes AShleigh wins the HOH this week.
Kevin – Ashleigh would be ideal, Bobby/bruno would be good
Kevin thinks if they get rid of Godfrey the house is going to come after them. Zach isn't sure he thinks Bobby/Bruno believe they are closer to Zach and Ashleigh than they are with Kevin/Pilar.
Kevin – you're right
Zach – Bobby/Bruno will stay loyal for one more week.. Bruno really wants Sarah out
Pillar – I think they are going to throw it
Zach doesn't think they will says if he sees them throw the HOH they will take them out.
Zach says Willow is too timid to go after their group of four, "She's going to continue the ISO (Player without any allies) person.. we can kick her around till like sixth"
Zach thinks Sarah and Brittnee will strike at Bobby and Bruno because if they go after the diapers they'll make 4 enemies but only 2 with Bobby/Bruno
Zach – Bobby/Bruno don't like to talk game with other people
Zach says Bobby is going to use the secret Veto on Ashleigh. .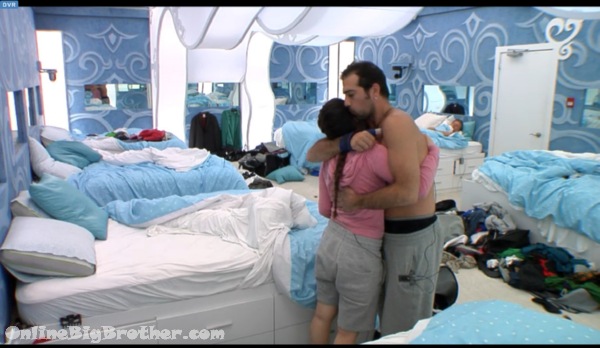 12:12am Sindy campaigning to Bobby and Bruno
Bobby tells Sindy good on her if she gets the votes to stay but the vote won't be coming from him, "Sorry girl".
Bobby tells her it's nothing personal she wanted his honest answer.
Bruno goes and gives her a hug, Kisses her on the forehead. Sindy leaves
12:20am
Bruno goes looking for Sindy to makes sure she's not throwing them under the bus again.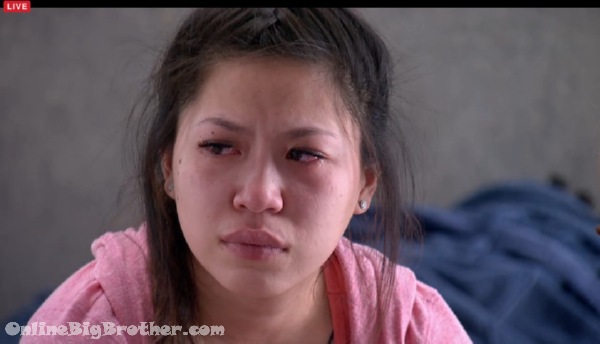 12:42am Sarah, Brittnee, Willow and Sindy
Sindy is upset. they try to make her feel better telling her she's an awesome player she should be proud of herself.
Sindy – I feel like I've absolutely failed
Sarah – like Willow said you are the best player so far.. you did the only move in this game it's all because of you.
Sarah says she won't go after Bobby first but she'll get there., "I'm going to try and win this for you.. and if I get further it's all because of you.. I would have been gone this week.. "
Sarah gets called into the Diary room. When she comes back she says it's f***ed up the type of questions they are asking. (Sarah is possibly onto what production are trying to do with the story line around her edit)
Sindy says the sequester house did not like Willow they thought she was a snake and they thought she was playing Andy's game (BB15)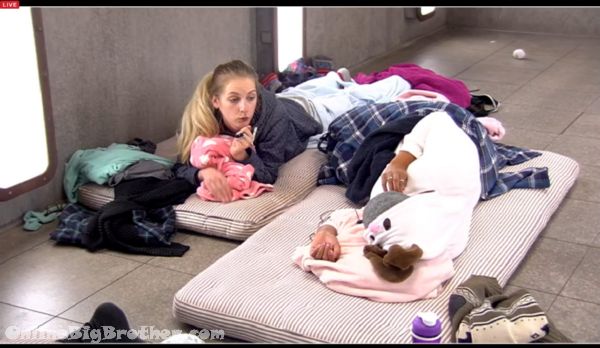 1:11am Sarah and Brittnee
Sarah is saying her and Willow talk a lot about home and stuff. Sarha – makes me feel comfortable when she tells me all the information she's getting.. it makes us feel safer.
Sarah says they are with Bobby, Bruno and Godfrey right now they should get closer to Godfrey.
Sarah – I trust god so much.. he stuck up for us and kept us off the block.
Sarah – we have to be 100% open and honest with god.. that is a unlikely threesome
Sarah – I trust Willow in the sense I believe what she's saying
Brittnee doesn't trust Willow but she does believe her. They agree willow will go with the boys.
Brittnee says she cannot connect Willow on a personal level.
Sarah – I find her so endearing.. she's been through a lot
Brittnee says if she goes home tomorrow she's only hugging Sarah.
Brittnee – They (Diapers) are still sitting comfortable
Sarah – but not for long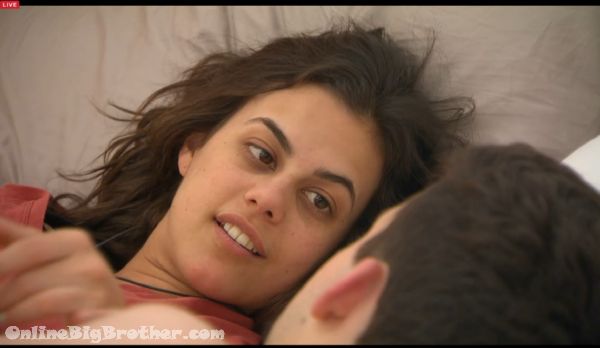 1:19am HOH Kevin and Pilar
Pilar telling Kevin he doesn't owe anything to Johnny because Kevin never asked him to use the Veto.
Kevin – I just feel bad because I really liked him
Kevin says he had to prevent Johnny from wining that POV
Pilar – it's just a game kev we're going to have to take each other down eventually.. it's going to be hard but it's going to happen.
Kevin – Thank you for calming me down
Pili – Anytime
Kevin "I care about you
Pili- I care about you a lot.. a lot. Sacred how much I like you
He gives her a back massage
Kevin – Good night gorgeous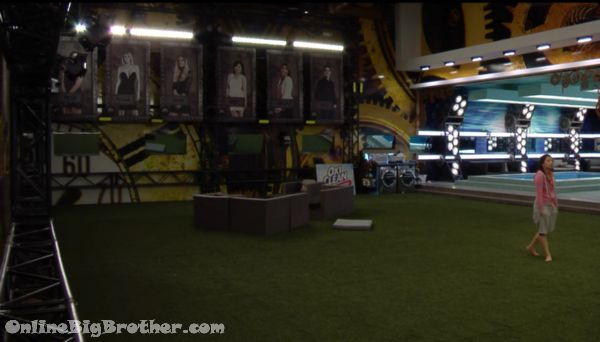 1:56pm Sindy backyard
to one of the picture on the memory wall "AHHH I hate you so much"
If you are outside Canada and want to watch the FREE Big Brother Canada Live feeds sign up for a VPN service here https://www.hidemyass.com/vpn/r16399/. It's safe to use, easy to set up, and cheap. Need to know morecheck out this post explaining how to set it up.
ALLIANCES IN THE HOUSE
There are always a lot of Alliance but we've tried to make sense of it all.. Read our alliance help guide
[polldaddy poll=8819718]