POV Holder:
Godfrey
Next POV
April 29th (Twist ?)
POV Used
?
POV Ceremony
April 26
HOH Winner
Pili
Next HOH
April 29th
Nominations:
Sindy and Godfrey
Have Nots
Brittnee, Sarah, Kevin, Godfrey
POV Players
Godfrey, Pilar, Sindy, Willow, Bobby, Kevin.
Host is Sarah
(Godfrey will use the Veto to take himself off the block. Pilar is planning on putting Brittnee up as a replacement. Sindy is going to try and convince them to put Bobby up.)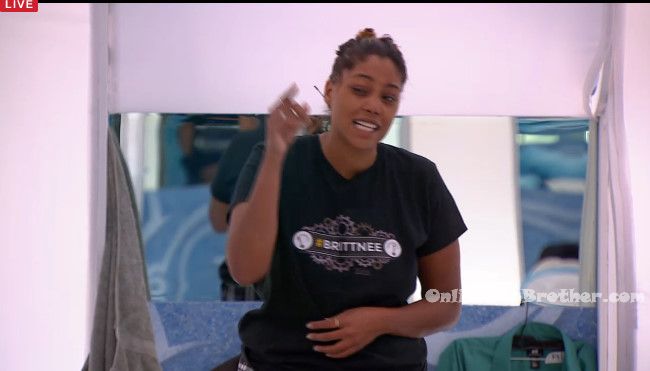 4pm In the bedroom – Brittnee talking to Sindy about being told she is going up as the replacement. Brittnee says Canada this is what happens when you put pu$$ies in the house and they win HOH. Brittnee says she told Pilar Do you think that for one moment they wouldn't hesitate to put you up as a pawn? When I get HOH I make big moves …not only for my game but for other peoples game! I can't even be mad because honestly I love this game and want to play but its frustrating to play this game with people that honestly don't even know how to play. These people are here for 100K and are willing to do anything for it… look at the end… look at the bigger picture! DO you think that your friend Ashleigh isn't going to do whatever it takes to get to the end. She is going to be like move! Ashleigh's game is she's got a pretty face. This isn't the bachelor if you're here for that go to Russia! I came to play. Britt im here to play not take orders from QB1! (Quarterback #1 – Zach) I'm going to smile, I'm going to be fake as sh*t! Sindy says you don't think I know already I'm the target. I know. Britt says Kevin wants to say he has no power! That's bullsh*t! I'm excited to be on the block again .. I'm going to be like deja vu. Sindy says maybe there's something I can say about what I heard in jury. Britt says she said she can't put Bobby, Zach, Bruno, etc. Brittnee says be careful playing it safe this week because if I stay your boyfriend is going on the block! He might not go home but I'll try. Godfrey joins them and Brittnee tells him she's going up. Godfrey and Sindy discuss how to convince them to put up Bobby to flush out the secret veto. Sindy says I'll say I know I'm going home but I want you to win. I want a couple to make it to the end. Sindy laughs.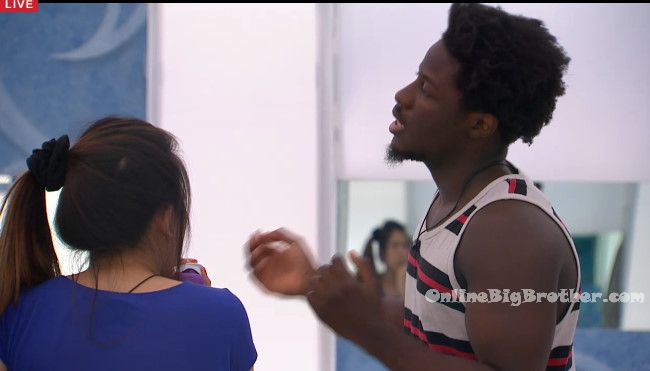 4:15pm Brittnee heads out to the hot tub room and tells Willow, Zach, Sarah and Bruno that I will be going up on the block again for the third time this week. Zach, Willow and Bruno tell her sorry to hear that. Brittnee says I am not too worried. I'm not overly confident because anything can happen but Sindy is that target right.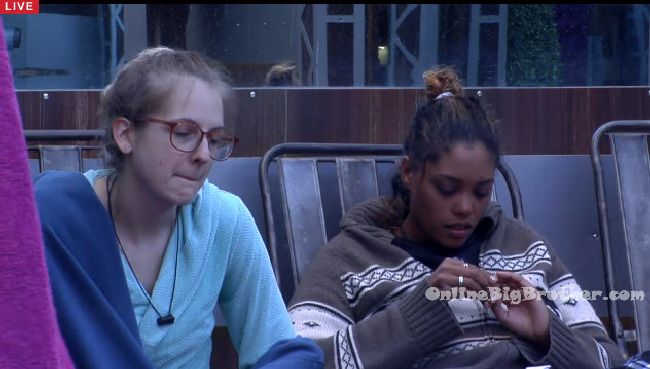 4:25pm In the bedroom – Bruno and Godfrey talk about how co*ky Zach is being talking about what he'll be eating on Wednesday for his birthday. Bruno tells Sindy not to give up! Never stop fighting. Godfrey might have a double veto and be able to pull both of you off.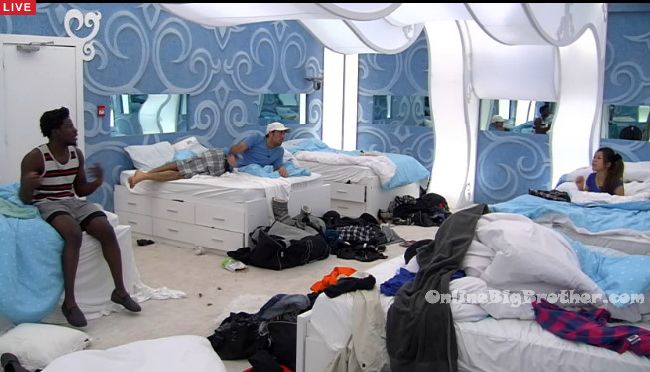 4:45pm Havenot room Brittnee tells Sarah about Pili telling her she's going to be the replacement nominee. Brittnee says if I go home you better take these people down!! Sarah says you're not going home. Brittnee says I know but you just never know! I am going to win that HOH! I'm going to sit on that block and be like deja vu!? Two of the same people sitting on the block under almost the exact same circumstances. If Pili was smart she would listen to me, not put me up and align with me.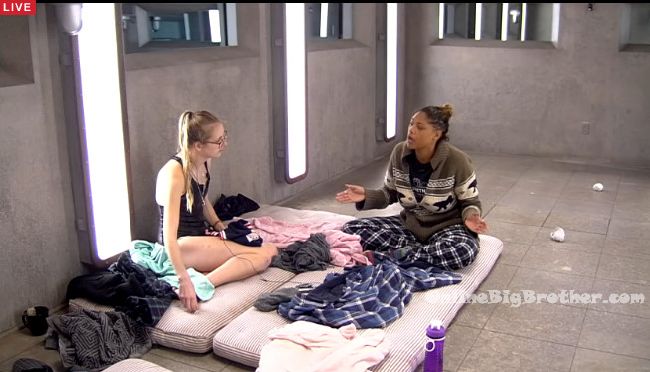 2pm In the bedroom – Sindy tells Ashleigh that she knows she is going home this week but I still want to help the people that I like … Like you and Zach. Sindy tells Ashleigh about going into sequester and how every single one of the first evicted said if they got back into the house they would go after Bobby. Sindy says Bobby hates that you're with Zach and not him. He sits and stares at you. Ash says that Bobby always says winning his HOH was a curse. Sindy says my goal if I stayed is to go after Bobby. He is going to go after me and I'm going to go after him. He said he found the secret veto when I was in the diary room. How is that fair? Big Brother wouldn't have done that if I didn't have a chance at it. Sindy says you guys know that I'm going home but for your game and for Zach's game you don't want him to still have that power. Ash says it doesn't make sense how he says he isn't allowed to talk about it but with Allison she was told she would be evicted if she told anyone. Zach and Pilar join. Sindy starts all over again with her spiel… Sindy says Bobby is going to put you (Ash) and you (Zach) up

5:25pm – 5:40pm UP in the HOH bathroom – KEVIN has a TASK – he has to distract all the house guests long enough to get into the vault. Kevin says that might be it!!! I think that will work! Put bubbles in the bathtub and have it come out to here! Then when they all come up here I'll slip into the vault! I love missions! I love these kind of pranks. If I mess up I better not be punished. I've got lots of time don't panic! There are 11 people in the house and I need all 10 in here! ..but the vault isn't that far away.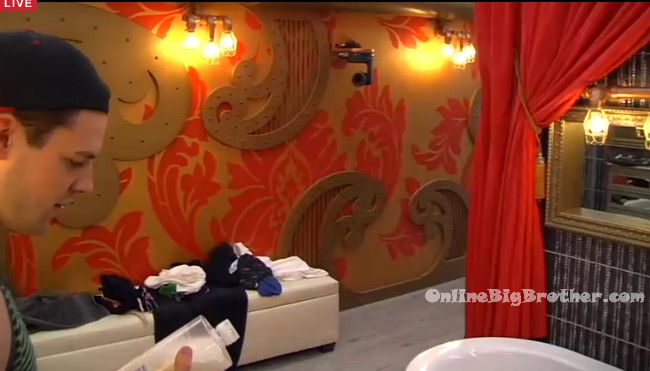 5:20pm Big Brother blocks the feeds. When the feeds return Keivn is making a mess in the HOH bathroom.
5:50pm Kevin tells Big Brother change of plans ..can we do dish soap in the hot tub? He then breaks a glass & Pili find the mess. Keivn says he just wanted to make a lot of bubbles and have fun with it. Ash joins them. They start cleaning it up. Burno joins them and asks what happened?! Pili ends up cutting her hand and Kevin cuts his knee on the glass on the floor. Big Brother blocks the feeds.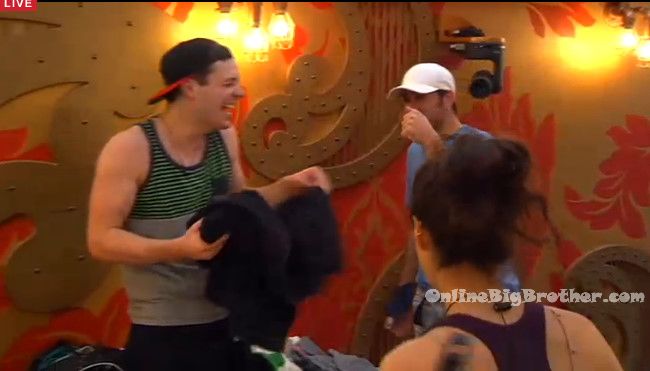 6:19pm feeds blocked
ALLIANCES IN THE HOUSE
There are always a lot of Alliance but we've tried to make sense of it all.. Read our alliance help guide
[polldaddy poll=8819718]