POV Holder:
Godfrey
Next POV
May 29th
POV Used
Yes
POV Ceremony
April 26
HOH Winner
Pili
Next HOH
April 29th
Nominations:
Sindy and Brittnee Godfrey
Have Nots
Brittnee, Sarah, Kevin, Godfrey
POV Players
Godfrey, Pilar, Sindy, Willow, Bobby, Kevin.
Host is Sarah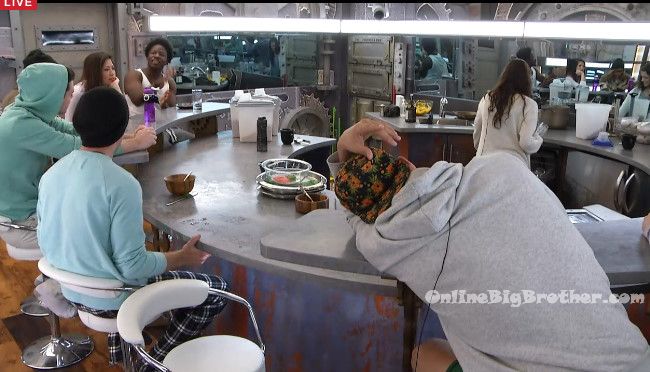 8am – 11:05am Big Brother blocks the feeds. When the live feeds return – We learn that the Power of Veto Ceremony had taken place. All the house guests are in the kitchen. Pilar says I love the way you put the veto back in the box. Godfrey says I honestly thought thats how it went pack in yo! Brittnee goes into the storage room and whispers to herself "They're suck a$$holes!" Sindy heads up to the HOH room to listen to Pili's music. Brittnee tells Zach "This sucks!"
Power of Veto Ceremony Results:
Godfrey used the veto on himself
Pilar nominated Brittnee as the replacement nominee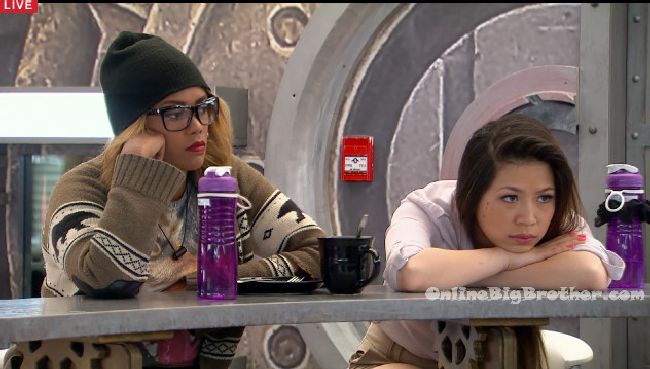 11:25am – 11:40am In the bedroom – Bruno tells Ash you don't have to worry. We have the numbers. Ash says its just so stressful! Bruno says its 7 against 3. SIndy joins them. Pilar then comes and gets in bed with Ashleigh. They start studying the past events of the house. Pilar says I was falling asleep during the POV ceremony. I had a hard time looking at Godfrey & staying awake..
In the chairs by the backyard door – Zach and Brittnee are sitting in silence. Willow joins them and her and Britt talk about why they backyard is locked down. Brittnee thinks its for moving the weights. Willow says she can hear a lift. Britt says no idea, I just don't understand what they would be setting up for on a Sunday. Willow says who knows. Big Brother says please wake up! Nap time is over. Britt says I have a feeling we're going to hear that a lot today.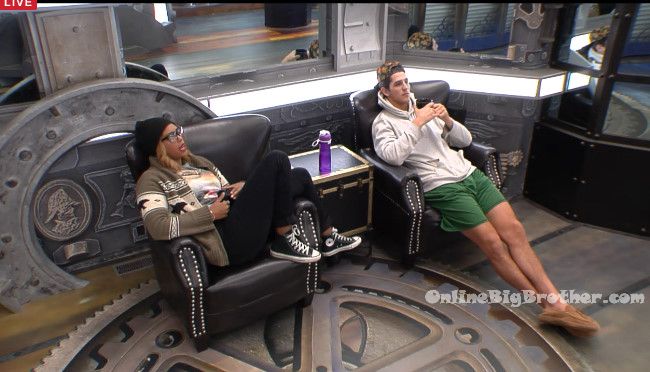 11:45am – 11:55amBig Brother blocks the feeds. The feeds return for 30 seconds with the house guests talking about how they can't even take a power nap. In the bedroom – Bobby, Brittnee, Sindy, Ashleigh, Willow and Bruno are trying to nap. Big Brother says please wake up nap time is over. In the living room – Kevin, Pilar and Godfrey are chatting. Pilar says it took her three tries to pass her drivers licence. She says the second time she got into the wrong car.
Up in the HOH room – Ashleigh is showering. Pilar is brushing her teeth. Zach is laying on the HOH bed. Pilar says no more ceremonies for me. I'm done for the week. I'm so happy!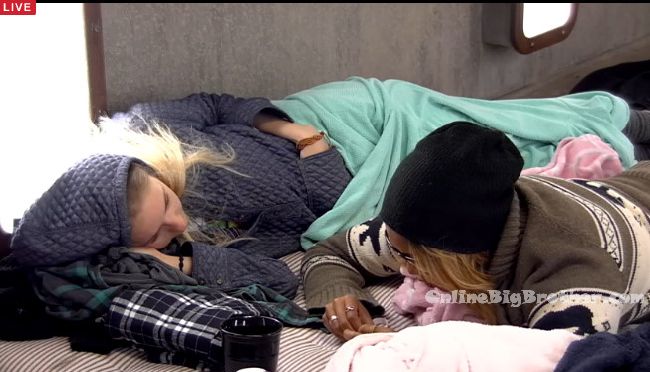 12:10pm In the have not room – Sarah and Brittnee are talking. Sarah says you know the people that voted to evict Jordan .. they think we're all in an alliance now. They're going to assume the worst. Brittnee says I just have to hope Sindy is seen as a bigger target. I'm never sitting safe even when I'm not on the block. Sarah says thats why we would never get called out. Five people just got called out for working together and for being couples. Sarah says you know these people are idiots people don't like Sindy and that's why she's going. Brittnee says I just need to stay in everybody's good books. If I go, you're the only person I am hugging. Sarah says if someone is calling you a pawn its a good thing. No one called Parhar a pawn except for Zach. They f**king hate Sindy. We're gaining Willow by the second. She wasn't crying because of the costume. I made that up. She was crying because Zach treats her like a bag of sh*t. Like throwing the football at her head. Sarah says that Ashleighs face during that speech was so… I wanted to rewind! She made eye contact with me. The only person she made eye contact with was me. Willow joins them and says it smells so bad in here ..like feet, body odor, a little bit of s*x.
In the bedroom –
Pilar, Kevin and Bruno talk about the veto ceremony. Kevin says even now she (Sindy) doesn't know that the 7 of us are locked in.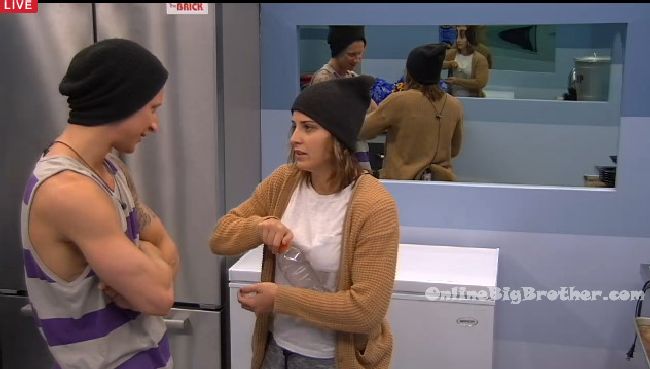 12:45pm In the storage room –
Bobby tells Willow you me and Bruno should talk tonight. Willow agrees. I talked to him yesterday. Bobby asks what did he tell you? Willow says that Zach was in an alliance.. Bobby says yeah. I am after Zach and Ashleigh! My game is in your hands telling you that but… Willow says I know that Sarah is going to go for Kevin. Willow says they're going to go after you. You don't have a veto? Bobby says no. I heard they were going to come after me and I think it actually saved Bruno and I this week. Bobby says put up Zach and Kevin and let the best showmance win. Bobby says I was so close to going up. Willow says no you weren't.. Pili didnt think about it.
ALLIANCES IN THE HOUSE
There are always a lot of Alliance but we've tried to make sense of it all.. Read our alliance help guide
[polldaddy poll=8819718]