POV Holder:
?
Next POV
April 24
POV Used
?
POV Ceremony
April 26
HOH Winner
Pili
Next HOH
April 29th
Nominations:
? and ?
Have Nots
?
POV Players
?
(There's a lot going on tonight.. Text will be missing things but the videos are complete ;) )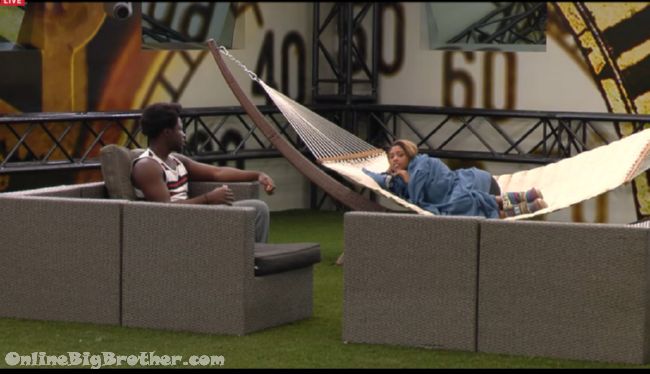 11:21pm Brittnee and Godfrey
Talking about how relieved they are about the week
Brittnee says that Bobby said that deal they made was a one week deal. Godfrey says not to him it was, Godfrey thinks Bobby has something against Sindy.
Godfrey says now the play is simple they are going to put him up.
Godfrey points out that Zach has one guaranteed vote in the jury house now.
Bruno joins them and impersonates Zach and Jordan's face. They start to retell the eviction. (Video worth a watch)
Bruno leaves.. Godfrey and Brittnee do some more game chatting..
Brittnee – I feel like it's Zach's HOH again
Godfrey – He's got a second HOH
Brittnee thinks Kevin has some pull with Pillar she hopes he has an idea of who the real threats are in the house, "We're beyond not getting blood on our hands"
Godfrey mentions that in pillar's HOH letter it said "Dont get your emotions involved"
Godfrey says he's with them and Sindy.
They question what Bobby was thinking getting Sindy out in the HOH contest.
11:25pm Willow and Sarah
Sarah thanks her for not being mad at her.
Willow – Obviously you didn't trust me enough to tell me this

Willow says they are f****g pissed right now at Sindy
Sarah says she knew Jordan was trying to manipulate her and she knew she was right after she voted to evict Jordan and Canada cheered
Willow says getting rid of Jordan was a smart move she's down with Bru and Sarah.
Willow points out that she's not close with Zach.
Willow – I can't be be floater no more.
Kevin joins them.
Willow asks her if Sindy talked to him.
Kevin says she did and she told her Willow voted to evict Jordan
Willow – I want to wring her neck.. what is her reasoning for getting rid of JP
Sarah – she talked to god and he made some good points that he'll always be the target.
Bobby joins them.
Willow about Sindy – She's literally throwing everyone's name out there
Bobby says he doesn't think anyone should be given two lives in big Brother that is why he picked her out in the HOH competition.
Kevin says it was a great move getting out Jordan.
Bruno joins them. Willow goes on about Sindy lying about her vote for Jordan. Bobby says it was her master plan and she cried after JP left.
They talk about how Jordan would talk game with a lot of people and they would always walk in on him .. he was a master at switching conversations.
They tell Willow and Kevin they didn't evict Jordan to be nasty it was strictly game move he was a strong player. Jordan's cockiness comes up as something that hurt his game.
Zach joins them. doesn't talk much
(Bobby/Sarah are throwing Sindy's name under the bus big time.. looks like the SSB alliance is over.. LOL)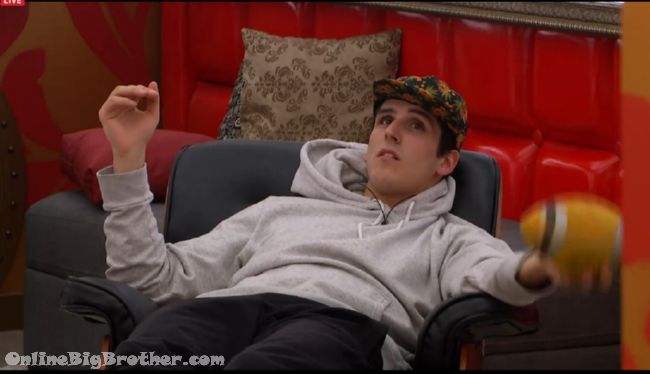 11:56pm HOH Bruno and Zach
Zach – I gotta regroup
Bruno says they will be closer now
Zach – I don't have a choice man
Zach claims he was never targeting Bruno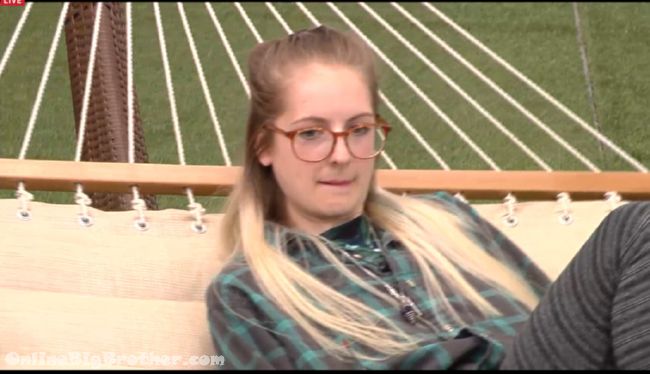 11:57pm Brittnee and Sarah
They agree Sindy is toast, "She's f***g her herself over hard".
Brittnee – I don't know why she thinks it's a good idea to lie about it
Sarah – I told her no one is going to believe her
Sarah says they are protecting themselves not Sindy, "Theres nothing we can do at this points" They agree Sindy is going to get put up for sure and if Veto is played one of them are going up.
Sarah says if it's one of them against God they are going to send God home.
Sarah and Brittnee don't trust Bobby but they like Godfrey and agree Bruno is smart
They agree to chill out this week, Sarah says it's clear everyone knows they are together now.
Brittnee says she told Zach in the bathroom 'It took 5 votes not just 2 to get JP gone"
Sarah – you drew the lines f*** off
Sarah and Brittnee claiming it was not their Idea to get Jordan out and Sarah says she had no idea who the 5th vote was.
Brittnee – I'm not putting my neck out on the line for her.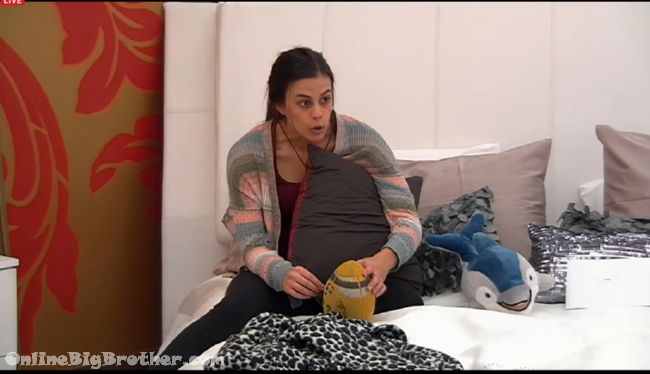 12:10am HOh Pilar and Zach
Zach says there's four people that will come after them right now, Sindy, B and Sarah, "Just based on them flipping.. they were the ones that really worked the flip"
Pilar – it would be easy to put Sindy up because she already a target
Zach – yup
Pilar says she's going to put Sindy and a pawn "we want sindy gone"
Zach says whoever else they put up is the pawn.
Pilar doesn't know who the pawn should be..
Pilar – Godfrey
Zach – me or Sarah or anyone out of those three
ALLIANCES IN THE HOUSE
There are always a lot of Alliance but we've tried to make sense of it all.. Read our alliance help guide
[polldaddy poll=8819718]