POV Holder:
Godfrey
Next POV
April 24
POV Used
?
POV Ceremony
April 26
HOH Winner
Pili
Next HOH
April 29th
Nominations:
Sindy and Godfrey
Have Nots
Brittnee, Sarah, Kevin, Godfrey
POV Players
Godfrey, Pilar, Sindy, Willow, Bobby, Kevin.
Host is Sarah
If you are outside Canada and want to watch the FREE Big Brother Canada Live feeds sign up for a VPN service here https://www.hidemyass.com/vpn/r16399/. It's safe to use, easy to set up, and cheap. Need to know more check out this post explaining how to set it up.
midnight Ketchup in and around the hot tub
12:02am Goblins and Sindy in the bedroom
Goblins come by to say goodnight.. they tells Sindy they're roaming around changing batteries being weird
Sindy says to Ashleigh and Pilar "You silly goblins"
12:14am bathroom Bru and Bobby
Bruno – I'll tell you one thing brother whatever you do I'm with you babe no matter what
Bobby – I don't know what I should say with this veto thing
Bruno says worst case he goes into the DR comes out and tells everyone they took it from him because he told people.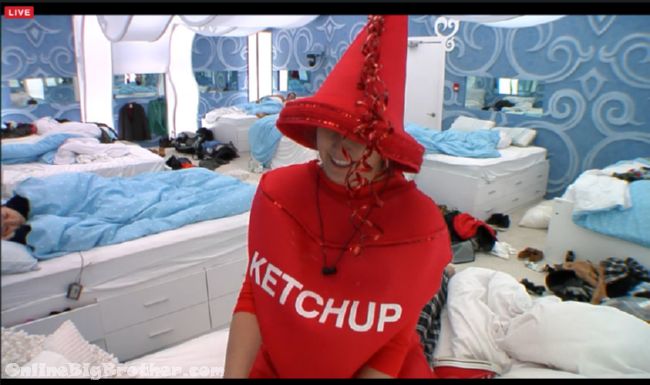 12:20am Willow massages bobby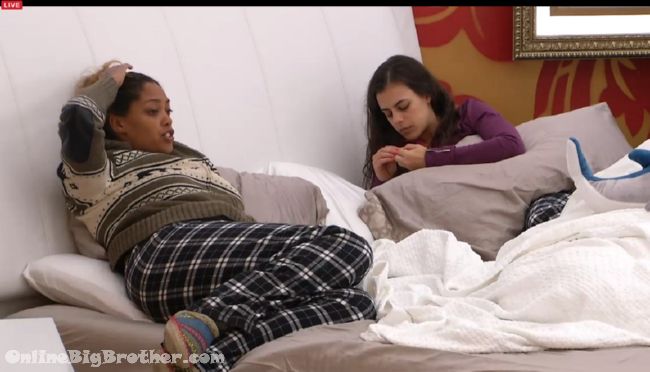 12:22am HOH ASh, Pilar and Brittnee
Ashleigh saying the only thing Sindy has done to her since she's been back was lie to her about the Jordan vote and throw her under the bus.
Ash – I really hope she has fun with him in Jury.. that is going to be awkward
Pilar says Jordan getting voted out was so unexpected
Brittnee says the scheming to vote out Jordan only really started the day of the vote it was ll very fast
Ash says voting Jordan out was a brilliant move on Sindy's part.
They all agree the first 5 houseguests evicted sharing the same house and begin able to talk was a huge twist.
They question Bobby's Veto. Ashleigh thinks it's a lie.
Ash says she never found out about the veto from Bobby she found out from Willow "He never told me nothing"
Pili says if they put Bobby up he would stay they have the votes Sindy is going home.
Ashleigh tells her she bets her left hand Brittnee is safe this week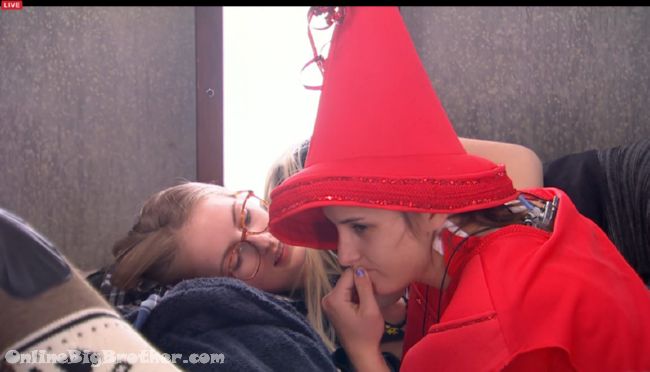 12:34am Willow and Sarah chating Have nots room
Willow and Sarah bring up conversations with Bruno.
Willow – he f***g hates JP
Willow – I just saw the real Bruno and was like I LOVE YOU
Sarah agrees (Sounds like they found out Bruno is not with the couples as much as the couples thinks he is)
Willow – can you make yourself cry
Sarah – ya
Willow – have you fake cried in here.. you have
Sarah – it's not fake
Willow – did you do it on me
Sarah – no not you you specifically the whole group
Willow – you little shit
Sarah – SHHH it's working.. I want to look weak in front of these people.
They both say how happy they are after talking to Bruno and finding out he's after the Diapers.
Sarah says bruno's crew and Zach's side will start going at it . Sarah tells Willow they need to convince Ashleigh Bobby doesn't have the veto.
Sarah – we need Bobby is that what you're thinking
Willow – We need Bobby.. If Ashleigh wins she's putting up Bobby and Bruno they are F***g pissed
Willow points out that she has different conversations with Ashleigh and Zach so she's not sure what the eax t plan is on the other side of the house.
Willow says she wants to win HOH this week and put Zach up. "I want to just f***g give it to him"
Willow brings up how in the early weeks Zach was trying so hard to protect Kevin.
Brittnee joins them.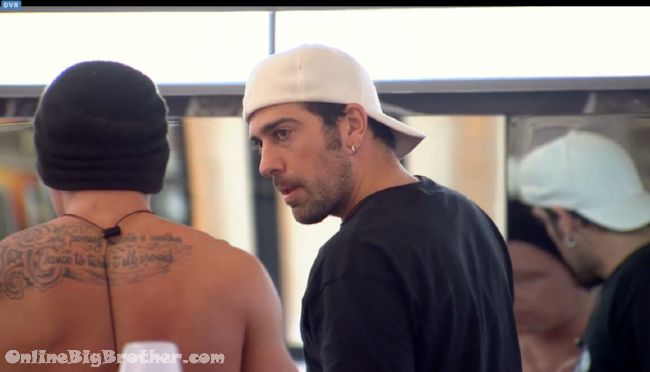 12:39am Bruno and Bobby
Bobby tells him he's starting to trust Sarah more
Bruno – Me to
They think they should cut a deal with Sarah they stick together to get rid of the showmances.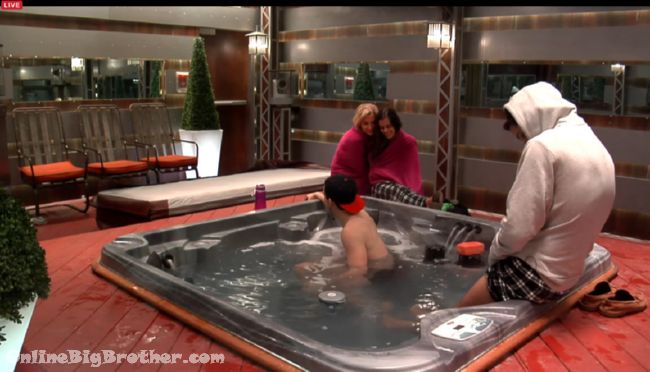 12:42am Zach and Kevin Hot Tub
Kevin says he wishes he had studied this game more before coming in. Points out how much the dynamics of the house change from even to odd number weeks.
Zach – so there's 8 people voting this week.. we gotta stay the course this week we can't jump the gun at all .. puts us in too dangerous situation
Zach says if any of the girls win they will get rid of Godfrey "Even if willow wins she'll get rid of God"
Zach – If we take a strike at Bobby then God is going to be ready to fire back with whoever survives
Kevin – you might be right
The Goblins join them.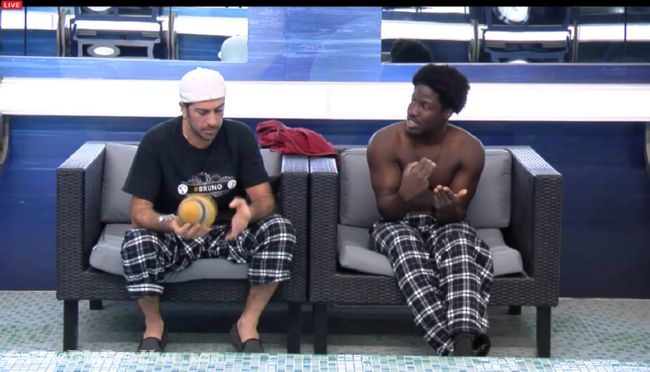 12:48am Black and Bru
Bruno says everyone is on the same page they're targeting the couples specifically Kevin and Ashleigh going up. The only person they are unsure of is Brittnee they agree she sucks up to him.
Godfrey – She still thinks he's cool..
Bruno – I dunno.. she's still trying to get close to him
Godfrey – She needs to grow up.. this guy
Bruno says Zach and Ashleigh are the best pair to put up.
Godfrey – Absolutely .. Ash is actually more dangerous than Zach. She has Pili and She has Zach.. she's the link between Kev and Pili to Zach.
Godfrey – Kevin/Pilis don't give a f*** about Zach
Bruno – she's a competition dud
Godfrey says ASheligh and Zach are the people stopping them from moving forward.
Godfrey – It's coming down to the wire bro .. after this vote bro it only take 4 to win bro
God – Me you Bobby that's 3 all we need is one more than we have the votes bro
Bruno – He put you up to go home.. when you stayed you see how surprised he was
Godfrey – he's going up
1:20am have nots Sarah and Brittnee
Sarah says she's trusting Willow and believes her when they talk. Sarah goes over her conversations with Willow and Willow conversations with Bruno.
Sarah says Bruno told Willow he can trust Sarah and Brittnee.
1:40pm Sarah and Willow
Talking about how they hope the next HOH is Canada's pick. Sarah thinks they might pick her or Bruno.
ALLIANCES IN THE HOUSE
There are always a lot of Alliance but we've tried to make sense of it all.. Read our alliance help guide
[polldaddy poll=8819718]