POV Holder:
Godfrey
Next POV
April 24
POV Used
?
POV Ceremony
April 26
HOH Winner
Pili
Next HOH
April 29th
Nominations:
Sindy and Godfrey
Have Nots
Brittnee, Sarah, Kevin, Godfrey
POV Players
Godfrey, Pilar, Sindy, Willow, Bobby, Kevin.
Host is Sarah
If you are outside Canada and want to watch the FREE Big Brother Canada Live feeds sign up for a VPN service here https://www.hidemyass.com/vpn/r16399/. It's safe to use, easy to set up, and cheap. Need to know more check out this post explaining how to set it up.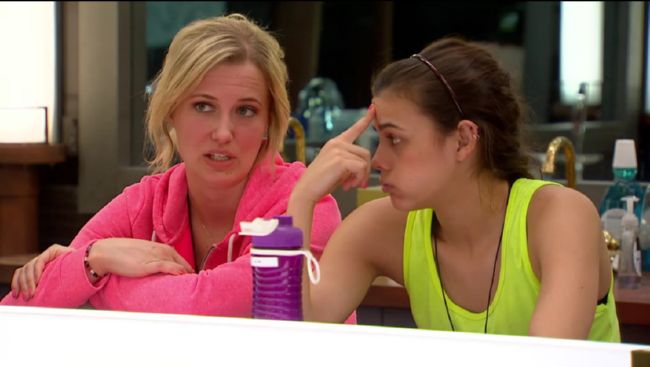 8:03pm bathroom Zach and Ashleigh
Zach wondering if they send someone other than Sindy home. AShleigh says Bobby and Sindy generally dislike each other.
Zach is torn about what to do with Bobby and Bruno says they threw the HOH.
Ashleigh thinks it's too risky they should just take out Sindy, "Her staying is a really really bad idea"
Zach – But if Bobby really hates her..
Zach's argument is Bobby and Sindy will target themselves instead of them.
Kevin comes in, Zach brings up how he's worried about Bobby and Bruno thinks that Sarah got in their head and told them Zach is coming after them..
Pili joins them.. The Diapers thinks they should pull Willow in to their alliance so they have the numbers.
Zach points out that Sindy was originally targeting Zach and Ashleigh Not Bobby. she's only targeting Bobby now that she's on the block.
Kevin thinks they should take a shot at Bobby this week. Zach says they cannot trust Bruno and Bobby.
Pili – we're going to back door either Bobby or Bruno

Zach – If Bruno is up against Sindy do we have the votes?
They believe they do have the votes to control who goes home.
Zach suggest they keep sindy and get rid of Bobby.
Kevin leaves.
PIli says she trust bruno but not Bobby
Ashleigh says they are the same player if you trust one you trust the other.
Zach – I can't believe we are considering keeping Sindy
Ashleigh really doesn't trust Sindy, " I think it's too soon"
ASh asks Pilar if Sindy ever talked to her about working with her and Kevin
Pili – No
Ash – that sucks
Pili says Sindy was first telling her to put Bobby and Bruno up.
AShleigh says she doesn't want Bobby and Bruno to go to final 7 with them she would rather it be Brittnee and Sarah. bring usp how Cocky Bobby has gotten.
Ashleigh says they will put Bobby and bruno up next week and see how Sarah and brittnee respond.
Ashleigh – I think Sindy needs to go now
Pili – well she's going
Pili – I think it's smart to get rid of Sindy right now
Zach agrees wants Sindy out 'She will never work with us"
Ashleigh thinks Bobby and Bruno will throw the next HOH because they want brittnee and Sarah to go after them.
Bobby comes by they tell him they're thinking about Brittnee going up as a pawn
8:16pm Willow and Sarah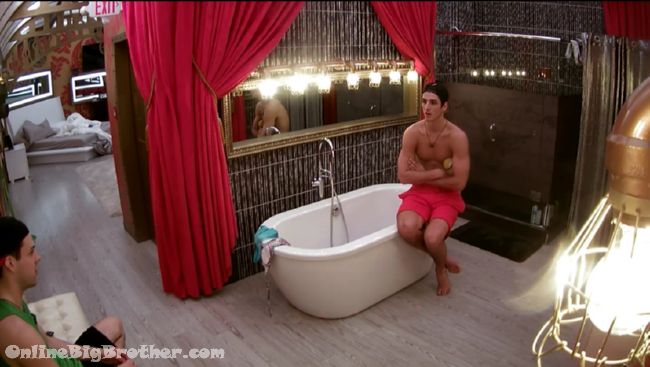 8:30pm HOH Zach and Kevin (Talking In Circles.. )
Zach thinks Sarah told Bruno and Bobby that he was targeting them last week. Kevin brings up the chance of Sindy really working it right now because she's been pushing Bobby hard.
Zach calls Britntee and Sarah floaters.
Kevin wants to talk to Sarah and get a read on her
Zach wants him about Sarah "She'll lie her face off"
Zach says Jordan was always saying how much he trusted Sarah and she was the one that flipped the house on him.
They think that bobby and Bruno are maybe being authenticate when they say htey are with them. At least for this week.
Kevin – I don't think we should take a shot this week.. it's authentic
Zach suggests they get rid of Sindy this week followed by Sarah then they take the shot on Bruno and Bobby.
Kevin says Bobby and Bruno are not that good at acting they want to work with them.
Zach is certain Bobby and bruno will throw the next HOH.
Zach – Bobby is not that good (To fool them)
Bobby joins them. Zach hints that he would want to target Sarah if he won HOH. Bobby says it makes sense btins up how strong of a player and threat she is.
Bobby says him and Bruno have a "bro" thing going on. Zach wants to call all the bros in and bring Godfrey in.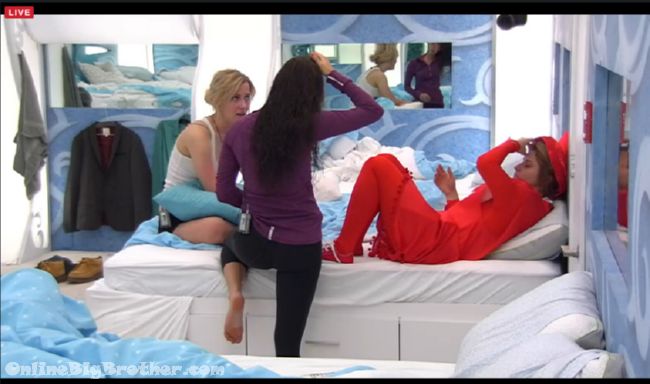 8:45pm AShleigh and Willow With some Pili
(Lots of rehashing talking in circles etc etc.. Pili and Ash want to pull Willow in with the Diapers.)
AShleigh says at some points Willow, Pilliar, Zach and Kevin need to get together and talk things over.
AShleigh says obviously Sindy needs to go because she's a vicious beast in comps.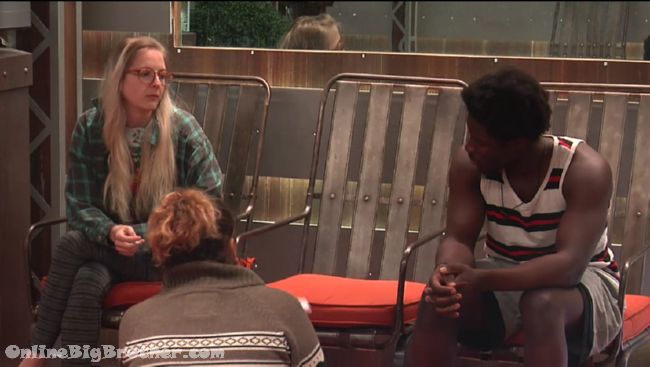 8:54pm Hot Tub Godfrey, Sarah and Brittnee
Forming an army against the Diapers. Godfrey swears bruno and Bobby are down with busting up the couples. Godfrey says he's talked sense into him.
Godfrey – The only people that can't win (HOH) are Zach and Ash
Sarah – Kev can either
Godfrey – that is true.. Willow
Sarah – Zach's been playing all the f***g sides
God brings up Zach coming up to him saying if it's double eviction next week they need to stick with the bros and take out the coasters. Godfrey laughs because points out that Zach put him up last week and he was a target. wonders if Zach has forgotten that.
Zach – he's like Man we need to get the coaster out of her man we need to get out Brit and Sarah man"
Godfrey – "they are the coasters.. Dude you're girls hasn't won shit. I'm like Are you dumb dude.. "
Godfrey reminds them that Zach has been wanting to get rid of Brittnee and Sarah for awhile.
Godfrey – Next week we gotta start taking shots at the other side..
God – Pils and Kevin cannot be that dumb they didn't know about the chop shop
Sarah explains to him the showmance alliance is very important to them that is the main alliance all others are secondary.
God says if he got the DPOV (Diamond power of veto) he would put Zach up.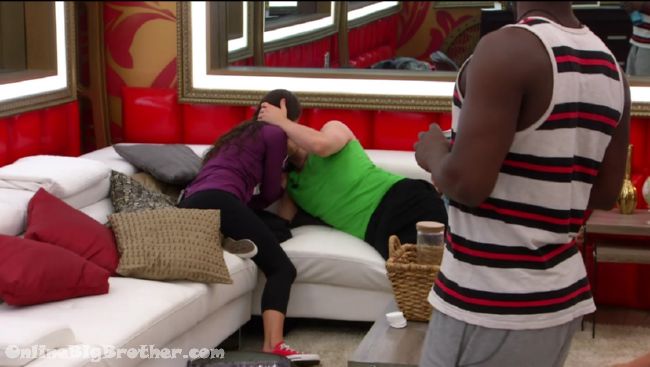 9:00pm everyone called into the HOH room
9:22pm Feeds blocked
(The diapers are talking in circles they still sounds like Sindy is going but they are toying with the idea of flushing out Bobby's Veto or Backdooring Bruno. Bobby and Bruno are pretty good at bull sh!ting Zach and Kevin)
ALLIANCES IN THE HOUSE
There are always a lot of Alliance but we've tried to make sense of it all.. Read our alliance help guide
[polldaddy poll=8819718]