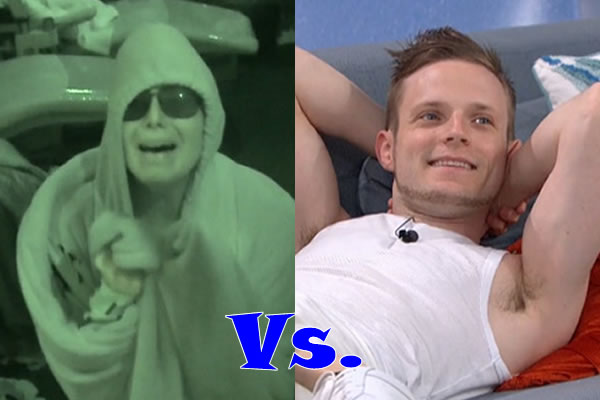 Shelli and Liz won the HOH and Shelli retained the power for the week. Her initial nominations were JohnnyMac and Jason. The goal was to get Jason out but after a day the target shifted to Audrey. Vanessa won the Veto and used it to save Jason. Shelli's replacement nominee was Audrey.
What can only be described as "blowing a circuit board" Audrey game went into a tail spin resulting in Audrey Vs JohnnyMac being a difficult position for Audrey to be in.
Audrey caught whiff of the plan to backdoor her on Sunday. She started campaigning Sunday night to James and Jackie. Unfortunately for Audrey she had very little trust remaining in the house. Even though she told James and Jackie useful information about the alliance controlling the house it did nothing to gain support. Audrey had been at the centre of too much, no amount of truth would buy back Trust and Allies. Meg and her ilk openly mocked Audrey's warnings about the 6 person alliance nobody seemed to care they just wanted Audrey gone.
Sunday night there was speculation that Audrey was going to leave. She was camped out in the Diary Room/Have nots room for most of Sunday evening. Come Monday morning she goes into the Diary room and doesn't come out for 5 hours. The entire game was on hold while Audrey received medical help for a panic attack/ mental breakdown. Upon her release from the Diary room she proceeded to hide out in the have nots. Draped in blankets, hoodie over her head, Glasses covering her eyes, death grip on a paper bag, Audrey set-up in the have nots for the long haul.

Audrey heavily medicated slept through the rest of Monday never coming out. Tuesday she wedged herself between the Dentist chairs and wall in the Have nots only to come out for Diary room sessions and a short bathroom visit. She was seen pacing in the have nots. She refused to talk to anyone in the house completely ignoring them.
On Wednesday she emerges to talk to Shelli. Trying to make Shelli feel like what shelli is doing is going down as the biggest betrayal of the season. After talking in circle for hours she goes back into the lair. The rest of Wednesday was spent practising her Eviction speech (AKA is this real musical) talking to James and VAnessa briefly and giving everyone a surprise visit dressed as Liz' twin. She claims she was too heavily sedated to do much else.
Audrey's time in the Big Brother house is over. She added crazy to the season and I personally enjoyed it. From a strictly goofball entertainment angle her leaving will be a hit to the season hopefully another houseguests will take her place. I'm sure they will.
Due to Audrey's apparent "medical needs" she was granted special exemption / treatment from needing to attend the veto meeting, allowed to eat food while being a havenot and given permission to leave the lights off during the day.
TRY the Big Brother 17 Live Feeds FREE for 7 Days!:
Click here to ensure your live feed subscription supports OnlineBigBrother.com at no extra cost to you.
*** You can go back and watch the feeds from day 1 with a live feed subscription

How did the week go down LINKS
Jeff is evicted from the big Brother house by a vote of 7 to 4.
Shelli and Liz win the HOH
Friday morning plan is to backdoor Jason
Liz nominates Jackie/James Shelli nominates Jason and JOHNNMAC
Friday After noon they start contemplating putting up Audrey
Jackie and James win the BOB dethroning Liz. Shelli is this week's HOH
Friday Night Vanessa pushing for Audrey to be the target
Sunday morning Clay, Shelli and Vaenssa "Gungo HO" with getting Audrey out
Audrey makes a final attempt to pull Jackie/james into an alliance but is turned down
Sunday night house meeting everyone wants Audrey out
Late Sunday night Audrey talks to Vanessa.. doesn't work out in Audrey's favour.
Audrey goes into hiding misses the POV ceremony, Audrey gets nominated
Jason, Meg, Becky, James, Jackie tell Shelli and Clay they are targeting Austin and want to keep the twins in the game
Final chat with Shelli to tell her how betrayed she is
Audrey performs this is real to the live feeds locked up in the have nots
Austin tells Jason about suspecting theirs twins. Adds he doesn't mind if Julia leaves wants Liz to stay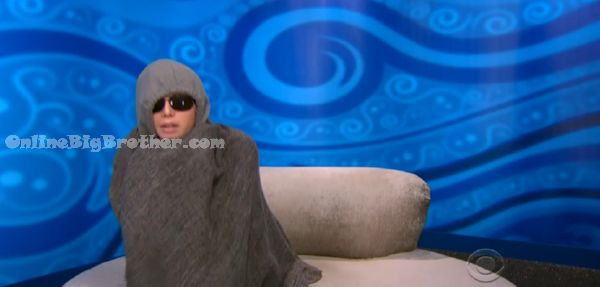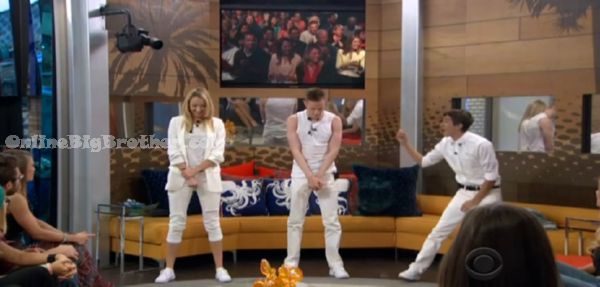 Summary of live show
Vanessa votes to evict Audrey
Judas votes to evict JohnnyMac
Julia votes to evict Audrey
Jason votes to evict Audrey
Meg votes to evict Audrey
Becky votes to evict Audrey
Steve votes to evict Audrey
James votes to evict Audrey
Clay votes to evict Audrey
Vanessa votes to evict Audrey
Jackie votes to evict Audrey
Audrey got on penalty vote by eating regular food while being a have nots
[envira-gallery id="123537″]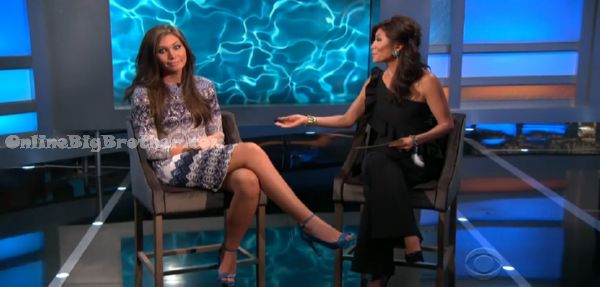 Evicted Houseguest is Audrey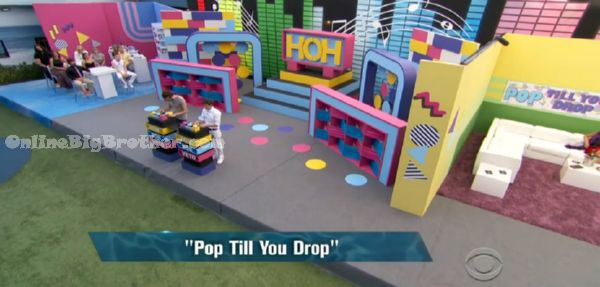 New HOH's are Vanessa and Jackie
JAson vs Steve, Jason wins picks Johnny Mac and Austin
Johnny Mac and Austin, Austin wins picks JAckie and Becky
Jackie and Becky, Jackie wins picks Liz and Vanessa
Liz and Vanessa , Vanessa wins picks JAckie and Meg
JAckie and Meg, Jackie win picks Austin and James
Austin and James, James wins picks Vanessa and Clay
Vanessa and Clay , Vanessa wins picks James and Jackie
James and Jackie, James picks and losses, Jackie is the first HOH
Jason vs Jason, Vanessa wins is the second HOH
[envira-gallery id="123550″]
New BBtakeover twist is (These twists are sh1t)
Guest for BBtakeover is
My predictions
Audrey goes home
My hope is there is some power shifts. Really scrub players need to go, enough of getting out these big personalities (Da, Audrey) start targeting the scrubs
Top 3 Animated Gifs of the week
Jason "Boobs are looking good" Becky "Thank you.. can't get on the show without them" #BB17 @DawgsBigBrother pic.twitter.com/hAOaJZUfar

— OnlineBigBrother.com (@bigbspoilers) July 21, 2015
Audrey "I feel Shelli put a knife into my back is this real.. is this really,is it really real?!" @bigbspoilers #bb17 pic.twitter.com/27QEY85eAU

— Dawg (@DawgsBigBrother) July 23, 2015
JMAC pumping iron to look good for his groupies @bigbspoilers #bb17 pic.twitter.com/6mnjfy1UMA

— Dawg (@DawgsBigBrother) July 22, 2015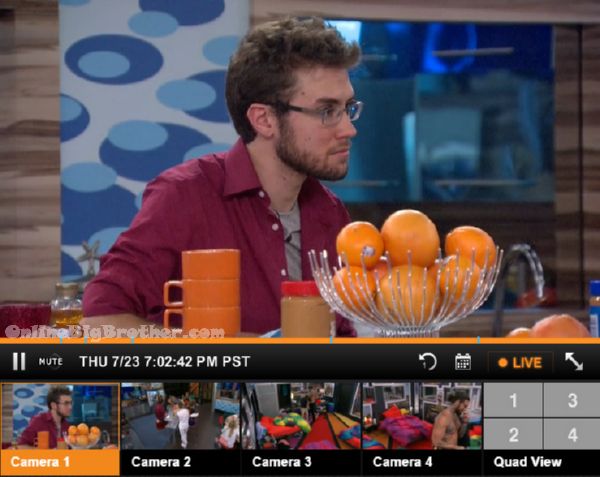 Feeds back
Live Feed subscription gives you CBS All Access thousands of archived shows. Live Shows like Big Brother, all the Big Brother Seasons, and 24/7 coverage of what is happening inside the Big Brother House. Plus there's flashback that lets you go back to any second of the feeds and rewatch what happened. Simon and Dawg will index the season just watch the parts worth watching. All this for $5.99 a month try it out 1 week free. Support our efforts and get your feeds via a link on this site. Live feed subscription Sign up
[polldaddy poll=8994045]
Share it YO!!
Tweet