POV Holder:
Vanessa
Next POV
July 18th
POV Used
Yes
POV Ceremony
July 20th
HOH Winner Team 1:
Liz
HOH Winner Team 2:
Shelli
Nominations 1 :
Jackie & James
Nominations 2:
Jason & Johnny Mac
Battle of the Block Winner
James and Jackie
Next HOH/ Next BOB
July 23rd / July17th
Original Nominations:
Jason & Johnny Mac
Current Nominations:
JohnnMAC and Audrey
Have Nots
Jackie, Audrey, JohnnyMac and Becky
TRY the Big Brother 17 Live Feeds FREE for 1 WEEK:
Click here to ensure your live feed subscription supports OnlineBigBrother.com at no extra cost to you.
5:05pm A room Audrey and Shelli
Audrey says she's learnt there was a plan to get her out before she outed sleeper cell. Shelli says that is untrue. (lie)
Audrey says she realized it was over so that is when she went on the meds. .. Feeds cut
Shelli tells her she turned on them so quickly she told everyone about Sleeper cell Shelli had no choice to put her up.
Audrey tells her to bear with her she's on ativan. She explains what she told James. She forgets JAckie's name says "The girl with black hair" Goes over what she told Jackie.
Shelli – I've been told you were saying it's time for Shelli and Clay to be broken up it's time for Shelli to go up on the block.. you said you were working on the outside of the Austin, Liz, Vanessa, Shelli, Clay alliance.
Shelli – I know you had a final 2 deal with John, and the way you acted when I put John on the block solidified that.
Audrey – that's not true I told him I would look after him.
Audrey adds Steve and John are working together.
Audrey says John is like Jesus nobody is going to vote him out.
Shelli accuses her of never telling the truth. Shelli says even before all this happened she found out that Audrey told Jackie Shelli and Clay knew about the stage fight with Jeff.
Audrey says she told jackie that in the have not room. (Sunday)
Shelli says she's heard from a lot of people that Audrey was saying her and CLay should go up, "Trying to cast doubt on our group way too early"
Audrey says she's going to stand by what she said and did and she knows the truth, "I just got screwed out of a chance for 50000 dollars about you got screwed out of 500000 dollars because you chose the wrong person to trust"
Shelli – it's not only coming from her (Vanessa)
Audrey reminds her all these people were working with Jeff. (Jackie, James)
Audrey says she told them about sleeper cell she admits that.
Shelli says she was told before Audrey "exploited everything" that Audrey was telling people Shelli and Clay need to get broken up.
Shelil says she had to put Audrey up
Audrey – I am the only one that would have protected you and I would have protected clay and I would have been the sole target
Audrey warns her about Vanessa, "You guys are being way too naive about her"
(Talking in circles like only Audrey and Shelli can)
Audrey keep digging for information wanting to know who said what and when,.
Sheli says she's still in the game she's already given Audrey one name she's not getting anymore.
Audrey claims she's won't starts any fights with people "I have so much Ativan in my system i'm literally numb"
Audrey wants names.
Shelli says she doesn't think they can solve this on a game level. She's not going to go through what everybody has said with Audrey to try and figure out what is real and what is fake.
Shelli claiming she never intended to pur Audrey up "I love you I care for you I'm extremely hurt I put you in this place.. I'm going to miss you I hope you leave with your head high.. I don't want you to be hurting.. the game talk should be mute at this point"
Shelli wants to continue their friendship outside the house.
Audrey thinks she's protecting Clay that is why she's not giving names.
Shelli – excuse me.. you know it's not clay.. you don't go to Clay and say Shelli (as a target)
Audrey tells her she's been incriminated for multiple weeks with no means to defend herself
Shelli – I gave you chances to defend yourself
Audrey – I don't understand what is empirical that i've done to you prior to yesterday (Yesterday means Sunday in Audrey's ativan world) that is what I'm trying to wrap my head around
Shelli – a lot of things came to me at once
Shelli wonders what point will this conversation be enough for Audrey.
Audrey says she's spoke to eh psychologist sop she's prepared to have this conversation
Audrey – I wanted to find out if you were my friend or if you were playing the game
Shelli – I am for friend
Audrey – You said to Jeff you're the male Audrey that's not what friends do that's hurtful
Shelli – You're right that is hurtful but I wasn't saying it derogatory way
Audrey calls her out for telling Audrey at first she never told jeff that but she did.
Shelli denies it says she was saying "I never told that to jeff's face.. I never told that to jeff I think it was clay. I told Clay why did you say that to Jeff"
Audrey says the therapist who has seen a lot of things validate "things" for her.
Feeds cut
[envira-gallery id="123308″]
When they comes back they are still talking in circles..
Audrey – I have a consistent pattern in my life were everything turns against me for some reason that's the way nature goes
Audrey – I'm so weak I'm one person.. that is why I'm on Ativan it's so overwhelming.. So many people could do this for 500 thousand dollars and not care"
Audrey tells her she has a panic attack it was the most embarrassing thing she's every done, "It's so overwhelming the people that you want to trust you won't do it they are better liars"
Audrey – It's been conformed to that I'm not going to get booed"
Shelli – you're turning this and saying I'm giving you the biggest betrayal of the summer
Audrey says she's not doing press day she's been affect too much by this she;'s too hurt
Shelli – you're telling me you are going to go out and paint me as the biggest betrayer of the summer.. Is that how they are spinning this
6:16pm HOH Shelli and Clay
Shelli "She wants to tell me this is going out as the biggest betrayal of the season, She's 1 of a kind"
Shelli – She's been speaking to a psychologist she's on a lot of medication
Shelli adds that Audrey had a panic attack that is why she was in the DR for so long on Monday.
Feeds cut when we come back Shelli is crying about it
Shelli – If it gets spun that way I want out of this shouse
Shelli – She's trying to say to me everyone was rooting for you me and her to make it to the end and this is the biggest betrayal of the summer.
Shelli says Audrey is trying to make her think Vanessa is the one they cannot trust.
Clay says he trust Vanessa Second after Shelli.
Shelli – how can what everythings been said to me be a lie
6:30pm Twin Switch Julia back in the game.
Austin gets called into the Diary room
Julia – Really.. really ..
(Austin usually spends a couple hours with the twins when they come back to fill them in"
6:33pm Kitchen Jason tells James Jackie believes that there's a twin now
6:35pm Have nots James and Audrey
Audrey – why you turn on me jaems
James – What are you talking about
Audrey – I told you that stuff to help you
James – why do you think it helps me
Audrey – Because there is an alliance you weren't part of.. you think that was trying to hurt you
James – THere's a lot of people saying otherwise .. why would they flip on you when you know all their stuff, I would never flip on my own alliance
Audrey laughs "are the people in the alliance telling you this"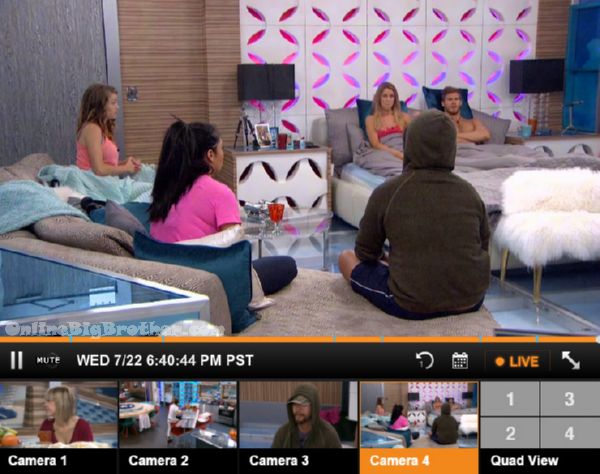 6:42pm Shelli, Clay, Jackie, James and Becky Talking about Audrey and how hurt Shelli is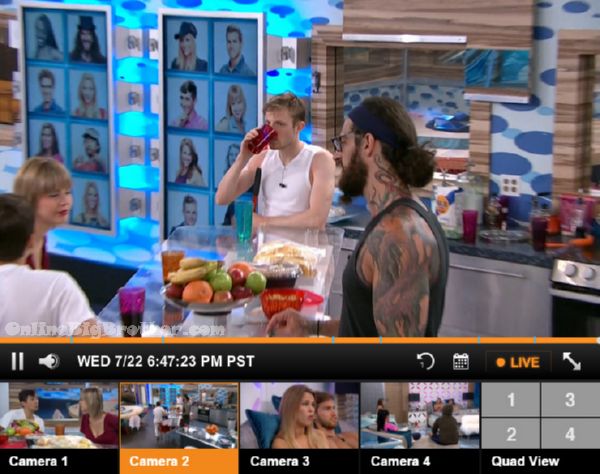 6:47pm Kitchen Jason, JohnnyMac, Meg, Austin
Talking about James getting sucked into the Have nots to talk to Audrey. Austin thinks he's being summoned
Austin – You ever see the movie pumpkin head
JohnnyMac – I have
Austin explains the pumpkinhead movie is like what is happening to james . Goes into depth about it
Jason has a issue that Audrey is up talking game and plotting yet she's allowed to have the lights off in the dentist room, sleep on the floor and eat pizza.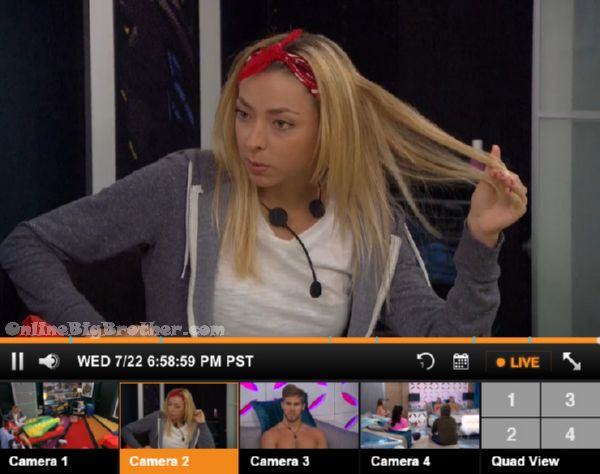 6:57pm Julia and Austin
Julia saying that James is so friggin annoying.
Austin – he's been joking around with us a lot these past days… in a good way
Julia – He knew we switched, he just stares at my face…. dude I f****g hate you
Austin says he's going to chat with Jason tonight that is his only play.
Austin says he will never admit the twins have come clean. Austin is going to tell Jason that Jason's veto speech struck a chord with him because like Jason he's been a fan since he was young. He almost turned down being on the show last year because of a girl.. Feeds cut
Austin says Liz really likes him and wants to work with him. Julia – really like him to
Austin is going to make a deal with Jason tell him if he wins HOH he's not putting Jason up and he's hoping that Jason will do that same. If they ever get into power Austin is going to ask JAson if they work together
Austin's not going to throw anyone under the bus he's going to be honest with jason.
Austin says Judas is going to make a deal and vote to keep Audrey "So they still think Steve is America's player.. someone else might throw a vote too.. if someone is HOH they might have a doubt in their mind and not target you" (Target "America's player)
Austin – If Jackie wins HOH and we're f****d.. it's worth a shot
Julia says she's playing in the HOH tomorrow "I'm f****g ready"
Julia says Liz is playing in the BOB this week if they get nominated.
Live Feed subscription gives you CBS All Access thousands of archived shows. Live Shows like Big Brother, all the Big Brother Seasons, and 24/7 coverage of what is happening inside the Big Brother House. Plus there's flashback that lets you go back to any second of the feeds and rewatch what happened. Simon and Dawg will index the season just watch the parts worth watching. All this for $5.99 a month try it out 1 week free. Support our efforts and get your feeds via a link on this site. Live feed subscription Sign up
[polldaddy poll=8983592]
Share it YO!!
Tweet