POV Holder:
Vanessa
Next POV
July 18th
POV Used
?
POV Ceremony
July 20th
HOH Winner Team 1:
Liz
HOH Winner Team 2:
Shelli
Nominations 1 :
Jackie & James
Nominations 2:
Jason & Johnny Mac
Battle of the Block Winner
James and Jackie
Next HOH/ Next BOB
July 23rd / July17th
Original Nominations:
Jason & Johnny Mac
Current Nominations:
?
Have Nots
Jackie, Audrey, JohnnyMac and Becky
TRY the Big Brother 17 Live Feeds FREE for 1 WEEK:
Click here to ensure your live feed subscription supports OnlineBigBrother.com at no extra cost to you.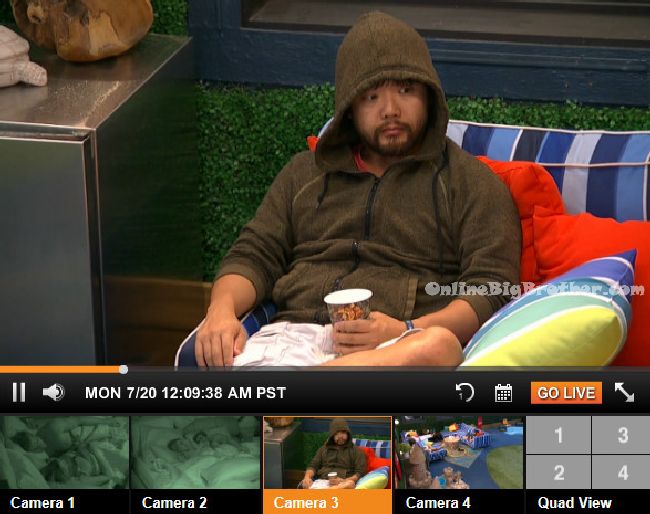 12:10am Backyard – Jason says I was so scared to be up there. Now its even more up in the air. This week was really hard because there wasn't a clear immediate target. Especially that she (Audrey) had gotten her way back in with people. There was no backdoor, I was screwed. Jackie says now we just need to sit on the block. Because if you're on the block you're like f**k you're just sitting there. There are no pawns, there's no nothing. Jason says there can still be pawns to backdoor people. If all else fails we can put up Audrey, we don't have that any more. Jackie says she was always like use me as a shield. Jason says she's been saying this the whole time and has she protected us, no. She wasn't a shield for Jeff, She wasn't a shield for anybody. She keeps getting her way through. Jason says I don't need a shield, I'm here to play. Jackie says yeah I don't need that sh*t. Becky joins them and they talk about the BOB competition. Jason thinks we'll be safe next week. James says Vanessa told me she won't put me up again. Its one of our times to win HOH. Jason says we're so due for one. I'm praying this week is endurance. Hit me with a tongue, hit me with a meteor, hit me with whatever you want to hit me with.

12:25am Comic room – Julia and Austin are talking. Austin comments that we need to bring someone else in. Austin suggests telling Johnny Mac about the twins. Julia says that's the only person I would tell. Austin says after Thursday you tell him. That after 4 evictions you're allowed to tell people and that not until 6 evictions do you come in. Julia says I know if he won HOH he wouldn't come after us. Julia asks if it would get out to Shelli and Clay. Austin says we would only do it if Johnny Mac won HOH. Julia says I had no idea he was so close to Jeff. Austin says I don't know why. You were never a threat to him Johnny Mac of course he used you. He used you and spit you out. He used you like was using everyone else. He was as bad as Audrey. And he was slimy with the girls. He wouldn't leave Liz alone and I wanted to break his neck! If you weren't around I probably would have been friends with him.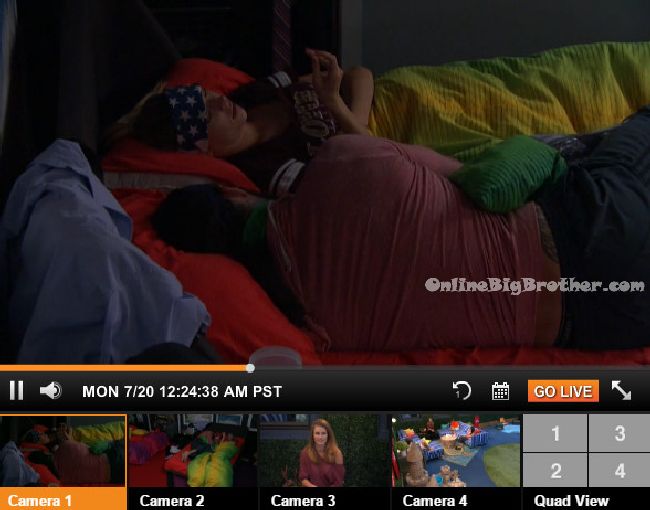 1:25am Big Brother calls Jason, Liz and Johnny Mac to the diary room. They come out and Jason says it was just a mid tour check in.

1:35am – 2:15am Bedroom – Audrey comes to talk to Vanessa. She whispers really quietly. Audrey starts hyperventilating and crying. Vanessa says you're going to be okay. Take a deep breath. This is just game. You have a life outside of this. You have family that loves you. You've played the best you can. There is no right way to do it. You did the best you could. You're not a bad person. This isn't a reflection of you as a person. This is just a game. There is a whole world out there. In the grand scheme of things this isn't real life. Vanessa says that everyone in this house is a good person and no one is out to persecute you. This is not life. Everything is going to be okay. It seems like this is the end of the world but its not. Its just a game. Even the very worst things people have done in this show are soon forgotten. Everything is going to be okay. This will be a stepping stone to something greater. Audrey says I want to go hit the button in the storage room. (Emergency exit / panic button) Vanessa says you don't want to do that. You don't want to be the first person in history to do that. You don't want to give up your stipend money. Don't do that. Just play it out, just play it out. Is it possible for you to just have some levity of it all. Audrey says this is a mistake! Vanessa says you can't undo what's already been done. All you can do is change how you go forward. I wish you had made different choice in the game. This is a tough game. Audrey says I don't care about the game. Vanessa says I know I'm just trying to calm you down. Audrey says the physiologist came come till tomorrow. Audrey is worried about keeping it private. Vanessa says well lets not talk about it. Why don't you talk about .. Jason comes in and asks to turn on the light to do his laundry. James comes to talk to Audrey. He says let me see what I have in my rational box. Audrey you're super strong. This is just a game, everyone loves you on a personal level. America is going to love you. That's the point blank about that. Hopefully we can all be friends when we get out of here. I'm going to send you a facebook request. They shut off the light again. Vanessa tells Audrey that happiness is a choice.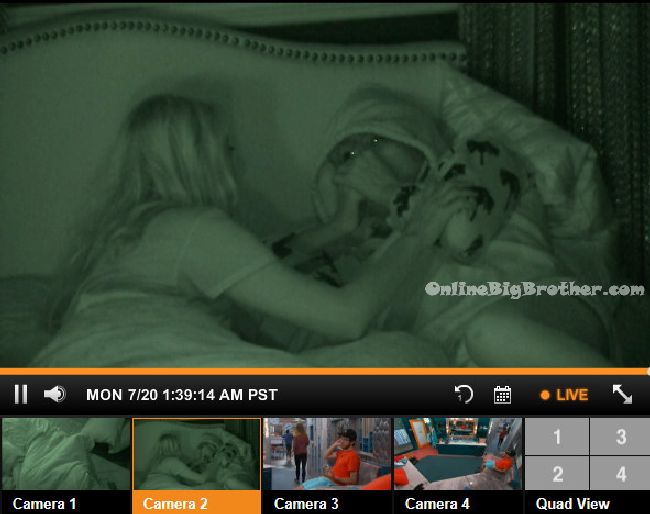 Vanessa says There is this inspiring true story… There's this guy from a Nazi concentration camp and every day they would give food but it was always very limited. And it got to a point where people were starving and fighting for that food and they would try and take it from each other. The Nazi's were doing it on purpose to turn the people against each other until one day this one guy took his bowl of soup and stood up and said here have a piece and he started to share. That small act of kindness.. inspired that whole room of people to pass it around the room and share and stop doing what the Nazi's wanted them to do. Which was to fight and turn against each other. I'm telling you this story because all these circumstances are against us in here and designed to create and magnify the smallest stresses. I'm trying to give you a little perspective.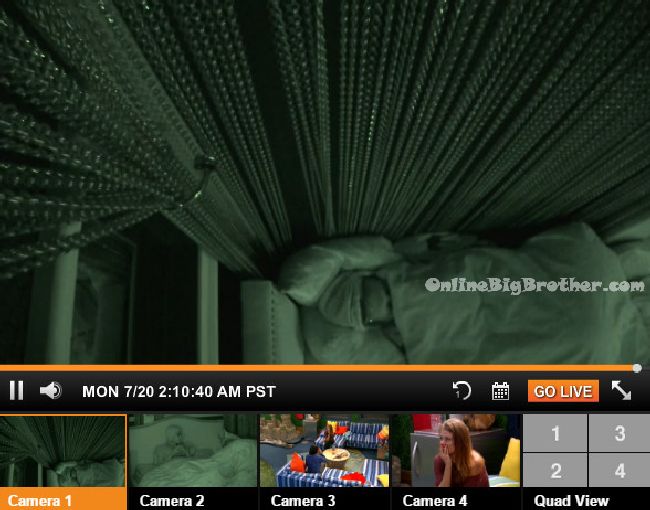 2:30am – 2:40am Backyard – Jason says that Audrey is crying up in Vanessa's bed because she knows she is the one with the power… if she cries enough Vanessa might not use the veto and she won't go up. Vanessa is just caring and trying to support her in this moment. If she didn't have any power she would be upstairs. After tomorrow she will be crying up in the HOH room and not in Vanessa's bed. Steve says wait the HOH power goes away at the same time. Jason says people still listen to what the HOH wants to some extent. If we think Vanessa is weaving about not using it then everyone needs to go to her and say no I think is best you use it. Jackie says she would look like the biggest idiot. Jason says the mouse trap finally got her. She just hopes someone shows pity and releases her from the mouse trap. She hasn't shown pity on anyone else. She is here for herself and crying for herself. She isn't here for anyone else's benefit. Shelli isn't a backdoor type so it takes a lot for her to get to this point.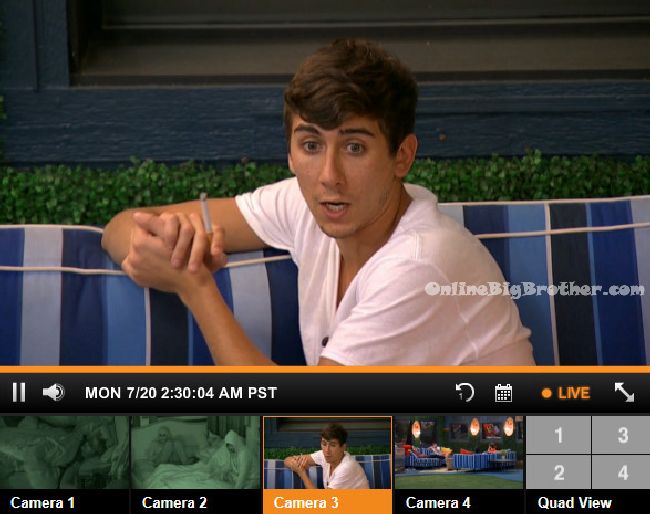 2:45am James cuddles up with Audrey while Vanessa sits in the other bed waiting for her bed back.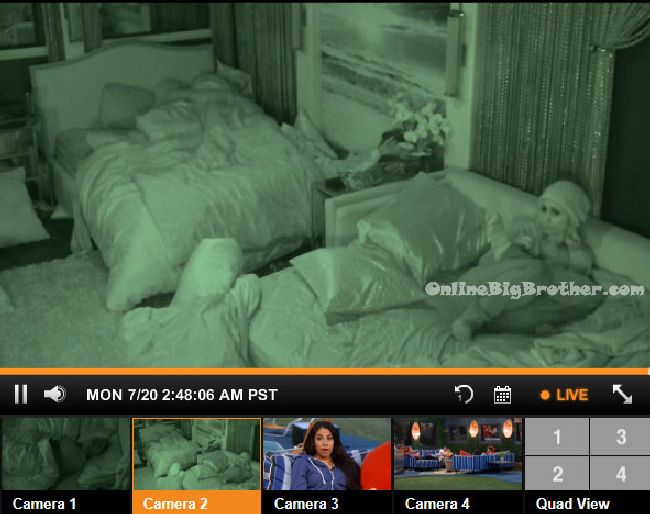 2:50am – 3am Vanessa tells James she's worried Audrey will get a penalty nomination if she falls asleep in her bed. James says they won't just give her a penalty nom. They'll warn her first. It happened to me and they just told me to stop that. Vanessa says okay and heads back to bed. She tells Audrey not to fall asleep. You dont want to get a penalty nom. Audrey asks about getting medication but Vanessa says it wouldn't be available till the morning. Audrey then goes to get back into bed in the havenot room.

3am – 3:30am Backyard – Jason, James, Becky, Jackie, Steve and James are talking. Jason asks if anyone was buying what Audrey was doing? James says no he was just comforting her on a personal level not on a game level. James tells them that when he was huddle up next to Audrey she said she wasn't upset on a personal or game level. Jason asks she's afraid of what's on the outside. James says she unclipped my microphone and I don't know what she meant by this but she said it was chemical… Big Brother blocks the feeds. Jason says if she had a serious chemical imbalance she couldn't be in here. They talk about last season how Christine got Boo'd when she was evicted. They talk about the second group coming in a day later is a disadvantage. Jason says that the night before they came in he begged how do I get into the first group. Big Brother blocks the feeds. James asks so we have to do something with our stipend to pay taxes on it. Jason tells him yes. He says that Andy Herren BB15 tweeted his cheque and it looked like BB already took the taxes off. It was for 356K down from 500K. Jason says you can't look at it like the government stole that money… it was never yours.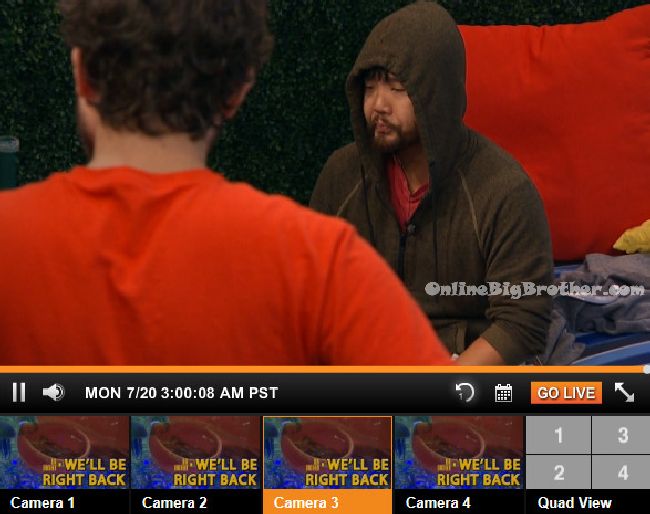 3:45am The house guests get ready for bed. Steve waits for his laundry to finish.
Live Feed subscription gives you CBS All Access thousands of archived shows. Live Shows like Big Brother, all the Big Brother Seasons, and 24/7 coverage of what is happening inside the Big Brother House. Plus there's flashback that lets you go back to any second of the feeds and rewatch what happened. Simon and Dawg will index the season just watch the parts worth watching. All this for $5.99 a month try it out 1 week free. Support our efforts and get your feeds via a link on this site. Live feed subscription Sign up
[polldaddy poll=8983592]