POV Holder:
?
Next POV
July 18th
POV Used
?
POV Ceremony
July 20th
HOH Winner Team 1:
Liz
HOH Winner Team 2:
Shelli
Nominations 1 :
Jackie & James
Nominations 2:
Jason & Johnny Mac
Battle of the Block Winner
James and Jackie
Next HOH/ Next BOB
July 23rd / July17th
Original Nominations:
Jason & Johnny Mac
Current Nominations:
?
Have Nots
?
8:23pm Shelli and Vaenssa
Vanessa says Jason is spissed at ajckie for stealing the pumpkin.
Shelli says Audrey is driving her crazy. She' not opposed to backdooring her this week.
Vanessa brings up that Audrey had a dream that her and Audrey got in a fight.
Shelli thinks the "dreams" of Audrey are just scenarios she's made up and want to make happen.
Shelli is worried about Austin
Vanessa says he's a little bit of a wild car "Heads not in the game it's a big let down.. he's doing it out of carelessness and rexlansess.. he said in the past he doesn't even want to be here"
Vanessa say Austin has the money and he doesn't need to be here for his career. Adds that Austin is being heavily distracted by Liz, "His loyalties are shifting he's being illogical and making decisions based on emotion"
Shelil says Audrey told her she's unsure about Austin and Vanessa.
Shelli says after the nominations Audrey has a panic attack.
Vanessa supports Shelli's nominations 100%
Shelli says she messed up with her conversation with Jason she' word vomitted.
Shelli – Seriously Vanessa she's pushing me to the limit and she's ruining our game.
Shelli brings up Austin saying he's dying being apart from Liz for 2 days.
Shelli – I would absolutely die if you left for 2 days
Shelli brings up Audrey freaking out at her for her nominations.
Shelli tells her that John is a "Golden JeweL" for them he's given her and Clay so much valuable information.
Shelli says John was fine with her putting him up she told him he can throw it or win the BOB. Audrey was telling her that John was pissed at her for she's trying to cause trouble making up stories.
Clay comes in.
[envira-gallery id="122204″]
8:31pm Cabana room Audrey and Clay
audrey crying says she's having a weird day
Audrey says she thought everything was getting better then Jason is talking sh1t about her in the HOH
Clay says it's squashed and dealt tieh
Audrey – Shelli tells me she doesn't trust Austen.. Austin always makes eye contact with me and now he never makes eye contact Austin's being weird
CLay says Austin is on a different level, they try not to talk to Austin about the game.
Clay says he doesn't know how much better this week can be for her Shelli is in power and Jason is on the block.. "If any week you're paranoid it's not this week "
Clay tells her to enjoy the week she's safe and everyone in their group is safe. Just focus on winning the next HOH.
Audrey whimpering says everyone has a pair in the house and she's f****g rogue
Audrey is unsure about VAnessa. Clay says he trust her right now, "Just play week to week day to day.. you are safe this week.. get ready for the next HOH, it's all you can do it's all you can worry about"
Audrey – I don't have to worry about Austin
Clay – Worry about Austin, he's not even part of the equation now..
8:54pm CLay, Vanessa and Shelli
Clay tells them Audrey is crying because she feels so guilty and so paranoid she's going to be backdoored because of what she's telling james. .Clay mentions how he was telling her this is one week she doesn't not have to be worried.
They Agree Audrey is trying to jam a wedge between them.
Clay brings up Audrey saying Vanessa offered her a final 2. Vanessa denies it say it was Audrey who brought it up.
Clay says Audrey is doing people 'So dirty' she' getting paranoid.
Vanessa says Audrey is incapable of true loyalty to people.
Clay heads into the shower.
Shelli mentions her "20 minutes turn off" with Audrey she will only be able to digest 20 minutes of her talking game at a time.
Shelli goes on and on about how annoying Audrey is and won't leave her alone.
Shelli says James "Bless his little soul.. he told me before BOB she (Audrey) pulled him aside"
Shelli – She was basically saying if Jason stays he's going to be gunning for Audrey and he'll probably put SHelli up with her and Shelli wou'd be naive if she thought she had the votes to stay.
Shelli brings up Audrey telling her Vanessa doesn't have her back like she has their back.. Vanessa has made a final 2 deal with John
Vanessa- oh my god that is ridiculous I have neer.. I never talk game to her.
Vanessa says going final 3 with audrey is stupid, it will be the ultimate come back and her life story.
Vanessa says she's fine if Shelli wants to backdoor her, the only problem is Audrey will out Sleeper cell
Shelli – I don't care I really don't trust Austin anyways
They complain about Audrye having no loyalty. Shelli says Audrey thinks Vanessa is working with Steve.
Shelli adds Audrey told her Austin and Vanessa have been together with Steve well before Shelli was with them.
VAnessa tells her she has Shelli and Clay loyalty above everyone else.
Shelli says she needs to build trust with John, "You need to let him know you're a strong awesome player.. he comes with amazing golden information"
Clay says he feels very strongly about John.
Vanessa – She has zero of my loyalty, if you want to put her on I can guaran-fu*king-te you I can talk Austin and Liz to evict her
9:32pm Vanessa and Julia
Julia says she wishes she would have won she loves the HOH room. Vanessa thinks it's best that she didn't win. Says she gets no blood on her hands plus she can play in the next HOH.
Austin comes by Vanessa says they need to have a meeting once the backyard is open.
Austin – everythings ok
Vanessa – everying is 1 hundred billion percent
9:33pm Storage room James and Austin
Austin reassuring him they are good "I want to keep communicating with you. I don't want her to spread sh1t:"
James – you're cool
Sounds like Jackie was telling the girls she's not interested in him and wants him to leave her alone. Austin says just the other day Becky was saying Jackie is interested in him and he should pursue showmance. (She also told him he needs to address the girlfriend back home thing) . Austin suspects Becky was working with Jeff and their plan all along was to get him in a fake showmance with JAckie.
9:45pm Bedroom Jackie and Jason
Jason says he's broken his wrist is hurting. (Hurt it in the BOB)
JAckie – Hopefully it's counting
Jason- I hope it's something I can win otherwise I'm f****d
Jason says Shelli isn't going to backdoor someone she never did it last time she's not going to do it this time. He feels confident he's the main target this week.
Jason says week has pretty weak reasons to get him out, but that is how this game goes. The game is to drag other people down so you are higher on the social totem poll.
James comes in
Jason hopes this POV is how bad do you want it because he's taking all the punishments no rewards, "Jason isn't getting a vacation during this"
10:11pm
Talking about liz having a twin. Jackie and Clay are indifferent about it. Meg says today was the day she really noticed the differences in Liz jason says the liz at the nominations was different than the LIz at the Competition.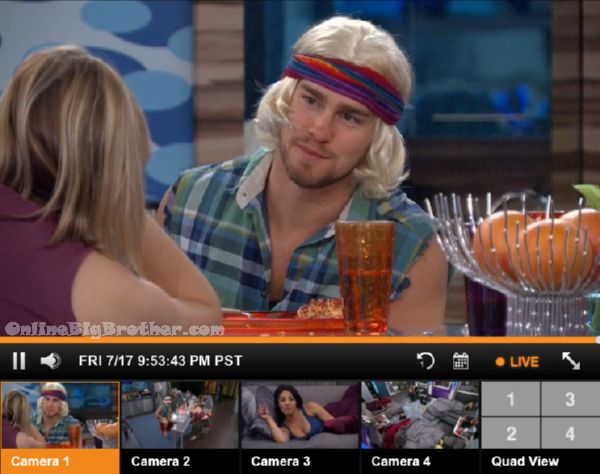 9:49pm Clay's new wig
Clay says it's Kurt Cobain's hair.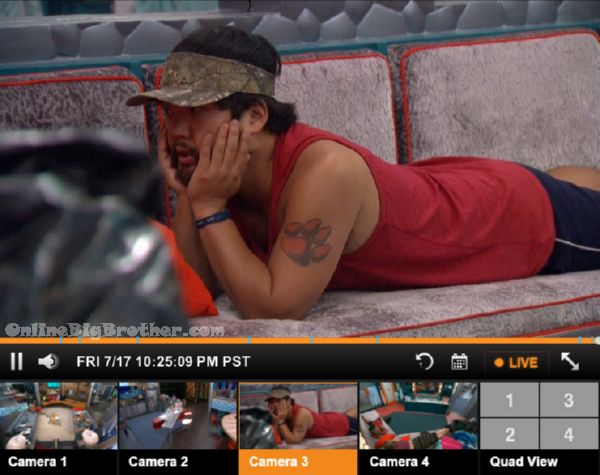 10:18pm Meg and James
James thinking the target is Audrey . Meg doesn't know if Jason is a good enough PAwn. James thinks so Audrey is going home if she's nominated.
James asks her what she would do if she won HOH.
Meg says she will take someone down
James – I would probably take Jason down.. Jason would kill you if you left him up there
Meg – I'm telling you JAson is not a big enough PAwn.. Leave Johnnymac up and Audrey goes home.
James says the vote can be a tie this week it's 5/5. Meg thinks it's way too risky to have jason and Audrey on the block.
Meg says Audrey will be able to destroy Jason on the block. She has a past with him a lot of dirt.
James – I know stuff too .. you're a smart girl.. your eyes.. are gorgeous ..
Becky enters the room briefly
James jokes that he's hitting on Meg and she can't exactly say no because they are locked in a house.
James – you know if Jason stays up there he's got three solid votes all he needs is two more
Meg – I know..
They start talking about last weeks vote, "It was close.. I'm not going to lie I was scared.. scared shitless" -James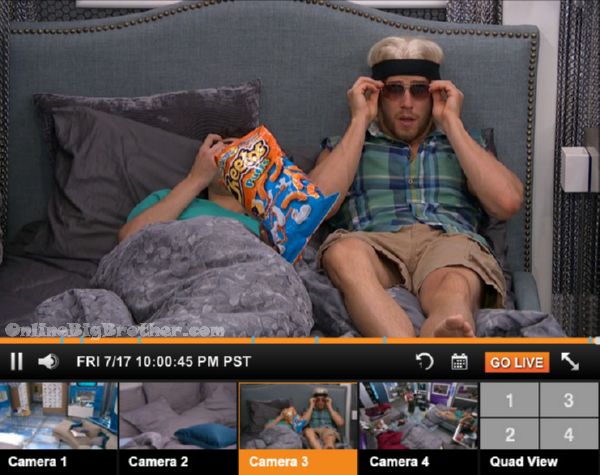 10:05pm chit chat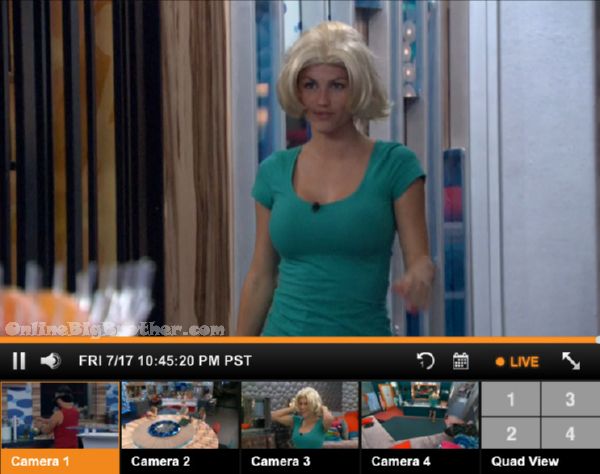 10:45pm Chit chat and trying on wigs.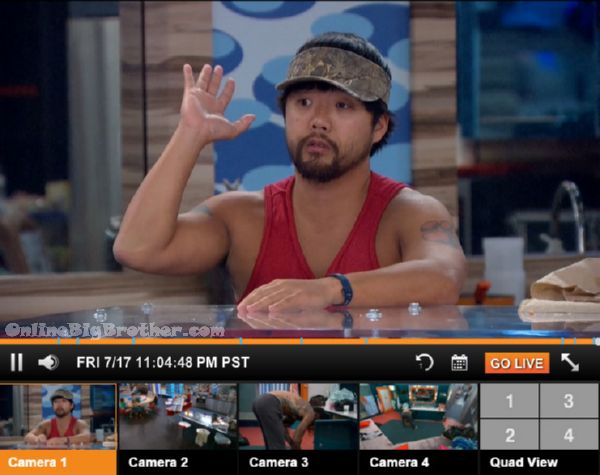 11:04pm Kitchen John, Meg, james, Shelli Chit chat
James wants a cat in the house. Becky hates cats. Johnnymac isn't keen either. James swears he's met girls that don't like cats but they like Gizmo "I swear.. I don't like cats but I like Gizmo is what they tell me" (Gizmo is his cat)
11:38pm Pizza feast
[envira-gallery id="122247″]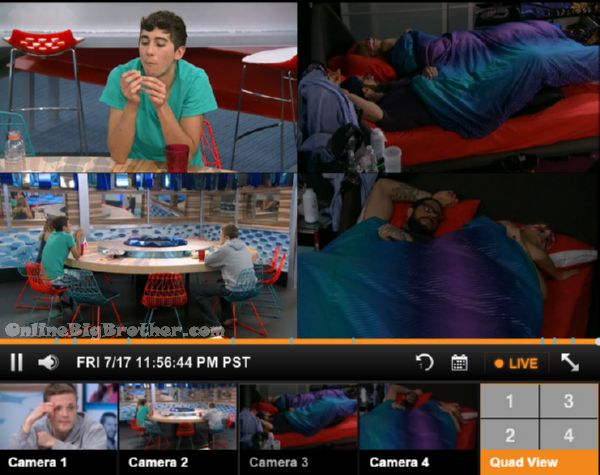 Midnight most houseguests are laying down. Steve, JohnnyMac, jason and Becky roaming around the kitchen .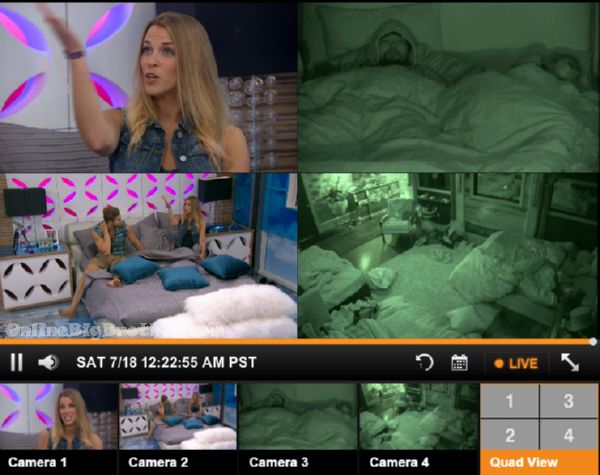 12:20am Shelli telling Clay about the breaker they blew in the kitchen.
Live Feed subscription gives you CBS All Access thousands of archived shows. Live Shows like Big Brother, all the Big Brother Seasons, and 24/7 coverage of what is happening inside the Big Brother House. Plus there's flashback that lets you go back to any second of the feeds and rewatch what happened. Simon and Dawg will index the season just watch the parts worth watching. All this for $5.99 a month try it out 1 week free. Support our efforts and get your feeds via a link on this site. Live feed subscription Sign up
[polldaddy poll=8983592]