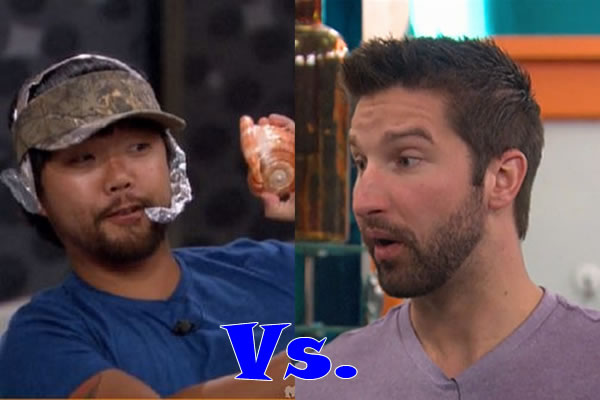 Week 3 is DONE. Another great week for this season.
Vanessa and Austin won the HOH in a crapshoot competition. After the Battle of the block Vanessa retained the Head of Household position her nominees were JohnnyMac and James. Vanessa was worried about having too much blood on her hands so she wanted the POV to not be played and for the house to vote out James. JohnnyMAC wins the Power of Veto and yes uses it on himself. Jason, Jeff, James, Meg, (to a degree Becky/Johnnymac) want her to nominate Audrey but are unable to give a convincing reason. The other side of the house, her allies, (Audrey, Austin, liz/Julia, Clay, Shelli, Steve) pressure Vanessa to put up Jeff. Jeff was playing most of the sides trying to cause divisions
Vanessa develops a convoluted scheme to reveal Jeff's "Loose Lips" and expose him for doing the same thing Audrey was doing week one. They had the nickname for Jeff "The Male Audrey" (Funny a side last night they were calling Audrey the Female Jeff.. lol)
Vanessa was able to pull her scheme off and caused a huge blow up destroying Jeff's game. Unfortunately for her it was too complicated and seemed staged, her and Austin took a fair amount of collateral damage. People outside vanessa's alliance are now suspecting something is up between Austin/Vanessa/Audrey and Liz/Julia.
Vanessa is the first HOH this year to lose their mind with the power, Her paranoia reached an all time high. Some things she was believing, Clay has a twin, Audrey is America's player, Liz can't be trusted, Clay/Shelli can't be trusted, Austin is sketchy, Audrey has to go etc…etc… etc.
Vanessa overplayed her HOH but she did enough to get her alliance's main target out. Jeff ran out of salesman tricks and couldn't get the votes to stay against James.
TRY the Big Brother 17 Live Feeds FREE for 7 Days!:
Click here to ensure your live feed subscription supports OnlineBigBrother.com at no extra cost to you.
*** You can go back and watch the feeds from day 1 with a live feed subscription

How did the week go down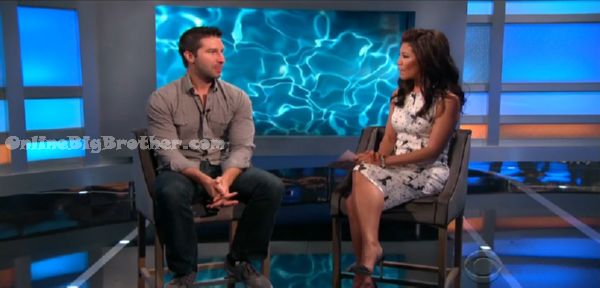 Summary of live show
JohnnyMac votes to evict James
Austin votes to evict Jeff
Liz votes to evict James
Jason votes to evict Jeff
Meg votes to evict Jeff
Becky votes to evict Jeff
Steve votes to evict James
Audrey votes to evict Jeff
Clay votes to evict Jeff
Jackie votes to evict James
Shelli votes to evict Jeff
Evicted Houseguest is Jeff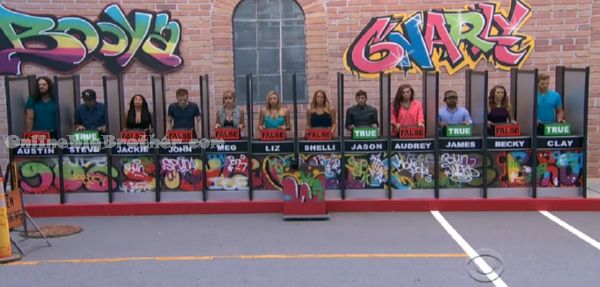 HOH Competition
Winners are Liz and Shelli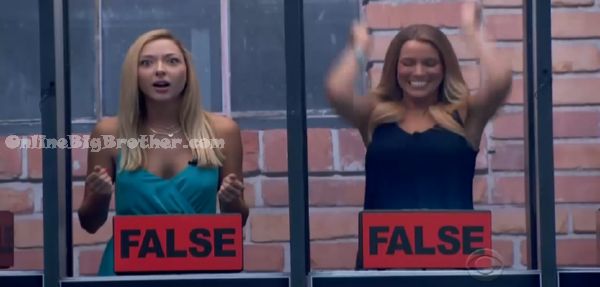 New BBtakeover twist is
Guest for BBtakeover is ??????
they don't mention the bbtakeover at all… wtf
My predictions
Jeff goes home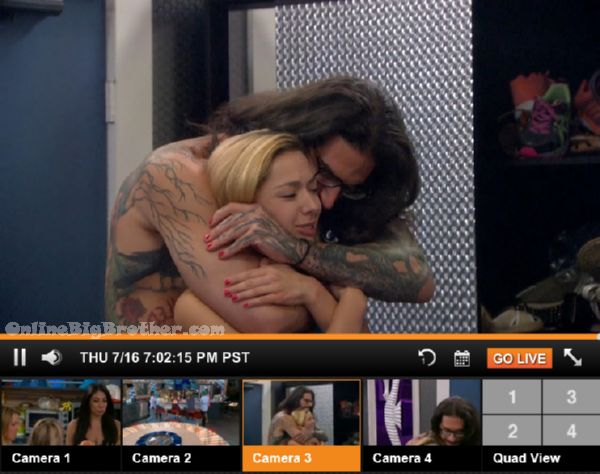 Feeds are up !!!
Top 3 Animated Gifs of the week
If you like these check out the weekly TOP 10 Animated gifs
Steve steals Liz from Austin @bigbspoilers #bb17 pic.twitter.com/NtQC63bNkF

— Dawg (@DawgsBigBrother) July 15, 2015
JohnnyMac and Liz Kiss during truth or dare #BB17 @DawgsBigBrother pic.twitter.com/DfEuyPtg4J

— OnlineBigBrother.com (@bigbspoilers) July 13, 2015
Audrey making the face Meg makes @bigbspoilers #bb17 pic.twitter.com/NPJ7zRtnLO

— Dawg (@DawgsBigBrother) July 14, 2015
Live Feed subscription gives you CBS All Access thousands of archived shows. Live Shows like Big Brother, all the Big Brother Seasons, and 24/7 coverage of what is happening inside the Big Brother House. Plus there's flashback that lets you go back to any second of the feeds and rewatch what happened. Simon and Dawg will index the season just watch the parts worth watching.
All this for $5.99 a month try it out 1 week free. Support our efforts and get your feeds via a link on this site. Live feed subscritpion Sign up

[polldaddy poll=8983592]

Share it YO!!
Tweet