POV Holder:
Vanessa
Next POV
July 18th
POV Used
?
POV Ceremony
July 20th
HOH Winner Team 1:
Liz
HOH Winner Team 2:
Shelli
Nominations 1 :
Jackie & James
Nominations 2:
Jason & Johnny Mac
Battle of the Block Winner
James and Jackie
Next HOH/ Next BOB
July 23rd / July17th
Original Nominations:
Jason & Johnny Mac
Current Nominations:
?
Have Nots
Jackie, Audrey, JohnnyMac and Becky
TRY the Big Brother 17 Live Feeds FREE for 1 WEEK:
Click here to ensure your live feed subscription supports OnlineBigBrother.com at no extra cost to you.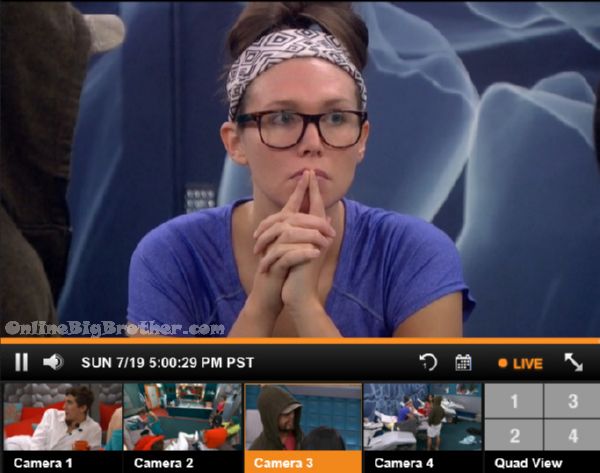 4:55pm Have nots Jackie, Audrey and James
Audrey says Clay, Shelli, Austin, VAnessa and Liz are in an alliance. "I was the sixth member"
Audrey tells Jackie Austin and VAnessa staged that fight with Jeff to get him out.
Audrey – Shelli ask John to throw the Comp they wanted to get Da out. (The HOH that dethroned Becky)
Audrey says today she was kicked out of her alliance.
Jackie doesn't believe there's a big alliance she needs more convincing.
James thinks if it is a true they are in deep shit.
Audrey goes on about how good Vanessa is and how much Shelli and Clay trust her.
Audrey says Shelli/Clay doesn't want Audrey to sell out the alliance that is why they are not telling she's going up tomorrow. "I know too much.. If I'm up of course I'm going to run my mouth"
Audrey says that alliance has been in control for three weeks now.
Audrey says Clay flipped on Jeff before the fight.
Audrey says Liz' target was Jackie and Austin's was James.
Jackie asks her why is Audrey telling them all this
Audrey thinks she can avoid going up, "Vanessa is a major threat and she's very overlooked"
Jackie says there isn't much they can do they have to win the HOH otherwise there's no guarantee
James and Jackie mention Austin telling them Liz was thinking of putting them up as Pawns and he tried to talk her out of it. Austin says she's not buying any of Austin's game talk thinks he's just look shady.
Audrey asks them who they trust more jason or johnnymac. James says johnnymac will always do what Clay/Shelli says.
James says he would rather Jason stays. Jackie can't decide.
James is still shocked that Vanessa and Austin are working with Shelli and Clay.
James leaves.
Jackie asks about this morning.
Audrey – Vanessa approached me about a final 2 deal .. I told Shelli about it
Jackie – then she (Vanessa) turned it on you
Audrey – yeah
Audrey – She trusts Vanessa more..
Audrey says a lot of people are not targeting Shelli and Clay.
Jackie says it felt like Vanessa came to her for damage control against Jeff. Jackie says Vanessa know what it is between them.
Audrey – If I stay I would love to prove to you you can trust me
Jackie says Audrey has never done anything to her, just she's heard a lot from Jeff and other people in the house.
Jason joins them. Says something is going on people are saying Audrey is pulling people into the room. James is saying Becky needs to talk to Audrey. Jackie and Audrey say nothing is going on.
[envira-gallery id="122634″]
5:25pm Meg and James
Meg tells him it's looking shady that he's spending so much time with Audrey. Meg says it's difficult seeing him start to listen to her.
James says supposedly there's a 6 person alliance..
Meg – you're weirding me out right now
Meg points out that Audrey is going on the block she's going to say anything and everything.
james thinks she's blowing everybody up because he's got nothing to lose.
Meg – Why are you getting Becky and Jackie involved.. Be careful.. people are not taking the whole thing well.
James – who are these people
Meg – everyone out there.. it's looking Shady.. they are all confused you are talking to her the whole worry she's going to start stuff.
Clay joins them. james says Audrey told him there is an alliance and Clay is part of it.
Clay goes on to cover it up..
Clay tells them that Austin and VAnessa have had nothing but the most positive things to say about James. They all believe he's a man of their word.
Clay says they knew Audrey was going to do this she's just starting 12 hours earlier. Meg asks James who would he trust more Audrey and Johnnymac/Jason. James trust both of them more than Audrey.
Meg laughs at the 6 person alliance, "Even if there was one I still want her gone" Meg laughs after saying this.
Clay goes on
James says Audrey wanted him to go up to Shelli and try to get him to throw Jason under the bus to get the heat off her back. She wanted to form a big alliance, Jason, JAmes, Audrey, Becky and Jackie.
5:45pm Jason and Jackie
Jackie brings up Vanessa wanting to make a deal with her because she f***d up with Jeff. Jason mentions Vanessa is trying to make a deal with everyone right now. Jackie says she's the last person Vanessa should do damage control on.
Jason says nobody wants to be up against JohnnyMac "he's like jesus"
Jackie says Audrey has run out of people she's calling to talk to Jackie, james and her.
Jackie – She came to me and James because we're safe.. She's thinking What do I have to lose they're not going to backdoor me.
Jason says James is looking crazy to everyone.
Jackie isn't buying anything Audrey is offering her to flip the house.
Jackie – i want Austin to go.. something is telling me Austin has got to go.. it's a weird feeling
Jason – He's sketcher than most.
Jason thinks once Audrey goes they will see a whole new side of people.
Vanessa joins.
She says she knows Jackie has a reason to come after her because she took out Jeff.
Vanessa says she wants to use the veto on Jason and for that make a deal with Jason that also extends to Jackie.
Jackie looks at Jason – you don't have to I don't want you to, we have our own thing
jason says if she uses the veto on him if he's HOH she's good, "If I win the veto in 5 weeks you're good"
Audrey joins them.
6:04pm Meg And Jason
Meg going over what Audrey is has been saying. There is a 6 person alliance in the house Austin, Liz, Shelli, Clay and VAnessa and Audrye but now Audrey has been kicked out.
Audrey told James this alliance was targeting him
She was trying to convince JAmes to throw jason under the bus and then form an alliance with james, Jason, Becky.
Meg says she was telling James "Even if there were a 6 person alliance I don't care she's out.. honestly that 5 person alliance will get me further in the game"
jason agrees he doubts there's an alliance says because Clay and Shelli are wanting to work with him
They both call Audrey nuts
Jason hopes no one is buying Audrey's stuff. Meg says james was
They laugh saying James is sometimes not the smartest
6:15pm Becky, Steve, Vanessa, Clay, Jackie, James
Laughing about Audrey's campaigning attempts. Exposing her lies and deceitful game play.
Jackie tells Clay and Vanessa they had a chance to get her out last week. They wonder if they should have a house meeting with everyone but Audrey.
6:31pm Vanessa and James
Vanessa says she has no idea what Audrey is saying about her. James says Audrey saying Liz, Clay, Shelli, Vanessa, Austin and Audrey were in an alliance. She also told him James was the original target last week.
Vanessa – I will swear on my f****G mother bro I went to bat for you.. verify with all four of them.
Vanessa tells him she's not in any alliance with Audrey 'She weaseled her way back in using my sympathies and as a gay person tried to appeal to that and manage to make me doubt it's even true what happened"
Vanessa – She told me you had a final 2 deal with her and a clown alliance, she told me about the final 8 deal
Vanessa – just so you know she's in 18 million alliances all from week 1. she has loyalty to no one.
[envira-gallery id="122648″]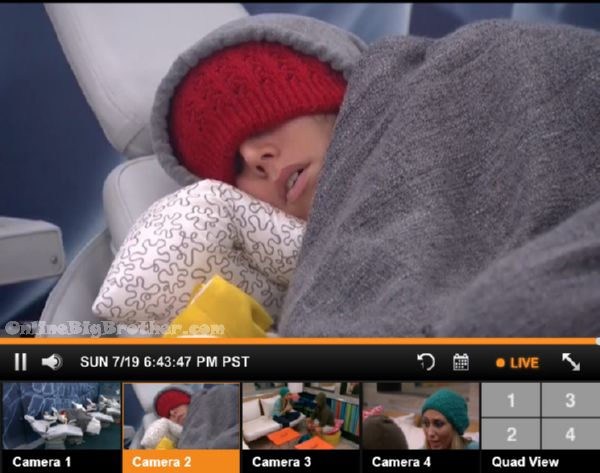 6:40pm Audrey and Jackie
Audrey says Vanessa will use the veto on JAson and Audrey will go up and home. Audrey says Jason put it perfectly going up against johnnymac is like being nominated against jesus
Audrey says Shelli and Clay played her emotionally.
Jackie leaves.
6:53pm HOH Clay and Shelli
Clay – Audrey is going to work she's already exploded everything about our alliance
Shelli – She's such a b1tch
Shelli is pissed says this is why Shelli didn't want Audrey to know early she wanted to take to everyone individually.
Clay – she talked to James and Jackie.. they don't believe it that whole alliance thing that was nipped from the jump.
Clay says Audrey is trying to get James to throw Jason under the bus so the veto isn't used.
Clay – everybody is against her Everybody
Shelli – Jackie, Meg James ?
Clay – Yes, Becky to
Clay fills her in on more or less everything Audrey is saying. points out nobody is buying it. Shelli laughs at how ridiculous is sounds to her.
Live Feed subscription gives you CBS All Access thousands of archived shows. Live Shows like Big Brother, all the Big Brother Seasons, and 24/7 coverage of what is happening inside the Big Brother House. Plus there's flashback that lets you go back to any second of the feeds and rewatch what happened. Simon and Dawg will index the season just watch the parts worth watching. All this for $5.99 a month try it out 1 week free. Support our efforts and get your feeds via a link on this site. Live feed subscription Sign up
[polldaddy poll=8983592]
Share it YO!!
Tweet