POV Holder:
Vanessa
Next POV
July 18th
POV Used
?
POV Ceremony
July 20th
HOH Winner Team 1:
Liz
HOH Winner Team 2:
Shelli
Nominations 1 :
Jackie & James
Nominations 2:
Jason & Johnny Mac
Battle of the Block Winner
James and Jackie
Next HOH/ Next BOB
July 23rd / July17th
Original Nominations:
Jason & Johnny Mac
Current Nominations:
?
Have Nots
Jackie, Audrey, JohnnyMac and Becky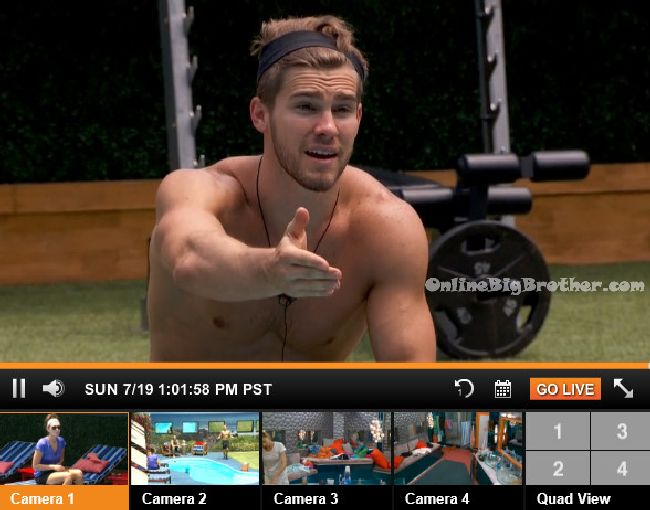 TRY the Big Brother 17 Live Feeds FREE for 1 WEEK:
Click here to ensure your live feed subscription supports OnlineBigBrother.com at no extra cost to you.
12:50pm – 1:25pm Backyard –
Clay says if its going to be then its going to be you know what I mean. Just try and get to know her. And if the connection is still there then its there. Audrey says she wants to know if everyone is taking zanecs. I'm going to try and get on the same medication that everyone else is on. Audrey says I'm not paranoid this week. Clay says BULLSH*T! Audrey says I'm not paranoid after our talk. Clay says you bring up 5000 scenarios. Austin says at some point you have to put your trust in other people. Its scary to have to do that in here but you have to. Audrey says part of it is its hard for me because of the things I've been through. I've got like that extra bit of.. Clay says you have to try. You're going to get burned or you're not. You have to try. When you don't trust people, especially people that trust you. You ruin your own game and the game of people around you. You have people that trust you and you almost drive them away. You're paranoid so much that you push them away. Even people like Shelli who has done everything for you. Clay says case in point you asked me to swear that Shelli wouldn't backdoor you. Audrey says I didn't say that. Clay says quote unquote swear to me that Shelli isn't going to backdoor me? Audrey says I don't believe I said that. Audrey says I'm not going to argue with you. Audrey says the one thing I said to you wasn't to hurt you. You want me to not act defensive. Clay says because you're paranoid of everyone. Audrey says no I'm not. Clay says yes you are! You have been the whole game. Audrey asks what did I do to you that was less credible than Jeff. Clay says I'm not comparing you to Jeff. Jeff is gone! Clay says the way that you're saying things is the way people portray you. Audrey says that's not me, that's you saying that. Clay says the whole house thinks that. Audrey says if I just admit to what you say.. they I have no integrity. Austin says I think what he is saying is that you just have to trust in people. Audrey says I let it go but you're still going in circles about it. Clay says I'm trying to help you. Audrey says I don't believe in my heart that everyone is against me. Audrey says I had one bad day. Audrey says you're basing perspective off things that aren't empirical! Clay says I don't care, you think I want to talk about it. I'm trying to help you. Austin says you shouldn't have bad days with the people you trust. Audrey says I was treated like a f**King virus!! I feel like I need to lock myself in a room and not talk to anybody. Clay says what Shelli has done for you, you should do the same in return. Audrey says I am. I had one bad day. I've never done anything personal against her. You guys are saying I am so paranoid, I'm this, I'm that but no one has been in the position I've been in. Clay says that is when you trust people the most. Audrey says I get excluded from things. Clay says that was one morning. Austin says I was up there because Liz was HOH, Clay was there because Shelli was HOH. Audrey says why was Vanessa there? Austin says because she was up there last week and we can't look like we're working with you or the other side of the house would band together. Audrey says I want to feel included! Everything happened so long ago! Am I supposed to sit here and be a mute?! Am I supposed to be Victoria!? Austin says she got to final 3. Clay says you've never done anything for my game. Audrey says I am offended by that statement. I've done everything to help your game. You treated me like a creature. Clay says Shelli has literally risked her game for you and I don't honestly see that you've done that for her. Audrey asks what do I need to do .. do I need to chop my arm off and give it to her?!!?!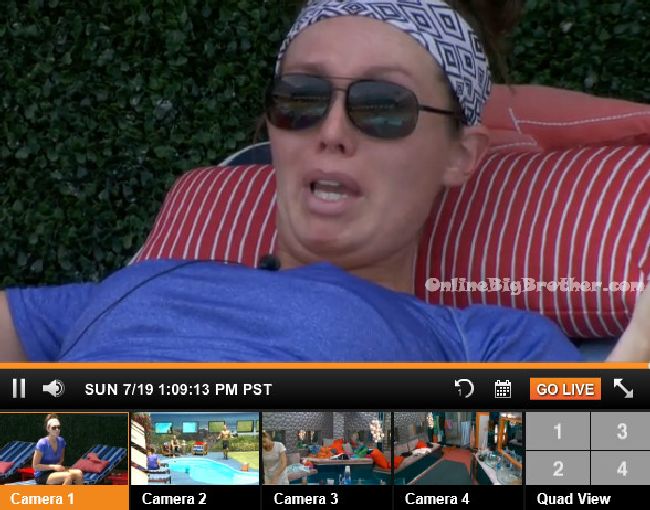 1:10am – 1:30pm HOH room – Vanessa joins Shelli up in the HOH room. Vanessa says I thought about something.. what is the most drama free way it catch Audrey in a lie. The one that she told to Day and what Jason told me. Shelli says its not that detrimental of a lie. Vanessa says it speaks to her game and wanting to get closer to Jason. Vanessa says that she thinks James overheard it. Vanessa is worried that Audrey knows too much about Shelli. Vanessa says we have this great alliance. But we are dragging her kicking and screaming ..and making things miserable! She's doing everything she can to make it miserable. It's like we're on a road trip with a kid that is kicking and screaming the whole way. Shelli says that is a great analogy. Vanessa says she could have done things to help our trust. She could have done things to re-enforce our trust instead of constantly taking those little things of trust and karate chopping them. Her paranoia will be her undoing. Vanessa says what bothers me the most is that she takes us for stupid. She takes us for dumb. What are the comps we've won .. those are mental comps. Her final plan is to get to the end with you and I and have you and I not trust each other. Shelli asks does she actually think she will get to the end without trusting each other? Shelli says she had a final 2 deal with Jason. She had a final 2 deal with James. Vanessa says that's interesting. Julia joins them.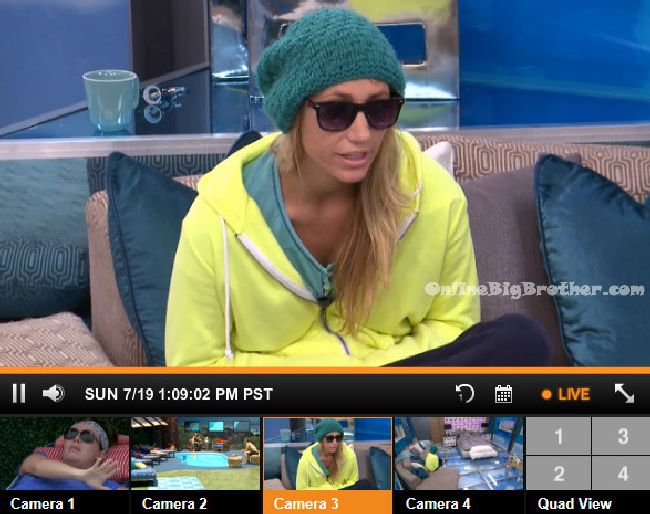 Audrey says I asked you if she was going to turn against me? Clay says you didn't say that. It's pointless to argue with you. Audrey says I swear on my life that is what I said. I can't control if you can't remember that. Clay says you told me that later. Audrey says you just said I didn't say that. Audrey says I remember things so vividly and I can't help if you have selective memory. Audrey says when I told you about Jeff and James being in bed ..saying he didn't think he could trust Clay and Shelli. Clay says you acted like you pulled me into a room and brought that up and that didn't happen. Audrey says the truth will come out when we can sit and watch the tape. Clay says I would bet everything on my game as to what you said. Gosh this makes me so angry. Clay heads up to the HOH room.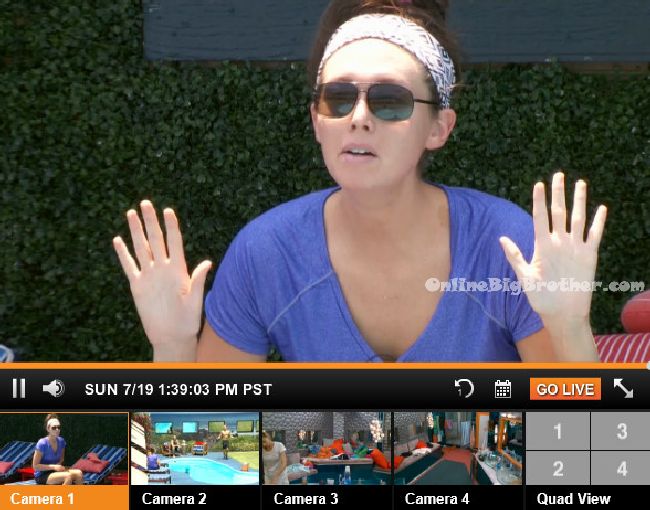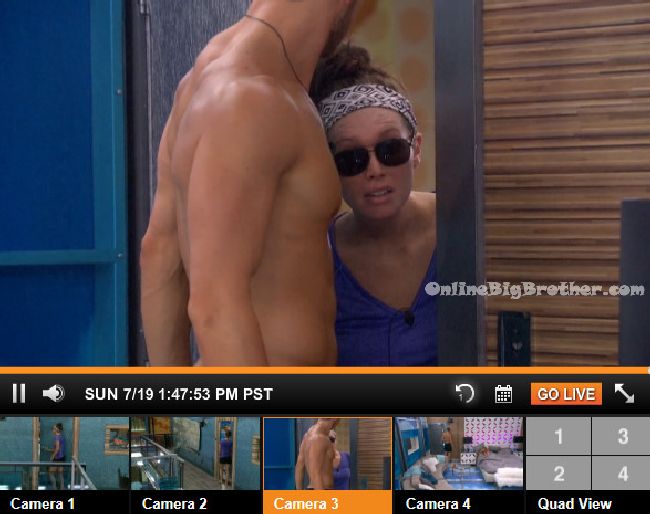 1:45pm – 2:05pm Clay tells Shelli and Vanessa that he almost blew his sh*t with Audrey. She is doing exactly what she did the other day. She gets emotional. Austin was there the whole time and can validate it all. Shelli asks did she pin you down and start bring things up? Clay says yeah. She is trying to .. she just always goes back to she wants to play the victim. She cries and wants you to feel bad for her. She acts like she's never said or did anything negatively to affect our game. Clay says she says she never said swear to me that shelli won't backdoor me?. Audrey comes up and asks to talk Shelli. Clay says no can I talk to her. Audrey asks Shelli to mediate it. Audrey says this is getting so blown up. Clay says you can talk to her after. Audrey says I don't care if you're in the room. Clay says well I care if you're in the room. Audrey says well I'll wait right out here then. Clay tries to relay the conversation to Shelli but is having trouble remembering it all. Clay then brings Audrey into the room.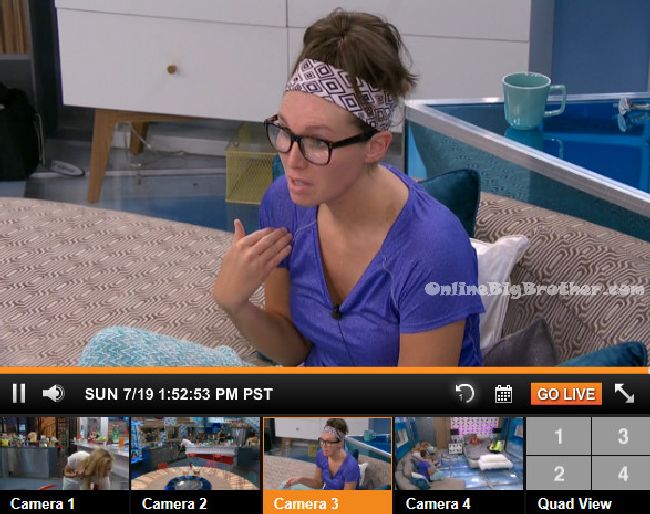 2:10pm Audrey says I can't even remember how it all got brought up. He said I'm paranoid all the time and that I haven't done as much for you as you've done for me. Clay is telling me how I act and feel. Audrey says I can't control what you remember and what I remember. About the Jeff thing you say I didn't specifically pull you aside to tell you that. Clay says I knew it days before and wanted to see if you would lie about it. Audrey asks why? Clay says because that's the way the game is. I am not going to sit on the sidelines and watch the game with you still here. Audrey says you say that I'm still here because of you guys. I've tried to go out of my way to tell Shelli I appreciate the things she's done. And you're trying to make me feel like sh*t about it. Audrey says its just scepticism, its not empirical! Audrey says you cornered me. Clay asks I cornered you?! Audrey says you were talking in circles and couldn't remember what you were saying. Clay says you came outside and started talking game with us. Audrey says you say that I've never done anything for your and Shelli's game. Audrey says I said in that room .. do you think she (Shelli) is going to use it against me. Clay says if you are going to sit here and lie to me I am about to walk out of the room. Lying infuriates me! Shelli asks I don't understand why this is such a big issue. Clay says because she is lying to me and ya'll. Shelli says when Vanessa won HOH .. not one time did I ask if she would backdoor me or you or clay. And every single time one of us wins you ask if you should be worried. Vanessa says the premise is that you don't trust us fully … so should we trust you fully!? Audrey starts crying saying her back has been against the wall since the beginning. Vanessa says remember I asked you after the blow up I asked you what did you learn from this. You said that you waited too long to choose a side. Are you sure that you're not doing that again? Audrey says I'm not doing that. Shelli says you say we need to put ourselves in your shoes but that is EXACTLY what I've done!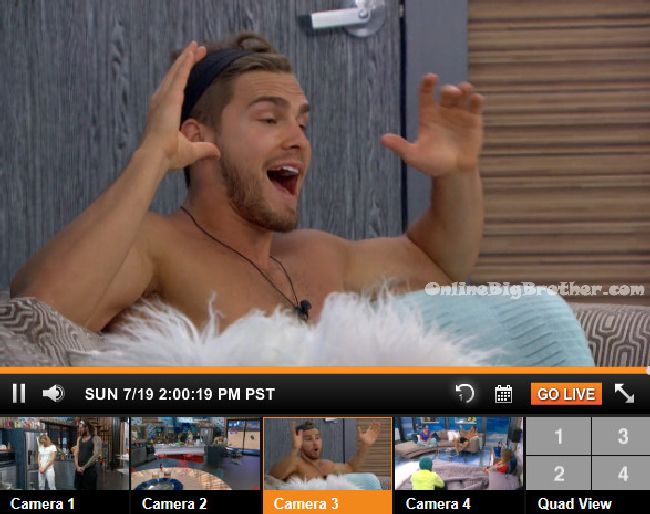 2:30pm – 2:40pm Vanessa says why don't you ever listen to the things I said. You're not concerned about me at all? Do you have any concerns about me? Audrey says I said I was concerned about you and Steve. Audrey says I told you about my dream about me and her. Vanessa says if that did happen what was my reply? Audrey says you said that you didn't talk game with Steve. Vanessa asks why are you concerned about Steve.. he is the biggest none threat! Vanessa asks did I abate your concerns? Audrey says yes. Vanessa says so either you're calling me a Liar or you're a liar! Which is it!?!!? Vanessa asks were you still concerned about Steve and I?! Audrey says I was paranoid about lot of things. Clay asks about the final 2 deal? Vanessa says did I or did I not say we are building trust this week and when we get to that point .. Audrey says you said that at a certain point you knew Shelli would choose Clay over me. Vanessa says YOU SAID THAT!!!!!! YOU SAID THAT!!!!! Oh my god are you kidding me!? Audrey says I told you that in comlete confidence. Audrey says Vanessa isn't going to trust me no matter what now. Vanessa says I have no F**KING loyalty to you now!!!! Vanessa goes off on Audrey. Audrey says if I go out this week I will go out with my integrity. Audrey says I am not going to argue .. you are an amazing manipulator! You set up the whole Jeff thing and made it all up to get him out. Vanessa were you or were you not in the room when I said I don't have a reason to put Jeff up. Vanessa says you have no loyalty to me or anyone. If you think you're helping SHelli .. you're not! I've been helping you a close second to Shelli like a moron. Audrey says I know how you feel betrayed. In that moment there was no way I could turn on her. Vanessa says you're constantly planting seeds out doubt with everyone. Vanessa says you said we're at the point in the game where moves are going to have to be made .. basically insinuating that Shelli and Clay will need to be broken up. Audrey denies saying that. Clay says there is a lot of things that I can prove about you where you lied. Audrey asks who? Clay says I'm not tell you who. Audrey says well obviously their word is worth more than mine. Clay says you're caught and you're trying to back peddle. Audrey says when this is all over you're going to look stupid! Clay says fine I will take that chance!!! Clay says I can't even speak to you right now. Clay says you're a liar, you're a liar, you're a blatant liar! Clay says I'm not throwing other people under the bus for you. I'll take that 1% chance I'm wrong. Clay leaves the room. Shelli says there have been 3 weeks in a row you could have danced through this game happy but you haven't. Audrey tries to interrupt. Shelli says don't interject! I've listened to you talk for an hour!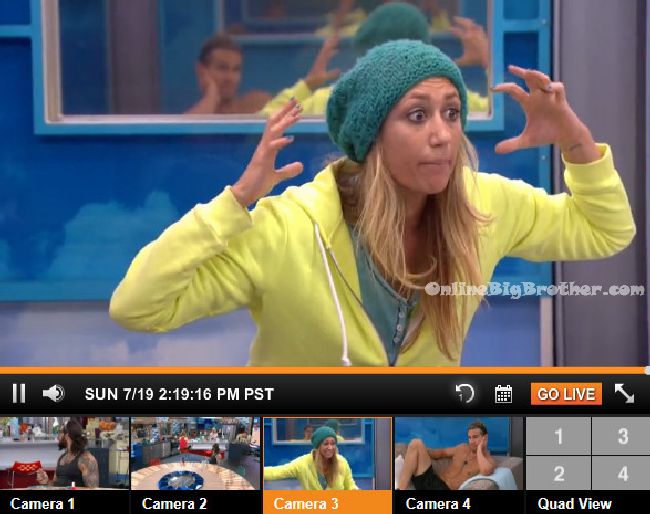 Live Feed subscription gives you CBS All Access thousands of archived shows. Live Shows like Big Brother, all the Big Brother Seasons, and 24/7 coverage of what is happening inside the Big Brother House. Plus there's flashback that lets you go back to any second of the feeds and rewatch what happened. Simon and Dawg will index the season just watch the parts worth watching. All this for $5.99 a month try it out 1 week free. Support our efforts and get your feeds via a link on this site. Live feed subscription Sign up
[polldaddy poll=8983592]
Share it YO!!
Tweet