POV Holder:
Vanessa
Next POV
July 18th
POV Used
Yes
POV Ceremony
July 20th
HOH Winner Team 1:
Liz
HOH Winner Team 2:
Shelli
Nominations 1 :
Jackie & James
Nominations 2:
Jason & Johnny Mac
Battle of the Block Winner
James and Jackie
Next HOH/ Next BOB
July 23rd / July17th
Original Nominations:
Jason & Johnny Mac
Current Nominations:
JohnnMAC and Audrey
Have Nots
Jackie, Audrey, JohnnyMac and Becky
TRY the Big Brother 17 Live Feeds FREE for 1 WEEK:
Click here to ensure your live feed subscription supports OnlineBigBrother.com at no extra cost to you.
3:01pm HOH Vanessa, Shelli and Clay sleeping
Talking about the entire house talking about what is going on with Audrey.
They go over the things Audrey was saying on Sunday before she snapped and went into hiding. She was trying to get Jackie, james and Becky to convince Shelli to not nominate he. She was also spilling the beans about all the alliance's on Shelli's side. Most of this they found out about from James. Shelli doesn't think Jame made any of that up she doesn't think he's the type to "Make things up". Vanessa has some doubts about James.
Vanessa – why did she unravel like that… like what happened
They agree Audrey couldn't keep all her lies and schemes straight that is why when it all collapsed she unravelled.
Shelli brings up Audrey going off about Johnny mac putting Shelli up next week when Shelli was 2 days into her HOH.
Shelli asks her who she would put up for. VAnessa says she will heavily listen to Shelli and Clay's opinion and is very open depends on who the other HOH is.
Vanessa – I have a good enough reason to justify anyone.. other side of our group us five.
Vanessa – I wouldn't do a move against Liz and Austin
Shelli – you said we should put someone up in our group..
Vanessa says she means she wants to try and take the heat off them.
Shelli says the whole house already knows they are working together.
Vanessa says the biggest targets are Liz because of the twins and Steve
Shelli says people are worried because of his game.
Vanessa says Steve has no social game he's not a worry
VAnessa – would you feel comfortable putting liz and Austin up
Shelli – no
Vanessa – all 5 of us need to stick together
Vanessa says Liz is worried about going up, she hasn't talked game with them lately.
Shelli says Liz, Julia and Austin are 3 votes in the house and 3 jury votes
Vanessa says 3 votes is a big deal she never thought of that. Vanessa adds there still 12 people in the house.
Vanessa stressing they have to stick together, their alliance of 5 is loyal. Once they get to final 8 they can worry about turning on each other.
VAnessa is positive Jackie is working with Jason, Meg, James.
Shelli – she's playing really under the radar
Vanessa says Jackie made a mistake turning that offer down, "She basically told me i'm good with jason I have nothing to worry about" Vanessa explains she showed me they are working together she should have taken the deal and pretended to with her.
Shelli asks who is a floater
Vanesa Becky
Shelli – she will win competitions
Vanessa – She's a social floater
Vanessa has no idea where Steve or Johnnymac are. Shelli says Jackie and Becky are two possible swing votes.
Shelli starts thinking that Becky, Steve, JohnnyMac and Jackie were the 4 that votes to keep Jeff. She believes that was the 5 person alliance Audrey was talking about. (+1 for Jeff)
Clay gets up, they start talking about Steve throwing all the competitions and it pisses them off.
Vanessa tells them Steve is not "Linked" in like the other floaters are. Steve has no numbers so he's limited what he can do.
Steve joins them says everyone is sleeping. Syas they are making a lot of rule exceptions for Audrey, "She was eating pizza". Adds they were letting her sleep on the floor and with the lights out.
Steve points out Have nots can break the rules they've done it in the past you get a penalty vote. So it won't make any difference for her.
After Steve and Vanessa leave Shelli and Clay start getting paranoid that Steve heard them from outside the HOH.
[envira-gallery id="123279″]
3:03pm Austin and LIz Bathroom
Talking about Audrey not showing up to the wrap party.
Liz says Audrey took the P..U… S…S..Y way out
Austin tells her if Liz is picked to be a have nots He'll volunteer to be a have not with her.
Liz says at least Audrey is in the have nots in the back room dungeon. If she was the purple room they would be all scared to go in there
Austin hopes they close the have nots room down it's too cursed now
4:11pm Looks like everyone but Liz and Austin are sleeping
Austin is talking about the Movie Sunshine where a group of astronauts have to restart the sun. (Cool scifi movie)
[envira-gallery id="123285″]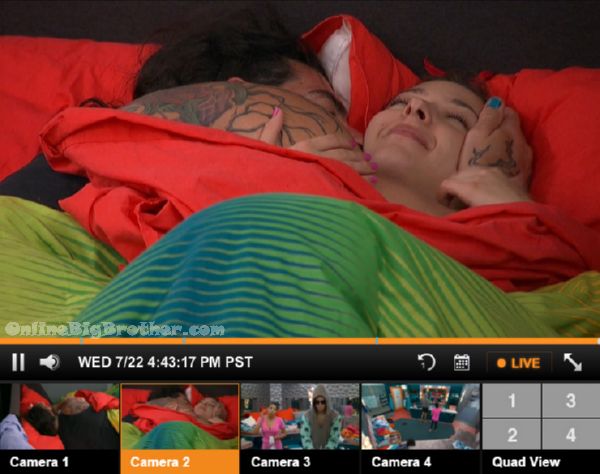 4:32pm Audrey roaming on the feeds.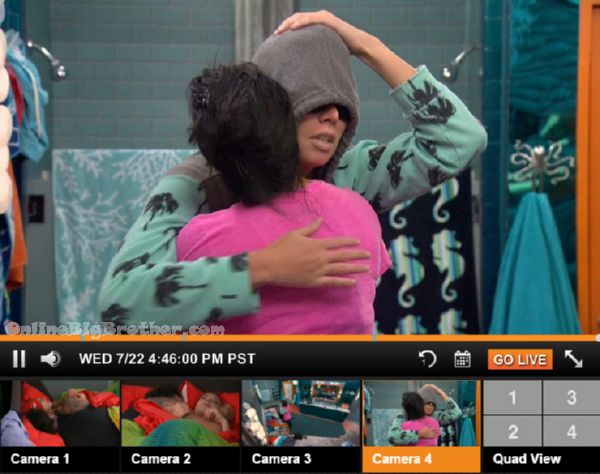 4:44pm Audrey and Jackie
Jackie – how are you doing
Audrey mumbles
Audrey – what sht general consensus
Jackie – we all love you we want to make sure you leave happy, beautiful, strong, powerful
Jackie adds they all love her they want to make sure she's OK, Nobody wants to confront her, fight her they just want to have a good time before she leaves.. "sorry it had to be this way"
Jackie – are you ok
Audrey – How did it all boil down.. Did What I tell James did he tell everybody
Jackie says there was already a back door before Audrey told them about the alliances.
Audrey says Austin, Clay, Shelli and VAnessa were just looking for a reason to put her up points out this is what they did to Jeff "I totally fell for it"
Jackie – No game talk no nothing.. we want you to walk out of here strong beautiful Women
Jackie They're going to love you out there.. You played one hell of a game girl.. we all think so we promise
Audrey thanks her and runs back to the dentist room .
[envira-gallery id="123294″]
Live Feed subscription gives you CBS All Access thousands of archived shows. Live Shows like Big Brother, all the Big Brother Seasons, and 24/7 coverage of what is happening inside the Big Brother House. Plus there's flashback that lets you go back to any second of the feeds and rewatch what happened. Simon and Dawg will index the season just watch the parts worth watching. All this for $5.99 a month try it out 1 week free. Support our efforts and get your feeds via a link on this site. Live feed subscription Sign up
[polldaddy poll=8983592]
Share it YO!!
Tweet