POV Holder:
Vanessa
Next POV
July 18th
POV Used
?
POV Ceremony
July 20th
HOH Winner Team 1:
Liz
HOH Winner Team 2:
Shelli
Nominations 1 :
Jackie & James
Nominations 2:
Jason & Johnny Mac
Battle of the Block Winner
James and Jackie
Next HOH/ Next BOB
July 23rd / July17th
Original Nominations:
Jason & Johnny Mac
Current Nominations:
?
Have Nots
Jackie, Audrey, JohnnyMac and Becky
TRY the Big Brother 17 Live Feeds FREE for 1 WEEK:
Click here to ensure your live feed subscription supports OnlineBigBrother.com at no extra cost to you.
2:43pm HOH Shelli, Vanessa and Audrey
Shelli says Audrey is making her really jittery, "I've been so straight and honest with you"
Audrey starts to tear up says she's tried from her perspective to give Shelli her trust and loyalty.
Audrey – Obviously you all don't trust me, I can't do anything about it..
Audrey says if she feels it's better for her game for Audrey to leave then she can't control that.
VAnessa gets up to leave – "I wish you the best in life but in this game I can never trust you again"
Shelli says people from different sides of the house have been telling her things about Audrey.
Audrey thinks these people are making things up to get her out.
Audrey starts telling them that VAnessa is an amazing player so if she's the one they want to work with that's fine. Points out everything that vanessa has pulled off is Amazing, "If this is the 500K mistake and it costs you guys that fine".
Audrey tells her she's not gunning for Shelli. They argue over clay's recollection of some events back when Jeff was in the game. Audrey says at this point it's her word against Clays and he's got a selective memory.
Audrey – He is not remember things Spot on .. luckily there's a camera on us 24/7 that can prove it.
Shelli says it's week 4 she's in a strong alliance and Audrey is already trying to split that up, why is she doing this? Audrey says she's not putting seeds of doubt into anybody minds.
Shelli tells her she's tired they've been talking about this for over a hour they are not going to come to any conclusions "I felt like we've said everything there is to say right now"
Audrey – I'm sorry you guys feel like you can't trust me … Unfortunately I'm right back at rock bottom I only know one outcome, it sucks because I know the truth ..
Shelli tells her she needs to take a break they can talk more later
Audrey – I don't understand why from your perspective why you would keep me a… I'm going to take the next couple days and process it I want you to look me in the eye, I have never done anything in this game to sabotage you and clays' game..
"Vanessa is very good and I know you guys trust her… I was someone that could have gone to bat for you I swear on my life you are going to see it that no I was going to do I said it in all my DR"
"I hope you do well.. from my perspective I know what I've done and what I haven't done.. this was a mistake this is a major mistake."
Shelli – what's the mistake
Audrey – the mistake bringing up the point with Vanessa about the conversation we had..
Audrey knows if Shelli keeps her vanessa will have issues with her and clay. "I'm not longer a part of this group"
Shelli – what are you trying to get me paranoid about
Audrey – People will come for me way before they come for you and if I win i'll get the blood on my hands.. I'm telling you from the bottom of my heart.. that person is f****g amazing (VAnessa).. she' is so f***g smart it blows my mind.. she does not have your long term best interest..
Sheli – whose Vanessa taking to the end
Audrey – Austin, she's had him since the beginning.
Julia comes in for a second. On her way out Shelli tries to sneak out with her but is pulled back in by Audrey.
Shelli has had enough they've had this conversation for hours now..
Audrey – all I'm saying it was a mistake for her to exploit that conversation.. At the end of the day she's (VAnessa) working with Jason, Steve and AUstin.. she's got her bases covered.. I know you believe in your heart you can trust her I'm telling you when you rewatch this you'll know I was right and she did not have your best interests.. she's not going to take you to the end..
Shelli – ok.. every single person in this house won't take me to the end
Audrey -I would take you to the end
Shelli says she needs to take a break.
Audrey says she's not dumb she knows how this is going to play out, "I'm telling you I had your best interests in mind I really did"
Audrey – we don't need to talk about it again we've been completely outplayed
Audrey says Vanessa is cutting deals with JAson, she's with Steve, "She's f****g great she's amazing"
Shelli leaves..
Audrey – No f****g Clue what to do now
[envira-gallery id="122614″]
3:40pm HOH Audrey and Shelli
Shelli – I have no idea what i'm going to do
Audrey – please give me as much advance as possible.. I'm tired of crying on TV
Audrey begins to cry.
Shelli pleads with her to stop doing this.. she's got to know the position Shelli is in.
3:47pm Vanessa and Jackie
VAnessa hopes she understands she did what she did. Vanessa says she had no reason to target Jeff before the blow up happened.
Vanessa – In this game it doesn't take a lot for people to get reasons to target people.. As an olive branch I have an idea.
Vanessa is saying she wants to use her POV on either Jason or Johnnymac and will cut a deal with the one she's using the POV on. The deal will be for 1 week safety for her and Jackie.
Jackie – I'm close to both of them I don't think they will do that to me..
jackie says that's its nice and Sweet of her to offer. (Jackie is after Vanessa)
Vanessa – You don't want me to
Jackie – you can.. I don't feel in the need for it to get that messy..
Vanessa – I hope I'm not a target for you you're not a target for me not even close
JAckie asks whos she going to use the veto on. Vanessa says she doesn't have a relationship with either.
Vanessa says Audrey has been found out for so many lies.
Jackie says would have been best if Audrey went home last week. Vanessa agrees.
Jackie – yeah too bad Jeff went home
Vanessa says the things Audrey is saying about Vanessa are so hurting after Vanesa went against the entire house and didn't put her up next week.
Jackie recommends she use the POV on Jason, He deserve to be in the game. Jackie suggests VAnessa talks to Jason he's got a history with Audrey.
Vanessa asks her about her targets. jackie says she's been on the block twice and there's people that haven't been on the block at all, "If I can be a pawn why can't other people be pawns in the game."
JAckie – You didn't put me up
Jackie brings up Austin coming up to her and all of a sudden caring about her game. "I was like Who's this guy.. like who's this guy"
Vanessa says Austin is a emotional guys and he likes women, "He's very protective of women"
Vanessa says she jokes with him calls him Casanova
Vanessa says John volunteered to go on the block because he thought Audrey was going up.
Jackie says she's heard John has been throwing competition.
Jackie asks about Austin and his girlfriend back home.
Vanessa explains..
Austin told her he's made an agreement with his girlfriend before entering the house they have an understanding that they are using this time to figure things out.. they can do what they want if they come back and want to move on or if she wants to move on it wasn't meant to be.
4:13pm – 4:40pm Audrey and JAmes HAve nots (Audrey is campaigning.. she's blowing everything up)
Audrey saying Vanessa staged that fight with Jeff and that is why she's talking to jackie right now for Damage control.
Audrey outs her alliance with them says it includes, Austin, LIz, Vanessa, Shelli and Clay. audrey adds that she's out of the alliance now. James is shocked clay and Shelli are in an alliance with LIz and Austin.
She tells him not to tell Jason any of this yet wait until after teh veto ceremony. Audrey can prove to Jackie Vanessa made it up.
James says Clay and Shelli are a likable couple everyone is feeding them information. Audrey thinks Becky might come to them if they can let her know Shelli had John throw the BOB so she was dethroned.
Audrey says he needs to Talk to Shelli and say he's worried about the fight with Audrey"Stick up for me" . Audrey wants him to convince them to keep her off the block and try and get Vanessa to not use the veto.
James – I need some empirical evidence I would be flipping on a lot of people.
Audrey – the empirical evidence i've never thrown Sheli and Clay under the bus
James asks If JohnnyMac is on "their team to"
Audrey doesn't think so she thinks he's just following clay and Shelli
Audrey warns him how dangerous Vanessa is and how smart she is. Audrey points out Shelli and Clay trust Vanessa so much Vanessa just makes things up now and they beleive it on face value.
Audrey tells him to tells Shelli that jason has mentioned about targeting Shelli. By saying that it builds confidence with SHelli, "She'll keep nominations the same"
James – it's supposed to be an easy week
Audrey wants to get johnnymac out this week. team up with meg, jason, JAmes and flip the house
Audrey tells him not to mention Audrey Jason would just use that information to make sure she went on the block.
James says they need to break the Clay/Shelli alliance up. James says he's going to talk to Shelli. He knows Clay and Shelli trust him. They talk about winning both HOH's next week and putting Austin, Liz, Clay and Shelli up.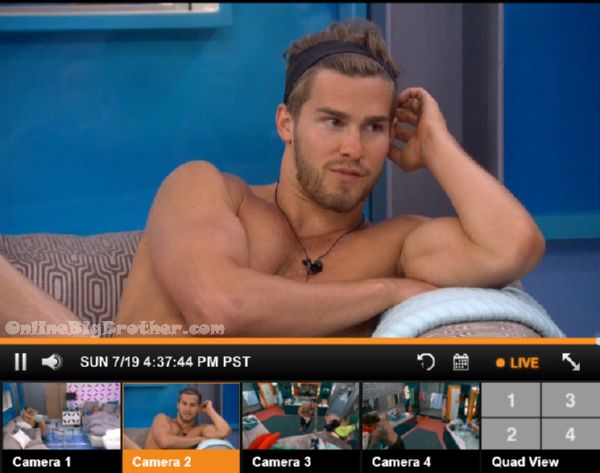 4:40pm HOH Shelli and Clay
After some ranting about Audrey. Clay says Steve is gravitating towards the people he trusts, Shelli, Clay, and JohnnyMac.
Clay says Audrey is going to be behind the scenes there won't be any blow ups.
Shelli – it'll be a busy night at the office..
Live Feed subscription gives you CBS All Access thousands of archived shows. Live Shows like Big Brother, all the Big Brother Seasons, and 24/7 coverage of what is happening inside the Big Brother House. Plus there's flashback that lets you go back to any second of the feeds and rewatch what happened. Simon and Dawg will index the season just watch the parts worth watching. All this for $5.99 a month try it out 1 week free. Support our efforts and get your feeds via a link on this site. Live feed subscription Sign up
[polldaddy poll=8983592]
Share it YO!!
Tweet