POV Holder:
?
Next POV
July 18th
POV Used
?
POV Ceremony
July 20th
HOH Winner Team 1:
Liz
HOH Winner Team 2:
Shelli
Nominations 1 :
Jackie & James
Nominations 2:
Jason & Johnny Mac
Battle of the Block Winner
?
Next HOH/ Next BOB
July 23rd / July17th
Original Nominations:
?
Current Nominations:
?
Have Nots
?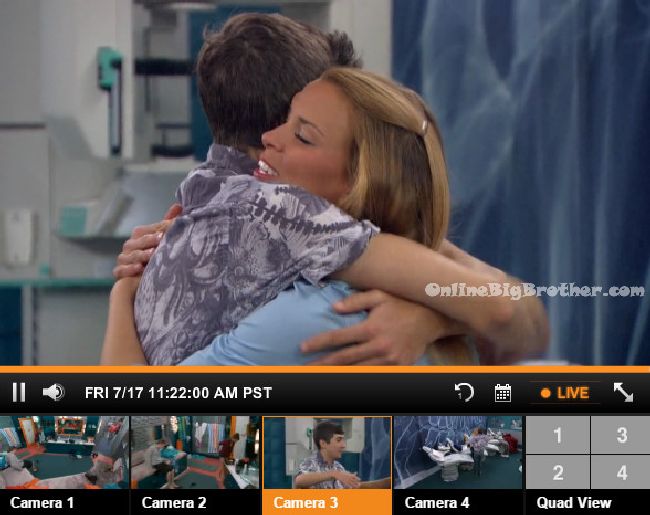 TRY the Big Brother 17 Live Feeds FREE for 1 WEEK:
Click here to ensure your live feed subscription supports OnlineBigBrother.com at no extra cost to you.
9:50am – 11:20am
Big Brother blocks the live feeds for the nomination ceremony to take place. After being up all night, going back and forth and talking in circles Liz and Shelli finally decided on what their nominations would be.
Nomination Results:
Liz nominated:
James and Jackie.
Shelli nominated:
Jason & Johnny
(The plan once again is Johnny Mac has agreed to throw the BOB again thus keeping Shelli as the HOH to get out the target Jason.)
Shelli tells Jason I am literally a deer in headlights. Jason says its okay. I know its easier to put a face up there that's already been up there. Obviously Jeff was saying anything about me that he could but next time just come to me. I was thinking that she wasn't going to drag my name around any more but obviously she still is. Shelli says I don't think she still is.
Liz tells Jackie I can tell you that you're not the target. There is so much that could happen so I wouldn't worry too much. Jackie says okay. Jackie leaves. Austin talks to Liz. Lis says that Jackie asked me to promise her she wasn't the target. I was like what you've never talked game with me and you're going to ask me that? Liz says she would be happy if Jackie went home. Austin says he would too. Austin asks are you going to leave now? Liz says probably within the hour. What do I need to tell her (Julia)? First thing I will tell her is I won HOH. Austin says tell her the order of the people you talked to last night and what you said / they said. I wasn't there for those conversations but I can fill her in on everything else. Liz says if we don't win HOH they'll put me up. Austin says they would put you straight up which would be good.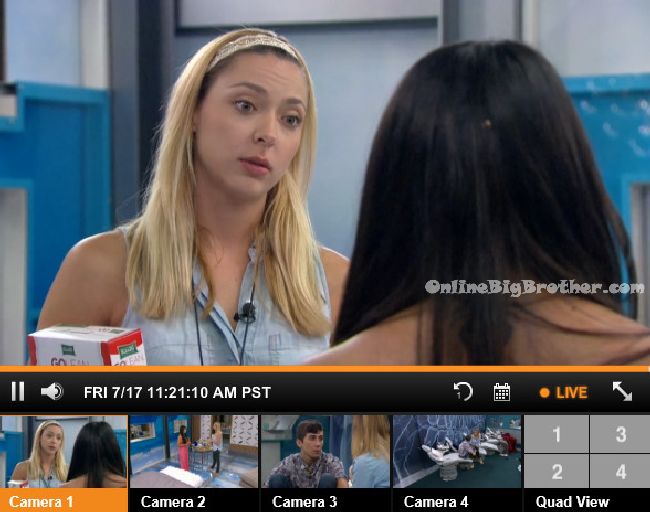 11:25am Cabana room – Shelli talks to Johnny Mac.. we don't want to keep putting you up. We told you that we didn't want to keep doing that. I was freaking out up there this morning. Go out there and win it if you want to. We're so happy to have you on our team. You've been up there every week. You deserve to go out there and fight your butt off. Do what you have to do. Johnny tells Shelli that he really believed that Vanessa wanted Audrey out but put up Jeff for emotional reasons. Shelli tells Johnny to let her know if Audrey stream lines you. She probably does want to work with you but she says that to everyone. To be honest you would be better off with someone else.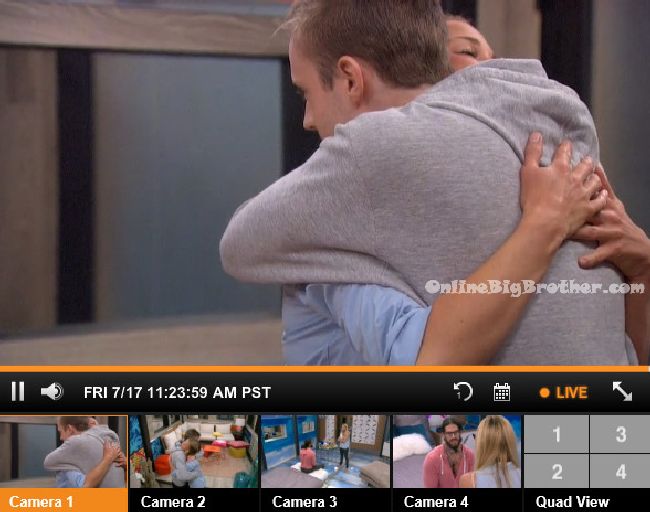 James comes up and talks to Liz and Austin. Austin says there's definitely a backdoor option. But worst case we're thinking Jackie would go home over you. James isn't so sure. I'm not the sharpest crayon in the box. Austin says if you're still up there and get house guest choice you can pick me. I would use it on you. Liz says I'm starting to get to like you. Don't take it personal. It was all strategic. Go out there and win it. You are definitely not the target. You have my vote to stay. Austin says mine too. James says I've still got ya'll. James hugs them both and leaves. Liz says Steve needs to know that we saved him from going up. He better have our backs. He better not be scampering around. Austin says that Jackie looked pissed. Liz asks did you tell her? Austin says no. Liz says good, be careful of what you tell her. Austin says I will.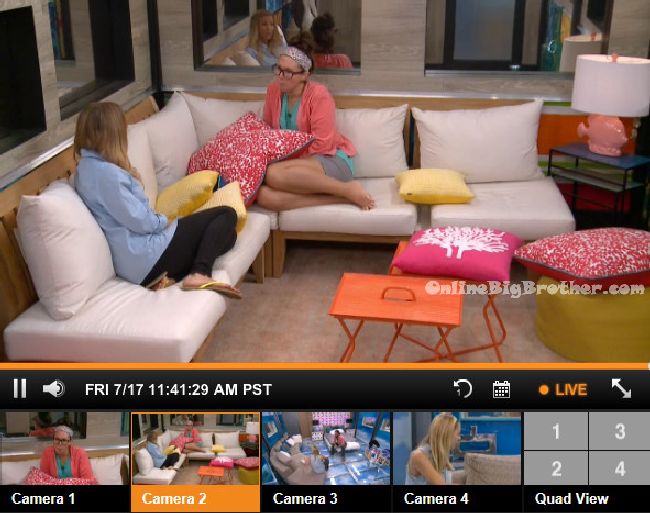 11:40am – 12pm Cabana room –
Audrey talks to Shelli. Audrey ask why does Vanessa keep saying she doesn't know whats going on. Shelli says because until the very last second I didn't know what was going on. Audrey asks who was the major influence on the decisions? Was it Vanessa? SHelli says no. Audrey asks who suggested those people. Shelli says Liz wanted Jackie and I didn't want anybody. I was all upset everything I said in my speech was completely legit. I don't have a target right now .. the only person I could think to target is Jason from what you've told me. Audrey says I heard that from everyone else .. like Austin and Clay. Shelli says Clay didn't hear that from anyone but you. I don't like anyone throwing Clay's name out there. Audrey asks did you tell Jason? Shelli says I can tell Jason whatever I want to tell him. Audrey says I heard that from all of you guys. Shelli says you are the one that told me that Jason would be after me. Don't you now come to me and say that you're saying it because you heard it from us up there. Don't you try and lie!! Audrey says I heard that from Clay and Austin. Shelli says you did not hear that from Clay. I am not going to let you say that to me. I do not appreciate you trying to spin it like that. Audrey says Jason gave me a look .. he knows it was me. Shelli says I didn't tell him. It give you reason to vote him out. Audrey says she thinks Johnny Mac and Jason are a stronger team. Shelli says I could be lying to you right now .. If you're going to take this one thing.. I can go do some damage control.. and say it was Jeff. Audrey says I didn't hear it from Jeff. I heard it from the girls. Shelli says he asked me if I heard if from you and I said no. Audrey did not talk to me last night. I heard it from other people. Shelli says I am concerned with you because when I have conversations with you.. you confuse me because you say different things. Audrey says he will solely target me now. Shelli says everyone keeps wanting me to backdoor you or put you up. Audrey asks why would you use my name when you could have just used Jeff's name. Shelli says you're right. Audrey says you're intelligent, I don't expect you to slip up like that. If he stays I am the target for him. He is obviously upset at me now. Shelli says sorry. Audrey says I thought we were supposed to clear up my name. Also I don't think it was smart to put up Johnny Mac again because he would have trusted you. Shelli says I had nothing to do with Liz's nominations. Audrey asks why didn't you put up Meg? Shelli says because I put her up and promised her I wouldn't again. Audrey asks why was I excluded from the group? Shelli says I don't know. Audrey says I'm concerned that Austin, Liz and Vanessa are protecting Steve to use him later in the game. Shelli says he was an option to go up and I didn't want to put him up. Audrey says all the empirical evidence points to Steve working with them. Shelli says honestly I don't really trust Austin that much. Audrey says now I'm nervous about telling you stuff. Audrey says that Vanessa was concerned about being aligned with 2 couples. Like what are we doing. She said you know Shelli is going to pick Clay over you. She wants me to go with her to the finals over you. I feel like she and Austin have been together since the beginning. Audrey asks can we get Johnny Mac to throw it? Audrey says Johnny said he went up stairs and made a 2 week deal. Shelli says he didn't say that to me. He might have said that to Liz. Shelli says lets just wait to see what happens in the BOB. Audrey asks can we just sit down with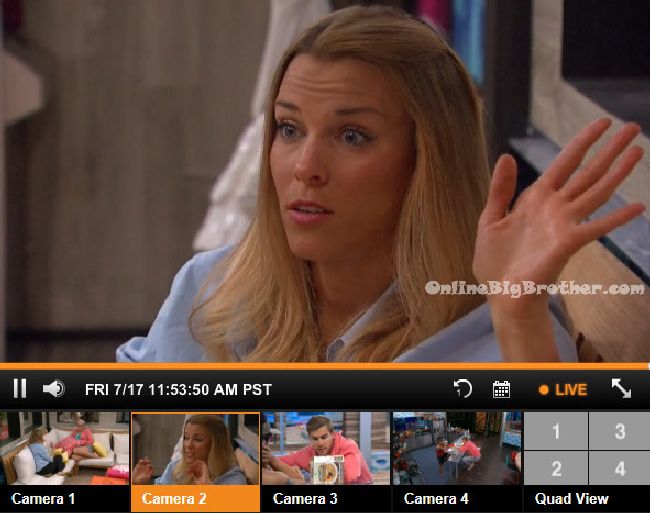 12:05pm Bedroom – Jason jokingly asks Jackie can you just throw this so I can be the star of the week and rip this girl a new a$$hole. Jackie asks James what type of comp are you afraid it will be? And don't say fabric. James says just the fabric one .. I'm pretty much good at anything else.
12:10pm – 12:25pm HOH room – Austin and Liz are talking. Vanessa joins them. She asks who convinced you to put up James? Liz and Austin both say we said it. Vanessa says Clay has been close to James this whole time. If James comes off he is going to come after someone. Did you make sure James know he's not the target? Austin says yeah. Vanessa says I promised him I wouldn't put him up. Austin says I'll make sure he knows you had nothing to do with the decision. I'll say you wanted Becky. Vanessa says don't tell him I wanted Becky up. Never say a name. Everything I say to you is in confidence. I want what is best for you. Vanessa comments on how Jackie and Becky were hardcore scheming down there and jumped away when I came in the room. Jackie is literally on the verge of a melt down. She said people need to be more afraid of me. She is about to bring out the bit*h card. Liz says good, it will be another reason for her to go bye bye. Vanessa tells Liz to talk as little game as possible because you're about to switch out right? Liz says yeah. They hug. Shelli and Clay come up to the HOH room. Vanessa fills them in on how Jackie and Becky were talking game and how Jackie commented on how she needs to be a bit*h. I don't think Jason blames you which is good. And I think Jackie is about to lose her sh*t. Vanessa says people have no idea you guys Austin / Liz and Clay / Shelli are allies.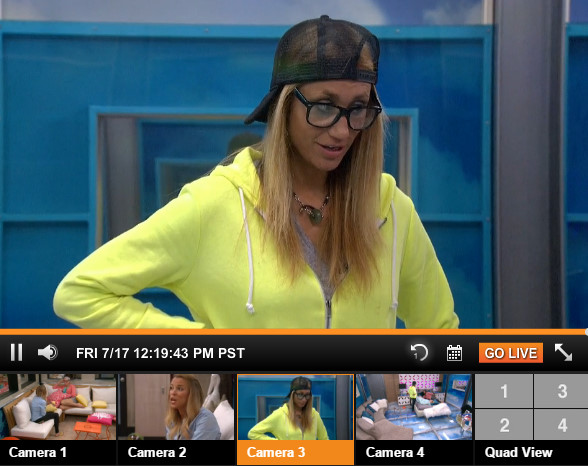 Vanessa tells Austin .. Jackie expects me to tell her she's safe.. she doesn't even talk to me. I don't even have any alliance with you. You expect to just float on by… you're not even that cute.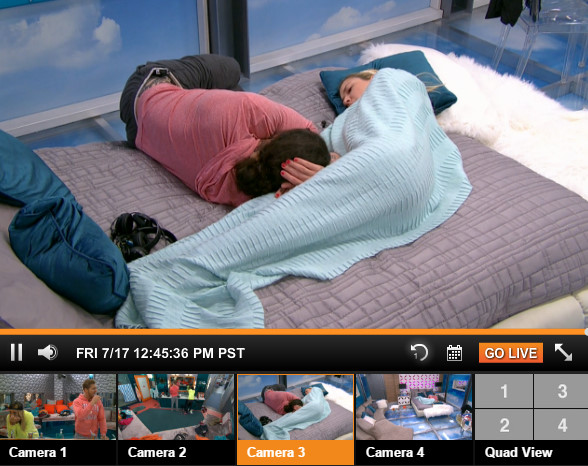 In the bathroom – Vanessa tells James that she went to bat for him and didn't want him to go up. I had no hand in you going up. I was campaigning for you to not go up. I was truly shocked to hear you went up there. If you do remain up there just know you have me vote. I have your back 1000%. You're someone that I would want to build trust with.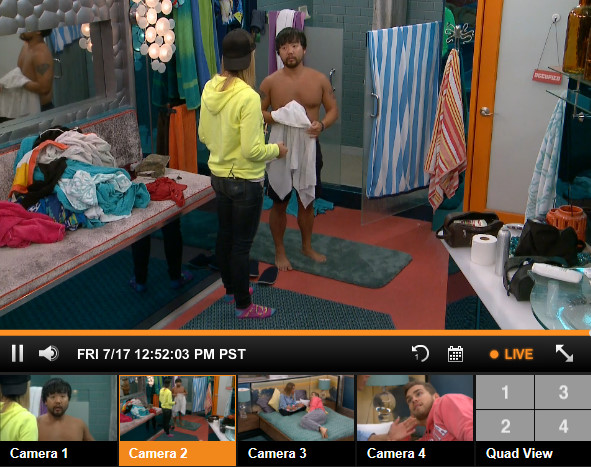 Live Feed subscription gives you CBS All Access thousands of archived shows. Live Shows like Big Brother, all the Big Brother Seasons, and 24/7 coverage of what is happening inside the Big Brother House. Plus there's flashback that lets you go back to any second of the feeds and rewatch what happened. Simon and Dawg will index the season just watch the parts worth watching. All this for $5.99 a month try it out 1 week free. Support our efforts and get your feeds via a link on this site. Live feed subscription Sign up
[polldaddy poll=8983592]
Share it YO!!
Tweet