POV Holder:
?
Next POV
July 18th
POV Used
?
POV Ceremony
July 20th
HOH Winner Team 1:
Liz
HOH Winner Team 2:
Shelli
Nominations 1 :
Jackie & James
Nominations 2:
Jason & Johnny Mac
Battle of the Block Winner
?
Next HOH/ Next BOB
July 23rd / July17th
Original Nominations:
?
Current Nominations:
?
Have Nots
?
2:43pm HOh Audrey and Julia
Audrey says with Jeff gone nobody has mentioned the twins to him. Say's the house is now filled with targets. He stresses how important it is they win the HOH next week.
Austin – it's my destiny in life to win this HOH
Austin suspects that Shelli will throw the next HOH if she gets dethroned, he thinks Clay has been throwing ever HOH. Adds him and LIz have been pretty isolated these past few days. Julia says she had a dream that she couldn't trust Clay and Shelli.
Clay and Shelli join them say they are taking a nap wake them up if theres anything new with the BOB
Austin – I'm getting ready for the beef cakes I'm so fired up
Julia says she cannot believe Liz won.
Austin tells her after Liz won the HOH she was so excited she jumped into his arms. "it was my Big Brother Dream come true… when I watched other season when rachel jumped into Brendon's arm"
2:50pm Shelli and Clay HOH
Clay- we cannot lose JohnnyMac to Audrey and the other side.. he's really valuable to us
Clay says behind Shelli, Vanessa JohnnyMAc is next, "He's given us a lot of information good information"
Shelli reviews his order asks him if JohnnyMAc is higher than James
Clay says JOhnnyMac is better to keep.
Shelli about Audrey "She's like freaking me out"
Clay suggests they win the veto save JohnnyMac and Get Audrey nominated. They can get Audrey evicted building trust with JohnnyMAC and Jason.
Sheli – Clay think of how much the house will explode if I do that
Clay thinks Only Austin will have a problem with the.
Shelli – I don't want to be the one who does that
They bring up Austin having a girlfriend. Shelli says Vanessa had mentioned questioning how loyal a person Austin is.
Shelli – Liz/Julia are not very good game players.. I don't think they even watch the show.. they have no idea how Big Brother works.. their game right now is to just stay in the game.. Once they are both in the game they don't know how to play this game.. Austin definitely doesn't know.. the three of them together are numbers but they are pretty weak numbers.
They agree the twins will be put on the block together. Shelli says they need to be careful what they say gamewise to the twins.
Shelli doesn't trust the twins and Austin she thinks there's a possibility they both voted out James.
Clay says there is no way.
Clay says Vanessa has concerns about Austin. Points out that Vanessa thinks too deep "Too analytical"
Shelli – we need someone to think that way.. you think socially I think details and she's analytical.. we need that..
Shelli doesn't think Austin's advice benefits them.
Clay ask her if she can pick two people to roll with who would they be.
Shelli – Johnnymac and Steve with Vanessa
That's Clay group.
Clay wants to get Jackie out so they can grab John
Clay says JohnnyMac is a POV Master. This newly proposed alliance of 5 is the most dynamic team in the game. They believe it to be well rounded and unexpected.
Shelli says Vanessa is smart she use to work in Vegas as a gambler person.. "HE HE HE I just said Gambler person"
Clay is excited says this is the first alliance he's felt good about. (he's said this before about other alliances)
Shelli says Vanessa was really pushing for them to put Steve up she wonders what she'll think of bringing him into their final 5 group.
[envira-gallery id="122145″]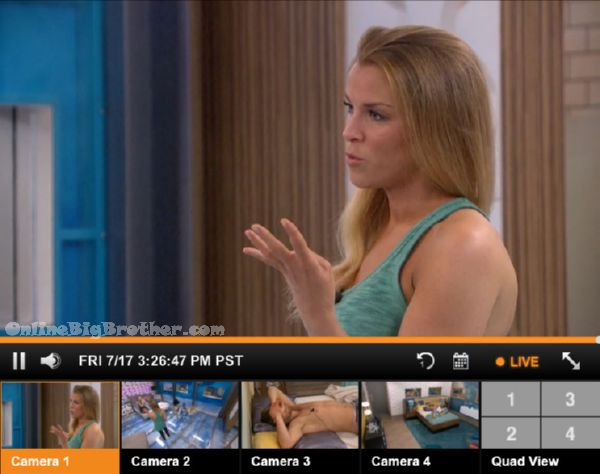 3:24pm Shelli, Austin and Julia
Shelli telling her all about the musical "Is this real" that they did.
They start studying the Gronk party order.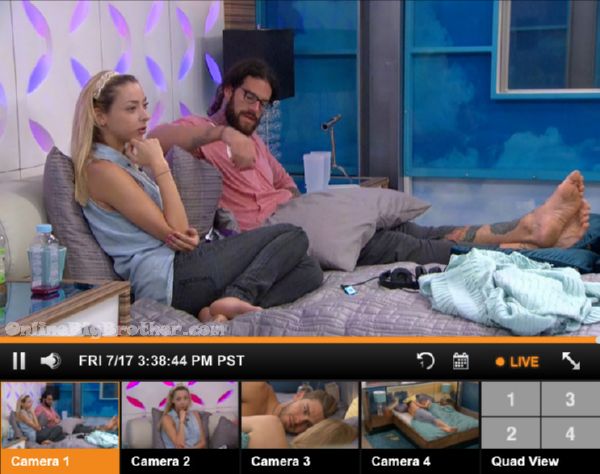 3:30pm Austin and Julia
Talking about their side will probably not get the power next week they've held the power for 3 weeks. Austin says all the 'Things" on the other side of the house are crumbling.
julia is glad Jeff left
Austin – are you going to play next HOH
Juli a- Ya I think so.. maybe not because I played two in a row
Austin – after the 5th one you're both in.
They wonder how will production decide which one plays the last HOH as a single.
Julia says the game is easier for Liz because it's her who's in the house, everyone knows Liz. Julia can't wait to come in and tell JohnnyMac she was a dental assistant, "I Love teeth"
Julia tells us how she chipped her tooth – I was chasing a boy on the playground.. in fourth grade.. I ran into a pole .. my Mom just go the cheap fix but internally the tooth was dying. (Johnnymac noticed this difference in the twins)
Julia thinks Shelli and Clay are America's sweethearts now
Austin – I think Judas and the twins can be interesting too
Juli – they are ridiculously good looking
Julia asks if she's safe this week. Austin says if she gets dethroned she could go up but Hell I would never do that.
Austin is worried Audrey is filling James with poison he's going to talk to James tell him he's not coming after him and whatever Audrey is telling him is just her back to her old games. Austin is going to let James know If James picks him for the Veto he'll use the Veto to Save james.
Austin – jackie is going through Entitlement Diva mode right now
Julia – I liked her at first..
Austin says Jackie isn't as big of a game threat she doesn't have the connection that JAson has. He says now that Jeff is gone that side doesn't have anyone that can rally the troops.
Austin says Audrey just won't stop it's too annoying she just can't stop talking and spinning.
Austin – they actually gave me prescription medication in the DR yesterday because of how crazy i've been
Julia – you're kidding
Austin says he's kidding
Julia – what would they give you.. Xannax
Austin – I wish.
Julia about Jackie dancing in the HOH with Clay's cowboy boots on "Oh my god this girl is so annoying"
Austin – she spends four hours a day doing her makeup in the mirror
Julia – She has fake eye lashes.. It's so obvious, they're coming off half the time.. I'm like girl you need help
Austin – Oh my god.. I don't noticed that.. I don't care if that's the way she likes to look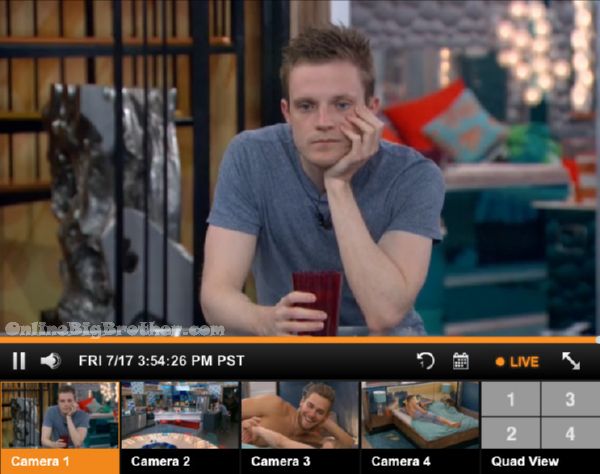 3:54pm Steve tells JOHNNYMAC he's surprised they brought back the Battle of the block he doesn't think it was that popular with the fans.
4:05pm HOH Julia, JohnnyMAC and Austin
Talking about Big Brother having more success matchmaking than the Bachelor. They talk about Past season showmance. It's obvious that Julia watched the last 4 seasons.
4:16pm HOH Clay, Shelli and JOHNNYMAC
Johnnymac says Audrey was telling them she tried to prevent him from getting on the block.
Clay claims her and Sheli have done nothing wrong to anyone in this game. Same AS JOHNNYMAC. adds sometimes you have to say little lies.
They ask him where he sits with Steve.
JOHNNYMAC says Steve wants to have a final 2 with him, "I trust Becky more"
Clay – over steve
JOHNNYMAC – ya
John suggest they pull Becky in and she has Jackie on the side He doesn't have much of a relationship with Jackie directly.
Clay wants John to know they have his back he's don a lot for them.
Johnnymac leaves.. they start thinking Johnnymac is a schemer.
Shelli says Johnnymac is being smart he doesn't want to bring Steve in becuase Steve is "outsider"
Shelli mentions that Audrey had a dream that Johnnymac won big brother 17
4:25pm Vanessa and Julia
Going over what Liz knew.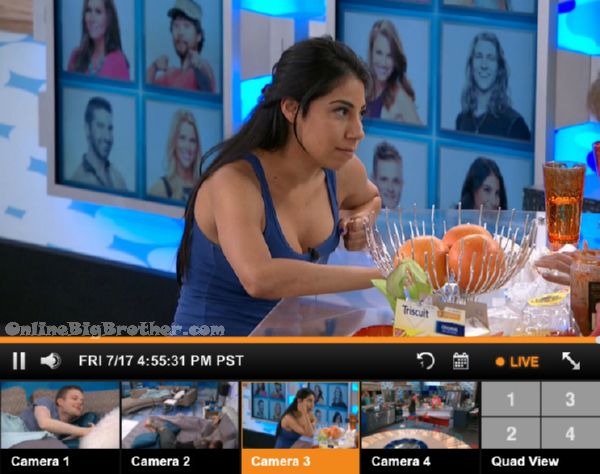 4:56pm Jackie, Clay, Shelli and Becky
Jackie saying it seems like Austin is trying to reel her in.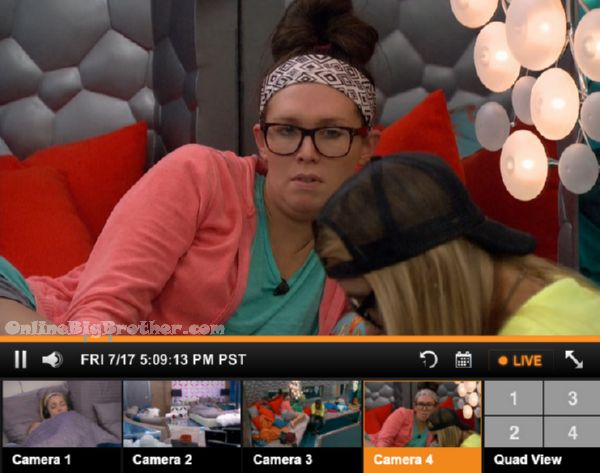 5:08pm Audrey and VAnessa
VAnessa says she doesn't know where Austin's head is at "They drank a whole bottle of wine together and snuggled.. instead of talking game"
Vanessa says Austin is in Showmance mode his head isn't in the game.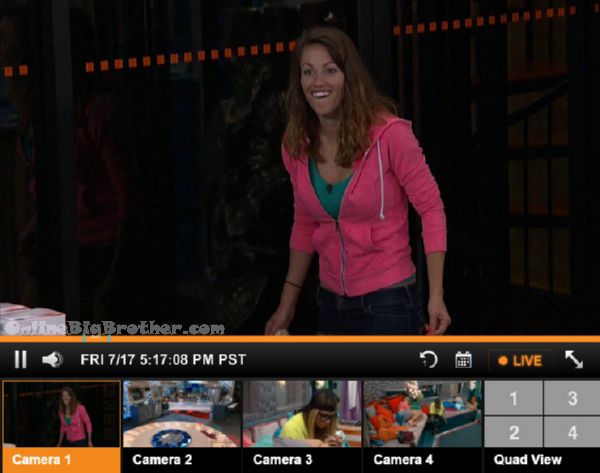 5:18pm Becky hears cheering from outside
6:00pm Feeds down for BOB
Live Feed subscription gives you CBS All Access thousands of archived shows. Live Shows like Big Brother, all the Big Brother Seasons, and 24/7 coverage of what is happening inside the Big Brother House. Plus there's flashback that lets you go back to any second of the feeds and rewatch what happened. Simon and Dawg will index the season just watch the parts worth watching. All this for $5.99 a month try it out 1 week free. Support our efforts and get your feeds via a link on this site. Live feed subscription Sign up
[polldaddy poll=8983592]