POV Holder:
?
Next POV
July 18th
POV Used
?
POV Ceremony
July 20th
HOH Winner Team 1:
Liz
HOH Winner Team 2:
Shelli
Nominations 1 :
?
Nominations 2:
?
Battle of the Block Winner
?
Next HOH/ Next BOB
July 23rd / July17th
Original Nominations:
?
Current Nominations:
?
Have Nots
?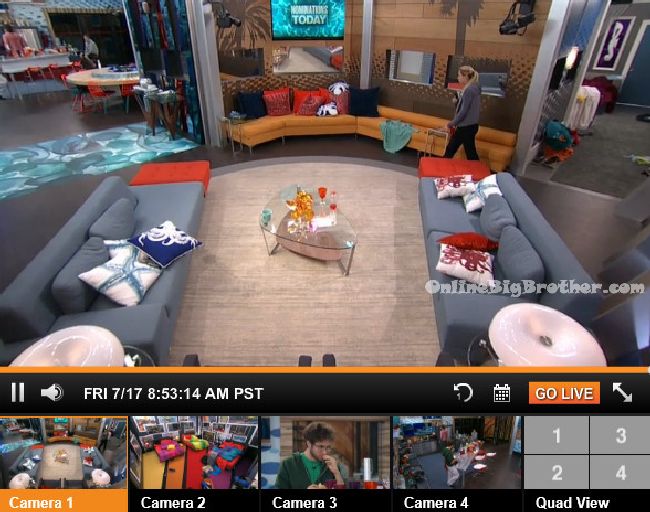 TRY the Big Brother 17 Live Feeds FREE for 1 WEEK:
Click here to ensure your live feed subscription supports OnlineBigBrother.com at no extra cost to you.
8:30am Big Brother wakes up the house guests. All of the house guests are super tired as most of them have only gotten a couple hours of sleep. Liz says I wish it wasn't so early
so I could talk to everyone but everyones in bed. Shelli asks have you thought about the options a or b and which one you like better. Liz says its tough, I think that. Liz says I think its best to not put all of them up at once. Becky, Jackie and Jason. Shelli says I think it would make sense for me to put up Jason because I have a reason. Liz asks what about Audrey. SHelli says the thing with Audrey is I would need a long drawn out conversation with her and she would need to be on board with it. Shelli says what if you took Jackie and Steve. Liz says and then you take Jason and Johnny Mac. Shelli says the thing is I've already told Johnny Mac I wouldn't put him up. And when I've put up Johnny Mac before its been with him throwing it and I haven't had that conversation with him. Shelli asks why did I go and win something.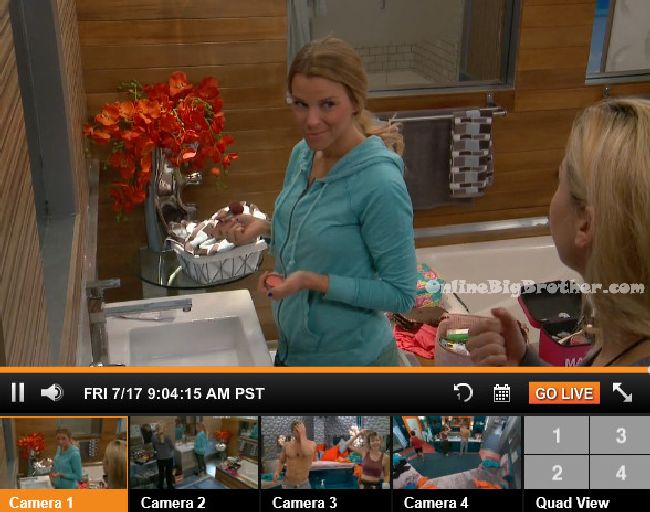 Shelli talks to Clay. Clay asks who is she putting up? Shelli says Jackie and Steve. Shelli says Steve is not trying to win HOH until later and is trying to form relationships. He is dangerous. Clay says why wouldn't you have Johnny Mac throw it and get Jason out of here. SHelli asks make him throw it again? Clay says make him feel like he has a choice. If he wants to throw it then we can get out Jason but if he wants to go out and win it to take himself off. Shelli says if Jason wins the veto who can I put up. I can't put up Becky. Shelli says I'm having the conversation with you because I don't f**King KNOW! I'm begging you to help give me answers! Shelli says I need Vanessa up here because she helps me with these situations. You didn't notice they told us 45 minutes ago that this would be in an hour! Clay I am going to be f**king pissed if they tell us its time and I'm not ready to do this. Clay says don't get mad at me.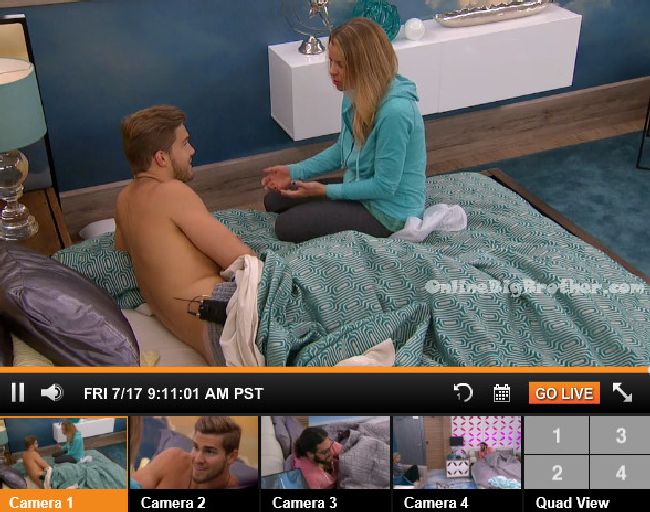 9:20am HOH room –
Vanessa joins them in the HOH room. Liz says the number 1 target is Jason. Vanessa says Liz put up Jackie and Becky. Shelli puts up Jason and Steve. With Meg as the replacement. That way your target goes home either way. Clay asks who can she put up other than Steve? Vanessa says Johnny Mac or Meg. Shelli says honestly I don't want to play puppet game right now! Vanessa says I think the thing with Audrey is a bit aggressive. Vanessa says or substitute Meg for Steve as the original nomination. Shelli says I do like the idea of letting what happens happen and if I get dethroned then I have a chance to play next week. But then I'm seen winning 3 HOH's.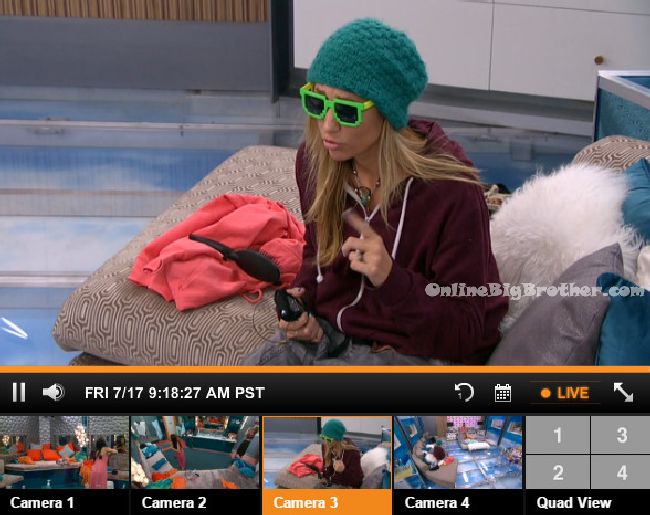 Shelli says I am thinking Jason and Johnny because putting up Johnny I am not getting more blood on my hands. Vanessa says putting up Johnny is potentially dangerous because he knows a lot of information. Shelli asks Vanessa if you were me who would you put up? Vanessa says I told you. Jason and Steve… and Steve and Meg are interchangeable. Austin is worried about Liz putting up Jackie & Becky because they're the two biggest female competitors. Shelli says the thing that is making me so mad is the easiest thing to do is to just put up Audrey! It is making me so mad when everyone's target is Audrey. She is making me a crazy person. Austin says she is better as a backdoor option.
Liz says I am comfortable putting up James. He has talked a lot of sh*t about me. Austin says so you put up James and Jackie. Liz says I don't feel comfortable with Jackie and Becky because they're going to win. Liz asks Austin to tell James.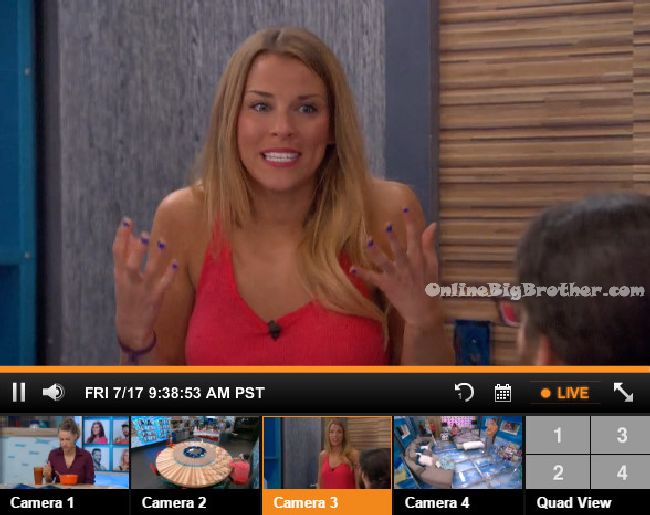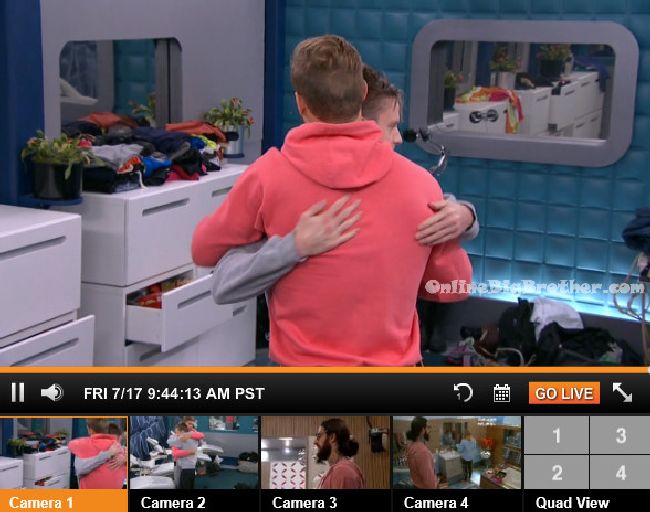 Clay asks Johnny if they put him up with Jason. Shelli has no options. Johnny asks are we allowed to win it? Clay says we want Jason to go home. Clay says we need Jason gone. Are you okay with that? Johnny questions if he would have the votes. Clay says we have the votes. I'm almost 100% positive. Johnny says lets do it! I'm okay with it. It could be worse. I trust you. Johnny says lets do it! Clay then goes up and tells Shelli that Johnny is okay with going up and throwing the BOB. He said he trusts us. Shelli says this is why I needed you! Shelli hugs Clay.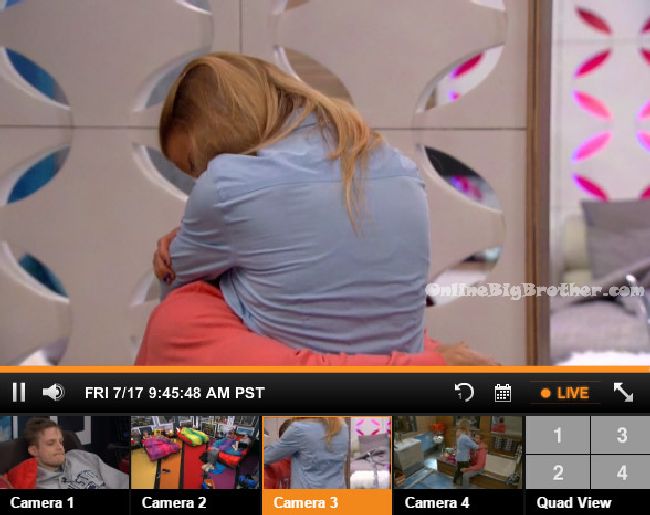 9:50am Big Brother blocks the live feeds for the nomination ceremony to take place.
Shelli is putting up Jason & Johnny (With Johnny agreeing to throw it again)
Liz is putting up James and Jackie.
Live Feed subscription gives you CBS All Access thousands of archived shows. Live Shows like Big Brother, all the Big Brother Seasons, and 24/7 coverage of what is happening inside the Big Brother House. Plus there's flashback that lets you go back to any second of the feeds and rewatch what happened. Simon and Dawg will index the season just watch the parts worth watching. All this for $5.99 a month try it out 1 week free. Support our efforts and get your feeds via a link on this site. Live feed subscription Sign up
[polldaddy poll=8983592]
Share it YO!!
Tweet