POV Holder:
Vanessa
Next POV
July 18th
POV Used
Yes
POV Ceremony
July 20th
HOH Winner Team 1:
Liz
HOH Winner Team 2:
Shelli
Nominations 1 :
Jackie & James
Nominations 2:
Jason & Johnny Mac
Battle of the Block Winner
James and Jackie
Next HOH/ Next BOB
July 23rd / July17th
Original Nominations:
Jason & Johnny Mac
Current Nominations:
JohnnMAC and Audrey
Have Nots
Jackie, Audrey, JohnnyMac and Becky
TRY the Big Brother 17 Live Feeds FREE for 1 WEEK:
Click here to ensure your live feed subscription supports OnlineBigBrother.com at no extra cost to you.
7:33pm Jackie, James, Becky, Clay and Jason
James tells Jackie if it's the "Three of them" Holding on to the HOH he's going to throw it to her as long as she doesn't put him up.
Jackie says she would never put James up, "I do want to win, You should be like I want to share your alcohol with me"
7:38pm Vanessa and Steve
Steve tells her outside james, Meg and a bunch of those 'Other people" were in the backyard talking about VAnessa being really smart because she went to law school
Steve – Just letting you know.. Just letting you know
Steve scurries away. Comes back in ten minutes and they start going over the mechanics of the final few weeks of the show. VAnessa asking him about twists, People coming back into the game, the rewind last season etc etc.
Steve tells her about BBUK how there's no strategy.
VAnessa – what's the point
Steve – they try to find the people that are the most outgoing and entertaining
Steve never watches it
Vanessa asks why Cody took Derrick
Steve says Cody would have walked out to a nightmare if he hadn't picked Derrick
Vanessa asks if the vote was close.
Steve says Jocasta and Donny were the only two not to vote for Derrick.
Jocasta because she thought Derrick was fake praying with him.
Steve says he needs to watch how he says Donny's reason "Donny and Cody had a good relationship in the early stages in the game"
Vanessa – why did you say you have to be careful
Steve thinks real reason Donny voted for Cody to win was because he was bitter.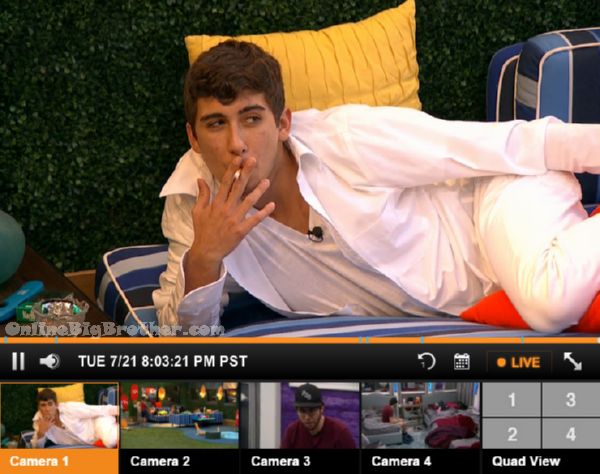 8:02pm Clay, Meg, Jason, Becky, James, Jackie, Shelli
Jason saying Steve is throwing all the competitions. Jason says Steve has more muscles than him.
James – he's got good cardio.. I ran with him he's pretty fit
JAson – he's freaking dan goosling
Jason goes on and on about JAson being a threat.
They start talking about the twins. Meg says she's heard them talking about it. Jason says both twins come in next next or the week after.
James asks Jason how sure he is about the twins. Jason says he'll swallow his own tongue if she's not. James mentions his bet with Jackie if the twins come in he gets to fart in her mouth.
Jackie, Meg, Meg say Austin and the twins are close warn that's a strong 3.
Shelli says what are they proposing
James – we win HOH we chop them
Clay – this early
Becky breaks it down if they get rid of the twins before jury big brother will bring a jury member back at some point. If they keep the twins that's not an option. Jackie suggests if you are doing well in the game you want to keep the twins.
Jason says they need to get rid of Austin. Jackie chimes in says they need to get out Austin he's the head of it.
Jackie – I'm down.. He's the leader he's the brains chop the head off
After some more chatting James tells jason keeping the twins and Getting rid of Austin is a great idea.
Jackie corrects him says she thought of it
Jason says the twins in Jury will vote together.
Jackie, James, Becky and Jason say they want to Backdoor Austin next week. (Meg may have too clay and Shelli playing along)

8:11pm Audrey

8:37pm Kitchen James, Vanessa, Liz and Austin
Vanessa is telling them a dream she was having where everyone in the house but her went to "Jury Camp" where they learnt about the game. ( Vanessa is slowly turning in Audrey.. First came the alliance theories now the dreams)
Austin says he's had a dream about Jace being a bum living outside the house. He also had a dream about Jeff chasing him and Liz around LA. Austin also has dreams about gymnastic centres, "I go 3 times a week for 3 hours a day"
.. Chit chat..
9:02pm Becky, VAnessa James and Liz
LIz was wondering if she should bring Audrey some food, she doesn't want it to go to waste if Audrey isn't talking/Eating.
Becky saying they have been nice to Audrey above and beyond what is fair "She really was not nice to Jackie when she was on the block"
Becky says Audrey doesn't have to attend meetings, She doesn't have to be a have nots
Becky – She's been really mean to people.. we've bended rules for her.. we've offered her help over and over and over
Becky and James leave.
Vanessa doing the dishes tells Liz Audrey completely ignored her today when she came out.
Liz says she was warning them last week not to talk game in front of her.
Share it YO!!
Tweet