POV Holder:
Vanessa
Next POV
July 18th
POV Used
?
POV Ceremony
July 20th
HOH Winner Team 1:
Liz
HOH Winner Team 2:
Shelli
Nominations 1 :
Jackie & James
Nominations 2:
Jason & Johnny Mac
Battle of the Block Winner
James and Jackie
Next HOH/ Next BOB
July 23rd / July17th
Original Nominations:
Jason & Johnny Mac
Current Nominations:
?
Have Nots
Jackie, Audrey, JohnnyMac and Becky
10:41pm HOH Austin, Shelli, Vanessa and Clay
Talking about putting up Audrey, they are all agreeing it's the best thing to do.
CLay – she wants people to pity her..
Austin – she's going to be nuts these next 24 hours
Clay tells him she thinks she's sitting pretty
Austin thinks with jeff and Audrey out the two people playing a crazy manipulative game will be gone.
Vanessa – do I have your blessing to you use
Shelli – mmmhhmmm
Vanessa – I'll probably use it on Jason
Shelli says even if they don't put up Audrey there's bigger target than Jason and James in the house.
Austin says he thought he was building a relationships with jackie but not any more. Austin says she was talking Trash about him.
Clay – Jackie is playing both sides
Vanessa – If it's not Audrey would it be Becky .. is there anyone else we can
Shelli says she won't put Steve up
Austin – what would happen to Jackie if Becky wasn't were..
They tell Shelli no prepping Audrey she has to be blindsided. Shelli jokes that she'll be in the HOH hiding the entire week.
Austin – You can't prep that
VAnessa's POV ceremony speech "I'm a straight shooter and I don't like Liars" She found out about someone she gave a second and third chance to isn't being straight with her and because of that she's using the veto on Jason.
Shelli – What do I say
They go through speech ideas and compare some of the things Audrey has been doing to make things difficult for them. Austin points out that Audrey isn't voting with them and she's throwing HOH's so she's not really a benefit for them. She's just pissing them all off. (She's a target)
Steve comes up.
11:07pm Vanessa, Austin and Julia
Vanessa says Austin is 100% off the radar they are safe this week.
Austin – Something's wrong with the way she's playing the game.. something weird they're making her do.. it's so bizarre it's too much
VAnessa goes into the toilet stall.
Austin tells Julia, Audrey is going up. "Get her the f*** out of here"
Julia – good
Julia is surprised Shelli and Clay are doing it
AUstin – too much sh1t too much lying
Vanessa back says Audrey is too sneaky to keep in the game. She's going to try and include Liz and Austin with any deal she makes. Vanessa is going to make is later tonight. Vanessa leaves.
Julia was nice to Jackie but Liz wasn't. They are worried Jackie will put up Liz and Steve or Liz and Austin.
She's going to go nuts her heads going to spin around like the exorcist
They agree Audrey doesn't do anything all she does is lay around and stare at people, Austin calls her boring.
Austin – Jason is so much fun he's hilarious
11:23pm HOH Clay and Shelli
Clay tells her to make the decision that is in her gut that she wants to make
Clay understands why VAnessa is really gung ho with getting out Audrey. He's gung ho about it as well.
Shelli says her two closest people are now telling her the same thing
Clay – I will take the whole blame for this I will.. If you have any doubts don't do i. If I win HOH next week I will do it."
Clay says he cannot think of one thing that Audrey does for them.
Shelli – can you imagine the thickness of the air during that POV Ceremony
Shelli plans on cutting deals with people so they won't put her and Clay up in the event they win HOH. lay thinks she should get a guarantee up to Jury.
11:37pm – 12:15am Jason and Shelli
Shelli says she's talked to Vanessa and she agrees that John is safer on the block. (with Audrey up beside him)
Shelli tells him if her and Clay ever win HOH again they will never put Jason up.
Jason says likewise.
Clay joins them.
Shelli asks him who are his targets
Audrey scares him the most she's his number 1 target Austin is his number 2.
Shelli asks him if she puts up Audrey will he have the votes.
Jason doesn't think Audrey will have the votes, He only sees Austin as someone who will flip and vote out Johnnymac.
Shelli asks him how dangerous does he think this is taking out Audrey
Jason thinks this is the best time to do it, he was worried production would have thrown her a bone by now but they haven't. "When I talk in my Journal (Diary Room) I don't think she's getting the best edit"
Jason is says Audrey is probably not liked by the fans.
Shelli tells him the entire house has to band together, Audrey is going to throw people under the bus and lie.
Jason says Becky was personally offended by Audrey and Jackie will do what becky does.
Clay – she's (Audrey) a damn cat she's got 9 lives..
Shelli says she gave Audrey another shot. Audrey is still making her time in this house so stressful.
Shelli – I've asked her.. I've sat her down please just sit back.. She wants to talk about the nomination ceremony 7 weeks from now .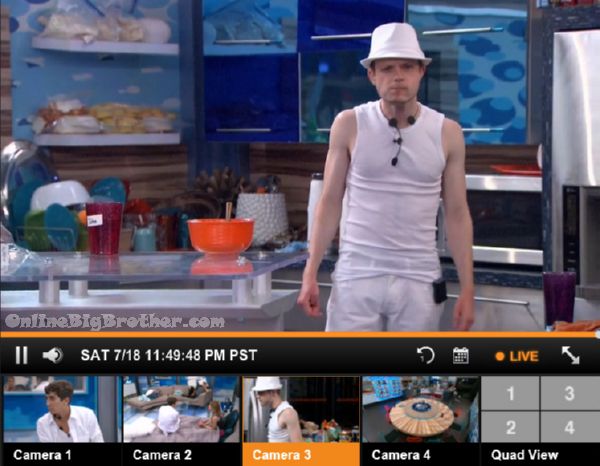 11:50pm JohnnyMac and Steve Chit chatting.
Steve says he programmed his computer once to run a infinite loop to stress the CPU and produce heat. He placed the computer under his pillow to warn it up.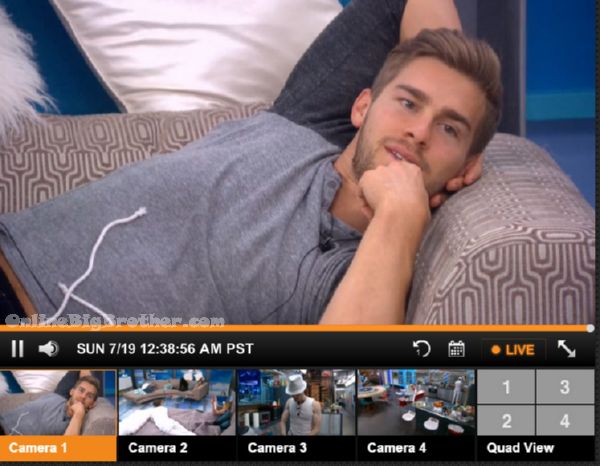 12:40am HOH Jason, Shelli and Clay
Jason thinks this twin will be in the game for awhile because she has to learn the "wack street boys" dance. Jason would bet his whole game on there being twins. Adds especially because of what was said in his "Journal" (Diary Room) Feeds Cut..
Live Feed subscription gives you CBS All Access thousands of archived shows. Live Shows like Big Brother, all the Big Brother Seasons, and 24/7 coverage of what is happening inside the Big Brother House. Plus there's flashback that lets you go back to any second of the feeds and rewatch what happened. Simon and Dawg will index the season just watch the parts worth watching. All this for $5.99 a month try it out 1 week free. Support our efforts and get your feeds via a link on this site. Live feed subscription Sign up
[polldaddy poll=8983592]