POV Holder:
Vanessa
Next POV
July 18th
POV Used
Yes
POV Ceremony
July 20th
HOH Winner Team 1:
Liz
HOH Winner Team 2:
Shelli
Nominations 1 :
Jackie & James
Nominations 2:
Jason & Johnny Mac
Battle of the Block Winner
James and Jackie
Next HOH/ Next BOB
July 23rd / July17th
Original Nominations:
Jason & Johnny Mac
Current Nominations:
JohnnMAC and Audrey
Have Nots
Jackie, Audrey, JohnnyMac and Becky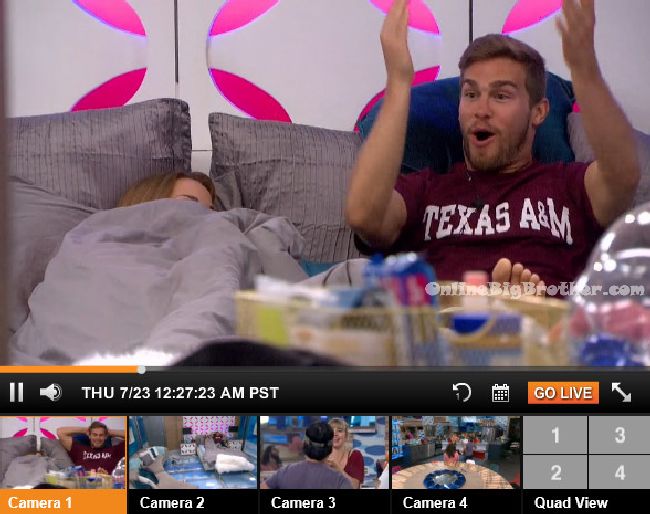 TRY the Big Brother 17 Live Feeds FREE for 1 WEEK:
Click here to ensure your live feed subscription supports OnlineBigBrother.com at no extra cost to you.
12:25am HOH room Clay says that game aside. There are people that would kill for this opportunity. And she is making a mockery of this almost disrespecting this game. She is a havenot, she's allowed to eat, and people like Jason are mad at that. If she doesn't come up here tomorrow.. I think it would show a lack of integrity. Her coming to you again almost sent me over the edge again. It's just I'm never, never shocked at what she says. I am going to run grab her bag and put it outside the front door. Shelli says CLAY!! Clay says Fine, I'll hold open the door for her .. is that gentlemanly like? Shelli says don't you dare do that. Clay says He wants to win HOH so bad. Shelli says if you win HOH I will be so happy. Shelli tells Clay that she likes Jackie. Clay asks are we naive or do people really like us. Or are they just playing us. Shelli says I don't know. The thing that we need to reiterate is if someone else wins HOH other than you and we have to do some sort of talking.. right now we are strong enough in the game that we could even work some sort of a deal till Jury. And say that the reason why we're beneficial to work with everybody is because its two votes for what they would want us to do during their HOH reign. Its two votes in jury, and its two chances for someone who could win HOH and not put them up on the block. Clay says that's all you need to say. Shelli says triple whammy. I love Steve but he is danger zone! Shelli says if its a Meg, Jason or James (that win HOH) then we create like a group thing. Clay says the thing about the 2 HOH's are we good enough that one of the HOH's won't have the other put us up. Make them do the dirty work. Shelli says we would just say that to both of the HOH's, that would be our plea. Shelli says I hate the campaigning part of this game. I love the competitions. I'm okay with the scheming or whatever but that this person won and we have to immediately talk to them. I hate the urgency of it.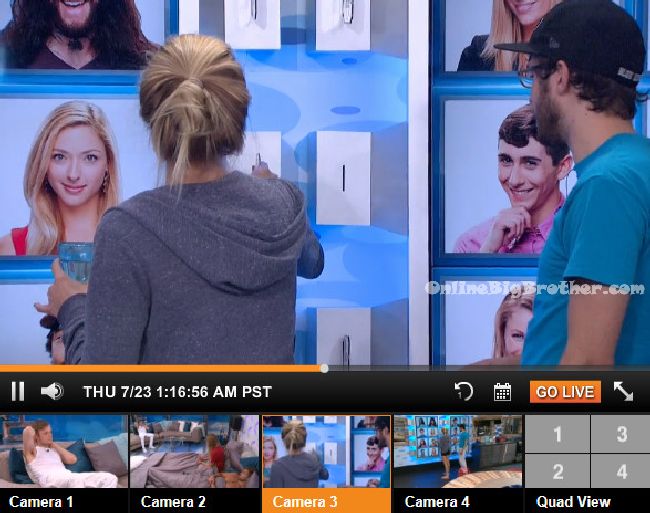 1:15am Kitchen –
Julia talks to Steve. She tells him that she doesn't like sleeping in bed with Austin. Steve says I know you're in a weird spot. Julia says I slept with him before but I don't like sleeping with him, he's huge and he takes up all the bed. Steve says I just don't want rumor going around about me. Julia says no, I know. I just wish James wouldn't sleep in that room. Steve says why don't I share a bed with James? Julia asks isn't that weird .. or people know that we're twins .. so its weird that I do sleep with him. Is that suspicious because everyone knows that Liz likes him. Steve says you're fine, don't worry about it. Steve says I'm sure Shelli and Clay are watching us though. Steve leaves the room.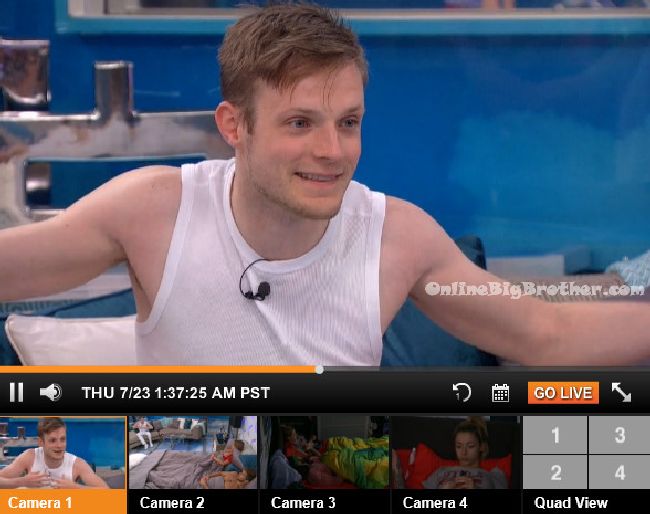 1:15am – 1:50am Meanwhile in the HOH room –
Johnny Mac comes up to the HOH room. He tells Shelli you put the objective up there and killed it! Shelli says I just don't want to be that girl that wins competitions and cries about it. Shelli says I just wanted to run this by you, its no big deal. When Audrey took me down into the hammock room she started the conversation with I know that I'm leaving and I know that this kind of stuff has happened and I know that you're my friend. She was like tell me why you as my friend put me up. Shelli says I told her thing that I realized she might use them as ammo. ..I told her that Jackie told you said that I made up the alliance about Jackie, Becky, Jeff, John and Steve. I said you made that up, I didn't make that up. She (Audrey) said I didn't make that up, I said that Jason made that up. I told her that we knew that Jeff was going to go up before he went up. And she said what else do you know. I said I know you had a final 2 deal with John and she said I don't have a final 2 deal with John. She said this is all that I have with John that I would put in a good word for him if you won HOH and he would put in a good word with Steve if he won. Johnny says that's all true and we never had a final 2 deal but she did insinuate that she wanted to work with me till the end. Shelli says it was at that point I realized I did't want to give her any other information. Clay, Shelli and Johnny discuss how to handle it if tomorrow Audrey outs them for working together. Johnny says maybe after all the other information came up about her I told you my version of Audrey. Big Brother blocks the feeds. When they return – Johnny comments that she already has votes against her because she ate food unless this was for a medical reason or something. Shelli says it didn't matter you could have eaten food because the vote is going to be unanimous. Clay jokes that Shelli will drop them (CLay and Johnny) if they don't win HOH tomorrow. Shelli says this kid (Johnny) wins. Clay says well she'll drop me. Johnny says he wants an epic endurance tomorrow. Johnny says every one wants to solve the twin problem. Clay ask Johnny after Audrey who would you see as a threat. Johnny says Vanessa isn't going to come after me but if she gets emotional and goes off the handle and blows up. This week all I was thinking was don't f**k this up but she (Audrey) as literally done so much damage there was no way I was going home. Johnny leaves. Shelli says I think he is going to do awesome in this game. I would owe him a pawn situation if he won. Clay says not this early you could convince him not to.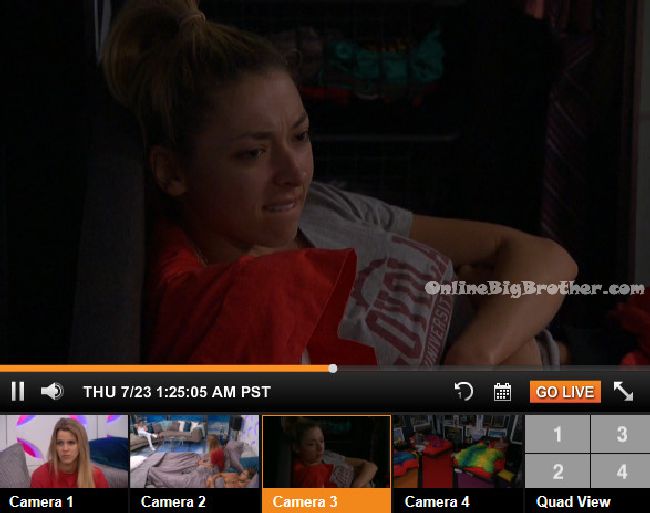 1:30am – 2am Comic room –
Julia asks so what did you think of Audrey as my sister today? Steve asks Julia are you advertising to the house now that you're a twin? Julia says no! Austin says that's her. Steve says that's what people thought you were doing. Julia says that was all her. I was like is this girl serious!? Julia says that was so awkward, I was like what the f**k bit*h! Like I was pissed! What are you doing!? It wasn't funny, that's the thing. It was just so awkward I felt bad for her. Steve says don't worry about it. It's fine. Austin says its fine. I talked to Jason after that and it was fine. He basically said that he wants you guys to come in. He is waiting for it to happen. They don't know when its going to happen but they know its going to happen around jury-ish. I want that to happen, I'm not trying to get her out before jury. Julia says I really like him and I think he likes me too. I told him about how I could have been on last season and we didn't come in because me and my girlfriend had ended our relationship coming in. Big Brother switches the cameras and when it comes back. Austin tells Julia that she handled it fine with Audrey's Twin skit. Julia says I can't believe Shelli and Clay talk about power couple. Austin says I don't know if anyone will go after them, they're probably come after us before they go after them.
Try the Live Feeds FREE for 7 DAYS! Click here for your: Big Brother 17 FREE Trial
Share it YO!!
Tweet