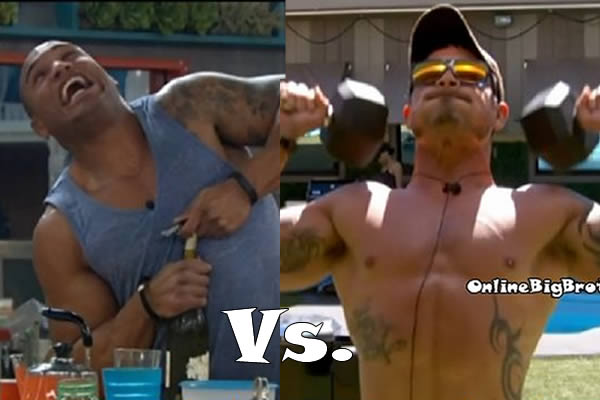 This has not been a very eventful week, the house knew what it was going to do and no amount of campaigning on Devin's part was going to help. Not to worry though this coming week will likely be filled with lots of drama, stalking and backstabbing with even more new alliances forming each day.
With a live feed subscription you can go back and rewatch all the events we highlight in this blog.
Try It Free! Get 24/7 access to the house for 48hrs before you decide!
Nicole and Derrick win HOH: Week 2 Eviction / HOH results.
This weeks plan is to Backdoor Devin so 4 pawns have to go up on the block. The original Plan was Victoria, Amber Nominated by Nicole and Caleb Jocasta nominated by Derrick. Caleb is supposed to throw the Battle of the block to save "His Queen" and to ensure that Derrick has control of the HOH.
Last minute scrambling by Donny freaks out Nicole and she puts him up on the block.
Nominations for Battle of the block where Nicole nominated Donny & Amber and Derrick nominated Caleb & Jocasta. Nomination results!
Although the plan was for Caleb to throw the Battle of the Block it wasn't exactly a competition that could be thrown given his role but that Jocasta lost it for herself due to not being able to solve the puzzle. Battle of the Block Results!
The plan to Back door Devin remains with the POV players entering the POV. Zach calculates there a 3 in 78 chance Devin "Makes it"
The Power Of Veto players are picked and Devin name is pulled by of all people Caleb. The POV Players are Derrick, Jocasta, Caleb, Christine, Devin and Donny. However, Jocasta can't play because she's dehydrated from the Battle of the Block competition and from taking too many laxatives. POV players picked!
Donny wins the POV and makes it's very obvious that he will use it to save Jocasta. POV results!
Everything is set for Derrick to put his target all along Devin, up as the replacement nominee.
Have nots are picked and it's Offal Burritos & tripe. Houseguests are starting to get a little annoyed with Christine and Frankie having excuses why they can't be a havenots. Hayden says f*** it he will be a havenot and takes it like a champ. Havenots for the week are picked!
Devin says his goodbyes on Sunday well in advance of the Thursday eviction.
As planned Donny uses the POV to take Jocasta off the block. As HOH, Derrick then nominated Devin as the replacement nominee. POV Ceremony Results!
Devin says he's not going to campaign but production wants him to for footage. Devin campaigns any ways but just a little. Goes out like a champ. Devin campaigning.
TWO new Alliances are formed one called The Detonators (Frankie, Derrick, Christine, Zach and Cody). Derrick and Cody also named their final 2 alliance calling themselves "The HITMEN".
OBB predictions
Devin goes home, HOH winner is Beast Mode Cowboy and Brittany
Actual Results
Donny Votes to evict Devin
Jocasta Votes to evict Devin
Brittany Votes to evict Devin
Frankie Votes to evict Devin
Christine Votes to evict Devin
Nicole Votes to evict Devin
Hayden Votes to evict Devin
Amber Votes to evict Devin
Victoria Votes to evict "Devil" Devin
Cody Votes to evict Devin
Zach Votes to evict Devin
The next group of Have nots will be picked based on their activity levels.
Devin is evicted!
6 teams.. the team that wins gets HOH
Victoria and Christine
Caleb and Nicole
Brittany and Jocasta
Amber and Zach
Donny and Hayden
Cody and Frankie
Team America tasks target Someone they believe is a physical threat
HOH Winners are Cody and Frankie
Amber and Zach , Cody and Frankie were in the lead when the live show ended.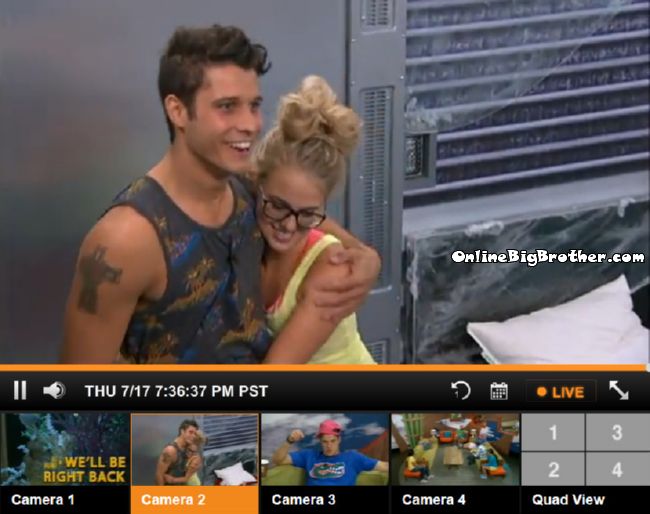 [polldaddy poll=8192326]