POV Holder:
?
Next POV
July 12th
POV Used
YES
POV Ceremony
July 14th
HOH Winner 1:
 Nicole
HOH Winner 2:
 Derrick
Battle of the Block Winner
?
Next HOH/ Next BOB
July 17/July 11
Original Nominations:
Final Nominations:
Have Nots
POV Players
Big Brother 16 Live Feed FREE TRIAL – Use the FLASHBACK feature to watch everything you've missed!
8:47am In the hive room – Nicole is telling Donny that if Caleb went up to save Amber and look like a hero he could potentially stay there!! Donny says and go home! Nicole says thats my … but I'm won't be HOH at that point so I can't make adjustments. So say if I were HOH at that point I probably wouldn't use the veto if I won it. Donny says we don't know who's going first yet do we?! Nicole says no. Donny says if you get to go first… YOU do Caleb! You have the right to do whatever you want to do. Nicole says that's smart because then I would be HOH! Donny says Derrick could be working with him, they're sleeping together! There was a movie called Sleeping with the Enemy. Nicole says that I could explain to Derrick. Donny says you don't need to explain nothing to him. Nicole says I feel like I do because he won't trust.. I could says Derrick maybe we should switch it up. If I'm not in power they could switch it up. Nicole says I could put up Caleb… I have to put up Amber because I have reason to otherwise it looks weird. Donny says they have to be working together .. they're sharing a bed. Nicole says the plan is to make Caleb look like a Knight in Shining Armor and not like the second target. I think I would have to put up Victoria. Donny asks how close are you to Christine. Nicole says she's my best friend. During that 8 time she was going up the steps. Donny says Christine wanted to talk to me for the first time ever and right after she went to tell Frankie stuff we talked about. I didn't vote my buddy out and you shouldn't have to either. But is your buddy, your buddy?!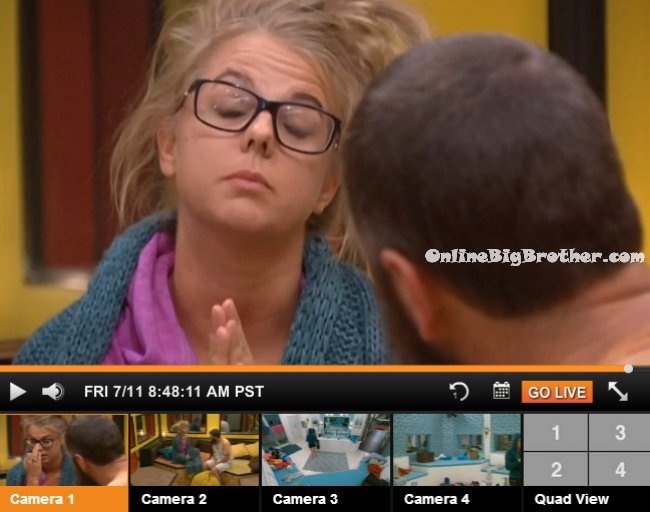 When the live feeds return – Nicole says I don't want to do what they want me to do. Hayden tells her that you're not in the mix. Hayden suggests she put up Brittany. NO one likes her It wouldn't be a big deal. Nicole says I don't want to put up Zach who is one of my best friends in the house. Derrick comes in and Nicole talks to him. Nicole tells him that she is stressing out. She says that people are talking and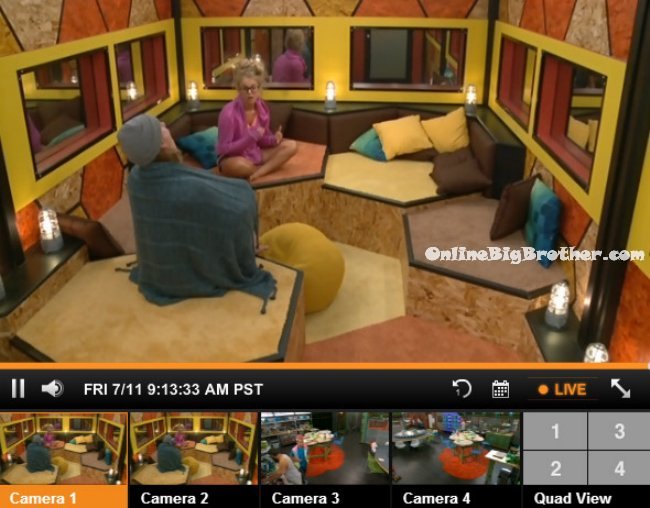 HIVE ROOM – Derrick says I am not protecting the 8. There is nothing I can tell you in 45 minutes that will convince you. You need to do what you want to do. Derrick says are you and me in an alliance?! Nicole says yes! Derrick says you can be HOH if you want, it doesn't matter to me. You're honestly scaring me at this point. I just woke up and you asking me questions and I haven't spoken to anyone. Nicole says I just really don't want to put my best friend. Derrick asks who in your heart do you want to put up. Derrick says from a big brother perspective I dont want to put up any people that have the potential to come after me. Nicole says okay that makes sense. Nicole says I am thinking of putting up Amber and you should put up Caleb. Are you putting up Jocasta? Derrick says I am putting up the best player in the house. Nicole says yeah but he's your best friend. Derrick says he's not my best friend. Cody and Zach are my best friends. Nicole says okay that makes me feel better. Derrick asks who are bringing up the 8? That means that the 7 that aren't part of the original 8 then they're bonding together. Derrick says if that was the case it would be smarter for me to put them up because they're coming after me. I'm not going to do that though. Big Brother blocks the feeds. When they come back Brittany comes into the room. Derrick asks her if she thinks there is still an original 8 working together. Brittany says I think there was an 8. Derrick says I am thinking of putting you on the block. Brittany starts getting upset and mad that he would even consider putting her up. Derrick says I wasn't even thinking about until 2 seconds ago. Derrick then says look I am not putting you up. Brittany leaves and Derrick says I have to go talk to Caleb to find out if he really wants me to put her up. Derrick asks who are you putting up? Nicole says Victoria. Nicole tells Derrick to not get so excited and paranoid.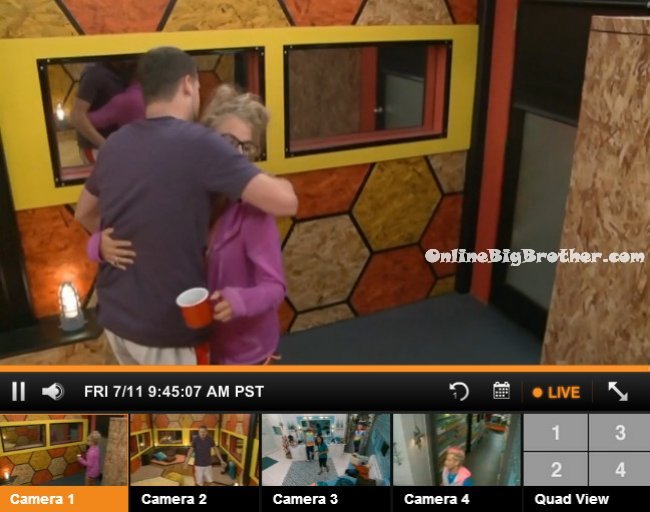 Derrick brings Caleb into the hive room. He tells him that people still think the 8 are working together. Derrick asks Caleb if he is still willing to go up. Caleb says that he thinks that's the safest way to ensure Devin goes. Derrick tells Caleb that he is putting up Jocasta with him. They pound and leave the room. Caleb then talks to Frankie in the hive room Caleb explains the plan and Frankie says this is really cool of you! Slay the beast!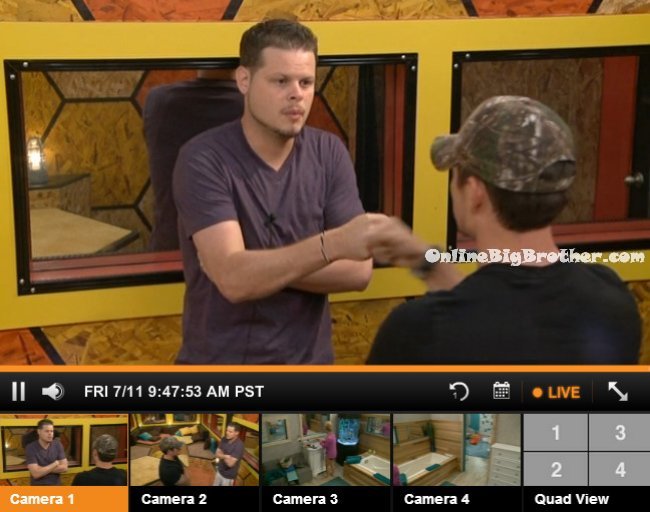 9:50am – 10am Nicole pulls Victoria into the storage room. Nicole tells her that she is thinking of putting her up as a pawn. Victoria says yeah but pawns go home. Nicole says that won't happen. Devin is the target. Frankie interrupts their conversation. Nicole and Victoria head up to the HOH room to talk. Derrick and Nicole explain to Victoria that the plan is to get out Devin. Victoria says that Zach was going home and then all of a sudden Pow Pow. What about Devin. Derrick says we can't put Devin up initially because then if he comes off he's safe. Nicole tells her that she is 100% safe. Derrick says I promise you you won't go home. The person you are going on the block with and the person I am putting up will never go against each other. If you know what I'm saying. The person I am putting up will never compete against the other one. Big Brother blocks the feeds.

10am Big Brother blocks the live feeds.
11:50am The live feeds are still blocked for the NOMINATION Ceremony..
12:40pm STILL BLOCKED..
[polldaddy poll=8179403]