POV Holder:
Donny
Next POV
July 19th
POV Used
?
POV Ceremony
July 14th
HOH Winner 1:
 Nicole
HOH Winner 2:
 Derrick
Battle of the Block Winner
Donny/Amber
Next HOH/ Next BOB
July 17/July 18
Original Nominations:
Derrick's Noms (Caleb & Jocasta) Nicole's Noms (Donny & Amber)
Final Nominations:
Have Nots
Caleb, Amber, Devin, Hayden
POV Players
Derrick, Jocasta, Caleb, Christine, Devin, Donny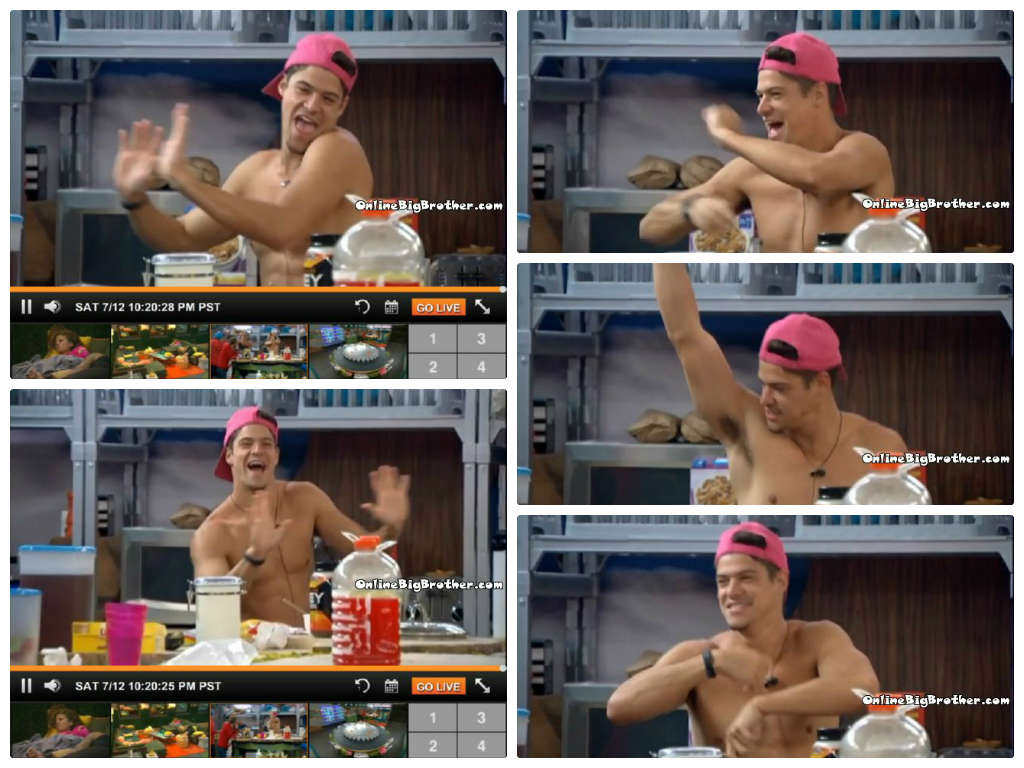 10:20PM Zach and Cody Dance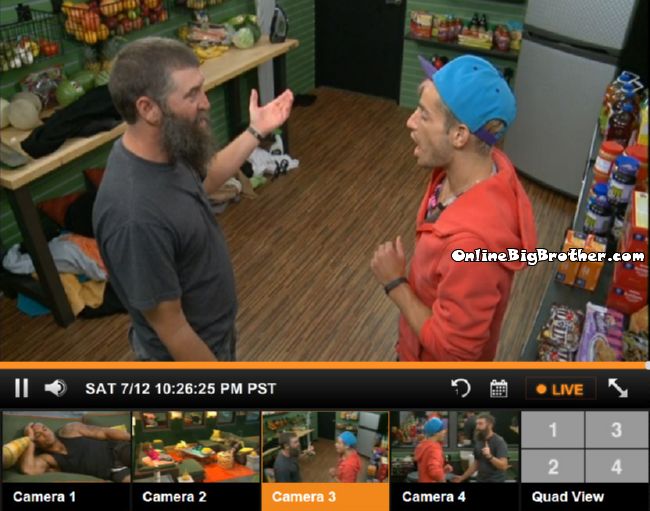 10:26pm Donny and Frankie
Donny says he did his "America" thing with Nicole.
Donny says they have all say tomorrow and all day Monday to complete it.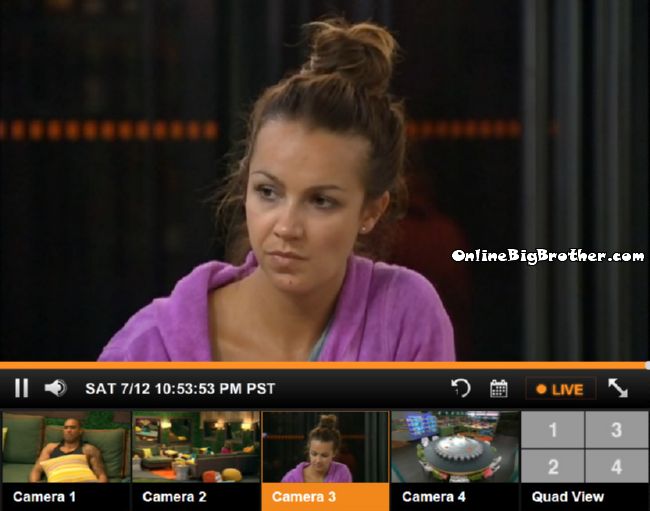 10:53pm Brittany and Frankie
Talking about what Caleb did for Amber was insane. "He's on the block now



11:01pm Amber and Frankie FIREROOM
Amber says she's freaking out because people might get rid of Caleb this week and her next week. She thinks that Caleb has kind but the target is on her because of him. Frankie says Caleb put the target on himself it's wonderful and admirable what he did she should say thank you.
He tells her it's going to be unanimous to evict Devin he's sinking right now and there's nothing for her to worry about.
AMber – "I feel like he's working his way with everyone"
Frankie – People are being polite and cordial and when he walks away they throw up in their hands. Amber says she cannot trust anyone it's time like this that she wishes she could call her sister someone she can trust.
Frankie says as a gamer it's tempting because Caleb is on the block and they may not get another chance to get Caleb out, but it's too early, Frankie say everyone loves Caleb he's got a heart of gold he's like Frankie's brother.
Frankie says he loves Devin but despises his game play. What Devin's done as a game player is foolhardy. Amber hopes they win HOH next week. Frankie thinks they will if it's HOH , "you're the strongest girl and I'm the strongest small boy"
Frankie tells her the bombsquad doesn't exist but it still kinda does. All the members are all still keeping each other safe.
Amber says there people in the alliance she is iffy about. Frankie understands going into the "Merge" (jury( they don't have the numbers. Frankie says everyone that sleeps in the fireroom doesn't have good game. (Victoria, Nicole, Jocasta, Donny) . Frankie points out ath Jocasta can't make it through a single competition he feels for her but she's not going to last, "She's not going to lie.. her game is very transparent"
Frankie points out that Brittany only talks to people about game when she wants something, "She's never talked game to me once.. she might not trust me"
She tells him her and Caleb are not close they never talk. Frankie tells her trust that Caleb is not going. Amber asks him if she can trust him. Frankie says of course she can.
Frankie says "They" are trying to keep Devin by instilling doubt.
AMber says she appreciates what Caleb does for her in the house. Victoria and Jocasta roll in.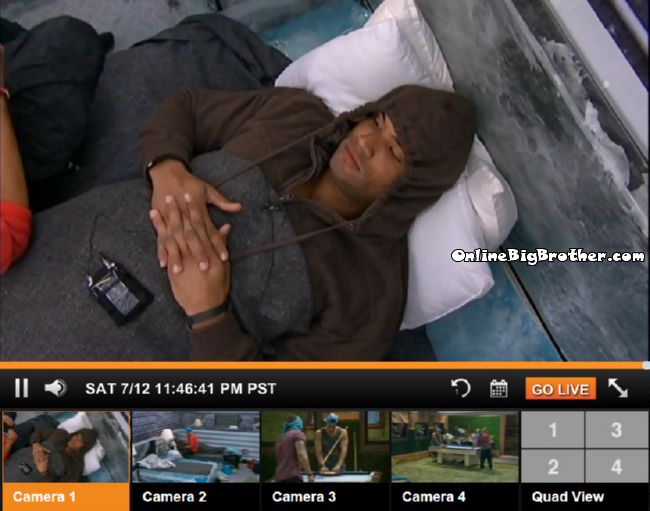 11:45pm Devin and Frankie
Frankie thinking Donny is going to take Jocasta off. Devin brings up this weird idea in his head that Donny was going to leave the nominations the same. Devin doesn't think he'll do it though because the whole house will come after him. Devin – "I'm not going to begg.. I'm at peace bro"
Frankie doesn't know for sure but he's thinking the POV will be used he mentions Donny coming into the Fireroom and handing the POV necklace to Jocasta. "If it changes that's crazy and awesome but I don't know it will"
Devin – I gave it everything I had today I went as hard as possible
Frankie – "You were amazing"
Devin – I miss my daughter dude..
Frankie – I'm so impressed with you you did great
Devin – I tried bro.. gave it everything i had left in the tanks.. Just want to see my daughter bro .. I'm so tired..
They hu Devin thanks frankie for coming by seeing him.
Devin – this room is not that bad
12:03am
Lots of pool and chit chat going on outside
Try It Free! Get 24/7 access to the house PLUS more for 48hrs before you decide!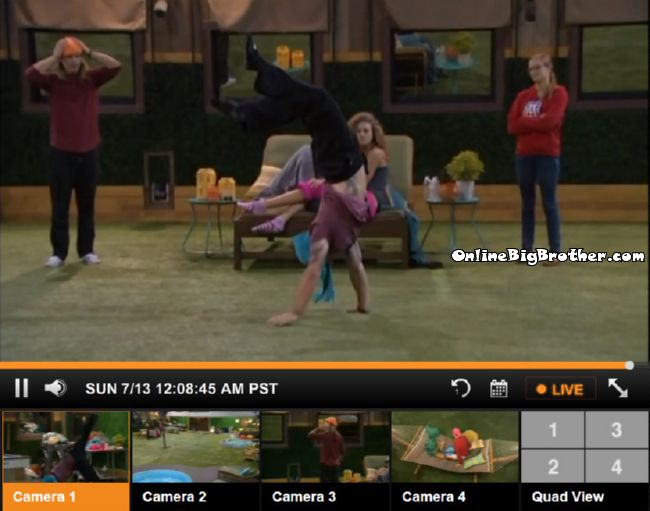 12:15AM gymnastics outside
Caleb is crazy can walk across the backyard on his hands, Flips and tumbles.
hayden is pretty good he can walk on his hands a bit but can't do the flips caleb can do. Frankie tells Caleb to stop before he breaks his neck.
Amber asks him how does he do all this. Caleb asks them if they've ever seen those videos on youtube "Amazing people" He's in one of those videos. Frankie – "you're an amazing person"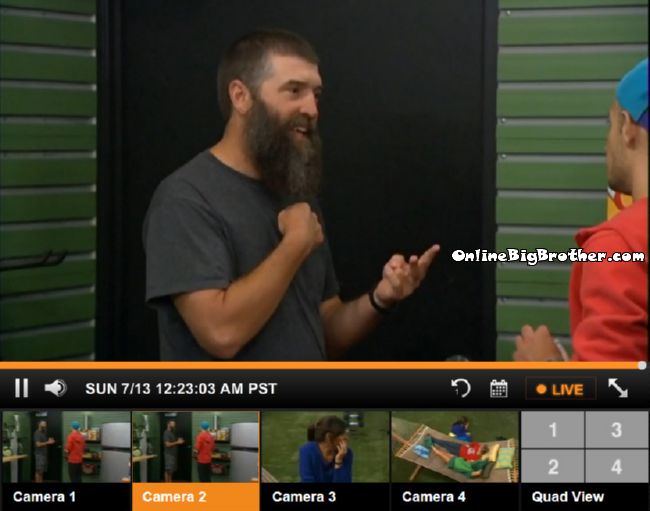 12:21AM Donny and Frankie
Donny telling him he thinks he was successful in telling Nicole and accomplishing his side of the Team America Task. He now needs Nicole to Tell Christine. Donny – "I'm not good at those things (lying) I'm good at the real stuff"
Frankie asks him if he's using the Veto on Jocasta. Donny – "It shouldn't matter.. Shouldn't make the house mad at me" Donny explain he threw POW a vote last week and if he had known Zach was in danger he wouldn't have given POW a vote.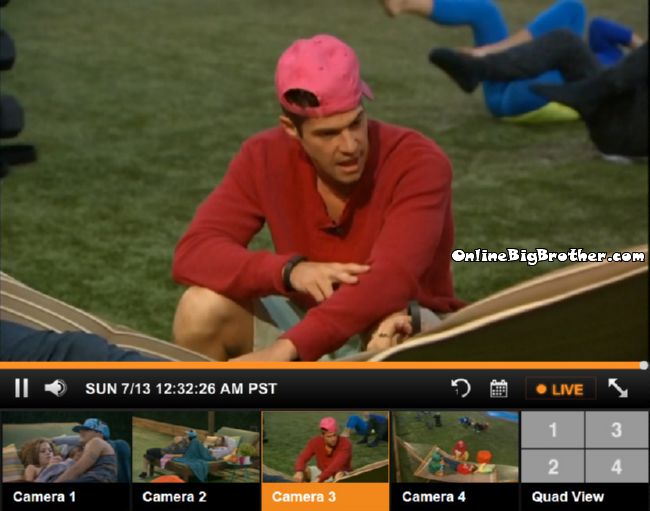 12:32AM frog, Christine and Zach
Frog tells them it was between Victoria and Donny. She decided right at the last minute. Zach tells them the week after next is double eviction. They get Devin out this week, Caleb next week followed by Jocasta. Christine asks him why they are keeping Donny so long. Zach says Donny is a competition beast they will have to backdoor Donny. Zach – "Could you imagine if Donny doesn't use it"Christine doubts that will happen because they will send Jocasta home and he'll be pissed.