POV Holder:
?
Next POV
July 12th
POV Used
YES
POV Ceremony
July 14th
HOH Winner 1:
 Nicole
HOH Winner 2:
 Derrick
Battle of the Block Winner
Donny/Amber
Next HOH/ Next BOB
July 17/July 18
Original Nominations:
Derrick's Noms (Caleb & Jocasta) Nicole's Noms (Donny & Amber)
Final Nominations:
Have Nots
POV Players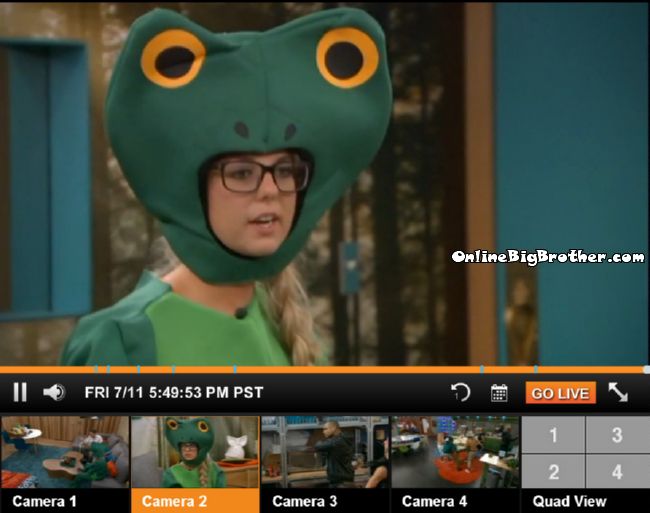 Amber and Donny win the Battle on the block
5:50pm HOH Derrick and Nicole
Derrick telling her he doesn't want to go back how it use to be he wants them to keep talking. He welcomes her to come up to the HOH anytime. Nicole says she feels like a idiot in the costume.
Nicole is in a Frog costume for the entire week Live Eviction and everything.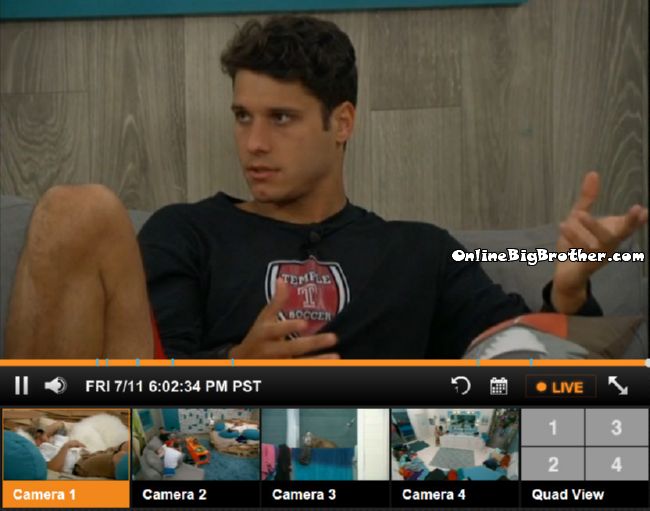 5:54pm HOH Derrick, Caleb and Cody
Derrick tells Caleb to not tell anyone he threw the competition for you it makes him look like he's looking for sympathy. Plus people will say he cannot be trusted if he's throwing competitions. Derrick telling Cody he'll pick him if he gets houseguest choice
Derrick "Christine is going to take us far in this game plus she's a peach"
Derrick hopes one of them "Beasts" wins the HOH next week he will be "Tickled pink"
Derrick says he questions Brittany.
They agree if they win the POV they take Caleb off the block. so that Brittany doesn't try to flip the house. Cody tells him he'll know if Brittany can be trusted tonight. Derrick says he wanted to work with Donny but Derrick didn't like the way he was giving him the "Yup" answer, it's disrespectful.
Derrick mentions Devin coming up to him pre Battle on the Block competition and said he knows "Part 2 of Derrick's Plan" Donny was going to throw it so it's Devin and Amber on the block and nobody will vote out Amber. They all laugh.
Cody mentions that it looks like Donny was moving extra slow.
They agree Donny, Brittany and Devin are the only ones they don't want in the POV. Derrick is certain Brittany is going to be coming up to the HOH tonight. They think the POV is going to be physical because the Battle on the Block was 'totally' not physical. Derrick is praying that the next HOH is "The Wall" because Derrick doesn't think COdy, Caleb or hayden can be beat.
Cody says the girls are miserable because they are feeling like it's just time before they go home. Derrick says the competition wasn't the type that Caleb could throw, "She literally lost the competition for herself"
Cody – 'She did without a doubt"
Derrick – there was no way you could have thrown it
6:16pm Cody wants them to take out Caleb. Derrick doesn't think it's time. Derrick says Caleb plays with his heart not his head he's a number on their side right now.
Derrick says he's built a little relationship with Nicole he doesn't know if it'll "Blossom" Derrick wants Devin to be backdoored but he wants Caleb to stay on the block to ensure they get the votes. Derrick doesn't want to be left alone in the HOH with Caleb because it doesn't look good. Derrick knows it'll suck but he wants Cody to run up to the HOH whenever he see Caleb going up there. Cody says he'll sleep in the HOH tonight.
Victoria rolls in asks him who's idea was it to nominate her.
Derrick says it was Nicole.
He shares his plan to put Devin up as a replacement nominee.
6:32pm Jocasta is sick Caleb helps her to the toilet where she pukes.