POV Holder:
Donny
Next POV
July 19th
POV Used
YES
POV Ceremony
July 14th
HOH Winner 1:
 Nicole
HOH Winner 2:
 Derrick
Battle of the Block Winner
Donny/Amber
Next HOH/ Next BOB
July 17/July 18
Original Nominations:
Derrick's Noms (Caleb & Jocasta) Nicole's Noms (Donny & Amber)
Final Nominations:
Caleb & Devin
Have Nots
Caleb, Amber, Devin, Hayden
POV Players
Derrick, Jocasta, Caleb, Christine, Devin, Donny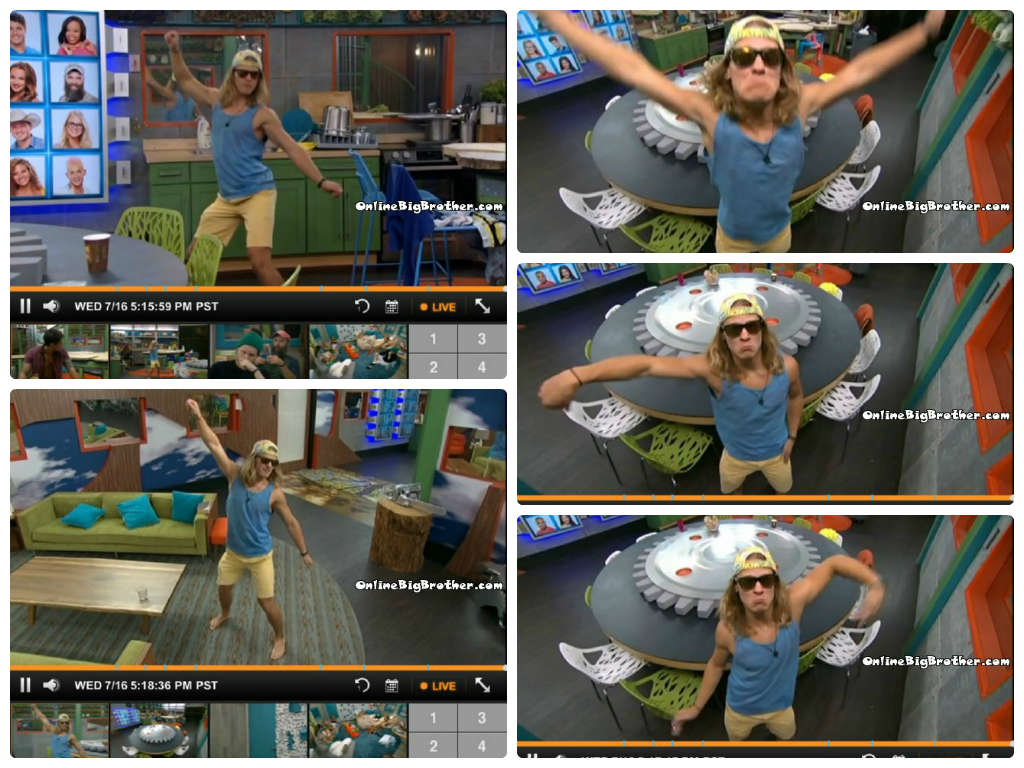 Hayden dances for the HO camera but they are not watching it.
5:34pm HOH most of the houseguests chit chat
The girls warn the guys all their periods are in sync. Derrick – "It's the only thing that bleeds for 7 days and doesn't die"
Nicole says it's just the shedding of the uterus so they can have kids
Derrick – It's f***g gross
Frankie and Cody do their hair up like "Gudos" Cody calls himself Danny Zuko (Jon travolta's character on Greece)
Cody puts on Frankie's shorts starts impersonating him. He rubs up to Nicole tells her his shorts are wet. She giggles says he's making her nervous.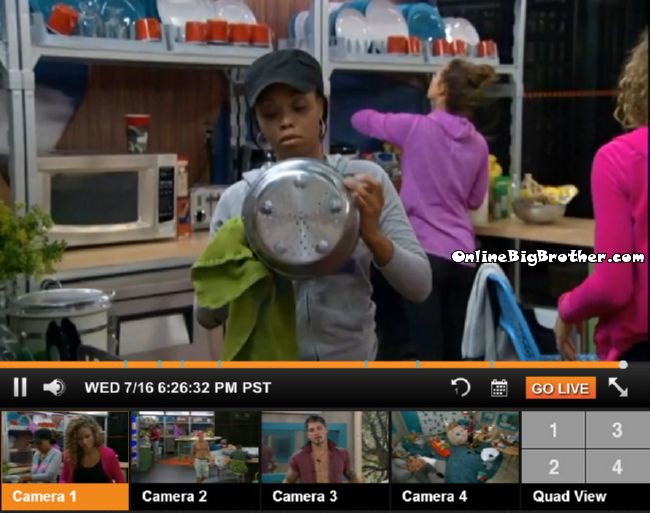 6:27pm Kitchen Jocasta, Brittany and Amber
Jocasta says she's glad the girls this year are not Catty. Amber agrees says the boys are more than the girls. Brittnay say she thinks about that all the time she was not expecting the girls to get along lie this.
Jocasta says Victoria has a hyena laugh. Victoria reminds Jocasta of her kids, When it get late out they get super silly and laugh.
Donny joins them to make ice cream.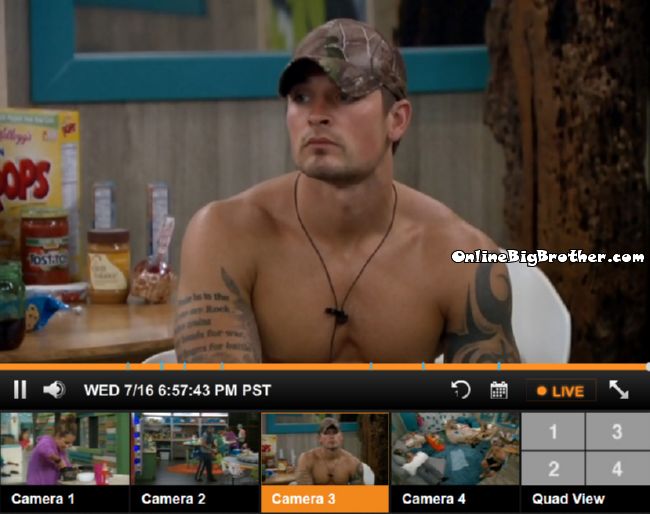 6:45pm in the HOH Caleb and Frankie are working abs everyone else sleeping or chit chatting.
Most of the chit chat is Caleb talking about himself..
Caleb says when he was 4% body fat before his sport illustrated shoot he couldn't even do one sit up, "It's all muscle on muscle" (Caleb tells this story a least once a day)
Caleb tells about when he tore his hamstring it was the worst pain he's felt in his life. "I had to stay in bed was on percocets all day" Took him 5 months before he could walk. He warns them to warm up before they run.
Caleb – "I can run from here to that door lightening speed" but after that his leg gets sore.
Caleb – "I'm going to pull up into my home town in a limo. like that will happen.. we just got a logans.. you know the place you throw the peanut shells on the floor"
Caleb says tomorrow is day 28 if he gets sent home he wants his phone activated. Zach tells Caleb he's sure as hell not going tomorrow
Caleb really hopes it's 12-0.
Christine doesn't think anyone would do that.
Zach and Christine correct caleb the vote will be 11-0 for sure. Zach mentions Devin campaigning to him saying that Caleb's mind is clouded. Caleb says his head is still in the game he's not thinking about other people, "I'm not clouded anymore"
Caleb "If Amber goes on the block I'm doing nothing about it… I have to protect my game" Caleb tells them he not only went up for Amber.
Zach – you did it for everyone
Caleb says he did it because he wanted to go head to head against that "Meat head" Caleb – "He was already beaten before I got a turn"
Caleb says this doesn't mean Amber's a target he's going this way and she's going that way.
Caleb tells him none of the people in room are anywhere close to being his target. (Christine, Cody, HAyden, Zach, Derrick )
Zach asks him the two people he would want least to be HOH. Caleb says Jocasta and Amber.
Everyone leaves but Zach, Cody and Derrick. Derrick was sleeping says every time he woke up he heard Caleb's voice. Cody says Caleb was the only one talking, he kept telling them his head is one right and he's playing his game beast mode Cowboy.
Derrick "I guarantee if He wins HOH and mentions your name (Cody) I can change it"
They think if Caleb wins HOH he'll put up Brittany. Cody brings up Amber's feelings getting hurt when he spends time with Brittany. Derrick tells him it's better to have Amber on lock she will do whatever he says but Brittnay maybe not, :"We think we have her (Brittany).. when she finds out we can hurt her game she'll turn on us.. she's here to play"
Cody – So you think I should break it off with Brittany"
Zach and Derrick tell him to Lock in Amber, Zach – "thats why you are here"
Derrick – "Lock in a gorgeous super model.. here I am locking in Victoria"
Victoria comes up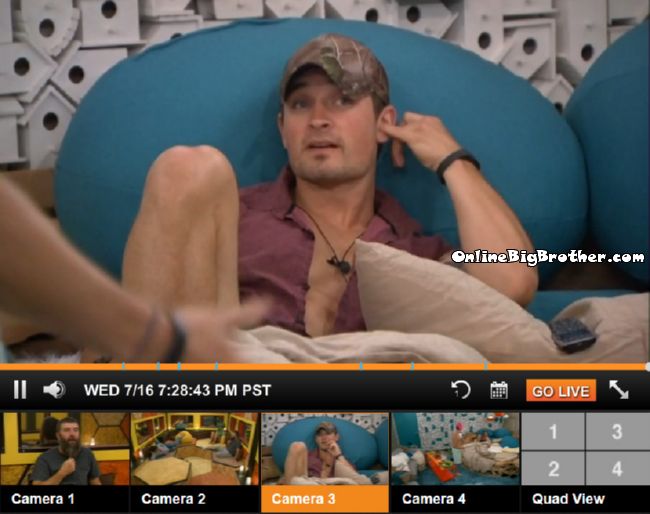 7:25pm HOH Derrick and Zach
Derrick says if Cody locks down Amber and she wants to go to the end with him they are golden.
Zach says Amber is clouded by emotions and Brittany is going to do whatever the f***k benefits her.
Zach leaves Caleb comes up.
Derrick says cometeloing a week as a have nots is a huge thing in BIg Brother and in Derrick opinion this year is a tough one.
Derrick says sooner or later Christine is going to have to be a Have nots. They are competing for half a million dollars the just can't keep rotating she'll have to eat something.
7:36pm BEEHIVE Jocasta, Donny and Nicole
Talking about their home towns.
Jocasta tells them The cop in her hometown was shot in the back at the waffle house.
7:46pm Nothing but chit chat
Alliances (Some Of these are dead)
Zankie = Frankie/Zach
Bomb squad = Caleb, Amber, Frankie, Derrick, Cody, Christine, Zach, Hayden
Team America = Donny, Derrick, Frankie
Nicotine = Christine/Nicole
Not a showmance= Hayden/Nicole
Los Tres Amigos = Derrick, Cody, Zach
Feed watchers = Derrick/Nicole
We hate Devin = Christine and Zach
Outsiders = Brittany, Victoria, Jocasta, Donny
Old timers = Jocasta/Donny
Stalker = Caleb/Amber
Quad Kings = Derrick, Zach, Cody and hayden (still being built)
Trilogy = Nicole, Christine & Hayden
The Detonators = Derrick, Frankie, Zach, Christine, Cody
Final 2 Deal "The HITMEN" – Cody & Derrick
[polldaddy poll=8185492]
[polldaddy poll=8179403]