POV Holder:
Donny
Next POV
July 19th
POV Used
YES
POV Ceremony
July 14th
HOH Winner 1:
 Nicole
HOH Winner 2:
 Derrick
Battle of the Block Winner
Donny/Amber
Next HOH/ Next BOB
July 17/July 18
Original Nominations:
Derrick's Noms (Caleb & Jocasta) Nicole's Noms (Donny & Amber)
Final Nominations:
Caleb & Devin
Have Nots
Caleb, Amber, Devin, Hayden
POV Players
Derrick, Jocasta, Caleb, Christine, Devin, Donny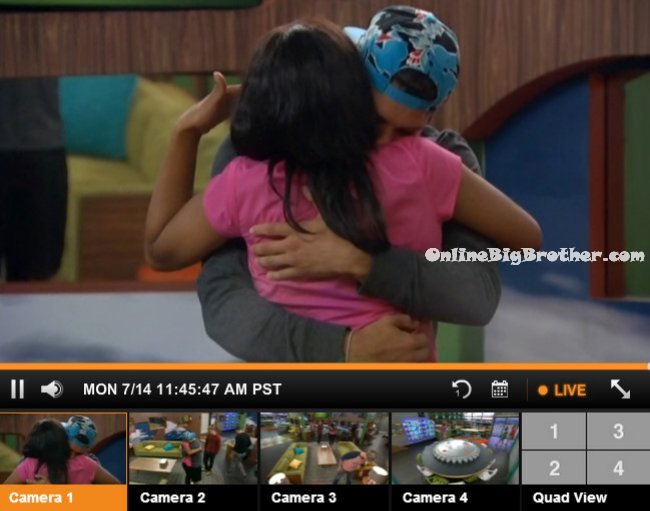 Big Brother 16 Live Feeds Season PASS = The best value at $26.99! PLUS Free 2 day Trial!
11:05am – 11:45am Big Brother blocks the live feeds for the Power of Veto Ceremony to take place. When the live feeds return – we learn that as the Veto winner Donny used the veto to remove Jocasta from the block. (Not surprising as he told her before the veto that he was going to win it for her and when he won it he came in and handed it to her.) As Head of Household Derrick then nominated Devin Shepherd as the replacement nominee.
When the live feeds return – Cody is hugging Jocasta. They hug for a long while. In the kitchen Derrick says to Donny that was a great speech, great speech! It was a very touching speech. You have no idea how much that means to her. There was no chance she was going home any way but.. you know. Great speeches all around. Devin comes into the kitchen and tells Brittany and Cody. Lets all keep it nice and have a great week. Devin goes out and hugs Derrick. He tells him that he's a beast in competitions. Devin heads back inside. Derrick says that moment with Donny was a Kodak moment! Zach says man Jocasta was going nuts man. It shows how grateful she is to be here! Derrick says I feel bad for who has to put her up next week. Derrick goes over to Donny and says kudos to you. Derrick explains he felt bad having to put Jocasta up but knew she wouldn't go home. Donny says it just sucked that her being sick she couldn't even compete to save her own life.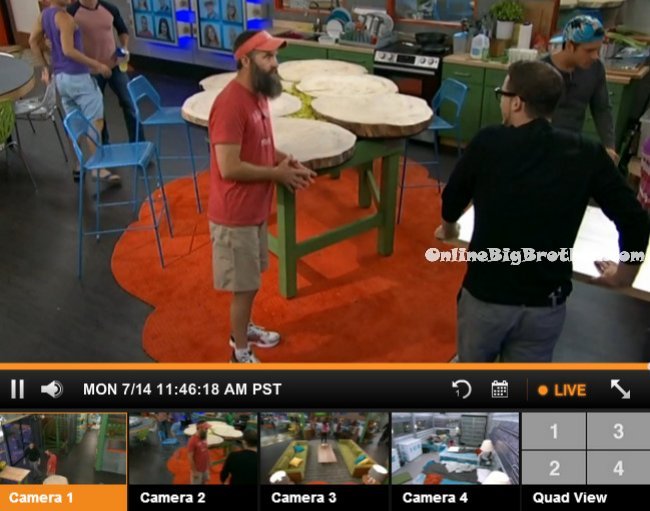 11:55am – 12pm In the kitchen – Devin hugs Jocasta. He tells her that I really think this is with its rightful owner because I think if you would have been able to compete in that competition. You would have killed it. Jocasta takes the veto off her neck and kisses it. She then hangs it up on the memory wall. Jocasta says to Cody and Zach how she can't believe how she cried in front of them all. JOcasta leaves the room. Cody and Zach comment on how Donny is a hero. Zach says he's already won america's favorite. Donny's the man!
12:10pm Caleb and Amber are playing a game of pool. In the hammock – Christine, Victoria and Cody are chatting about random things. Over by the pool – Team America is having a meeting about their mission. Derrick says that he asked Victoria to ask Brittany 2 days ago and she still hasn't done it (Victoria did ask Brittany this morning). Derrick asks Donny to ask Brittany to talk to Jocasta about the rumor. Derrick says immediately after we will kill it and tell Zach so that he can address the house about because then that would be 4 (when they only need 3 HGs to spread the rumor). "We don't know if it is true, maybe you could address the house."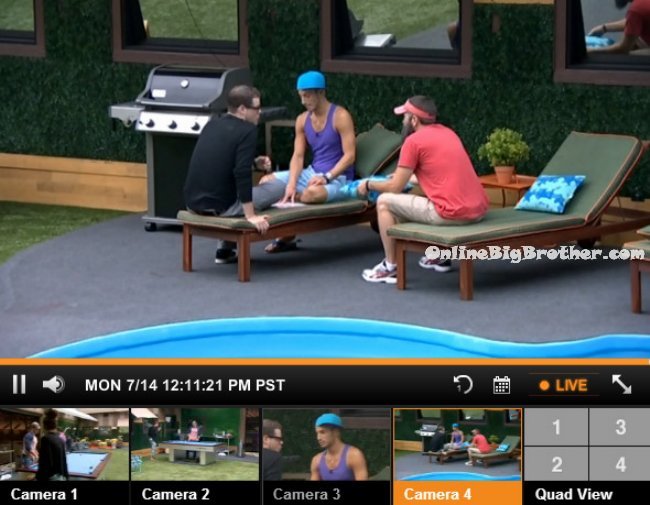 12:20pm – 12:40pm In the hive room –
Brittany and Victoria are working out. Up in the HOH room – Zach and Frankie head up to the HOH room. Frankie says that laying in bed with Victoria literally tries to find his d**k with her butt. Zach says I would like that! Frankie says I guess its because she feels safe with it. Zach says Devin is leaving this week. 11 – 0 votes. Frankie says who do we convince Donny, Jocasta or Victoria to put up if they win HOH. That's what we need to figure out. Zach says I don't even think Christine is even a good player. Frankie says she has been making some stupid moves this week. She's very useful though, she's very close to Nicole. And Nicole is a strong competitor. Zach says yeah I've been getting closer to her. Frankie says if they're (production) going to keep my Kambala bracelet then I'm going to burn down the house. I'm going to ask for it again. Zach says so our next big targets are Victoria & Jocasta. Frankie says its the people that we don't have control over that are the most dangerous. Zach is called to the diary room.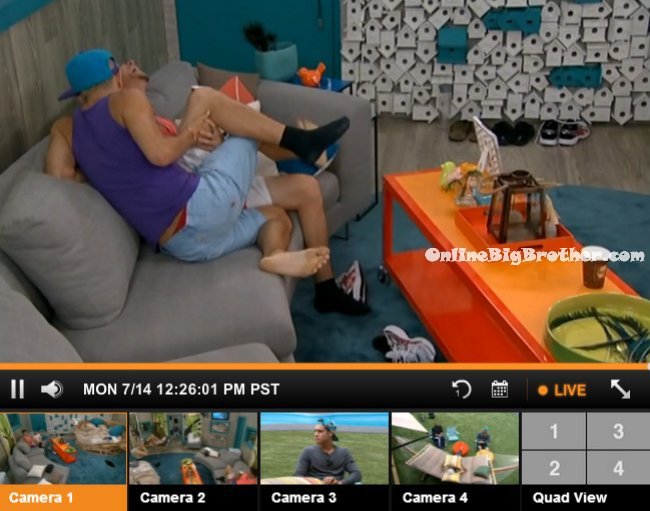 12:50pm – 1pm Derrick and Zach are sitting on the backyard couch. Derrick asks who Zach would put up if he won HOH. Zach says Victoria and Jocasta. Derrick comments on how he is going to be praying that someone wins HOH that won't put him up. Zach asks but who's our target next week? Derrick says Victoria and Jocasta .. we just have to see how the day plays out to see if anyone is targeting us. Zach says probably better to get out Jocasta. Or do we target Donny? Derrick says we just need to see how the week plays out. Zach says Devin isn't going out without swinging. Derrick says of course he'll go out swinging. Zach asks are we just sitting on cruise control? Do we need to do anything or talk to anyone? What the deal with Christine? Derrick says Cody trusts her but if it comes to any of my people she is going out first. Zach says they call them selves the outsiders.. Brittany slipped it to me the other night. Zach says we're sitting pretty. We've got the bomb squad. Derrick says which really we don't. The LTA los tres amigos is the best one we have. Zach says and we have the five me, you, Cody, Frankie and Christine.
Zach wonders if they should bring anyone else into the los tres amigos (LTA) alliance (Derrick, Cody, Zach). Derrick says there is an unwritten thing between me, you Hayden and Cody too. Zach asks should we make that official. Derrick says we should call it another name. Zach asks what would we call it? Derrick says the Quad Kings. Zach says I like that. Derrick says and we have Caleb because of the bomb squad.
Big Brother 16 Live Feed FREE TRIAL – Use the FLASHBACK feature to watch everything you've missed!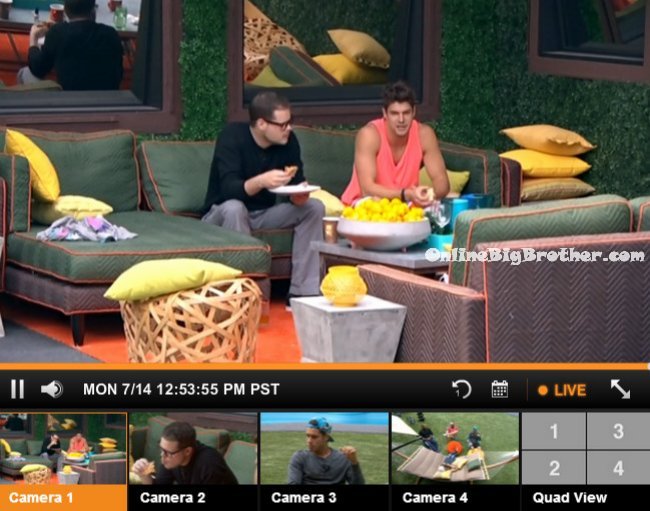 [polldaddy poll=8179403]