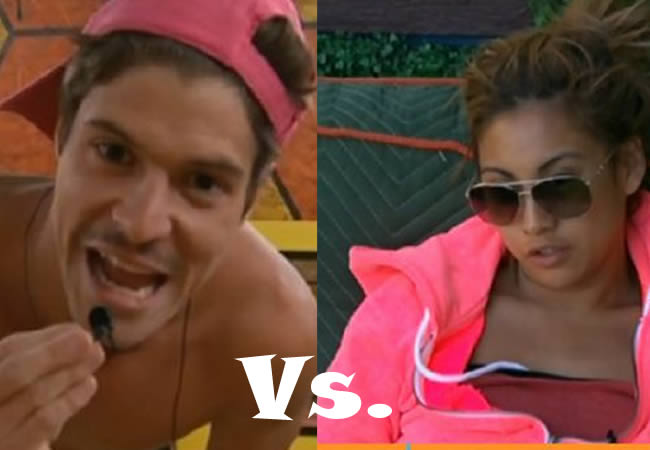 What a week we just had! I'll try and summarize one great week of BB16 feeds
(They got to practice a bit of the HOH competition last night check it out here .
Try the feeds for free.. This season of Big Brother is Awesome no joke!
FREE 2 Day TRIAL! watch the ENTIRE Season of Big Brother 16
HOH and BOB
Amber and Devin win the HOH's  Devin's goal is to take out Brittany with the help of Caleb and Amber they devise a plan.
Amber is to put up Hayden/Nicole , Devin puts up POWPOW and Brittany
Devin makes a deal with POW to throw the Battle On the Block competition to ensure Brittany and POW stay on the block. Devin promises if he wins the POV he will use it to save POW
Devin jumps the gun and tells Amber's nominations that they are going up
Hayden/Nicole/and the Bombsquad are privy to this plan but the architects were Devin/amber and Caleb
  

Battle On the Block ends Hayden/Nicole win

, Amber loses her HOH and Brittany and POW stay nominated for eviction
POV and replacement nominees
POV is played Devin and wins – POV Results and ensuing Drama
The plan is for Devin to put up Victoria against Brittany so they can send Brittany packing.
Sunday night before the POV ceremony Britanny and Devin have a heart to heart conversation where she tells him about her personal life and being a single mom etc etc
Devin "falls in love" with Brittany decides to keep her and get out Victoria, "I can't throw a single mother out in the cold"
Due to Devin's erratic behaviour The bombsquad starts to turn on Devin, Zach, Frankie, Cody, Derrick and Christine all actively start planning on getting Devin out next week as he's too much of a loose cannon.
Caleb tells Devin members of the Bombsquad are thinking about taking him out Caleb doesn't name names but when asked if it's Zach he pauses and says 'everyone'
 Devin calls a bombsquad meeting and all the heat goes to Zach
 Zach and Devin have a argument where

Zach taunts Devin into nominating him

.
Devin uses the POV on Brittany

and nominates Zach

Devin going back on his deal with POWPOW and the bombsquad causes the house to fracture
Zach calls out everyone and blows the bombsquad up to Hayden, Christine blows it up to Nicole
Frankie is called out big time and losses a ton of influence
In a panic Devin invites Hayden to the HOH where he offers him a deal to join the bombsquad

.

Hayden accepts but not really. Bombsquad is back to 8 members in name only
Brittany finds out that POWPOW agreed to throw the comp and is pissed
Amber makes it look like she had nothing to do with the plan and is seen as untrustworthy
Hayden and Nicole are seen as untrustworthy because of their knowledge of Devin's plans
The house starts to break into two groups Devin's side of the bombsquad and Zach's side. the outsiders find a place to float in the middle
Battle for the votes and house flips
Different combinations of votes float back and forth for a couple days. LInk to post covering these events
Tuesday night Derrick determines they have the votes to flip the house
Not wanting to come out of the eviction with any blood on their hands Derrick goes to Caleb to flip his and Amber's vote in the hopes of making the vote a 10-2, 11-1, or 12-0 to keep Zach
Caleb agrees to keeping Zach and will get Amber to do the same the vote is at 11-1 with Jocasta being the only vote to evict Zach.
Caleb says the bombsquad is 9 members strong and they all are guaranteed to make it to Jury.
Frankie tells DEvin the house has flipped, Devin says "I'm out of the squad bro" Devin goes to Donny and Brittany and blows up every secret of the bomb squad
Brittany learns that Derrick has been lying to her (They had developed a very close game relationship up until this point )
House begins to reorganize but nothing is certain until a HOH winner is known
OBB predictions
POWPOW goes home, HOH winner is spilt one person from each side of the power in the house.
Actual Results
Donny Votes to evict Zach
Jocasta Votes to evict Zach
Brittany Votes to evict POWPOW
Frankie Votes to evict POWPOW
Christine Votes to evict Paola
Nicole Votes to evict Paola
Hayden Votes to evict Dj POWPOW
Caleb Votes to evict miss POWPOW
Amber Votes to evict POWPOW
Victoria Votes to evict POWPOW
Cody Votes to evict POWPOW
Derrick Votes to evict Paola
POWPOW is evicted
HOH Winners are Derrick and Nicole
croquet game essentially a crapshoot
Amber = 17
Cody = 17
Caleb = 21
Frankie = 24
Christine = 4
Nicole = 29
Victoria = 12
Brittany = 16
Zach = 8
Donny = 20
Hayden = 17
Jocasta = 22
Derrick = 28