POV Holder:
?
Next POV
July 12th
POV Used
YES
POV Ceremony
July 14th
HOH Winner 1:
 Nicole
HOH Winner 2:
 Derrick
Battle of the Block Winner
?
Next HOH/ Next BOB
July 17/July 11
Original Nominations:
Derrick's Noms (Caleb & Jocasta) Nicole's Noms (Donny & Amber)
Final Nominations:
Have Nots
POV Players
10am – 1:10pm Big Brother blocks the live feeds for the Nomination ceremony. When the live feeds return – we learn that as one of the HOH's Derrick nominated Caleb and Jocasta. As the other head of household Nicole nominated Amber and Donny. Caleb has volunteered to go up on the block to be the Knight in Shining Armor for his "Queen Amber". These 2 sets of nominations (Amber & Donny versus Caleb & Jocasta) will battle it out in the Battle of the Block competition. They have already planned out how the rest of the week will happen. Caleb agreed to throw the battle of the block so that his "Queen" Amber & Donny will come off the block and be safe for the week. Derrick will then remain head of household and Caleb & Jocasta will remain on the chopping block. They're hoping that Devin won't be chosen to play in the power of veto competition so that they can backdoor him. Everyone wants Devin out of the house so whoever wins the veto will use it so that Derrick can nominate Devin as the replacement. Nicole also has the backup plan that if Devin ends up getting to play in the POV and wins it, then Caleb will remain on the block and she can try to rally the votes to evict him.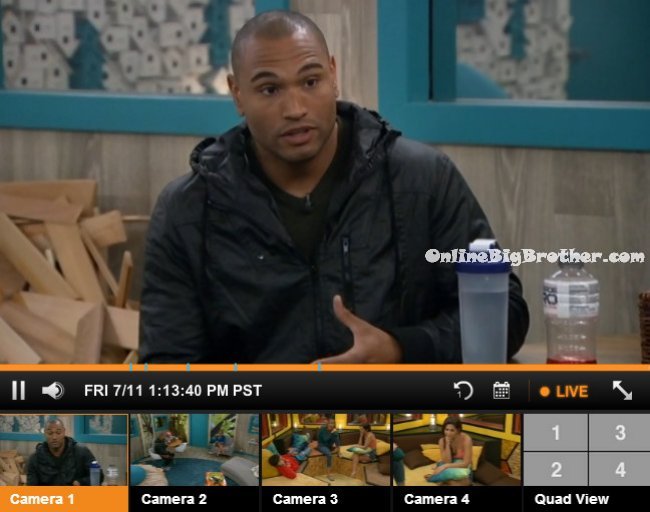 BATTLE OF THE BLOCK Competition:
Host: Brittany
Players: Caleb & Jocasta VERSUS Donny & Amber
In the kitchen – Devin tells Caleb that he understands and respect that he has to do what he has to do for his family. Caleb heads to the bedroom. Caleb says soon enough I am going to go beast mode and this bracelet is coming off.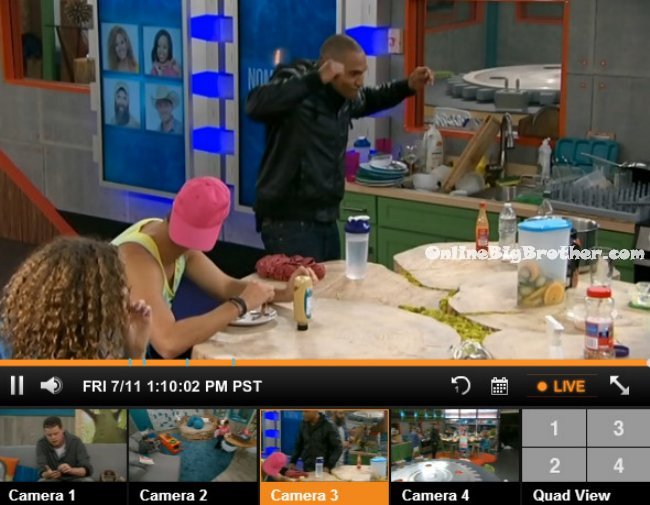 1:10pm UP in the HOH – Derrick is talking to Nicole and Brittany. Brittany leaves and Derrick tells Nicole that the house needs to know that Devin is the backdoor plan more that Devin doesn't need to know about the plan. Hayden quickly talks to Nicole and she asks if she can self evict! Devin comes up and asks I just have one question WHY Donny?! It's a great game move. Nicole says that people were throwing his name out in the last second and I didn't know who to trust. Donny and I don't talk too much. It was either Donny or Victoria. Devin says I was more hurt about Donny and Jocasta… I know the plan is to backdoor me. I know that they are safe if I get pulled for the veto. Nicole says I even contemplated putting you up because I didn't know who to nominate but I knew the house would hate me. People don't want you safe for another week. (Nicole got to do her nominations first)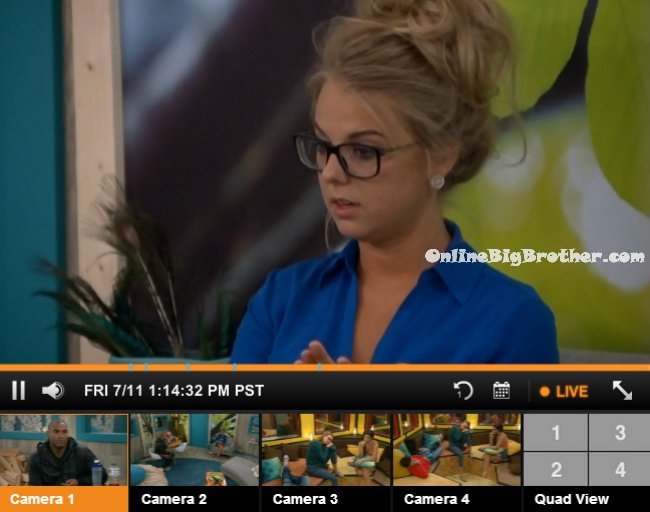 In the storage room – Derrick fills Donny in on their TEAM AMERICA mission (The have to get three other Houseguests to spread a rumor that someone in the game is related to a past Big Brother contestant.) Frankie gives one option: Paola said to you that Zach is related to Amanda. Derrick says we don't have to accept this mission if we don't want to. Amanda and Zach are both from Florida. The agree to go with Zach as being Big Brother 15 Amanda Zuckerman's Cousin.
UP in the HOH room – Nicole talks to Hayden and says that she feels bad about having to put up Donny. Why did he have to run his mouth like that. Nicole asks if Brittany is mad. Hayden says that Brittany is just mad that all the good people keep getting put up. Nicole says that Derrick asked me if I was afraid of him backdooring me. I said no but now I am that you said that. She says he told her that she needs to just trust him. Nicole says that the way Donny cried I felt so bad. If I won Veto I would use it on him.
1:40pm In the storage room –
Derrick and Donny continue to talk. Derrick asks if he has any questions about the nominations. Donny says he understands. Derrick tells Donny about why he nominated Jocasta.. she doesn't talk game with me. Derrick tells him that it was going to be Victoria on the block with Amber. Derrick says someone else came in the room right after and told us something different. Derrick says that Nicole got spooked and changed her nominations. You were not Nicole's original nomination. And you can confirm that with her. Derrick says I wont say who the person was that came up to the HOH and talked to Nicole …you can ask her. Derrick says I couldnt include you in the conversation that Jocasta was going up because she is a friend of yours. Donny says well if you had I wouldn't have said the things I said. Derrick says one of the biggest things that bugged Nicole and I was that no one came up to talk to us. You were asleep but others didn't either.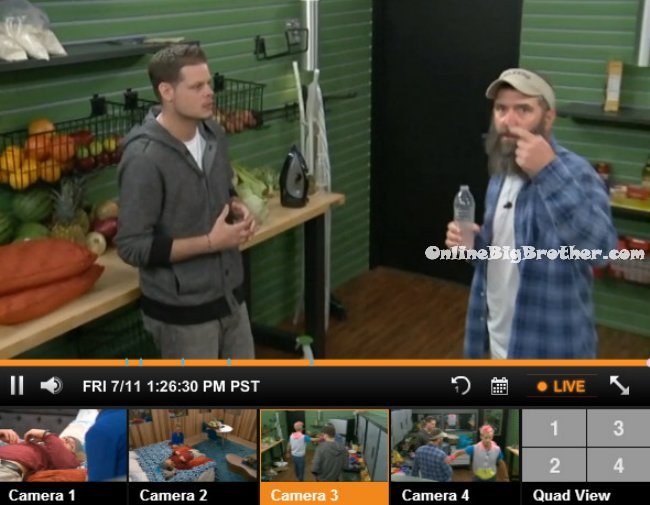 1:43pm Chirstine comes into the HOH room and talks to Nicole. Christine regrets everyday that she didn't tell her about the bomb squad. Nicole says that was the most uncomfortable thing I have ever had to do and I hate that is going to be on TV. Im sorry Donny isn't my target but he was running his mouth. He wanted me to put you up so I knew you were going to be his target. Christine says that Devin and Donny are in an alliance.. she says that Devin slipped up and said lets get Double D t-shirts. Nicole relays her conversation with Devin. Nicole says honestly I feel like bad for Donny but HE screwed me over this morning. He is after the bomb squad so bad. Nicole says he had me so convinced to put you up. I couldn't do that! Everyone wanted me to put up Victoria. Nicole says if Donny hadn't done that I would have put up Victoria. Its so crazy how fast things change. I had to go first and I knew I would gain Derricks trust if I put up Donny because he wanted me to put him up. Nicole asks Christine if she knows that Caleb is planning to throw the Battle of the Block. Christine says yeah he told me downstairs. Cody joins then and Nicole says that Donny would go home last of those 4 people. Cody says that he is worried now that stuff is coming out that Donny said to me that it makes it look like I said it. The thing is he doesn't say names. Nicole says he isn't playing a smart game .. he is so focused and paranoid on the 8. Donny's thing too is that he says well you never told me not to say that. Victoria joins them and Nicoles tells her obviously I didnt put you up. Victoria says yeah I was confused. Nicole says I just felt like you didn't deserve it. Donny isn't my target either. Nicole says that she just feels bad because Donny is so nice. Christine says I don't feel bad because he threw my name out there.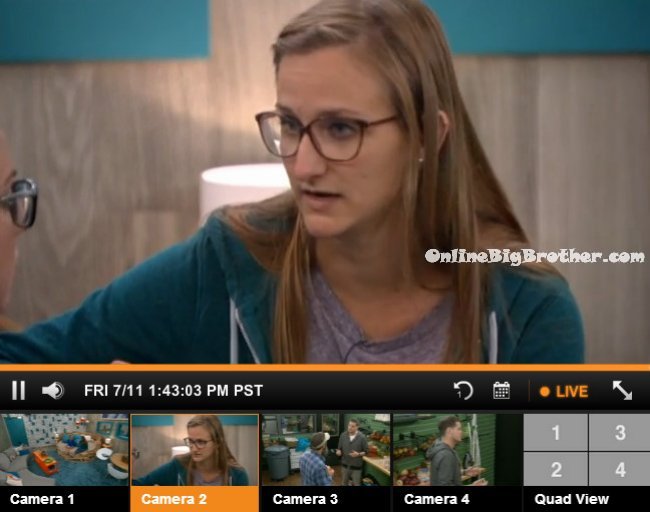 1:55pm In the hive room – Caleb and Amber are talking. Amber tells him about how Devin made the comment of him and Donny needing to make Double D t-shirts. She says that Donny was so mad when Devin said that.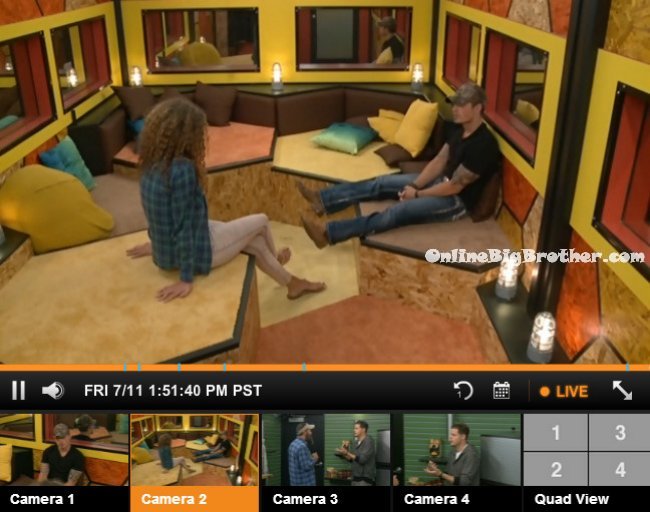 2pm – 2:10pm Derrick then talks to Hayden in the storage room. Derrick says that Donny was trying to rally against the 8 being nominated last night and again this morning. Hayden says Donny was just trying to rally basically the good people. Hayden says I feel like the both of you made really smart moves. Derrick says I just want a clean game I want Devin out of here. They talk about the bomb squad and trying to remove the heat off of it now that its over.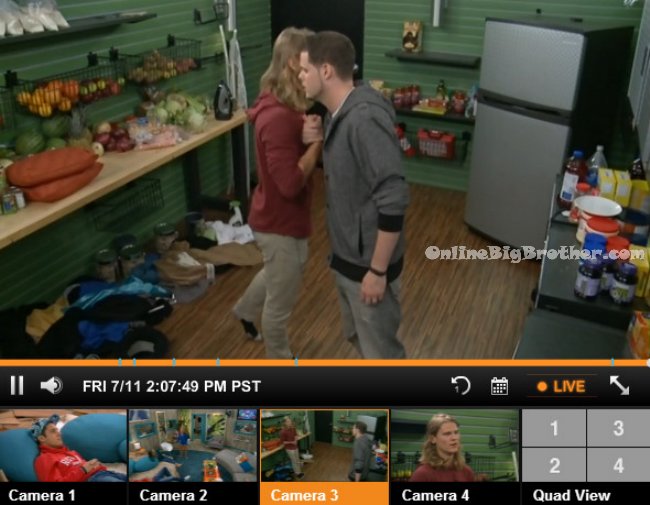 2:12pm Derrick joins the HOH crew – Christine, Cody, Nicole. Derrick says that he was just talking to Donny. Nicole says that Donny thinks that Derrick is manipulating me to better his game. He thinks through things to a key. He thought I should put up Caleb. He wanted me to think that Derrick was using me and that I should be going after the 8. Nicole says that I told Donny that he is making Derrick look bad. ANd his response was well I'm not saying any names. Nicole says what he did was he went through a bunch of scenarios and then made it look like Derrick was using me. Derrick says me and Donny got into a bit of a hostile conversation and I had to turn into the person that I am outside of this house. I didn't like the way he was being condescending to me. Derrick tells Christine that Donny is throwing your name out there and he's making you look bad like you are running around saying things. Derrick told me that he doesn't believe you about the plan to get out Devin. Derrick comments that its better that Donny is on the block because he is a vote for Devin. Nicole says it makes me feel better knowing about the Double D alliance. They talk about how the double d was an alliance since day 1. Nicole says I don't feel bad now knowing it. Derrick says that Donny came here to float through like a Spencer Clawson (Big Brother 15). I can guarantee that America loves him. I don't care I hope America loves me too but I've come here to play the game. Caleb says Amber came to me and told me not to throw the competition. I told her that the plan is already in motion. Caleb says I know there's more to it because she said that infront of Cody.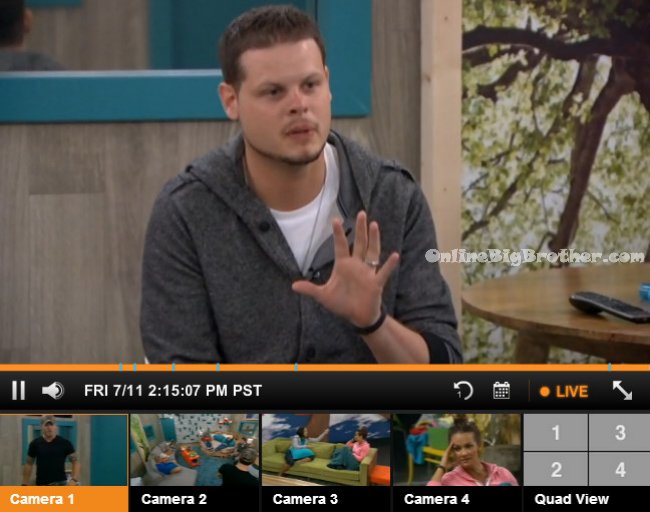 2:20pm In the living room – Donny tells Jocasta that the reason I am up is because of what I told you this morning. Donny tells her that it was Amber listening and told Nicole what he said to her. Donny says I wasn't the target someone else was until that happened. Donny says its okay I wanted to tell you. Jocasta says they gave me their word. Donny tells her that the others asked him why he's not his happy self today. Donny says ain't that selfish!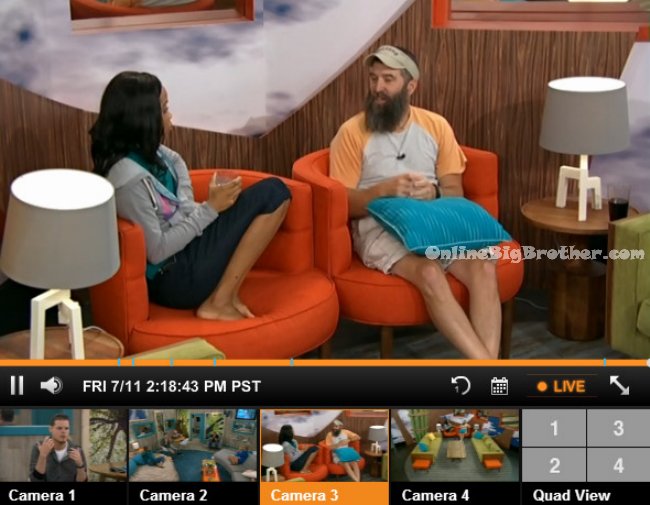 2:30pm Up in the HOH room – Christine doesn't understand why Donny keeps throwing her under the bus. Derrick says lets be honest the bomb squad doesn't exist any more.