POV Holder:
?
Next POV
July 12th
POV Used
?
POV Ceremony
July 14th
HOH Winner 1:
 Nicole
HOH Winner 2:
 Derrick
Battle of the Block Winner
Donny/Amber
Next HOH/ Next BOB
July 17/July 18
Original Nominations:
Derrick's Noms (Caleb & Jocasta) Nicole's Noms (Donny & Amber)
Final Nominations:
Have Nots
POV Players
Derrick, Jocasta, Caleb, Christine, Devin, Donny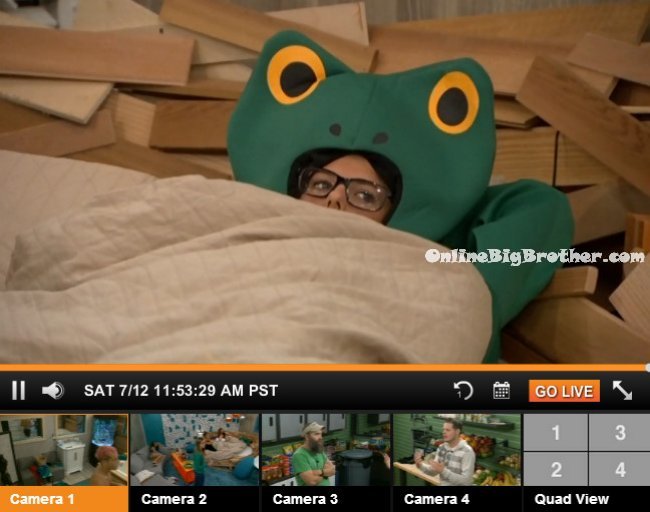 WATCH the next 48 hours for FREE – Big Brother 16 Live Feed TRIAL!
11:15am – 11:47am Big Brother blocks the live feeds for the house guests to pick players for the Power of Veto Competition that will take place later today. When the house guests gathered in the living room Derrick explained about Jocasta being sick and not being able to compete said it's okay we've got that covered, I'll explain all of that.
POWER OF VETO Players: Derrick, Jocasta, Caleb, Christine, Devin, Donny (Only 5 players not the usual 6 because Jocasta is too sick)
Veto HOST: CODY
11:47am – 12:05pm When the live feeds return – Caleb and Amber are in the earth room. Cody says you're winning it so I'm not Caleb says now he (Devin) has a 1 in 5 chance at winning. (Apparently Caleb picked Devins name out of the bag lol) Caleb says but the thing is he is just too big, these comps aren't made for him Caleb says he told me good luck and I said good luck to you too. The cameras switch to the HOH room where Amber, Brittany, Nicole and Frankie are talking. Nicole says I can't believe that just happened. Amber says I'm glad Christine gets to play because she's wanted to play in one.
In the storage room – Derrick is telling Donny about the Team America mission. Donny says lets just concentrate on the veto competition. Derrick says if I win the veto I will take Caleb off to put up Devin. Donny says that Caleb isn't very smart and hes stacked against the brains. Devin is part of the brains. They talk about how Caleb is clouded by liking Amber. Derrick says I want Caleb gone as bad as I want Devin gone but I don't want to risk Devin changing anything. He started a rumor about me and I want him gone. I want to guarantee Devin goes home. Derrick says that no one will have a problem with you taking off Jocasta if you win it. Donny says it would be nice if I won it .. so I could take off Jocasta and you put Devin because he was the one that wanted me out week 1. Derrick says if Devin wins then we will talk about who goes. Donny says Caleb should go then. Derrick says we'll talk about it. The leave the room.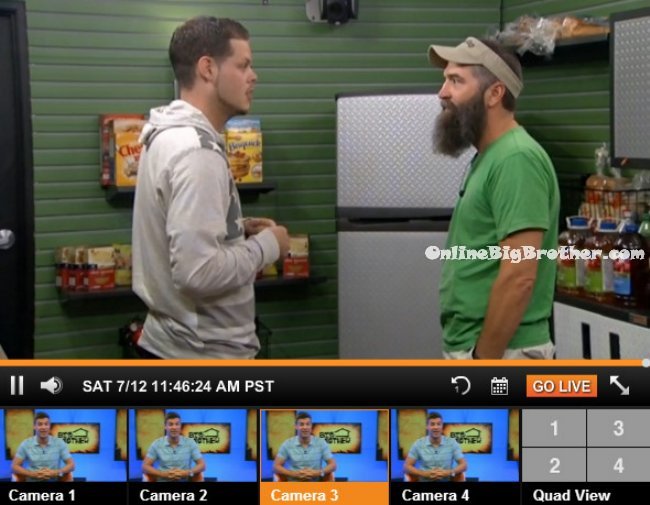 12:06pm In the kitchen – Devin apologizes to Derrick for getting amp'd in the picking of the players for the veto competition. Its just for air time. Derrick says don't worry about it. Just know I'm not going to throw it. Derrick says you do you. We'll talk if you win it.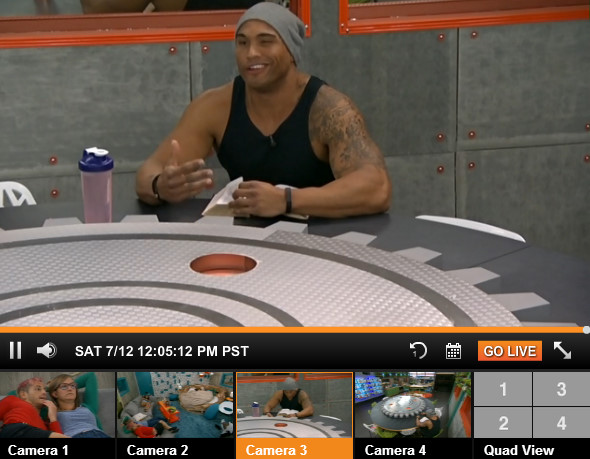 In the bathroom – Derrick asks Christine what are some veto competitions they might have? Christine says maybe the one where you fly across on cables. Derrick says obviously we're taking Caleb off and putting up Devin if we win. Derrick says he thinks Donny would take Jocasta off. Christine comments on there being 5 cables. Derrick asks how would they know Jocasta wasn't going to play? Christine says because she's sick. Derrick heads to the storage room and tells Caleb we just got to win this one! If he wins it then the better man won.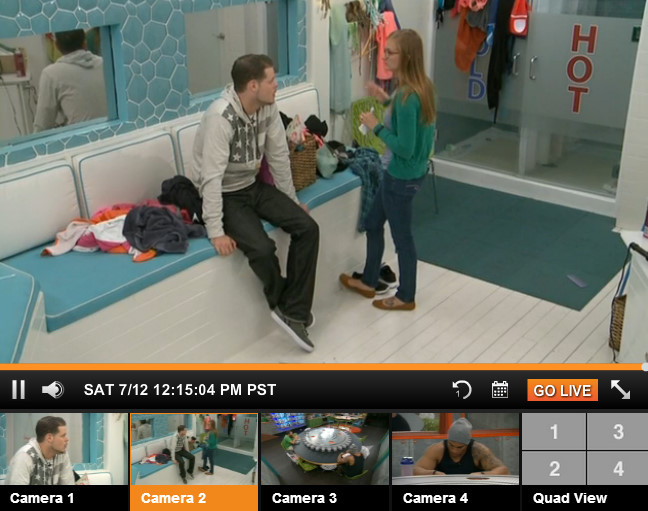 12:30pm Although Jocasta couldn't make it to the veto meeting because she's too sick she was at the meeting in "bow tie" spirit.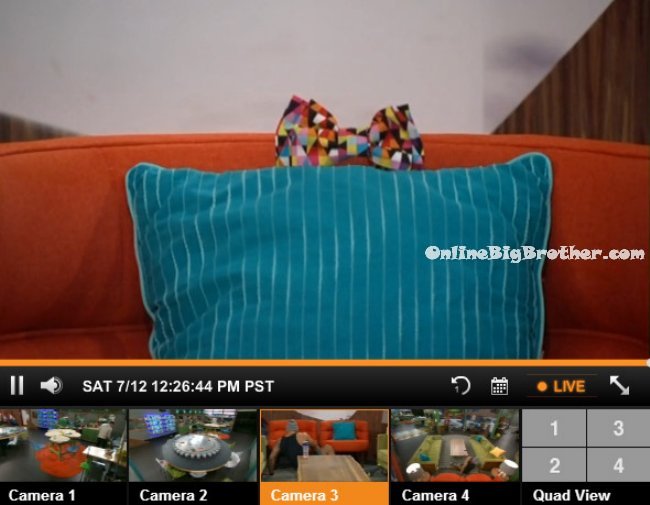 12:40pm In the kitchen –
Caleb says Amber got under my sleeping bad and put her hand on my foot! Derrick really. Caleb says I was thinking don't start being like that now just because I am on the block fighting for you. I was like na, no, not today! Caleb says and then I picked him (Devin's name). Derrick says hey its the name of the game. I am going to race to hit that buzzer! Caleb say right now its 4 verses 1. Big Brother blocks the feeds.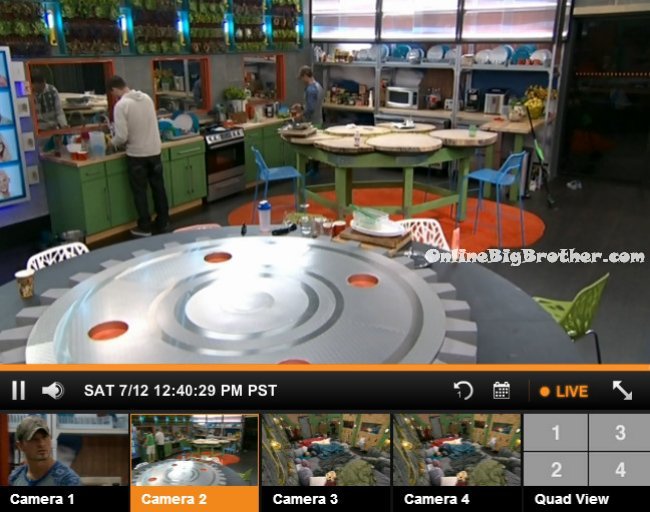 12:50pm – 1pm In the bathroom – Christine and Caleb are talking about how maybe the competition is the one where you roll the ball back and forth over the ramp and can't drop it. Caleb then goes into the kitchen and says BEAST MODE COWBOY is at level 90! Caleb tells Devin how they're thinking the veto competition is the ball one. (Why would you prepare the person you want to beat for what the veto might be?) In the bedroom – Donny wakes up Jocasta and tells her they wanted me to tell you to drink more. Donny tells her that he was chosen to play in her place. He says we've got 50 minutes before it starts. Derrick comes in and tells Jocasta don't worry about it you're not going home no matter what. My target is to get Devin out. If he doesn't win it, I'm putting him on the block and he's going home. Relax, enjoy your day! Get back in it! Derrick says they told us to wear comfortable clothes for the veto. Its not a costume competition. Derrick says sorry I put you up. I feel a little bit responsible. Jocasta says no. Donny tells Jocasta I don't believe you will go home no matter what. If I win I'll take you off and if anyone else wins someone will come off. If you're sitting beside Devin he will go home. Donny

1:10pm – 1:30pm Derrick and Caleb put on war paint. Caleb says he's turned up! He's now at level 95! Nicole comes into the bathroom and wishes Derrick good luck. Frankie paints John / 3:16 (Bible reference) (He then changes it to PHIL / 4:13 because he had the wrong bible reference) over Caleb's war stripes. Derrick gets JBL (Wife's name) / TRL (Daughter's name). Derrick, Devin, Christine and Donny go into the have room to discuss the strategy if its the competition where they have to get closest to 1 hour. The talk about dropping off before and Caleb dropping off right after Devin drops. Donny tells then that he will not use the veto on Devin if I win it. He's burnt me too many times. Caleb agrees and says he knows how it feels to have the knife you his back.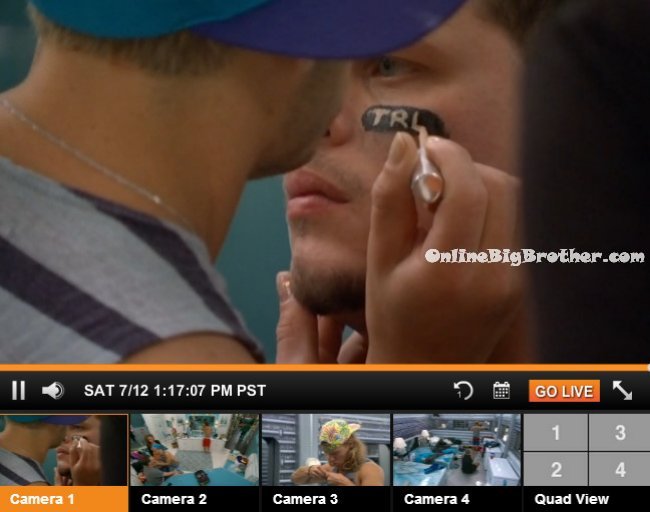 1:40pm – 1:50pm In the hive room – Nicole tells Christine to go out and have fun. Your life isn't on the line you're okay. Just go out and represent the girls. Christine says okay. Can you say my name that really helped me in the other competition. Nicole says okay. Christine says I just want to beat the boys. Even if I come in second. Nicole says she doesn't think there are any other backdoor plans (other than Devin). Christine says she doesn't think so either. Nicole says don't be nervous, just have fun with it. Christine says I just have to be fast than Donny and not as reckless as the other guys. Nicole says I have a (bad) feeling that Devin is going to win it.
Hayden yelling / singing is told to stop by big brother. Hayden says I didn't do anything! Big Brother says Hayden SHUT IT DOWN!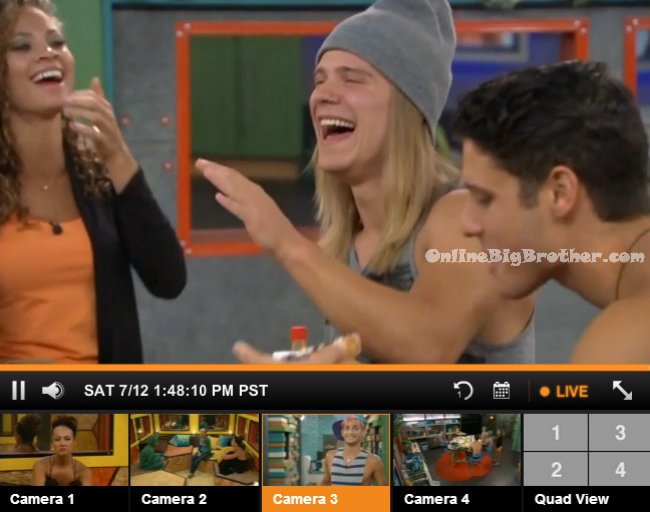 In the living room – Derrick, Donny and Hayden are stretching. Derrick tells them that no way, no how will I ever make a deal with Devin. Hayden agrees. Derrick tells Donny the veto might be something like tempting us with money or something. Donny says it might be. Derrick says I hope not. I'm not taking it. Derrick and Caleb go up to the HOH room. They talk about how this is the biggest veto of the season. Derrick tells Caleb don't take any money if there is any. You came here for 500K not for 5 or 10K! Derrick says I am going to make it very clear to Devin don't come up here telling me who to put up. If he wants to backdoor me next week thats fine.. Caleb says I don't want any good luck or sympathy .. I only want a thanks when I win it.
Big Brother says "YOU'RE THE REASON WE CAN'T HAVE NICE THINGS!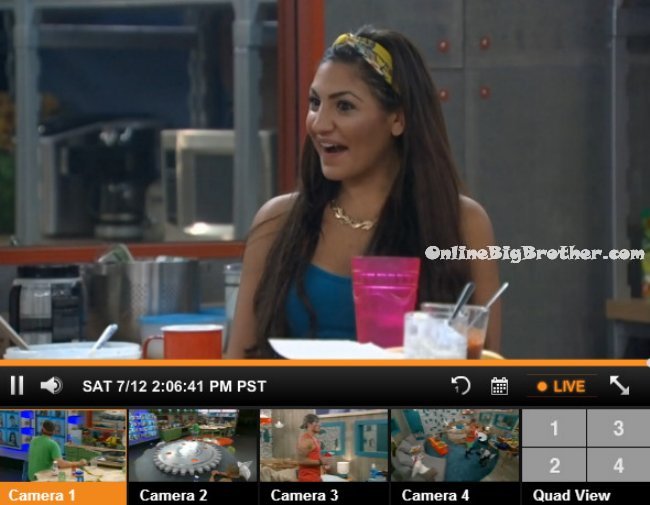 2:10pm Big Brother calls CODY to the diary room! The other house guests say its about to go down because Cody's the host of the VETO Competition.
2:30pm Big Brother blocks the live feeds for the Power of Veto competition to take place!
3:55pm Still playing the POV
Watch the ENTIRE SEASON of Big Brother 16 for ONLY $26.99 – TRY it For FREE!
Interested in purchasing the FLEX WIRELESS ACTIVITY AND SLEEP WRISTBAND that the house guests have been wearing? Check them out on Amazon.com:

[polldaddy poll=8179403]