POV Holder:
Donny
Next POV
July 19th
POV Used
YES
POV Ceremony
July 14th
HOH Winner 1:
 Nicole
HOH Winner 2:
 Derrick
Battle of the Block Winner
Donny/Amber
Next HOH/ Next BOB
July 17/July 18
Original Nominations:
Derrick's Noms (Caleb & Jocasta) Nicole's Noms (Donny & Amber)
Final Nominations:
Caleb & Devin
Have Nots
Caleb, Amber, Devin, Hayden
POV Players
Derrick, Jocasta, Caleb, Christine, Devin, Donny
2:35am UP in the HOH room – Derrick is talking to Cody about his flirting with Amber and Brittany. He tells Cody I've been straight with you from the beginning.. I don't think you have a target on your back, but it could turn into something if one of them gets pissed. Derrick says if that happens, I would get rid of one of them right away. Cody says I mean, Amber is literally like.. Derrick says she is on your sh*t. Cody says that Amber said I want to trust you, you're the only one. Derrick says Amber is on your sh*t, what about Brittany? Cody says that she's hot & cold. Derrick says I don't think she's playing games, its just her personality. She's a beautiful woman but she's used to being the hottest girl in the room. Cody agrees and says I think she sees how I am with everybody else. Derrick says Amber's a top model, she's legit modeled all over the world. Cody says I know. Derrick says I didn't like it when Zach called me Papa Bear with Brittany right there because it made us (Derrick & Cody) look like we're the head of the snake.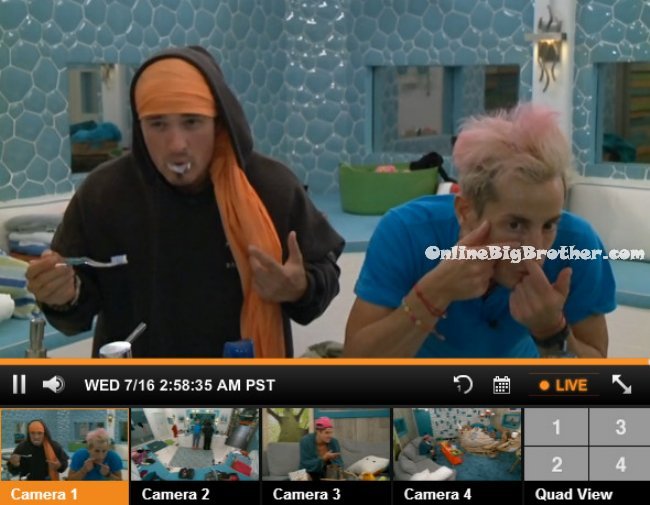 Big Brother 16 Live Feed FREE TRIAL – Use the FLASHBACK feature to watch everything you've missed!
3am In the kitchen – Frankie, Caleb, Christine, Devin, Froggie and Hayden. Frankie and Caleb head to the bathroom. Caleb comments on how it bothers him how Cody and Amber could be hiding their feelings for each other. It bothers me more that you would be hiding it from me. Caleb says it's more so what I've done and how she doesn't appreciate it. It makes me more so to back off a bit you know. I can't wait to be home. Frankie says you don't want to go home. Caleb says no I just can't wait to be around people that love and support me. I definitely don't want to go home, its just hard being in here were people lie to your face. Cabeb says he and Amber had a great conversation up in the HOH room. She told me I didn't have to do what I did but that's just me. I have to try to not be that way. Caleb says if she's on the block, she's on the block. She will have my vote but that's it. That's how its got to be. I've got to keep my head in the game and keep playing how I want to play. Frankie says she is easily guided in this game and instead of rewarding you she avoids you. She is like you're trying to reward me so I won't pay you any attention. Frankie says I need you. Frankie hugs Caleb.
3:20am In the havenot room – Devin asks Caleb if he is alright? Caleb says he is just disappointed that his efforts aren't appreciated. Devin says I am telling you, you are being played for a fool. I am going out the door I have nothing to gain from telling you this. You need to play your own game. If she is up on the block you need to do everything you can to get her out. This isn't the time or the place to find love, you'll find it after you win 500k. Caleb says that's true. Devin says when I go out the door I want you to be the last person I hug when I walk out. Caleb says I'll be there. Devin says because I am going to whisper to you one more time that you need to play your own game.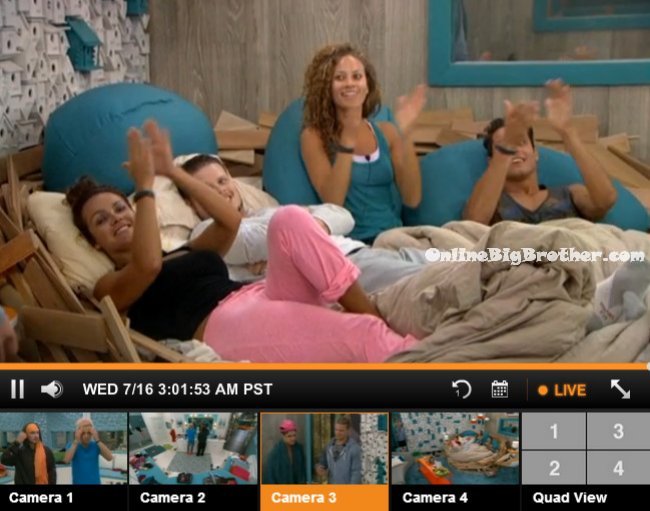 3am UP in the HOH – Zach, Derrick, Amber and Cody are hanging out. Christine, Frogger and Hayden join them. The others all clap and chant their names when they enter. Frankie joins them. Frankie takes a shower and then comes out as straight Frankie. Frankie says Brittany, Brittany you're killing me! How about you and me talk a walk to the bathroom. You know we could do a once around. Like we did did in central park. Frankie jumps on the bed and starts hugging and kissing on Brittany. He then gets up and goes to the bathroom room and says if you need me I'll just be here in the fish tank. Frankie closes the door and then opens it and is gay Frankie again. They comment on how Zach's mom is going to slap him when she sees him. Zach says I don't talk to girls like that. I talk to my boys that way. You think I would actually go up to a girl and be like "YO let me slice your pu$$y!" Zach says all I do is exaggerate. I think I am being funny but maybe I'm not. Hayden, Nicole and Brittany leave the HOH room.
Watch the ENTIRE SEASON of Big Brother 16 for ONLY $26.99 – TRY it For FREE!
3:30am Hayden heads out to the hammock to layout. Nicole joins and he says come here hoppy are we about to have a date right now?! He asks are we going to talk sh*t about everyone? Nicole says no. Hayden asks how's frog life been this week!? Nicole says it sucks, I can't wait for it to be over. Hayden says you're the cutest frog I have ever been on a date with. Nicole says shut up you'll never be on another date with a frog. Hayden says literally every girl in this house but you and Christine suck. Victoria is entertaining but you and Christine are the cool ones. Donny is a great guy. I feel like we can trust him. Nicole agrees. Hayden asks who would you want gone next week. Nicole says Amber. Hayden agrees but says that others don't see her as an issue. Hayden says I need to stop doing things like working out. Nicole says yeah Christine said the other day in front of people that you're the most underestimated player. Hayden asks what are you doing Christine! Nicole says that she down played him. Hayden says it would be pretty cool to be targeted. I hope it doesn't happen now though because I would hate to leave before jury. I would just hate to be be backdoored and not have a chance to fight. Nicole asks do you think production thinks I am all about you. Hayden says yeah. Nicole says I Zing Bot doesn't mention any thing about it.
3:40am – 4:35am In the HOH room –
Cody, Derrick, Christine, Zach and Frankie are talking. They talk about how Caleb is jealous of Cody/Amber. Derrick says but the thing is he will never put you up because he know's you'll never get votes to be voted out. Because everyone would know the reason why he is trying to get you out. The conversation turns to them solidifying their 5 alliance and naming it to make it official. They come up with a spin off name of the Bomb Squad called The Detonators = Derrick, Frankie, Zach, Christine, and Cody. Cody asks what's a detonator? They tell him and gather in a circle to blow it up. Cody asks Christine what does Amber think of Caleb? Christine says that Amber said that she does not like Caleb at all. Frankie says that Amber is scrambling. He says that others want Amber out because of it. It's a good thing. Christine says that people around the house are getting scared of your relationship with Amber. Cody asks who? Christine says Brittany, Victoria and Jocasta. Cody asks Jocasta!? Christine says that Jocasta's said MMmmHHmm about you and Amber!
Frankie says that the reason Caleb isn't up here is because he is dumb. Amber isn't up here because she is poison. And the reason Hayden isn't up here because he would beat any of us. They discuss how the decisions they will make will be collective and that if they ever have any issues they will talk about it and not blow each other up. Christine comments on how she loves Nicole but when it comes down to it I have no problem taking her out. Derrick says if Amber goes first to jury, I think that Caleb will want to go next to be able to spend a week alone with her in jury. Christine says that's brilliant. Zach tells them how he told Victoria that Frankie is a flip flopper. They all tell Zach not to say stuff like that. You agree with stuff people say but don't add to it. They all think Victoria is a non-issue and that she will go in the next couple weeks.
WATCH the next 48 hours for FREE – Big Brother 16 Live Feed TRIAL!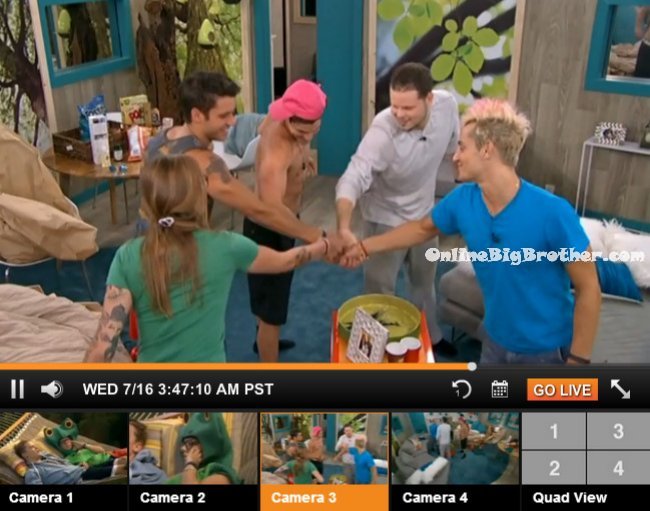 4:40am – 5am HOH room – Derrick tells Cody I think if it was me and you competing for Christine's attention I think I could pull her over you. While you are taking your shirt off I would be inside cooking food getting to her belly. Christine asks who's hotter Brittany or Amber? Cody says I think Amber is smokin. They think Amber is more naturally beautiful. Zach says about Brittany I would love to see those bottles! Deivn thanks for bringing us together we're the detonators and you're the first to be blown up. They decide to head down stairs. Frankie tells Zach I want to have s*x with you. You're the chick I'd switch for. Zach says if I were questioning my s*xuality you're the person I'd switch for… but that's probably not going to happen.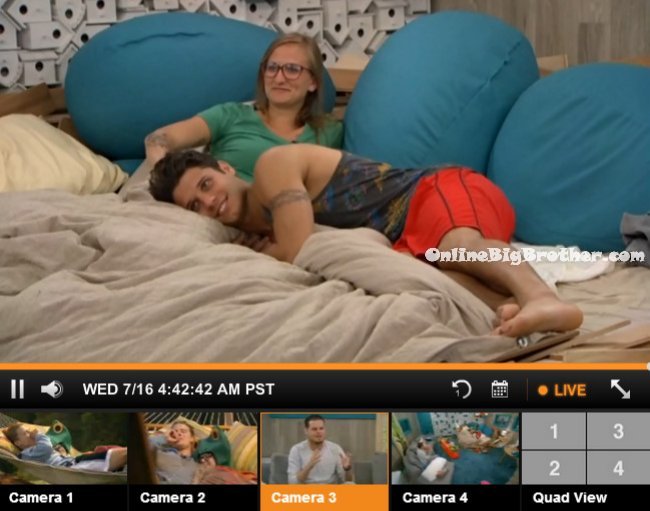 5am – 5:35am In the backyard – Derrick and Zach are playing pool. Hayden asks Zach are you really Amanda's cousin!? Zach says yes! Derrick asks are you really? Zach pauses and then says no, I just like going along with it and messing with people. Zach says I am not trying to mess with or lie to you guys. Derrick says okay because you really do look like her. Hayden says I am going to call you ZUCK (Amanda Zuckerman) from now on. Cody joins them. Hayden heads inside. Derrick tells Cody that he's not crazy about the Detonators alliance AND I'm pissed we wasted a great name on it. Derrick says I don't like that Frankie is a part of it because we can't trust him. They agree that Zach talks too much and doesn't even know what he's talking about. We need to keep him on a short leash. Cody and Derrick try and think of their final 2 alliance name. We can't use Jump Street or Bad Boys because they're copyrighted. Derrick says we need to be careful of Nicole. If you guys think I know this game, she blows me out of the water. Derrick says you and I are the only alliance I really have because I just don't trust anyone.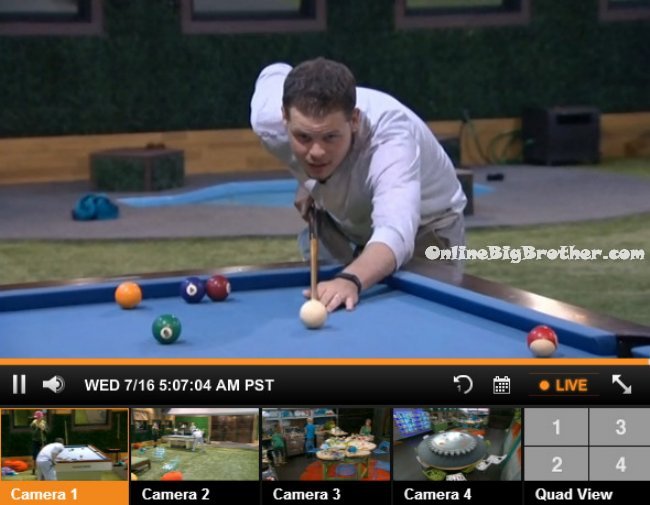 5:45am – 6:25am Hayden and Nicole head to bed. Derrick is sitting in the living room and comments on how he looks nothing like his picture. Frankie agrees and says I've never seen that person before in my life. Frankie says Zach doesn't look like his photo either he looks like a weasel.. well yeah he is.. Frankie heads to bed. Derrick and Cody head up to the HOH room to figure out their Final 2 alliance name. Derrick says Victoria has no alliance in the house. Jocasta has Donny. So we need to get Jocasta out so that we break that up. Cody thinks of the name "ONE UP" because they're always one step ahead but decide against it because it needs explaining. Derrick says how about the "HITMEN" you don't see it coming. You just got wacked! We just put the hit out on Jocasta, dude you just been wacked! Cody says I love it. Derrick says Frankie the word just came down you've been marked. Derrick and Cody decide against the name because it doesn't flow and is supposed to be Hitman not Hitmen. Derrick says this is kind of a stupid name but "The Early Birds". Cody says what about the "After Party" because we're always up late. Derrick says but you need to love it and your face tells me different. Derrick says I keep coming back to the "Hitmen". We take a shot at someone, we don't miss. Dude, we're killing for money. The more people we send home the more we make. We're the hitmen. Sorry Jocasta, we've already got you locked. We've already gotten paid. The hitmen are silent too. We're killers, we're killing for money.
Derrick and Cody agree that their final 2 alliance name will be "The HITMEN"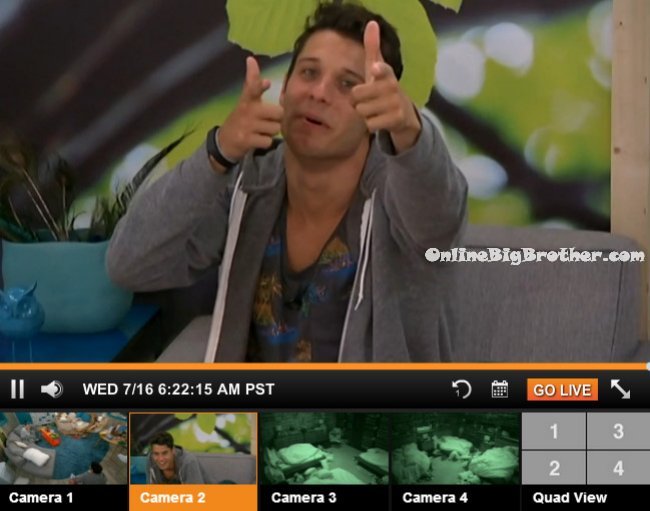 6:25am Derrick and Cody head to bed… Derrick tells the camera that obviously I am in 5 alliances but I am only true to Team America and The Hitmem… everything else is just a buffer to keep myself safe. If I have to go up I hope obviously that I go up right away. I trust Cody, I think he is playing a good game and that he is definitely playing his own game but I think we can make it to the end together. The Detonators there are a couple weak links in that one. Los Tres Amigos its nothing, its just something that Zach came up with.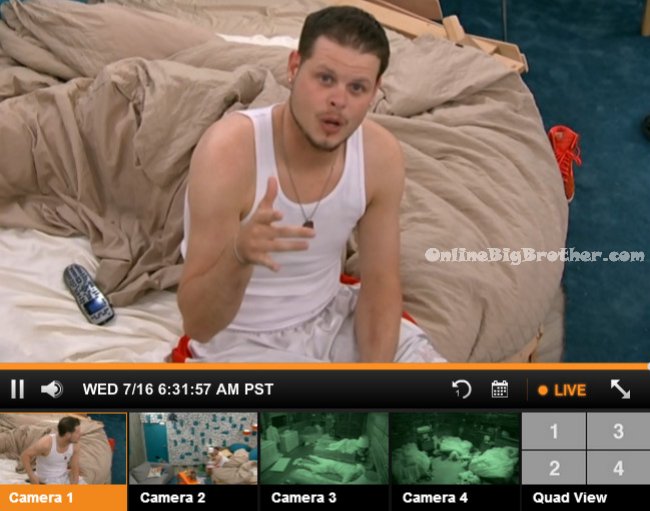 6:40am Derrick goes to sleep. All of the house guests are now sleeping..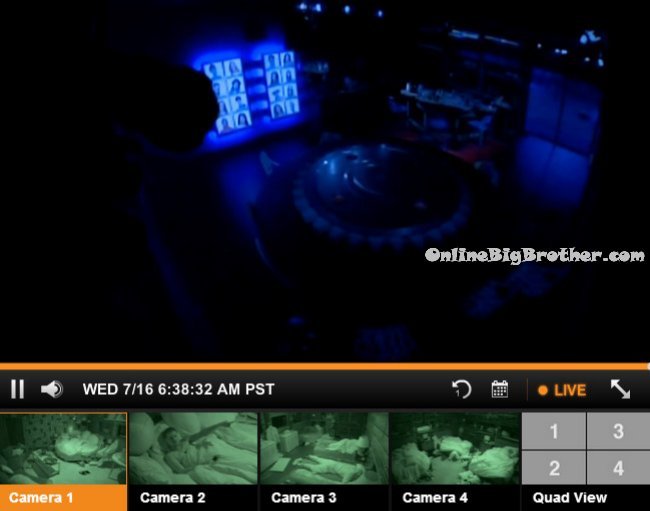 Alliances (Some of these only a few of the members actually think the alliance is real the bombsquad is done but some people still think it's real)
Zankie = Frankie/Zach
Bomb squad = Caleb, Amber, Frankie, Derrick, Cody, Christine, Zach, Hayden
Team America = Donny, Derrick, Frankie
Nicotine = Christine/Nicole
Not a showmance= Hayden/Nicole
Los Tres Amigos = Derrick, Cody, Zach
Feed watchers = Derrick/Nicole
We hate Devin = Christine and Zach
Outsiders = Brittany, Victoria, Jocasta, Donny
Old timers = Jocasta/Donny
Stalker = Caleb/Amber
Quad Kings = Derrick, Zach, Cody and hayden (still being built)
Trilogy = Nicole, Christine & Hayden
The Detonators = Derrick, Frankie, Zach, Christine, Cody
Final 2 Deal "The HITMEN" – Cody & Derrick
Try It Free! Subscribe now to the official BB16 Live Feeds

[polldaddy poll=8185492]