POV Holder:
Donny
Next POV
July 12th
POV Used
?
POV Ceremony
July 14th
HOH Winner 1:
 Nicole
HOH Winner 2:
 Derrick
Battle of the Block Winner
Donny/Amber
Next HOH/ Next BOB
July 17/July 18
Original Nominations:
Derrick's Noms (Caleb & Jocasta) Nicole's Noms (Donny & Amber)
Final Nominations:
Have Nots
 Caleb, Amber, Devin, Hayden
POV Players
Derrick, Jocasta, Caleb, Christine, Devin, Donny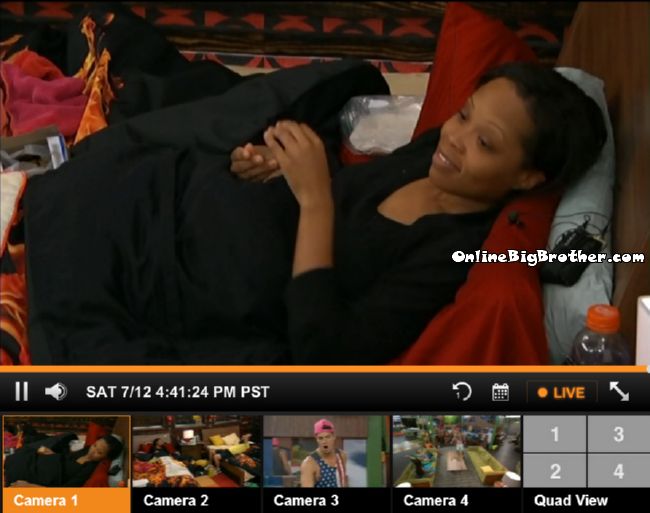 4:40pm Donny and Jocasta
Donny is going to put the veto around Jocasta's neck on monday, "You won't know what it's like to talk to julie chen YET"
Jocasta wonders if the plan all along was to have Caleb and Devin upo. Donny thinks the plan was always Devin but now there's options.
Amber comes in They start wondering if there will be a HAve nots competition. Amber says Frankie has a circulatory problem and Christine is gluten free so they won't volunteer to be havenots. Donny TElls Amber he's using the Veto on Jocasta 100%.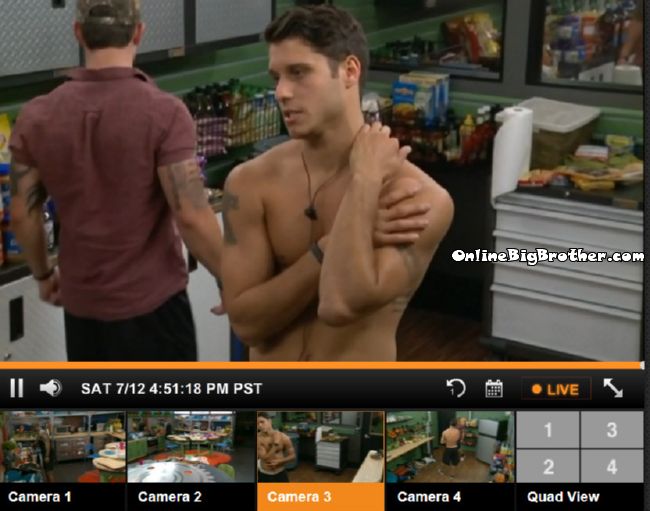 4:50pm Storage Room Caleb and Cody
Caleb points out that was a competition any of them could win. He's certain the next HOH will be endurance. CAleb – "all in all my plan worked I didn't win but someone that is with me did and Devin is going home" Caleb says Donny told him he's using the POV on Jocasta. Cody – "If he doesn't Jocasta is going home"
Cody says next week they have to keep Donny safe.
Caleb agrees says Brittany goes first then Jocasta. Cody will put up Jocasta if he wins HOH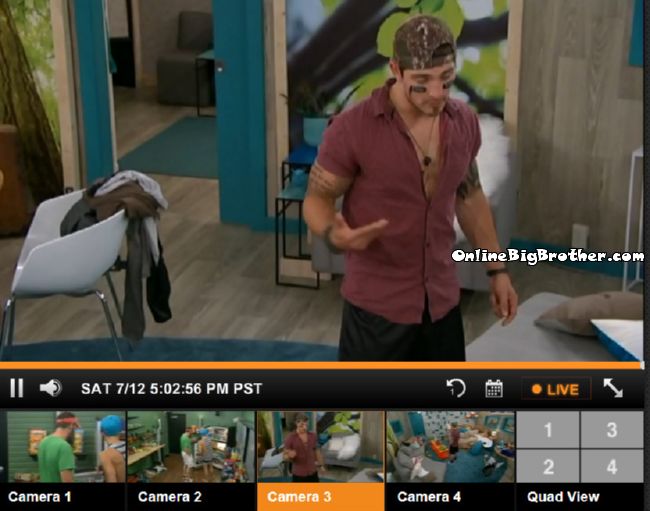 5:02pm HOH Caleb and Zach
CAleb saying the big reason he did all this was for Amber (Going on the block) . Amber gave him a hug after the competition But she still hasn't come to him to thank him for the BOB (Caleb wants Amber to love him because apparently he threw the BOB for her).He points out that AMber is feeling good now because she was really worried that CAleb was going to get voted out.Zach just playing along.
Caleb says all the girls hate her because she's pretty, She's a model and she's cool with him. Caleb says no other guy would have done what he did for her.
Zach says the girl think Amber lies.
CAleb – Victoria is a lying son of a gun
Zach – Victoria is the worst, dude.. she's got to go next
Caleb agrees that if he wins HOH he's putting Victoria up but she's not his target.
Zach says when he wins HOH next week he'll put up Victoria and JOcasta.
Zach says theres 11 voters this week do they need 6 to evict someone.
Caleb still talking about the Bombsquad like it's really a thing says once they get to Jury the alliance is over. Zach (Plays along) says caleb will be the biggest target once they get to the final 8 and that is why Zach is teaming up with Caleb.
Caleb – "You know what I'll be surprised if I have a vote against me.. we'll never know.. everyone knows Devin's going so their one vote won't matter.. they won't care."
Caleb says whoever votes against him will be his target next week. Unless it's AMber and Frankie doing it to be funny then it's funny. Caleb tells him he's the most athletic person in this house but as they've witness not all the competitions are athletic.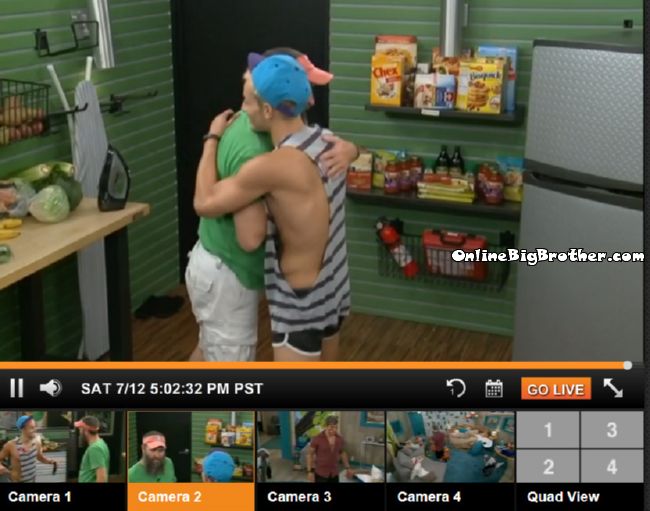 5:00pm Storage room Frankie and
Frankie tells im this is going to reset everything and wash it all away. TEam america plan is to tell Amber, Nicole and Victoria that Amanda from Big Brother 15 is Zach's cousin.
Frankie will tell Amber
Donny tells Nicole
Derrick tells Victoria
One Monday they tell Zach Attack
5:58pm Kitchen Have Nots
Caleb, Amber, Devin, Hayden (Everyone volunteered, Christine was supposed to go but Hayden demands he'll do it so Christine doesn't have to be a have not)
They have "OFFAL Burritos" to eat a combinations of tripe, tortilla and Tomatillos
Brittany keeps saying how they can make so many different things with the ingredients, except for the tripe. When they find out it's cow stomach everyone groans.
Devin – "I'm going to stick with Slop dude"
Derrick says Hayden can sleep in the HOH room every night and to be fair the night of the HOH comp all have nots are invited to sleep there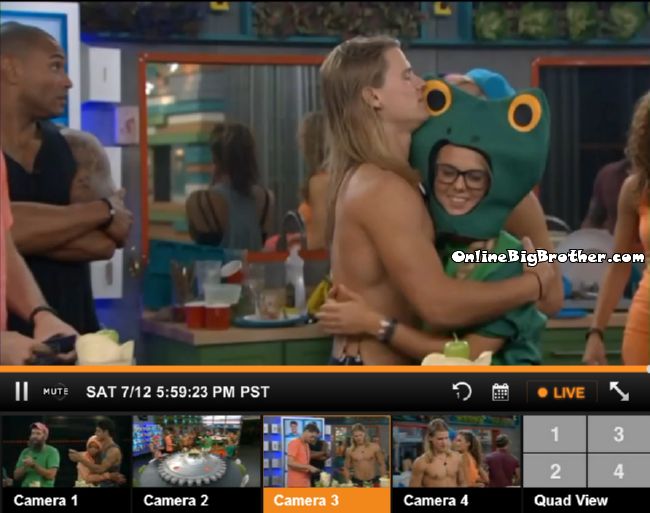 OBB Bonus USing Falshback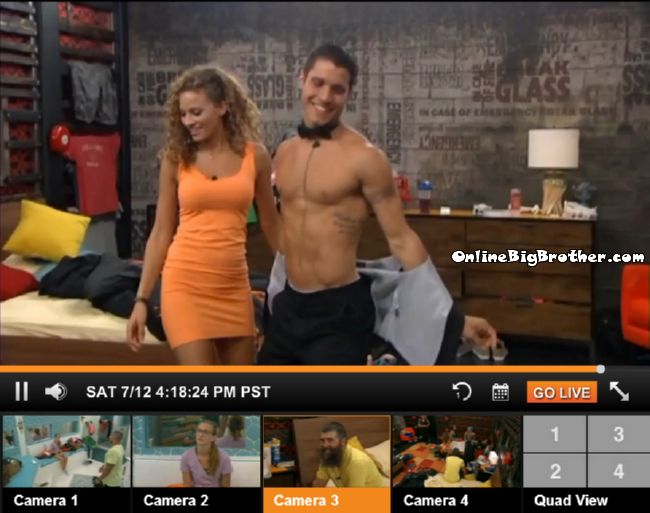 (Missed this originally. When the feeds came back from the 4:17pm Cam 3-4 Cody is doing a sttiptease. The feeds let you go back to any point in the season.)
The Feeds are awesome this year No Joke! Try It Free! Get 24/7 access to the house PLUS more for 48hrs before you decide!
[polldaddy poll=8179403]