POV Holder:
Donny
Next POV
July 19th
POV Used
YES
POV Ceremony
July 14th
HOH Winner 1:
 Nicole
HOH Winner 2:
 Derrick
Battle of the Block Winner
Donny/Amber
Next HOH/ Next BOB
July 17/July 18
Original Nominations:
Derrick's Noms (Caleb & Jocasta) Nicole's Noms (Donny & Amber)
Final Nominations:
Caleb & Devin
Have Nots
Caleb, Amber, Devin, Hayden
POV Players
Derrick, Jocasta, Caleb, Christine, Devin, Donny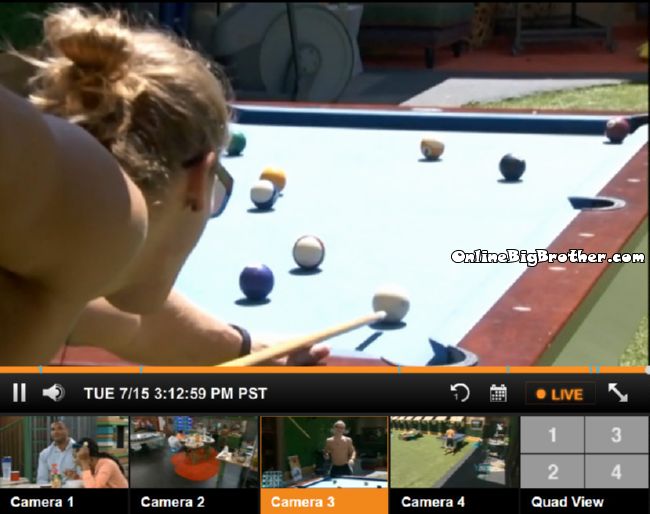 3:14pm Cody and Hayden Pool chit chat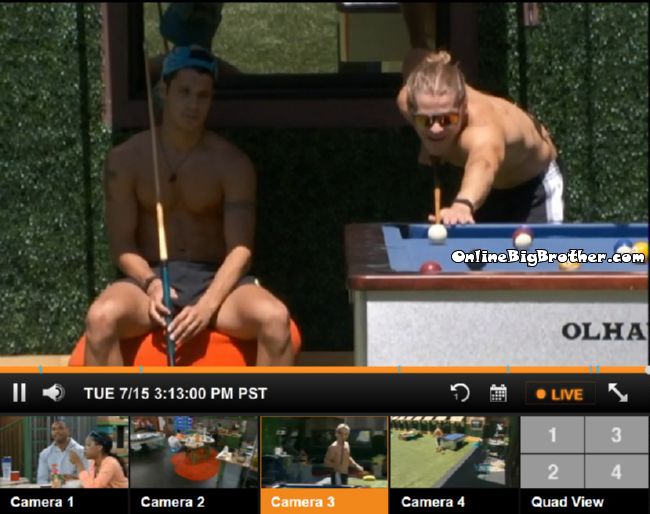 3:15pm Backyard couch Frankie and Amber
Jocasta came up to her today said Devin is told her she has 6 votes.
Frankie – It's a lie he doesn't have 6 people.. It's a lie.. to be honest Jocasta wishes he did .. "
Frankie mentions when Devin came up to HOH and told them he is going to campaign and he gave them his campaign speech. This is a complete 180 from what he was telling them yesterday when he said he wasn't going to.
Frankie calls him a liar, "He's the worst"
Frankie runs to the couch for "45 Seconds" to talk to Derrick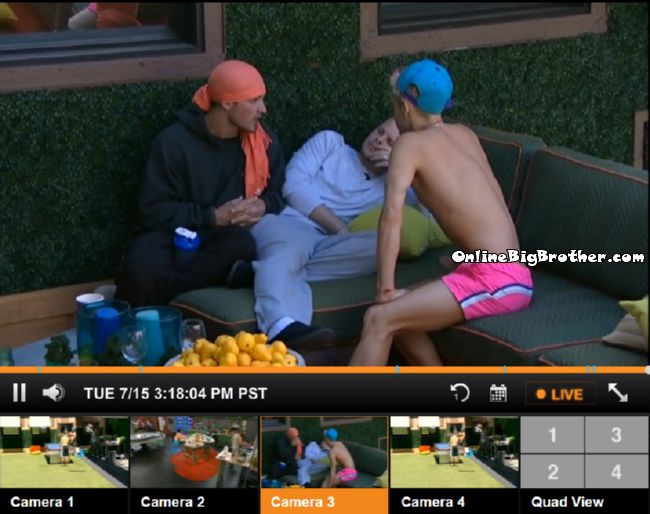 3:17pm Frankie tells Derrick that Devin is campaigning now. Derrick knows he was campaigning to him earlier. Frankie – "He told Jocasta he had 6 votes"
Derrick – "Umm no"
Frankie – "I know that"
Caleb says Devin was called into the Diary room early this morning he had to… Feeds cut (Production told Devin he has to campaign.. in the contract perhaps I dunno)
Frankie runs back to Amber on his way hugs Brittany says she's got the nicest bum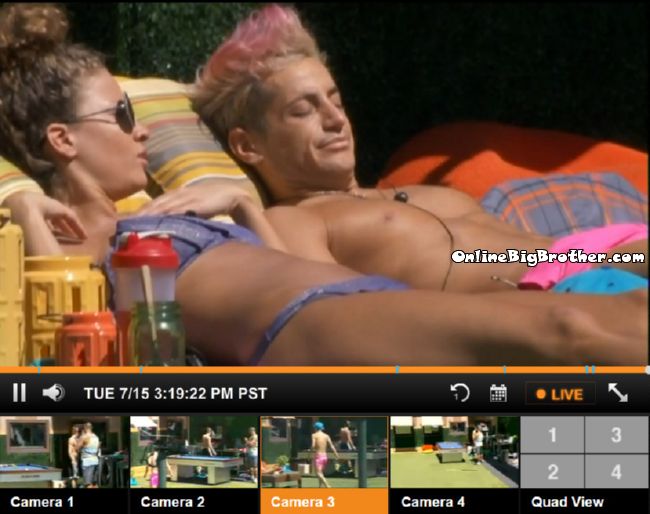 3:50pm Backyard COuch Amber and Frankie
Frankie says he slept for 14 hours. Frankie says he's not worried about any of the boys he's more worried about the girls, "I don't think we have to worry about any boys"
Frankie hopes they pick the HOH teams randomly because he feels he's built more like a girl. the says he's the strongest girl but one of the weakest guys
Frankie – "what if someone transgender was on the show what would they do "
Frankie thinks that the HOH competition will be a major set up because they are building it in stages. Frankie says he's preparing himself for slop and being a have nots, as long as they approved him to have a sleeping bag he'll do it.
Amber thinks the HOH will be guys vs. Guys and girls vs. girls. Frankie – "Endurance comp where it's the last girl and last guy standing"
(Sounds like production is building the competition this is why they think it's going to be larger setup and hence endurance)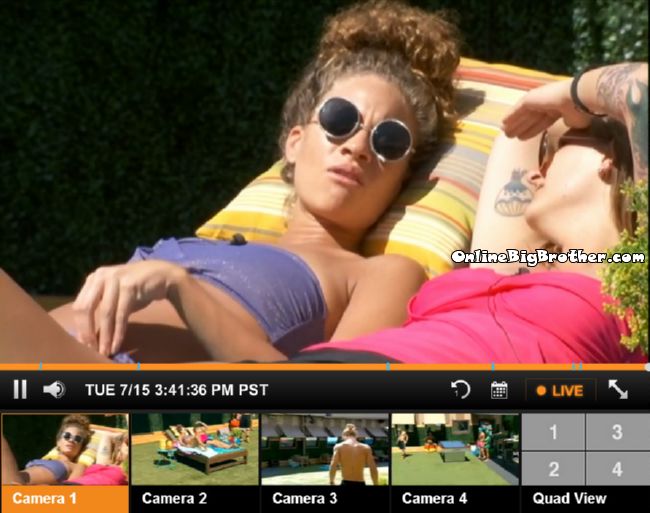 3:41pm Backyard Amber and Christine
Amber wants to be nice but thinks Calev is damaging her game a bit by the way she's acting towards her. Amber says Cody is one of her closest friends in the house and Cody can't even talk to her because of Caleb. Christine says everyone is aware of what is going on, "What is a girl to do though"
Amber wanted to come in here and not worry about guys .. "ghosh"
Amber – "I'm definitely not here for a showmance.. a relationship no.. I should have told everyone I had a boyfriend.. ugh dang it I'm so dumb"
Amber – "Part of my strategy was to get in with the guys" She never expected something like this to happen though.
Amber adds that coming into the house she wanted one guy that she could trust she wanted Devin at first because they were so close but that didn't work well at all.
Amber – "I don't know what to do I've never lived in a house that.. "
Christine – "with a person head over heels for you"
Amber – "he's such a sweet person, such a kind heart so sweet .. that's not what I came in here for.. I came here to win, tan and work on my butt."
Amber says she shouldn't have to go around the house and let them all know theres nothing between her and Caleb it's not fair because she didn't put herself in this situation.
Amber says the two girls working with Donny are Brittany and JOcasta.
Christine points out all the guys like Brittany which is dangerous. Amber – "The only guy we have to worry about winning HOH is donny"
Christine agrees.
Amber says if it's just her and Brittany hanging on the HOH comp and Brittany wants to see her kids Amber will make a deal with her and drop.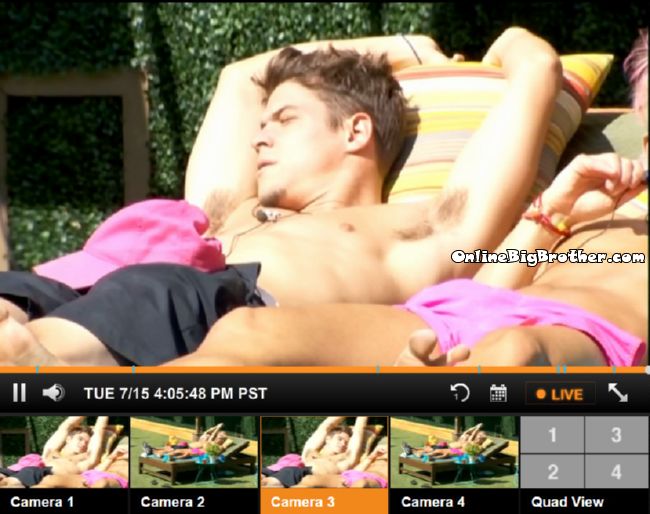 4:06pm Backyard Zach and Frankie
Frankie says Devin is blaming it on production saying they are making him campaign.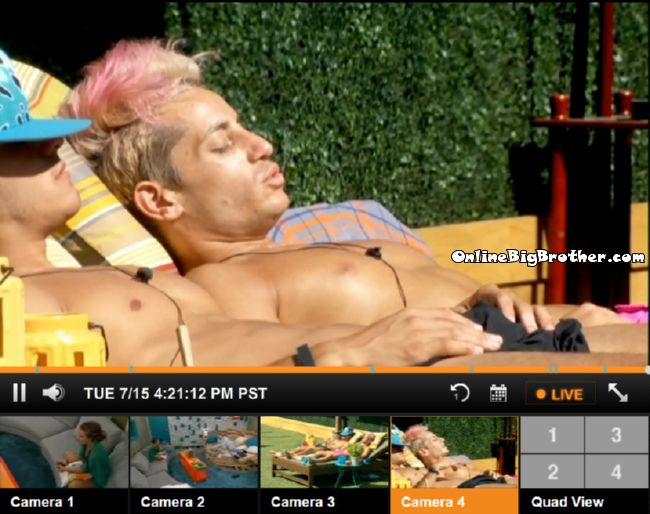 4:19pm Frankie and Cody
Frankie says Devin is campaigning doing what he said he wouldn't.
Frankie asks im who he thinks will put him up. Cody thinks Caleb will. Frankie doesn't think he will. Cody thinks only because he would go up with Victoria.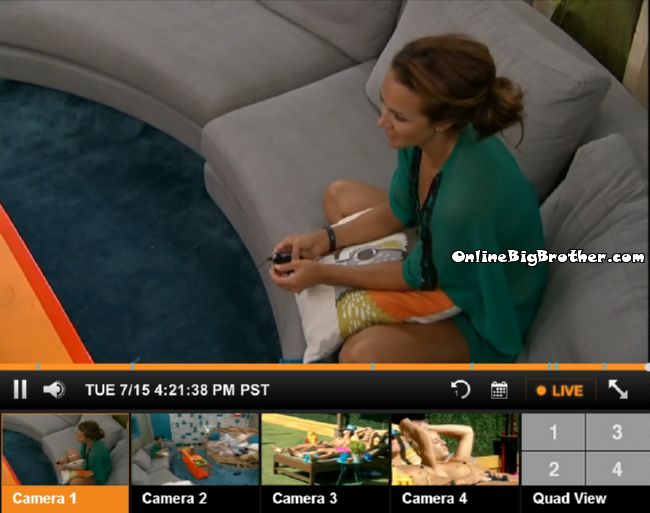 4:20pm – 4:55pm HOH Brittany and Derrick
Derrick says Devin is claiming he has to Campaign. Derrick doesn't believe it. They agree Devin is a beast and it's the logical thing to send him home. Brittany has noticed Devin being really nice to everyone these last days things would have been differently if he was like this since day one. Brittany is worried Caleb is going to put her up .
Derrick doesn't think so because isn't Brittany and Amber close
Brittany says she's not buddy buddy with anyone except for maybe Derrick and Cody.
Derrick asks about Victoria aren't they close to?
Victoria drives Brittany nuts, "I don't understand.. she never talks game all she talks about is getting ready.. her ex boyfriend and getting married
Brittany says caleb's blood boils when Cody talks to Amber, She think if Caleb wins HOH he will put Cody and her up.
Derrick says all Caleb ever does is talk about Amber he never talks game.
Brittany asks if he trusts Christine
Derrick talks game with Christine which makes him feel better, "If Christine wins you and me could go up"
Derrick adds that Christine will never put up Nicole, Cody, and Hayden that is why he's worried.
Brittany – "I don't think Donny cares for Christine much"
Derick – "He doesn't .. he could put me u because I put up Jocasta"
Derrick says Victoria is probably going on the block next week.
Brittany "She's the next POW"
Derick mentions how Zach has no filter and some of the things he says pisses people off. Brittany Says Zach has grown on her.
Derrick tells Brittany she is quiet and is very hard to read. Brittany always thought she talked too much this is a surprise to her. (Derrick is BSing her he always talks about Brittany talking too much)
Brittany says she LOVES Cody, Derrick says Cody is great if Derrick was in an alliance he would want to be in an alliance with COdy.
Brittany says they have to watch what they say to Frankie. Derrick aggres says Frankie talks to everyone he'll take what you say and use what he can.
Brittany is worried if Amber and Caleb win HOH she is going up. Derrick thinks they would put up Jocasta and Victoria.
Derrick wants to know who she will put up. Brittany needs to think about it, "I would put up Victoria"
Derrick – "Sure everyone will.. she's playing the float game"
Brittany says if she wins HOH she'll come to Cody and Derrick because she won't be able to figure out what to do on her own.
Derrick mentions that Victoria has been living in the HOH all her stuff is up there he can't wait for it to be over. (See images in gallery)
Try It Free! Get 24/7 access to the house PLUS more for 48hrs before you decide!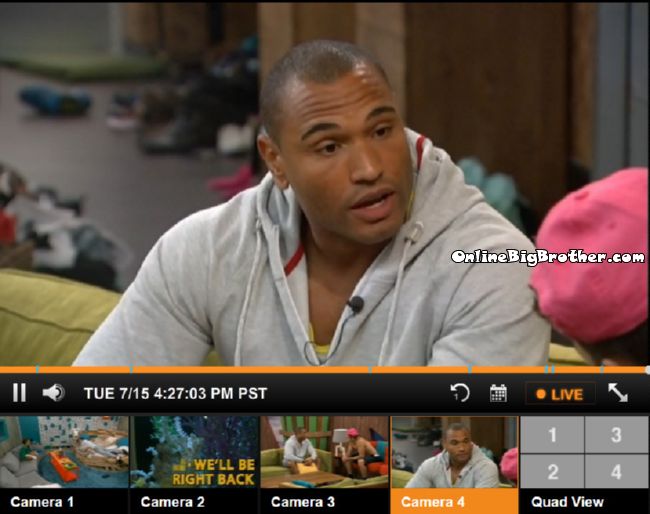 4:24pm Living room Devin and Zach
Devin admits he made a mistake putting Zach up he should have taken Brittnay down and put Victoria up. Devin also sees that creating such a large alliance day 2 was a mistake. Devin says if he stays in the house they know he can win competitions and he'll work with them.
Dude that is my only campaign Amber and Caleb are great people I'm not going to bash them, "I still love the kids it's unfortunate I made decisions in the game that put me in this position"
Zach says he's not lying to Devin if the house is closer to 50/50 he would vote to keep Devn but he doesn't think it's close enough.
Derrick again says he made a mistake he got paranoid and didn't know that the right move to make. They shake it out and leave.
Devin – "Daughter"
Alliances (Some of these only a few of the members actually think the alliance is real the bombsquad is done but some people still think it's real)
Zankie = Frankie/Zach
Bomb squad = Caleb, Amber, Frankie, Derrick, Cody, Christine, Zach, Hayden
Team America = Donny, Derrick, Frankie
Nicotine = Christine/Nicole
Not a showmance= Hayden/Nicole
Los Tres Amigos = Derrick, Cody, Zach
Feed watchers = Derrick/Nicole
We hate Devin = Christine and Zach
Outsiders = Brittany, Victoria, Jocasta, Donny
Old timers = Jocasta/Donny
Stalker = Caleb/Amber
Quad Kings = Derrick, Zach, Cody and hayden (still being built)
Trilogy = Nicole, Christine & Hayden!
Try It Free! Subscribe now to the official BB16 Live Feeds
[polldaddy poll=8185492]
[polldaddy poll=8179403]