POV Holder:
Donny
Next POV
July 19th
POV Used
YES
POV Ceremony
July 14th
HOH Winner 1:
 Nicole
HOH Winner 2:
 Derrick
Battle of the Block Winner
Donny/Amber
Next HOH/ Next BOB
July 17/July 18
Original Nominations:
Derrick's Noms (Caleb & Jocasta) Nicole's Noms (Donny & Amber)
Final Nominations:
Caleb & Devin
Have Nots
Caleb, Amber, Devin, Hayden
POV Players
Derrick, Jocasta, Caleb, Christine, Devin, Donny
9:30am – 10:30am
Big Brother wakes up the house guests. Devin has been awake since 7:30am this morning getting prepared for the eviction tonight. Zach and Victoira wake up after 9am. Zach's in the kitchen making pancakes. When live feeds return – Frankie, Christine, Caleb, Zach and Amber are in the kitchen. Frankie says that Victoria does this thing when she's sleeping where she needs to punch, jerk, twist. Christine complains that it sounded like someone was hammering the fire room wall all night. It was so annoying. Frankie says that he used to hear someone going up and down a spiral staircase in that room. Christine, Frankie and Amber talk about going back to bed until they're woken up to go up to the HOH room for the lock down. In the living room – Donny, Caleb and Devin discuss how the HOH lock down is around 11am and the rehearsal is usually at 4:30pm. In the bathroom – Nicole, Jocasta, Victoria and Brittany discuss what tonight's HOH competition could be.
WATCH the next 48 hours for FREE – Big Brother 16 Live Feed TRIAL!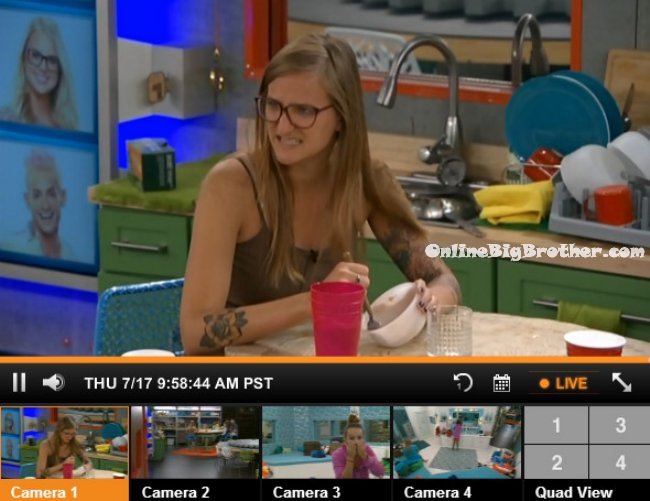 In the bee hive room – Victoria, Jocasta and Brittany are talking about how another twist has to becoming soon. Brittany says she has a bad feeling about today. Victoria says yeah they did say this season was going to be twist after twisted twist. The camera's switch to Donny talking to Nicole.They talk about tonight's HOH and Donny doesn't think it will be an endurance until the 2 HOH twist is over. He says that he doesn't even have an idea of who to put up. Nicole agrees and says that if he need and excuse you could put me up. Donny immediately says no.

10:35am – 11:15am Big Brother blocks the live feeds.. When the live feeds return – Caleb is up in the HOH room talking to Derrick. Derrick says he went to bed at about 3am. He says Hayden got up and joined them. Caleb comments on how Amber was up late with Cody. Right now Amber is trying to catch up on sleep I didn't want to be like that because now she is like I want to get at least one more hour of sleep. Derrick comments on how once Devin leaves you can take over his drawers. Caleb says na, I'll take these ones (HOH room). Derrick says that Brittany has the weirdest sleeping habits in this house. Caleb agrees. Derrick comments on how one thing he would do differently if he got HOH again would be to have a good nights sleep after the HOH because they don't give you much time the next morning before nominations. Caleb says this is nothing I'm used to a year and a half with 300 hundred soldiers all in one room sharing 1 shower and a cold shower at that, pooping in a hole with a board hitting the dirt. You want to put my in a house with a bunch of hot girls competing for money I will sign up any day! Derrick says this is an amazing experience that a lot of people would die for and I think Victoria is going to get a razing from people because all she does is complain. I think they're going to read her the riot act. I hope they don't but I wouldn't be surprised. Brittany and Nicole join them to get a spot before everyone comes up for the lock down. Derrick tells Brittany if its an endurance make sure you get low to use your weight to your advantage.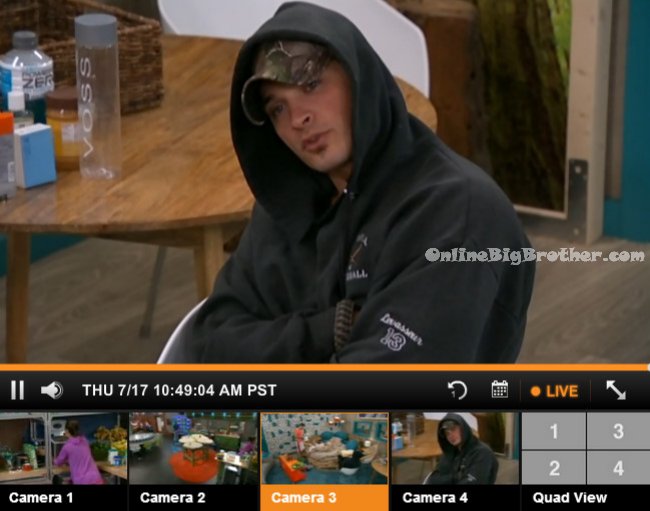 11:10am Big Brother blocks the feeds..
1:15pm The live feeds are still blocked as the house guests are locked up in the HOH room for big brother to get ready for the live eviction tonight.

1:40pm – 1:50pm
The live feeds return with Donny and Zach chatting in the living room. Donny call the activity braclet a lie detector. He says if he goes out and is talking to Julie Chen he'll slip it under her chair. Zach and Donny both agree if they got HOH they would want to read their letters in private first. Zach says we're about a third of the way through. Donny says up 4 weeks in.
Meanwhile in the bathroom – Hayden, Victoria, Devin, Nicole and Christine are getting ready for the day. Hayden tells Victoria that his favorite moment in the house was when he and her showered together. Nicole is curling Christine's hair. Derrick is trimming Frankie's hair.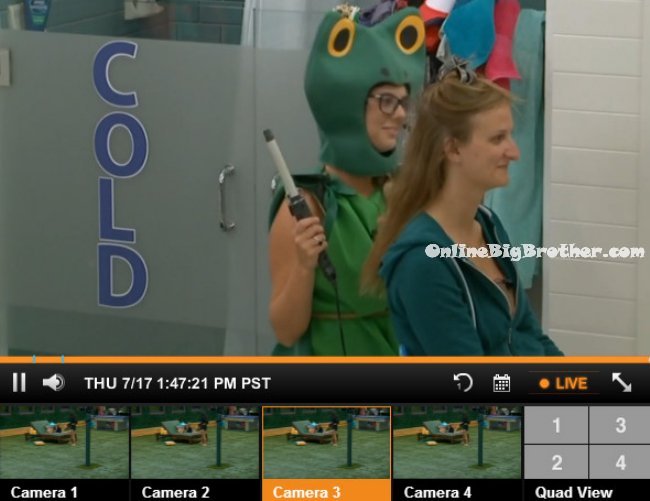 2:30pm – 2:35pmFrankie shows of his new hair cut to Christine and Brittany. Derrick comes through and compliments Christine on her hair looking good. She says thanks. Brittany says Hi Derrick. Derrick says your hair looks good too Brit! Brittany laughs and says thanks.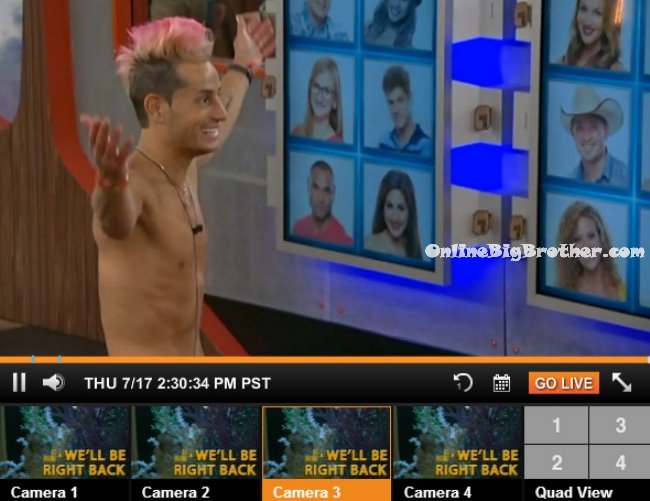 2:35pm Big Brother blocks the feeds again..
2:38pm – 3pm The live feeds return again – In the kitchen Hayden is telling Christine about a category on p*rnh*b called enema where people shoot milk out of their b*tt. Christine asks really!? Hayden says yeah, its weird. Hayden starts asking them if they've watched p*rn. Nicole, Victoria and Brittany all so no. Brittany asks Donny for a compliment. He tells her that no matter how least others do for her she always does more for them. Brittany says thank you Donny. Victoria asks Donny for a compliment. Donny says you're cute. Victoria asks thats it?! Brittany got a whole speech and all I get is that I'm cute. Donny says you're cute as a button. Victoria says that Zach said I was hard working. Brittany laughs. Victoria asks what?! Devin questions it. Victoria says I'm 22 and I have my own business I would say that I'm pretty hard working.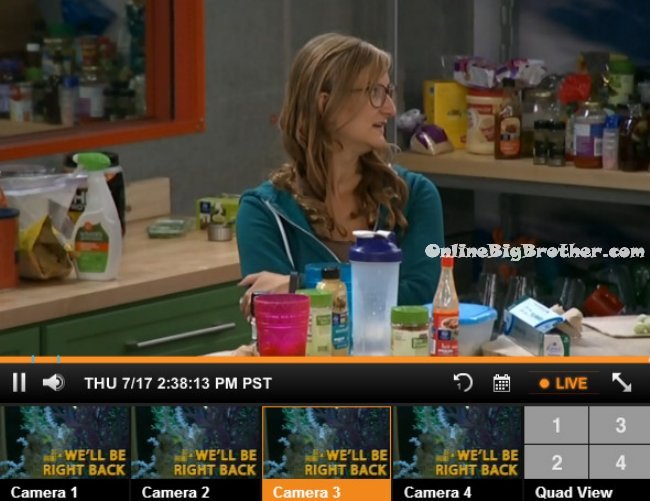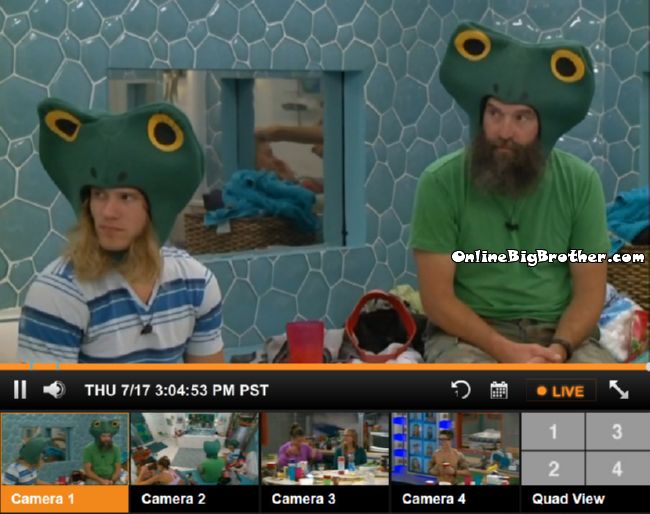 3:09pm THE FROGS
houseguests just milling around waiting for the live show alot of nervous energy
4:12pm Feeds showing highlights. They won't be back until after 7 PST

Alliances (Some Of these are dead)
Zankie = Frankie/Zach
Bomb squad = Caleb, Amber, Frankie, Derrick, Cody, Christine, Zach, Hayden
Team America = Donny, Derrick, Frankie
Nicotine = Christine/Nicole
Not a showmance= Hayden/Nicole
Los Tres Amigos = Derrick, Cody, Zach
Feed watchers = Derrick/Nicole
We hate Devin = Christine and Zach
Outsiders = Brittany, Victoria, Jocasta, Donny
Old timers = Jocasta/Donny
Stalker = Caleb/Amber
Quad Kings = Derrick, Zach, Cody and Hayden (still being built)
Trilogy = Nicole, Christine & Hayden
The Detonators = Derrick, Frankie, Zach, Christine, Cody
Final 2 Deal "The HITMEN" – Cody & Derrick
[polldaddy poll=8185492]
[polldaddy poll=8179403]