POV Holder:
Donny
Next POV
July 19th
POV Used
YES
POV Ceremony
July 14th
HOH Winner 1:
 Nicole
HOH Winner 2:
 Derrick
Battle of the Block Winner
Donny/Amber
Next HOH/ Next BOB
July 17/July 18
Original Nominations:
Derrick's Noms (Caleb & Jocasta) Nicole's Noms (Donny & Amber)
Final Nominations:
Caleb & Devin
Have Nots
Caleb, Amber, Devin, Hayden
POV Players
Derrick, Jocasta, Caleb, Christine, Devin, Donny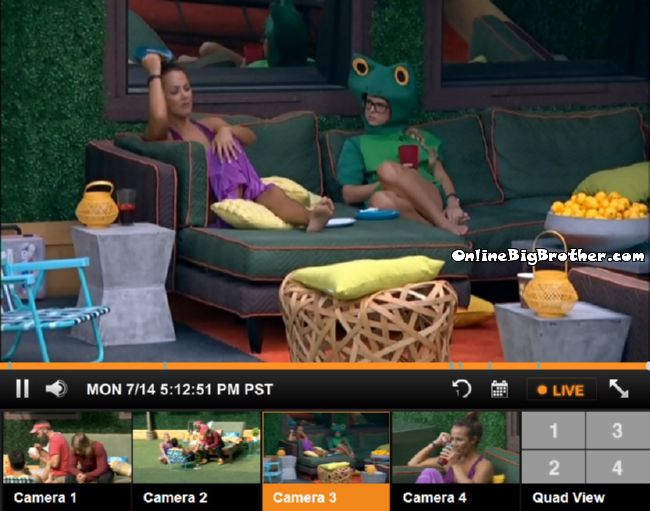 5:13pm Backyard Couch Nicole and Brittany
Nicole is saying she gets so nervous when she has to say things in front of the camera, "I have to practice what I say just incase she asks me about my grog suit"
Nicole points out how good Derrick and Zach do in front of the camera. She has everything figured out in her head but her heart starts pounding and it never comes out right.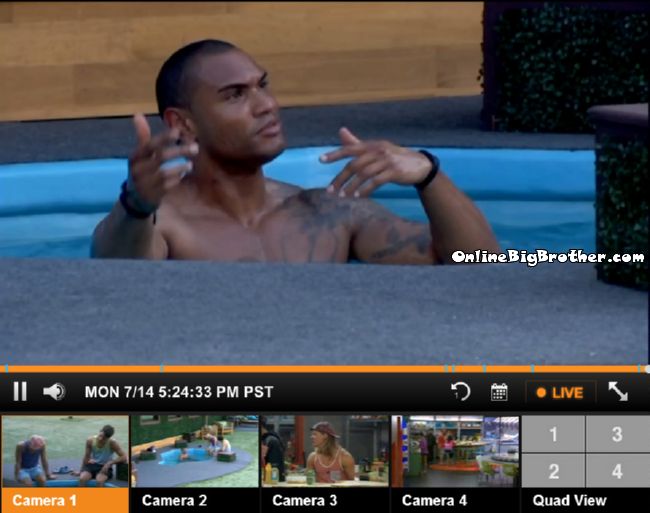 5:19pm Hot Tub Devin, Frankie and Cody
Devin wants people to shut the f** up and just let him be., He's cool about what is happening. At the end of the day they will remember how he exited this game, "When the game is done lets party.. MY game is over seriously.. I'm not going to throw a funeral dude theres only so many people that can do that.. I'm just tired and over it dude" Devin says "They" want him to campaign and try things but he's done with the lies he there's no chance he's going to try something like that he misses his daughter. Frankie theres a difference between bowing out and fighting to the end, "You put your foot down you fought like a beast we watched you.. If you continue to fight you will only ruin your image and make sure it's a unanimous vote."
Devin -"Bro I got the best of both worlds I get to go home right now.. See my daughter get to watch you guys compete "
Devin says his stomach was all in knots and bloated from the oats he ate last night.
Cody – "It's straight gas.. DONE ..DONE"
Devin – "Dude.. that can't happen again no chance dude.."
Devin says he loves each and every one of the people in the house. He's going to have nothing but the best to say about them on his way out.
Devin whispers "I was going to be a little bitter if Donny didn't use the Veto"
Devin explains that there was three scenarios that went through his head either; the obvious one, Donny didn't use the veto or he did use it and Derrick put Victoria up "
DEvin – "I just want to see my Daughter dude.. I'm super stoked.. so tired.. dude.."
Devin start hinting that production is wanting him to campaign to stay. He thinks all that will do will make him look really bad he's just going to go peacefully. Devin doesn't want to be isolated like Joey and POW where he wants people to celebrate "you came here and you played" (Devin accepts he's lost and is waving the white flag)
5:32pm
Hayden feeding the frog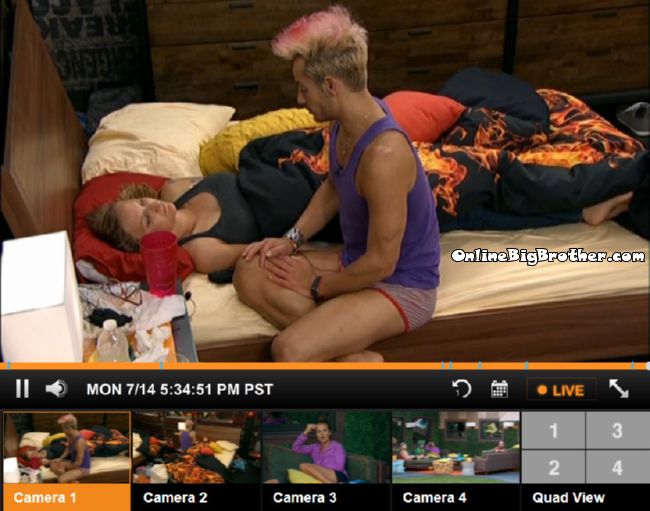 5:35pm Cam 1-2
Fireroom Frankie and Christine
Frankie tells her about his talk with Devin, "I respect his decision to not campaign but he's still campaigning" Frankie told Devin if he went around the house and tried to get votes he would RUIN any chance he has of going out on a positive note and you will ensure you go out in a unanimous vote. If he doesn't campaign he has a chance to get a couple pity votes.
Frank – "This is a unique situation nobody has f*** the house this bad"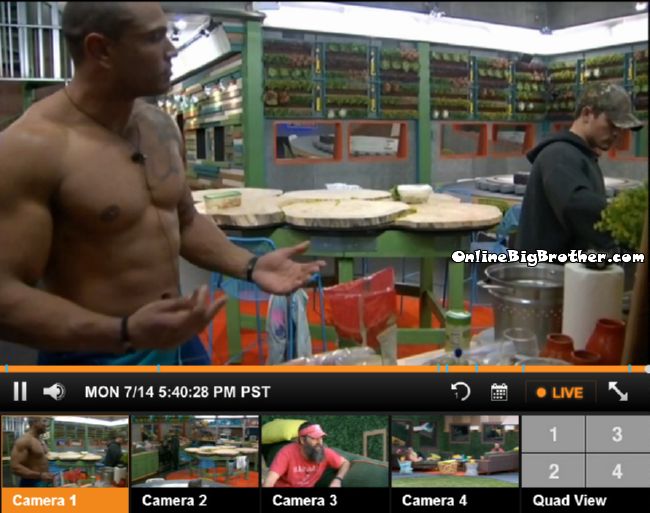 5:41pm Kitchen Devin and Caleb
Devin telling him that he's not going to campaign against him and he's not going to go around talking sh!t about anyone he's a competitors and he' knows he's been beaten.
Caleb says he's not planning on any speeches to make people look bad
Devin- "Daughter"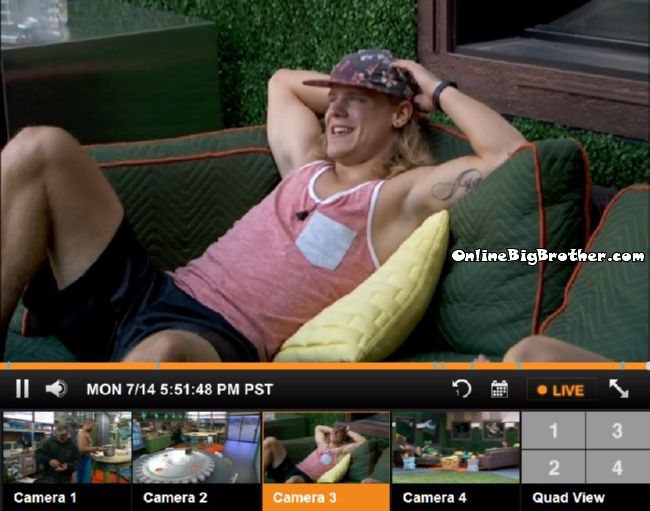 5:51pm
Backyard couch Donny, Hayden and Frog
Donny says 500 thousand might last him till the end of his life but for the younger people like Hayden and Frog it's not going to last.
Hayden says he's going to build a self sufficient home that's on trailer and doesn't cost much to run. He thinks the money will last if he's smart about it.
Hayden – "and Nicole will live in there with me"
Frog says they'll need to have a bunch of them so they don't get board.
Donny asks them what type of music will they play in the trailer.
Hayden – "mountry .. a combination of metal and country"
Hayden – "I'll want to play country to make you happy"
Nicole – "I'll want to play country to make you happy"
Donny – "this is a moment"
Donny calls Brittany over he says she's missing a show. Brittany joins them. She asks them if they are going to live with each other before they marry. Frog and HAyden say no, Hayden – "un;ee you want to" Nicole thinks it can ruin things. Brittnay points out they have already lived together in the Big Brother House. Frog says living here 24 hours is tough.
6:08pm Hammock Caleb and Cody
Cody saying that production is giving Devin crap for not fighting to stay here.
Frankie told him that if he campaigns they will make him look like a monster, campaigning will only make the vote 11-0
Cody – "If he did campaign he would go the way he did before and scare people.. if he campaigned it will still be 11-0 with people harbouring biter feelings"
Cody – "11-0 biter or 11-0 at least he didn't drive the house insane.. do you think he's going to spread sh1t and stir stuff up?"
Caleb doesn't' think so it's only going to make him look worse on the outside.
Caleb thinks there is more to zach than just being a rich kid that lives with his parents and plays golf.. "there has to be more" Caleb points out he's a fitness model that hunts hogs and fish, Devin is baseball player who stopped for his daughter, etc etc..
Caleb – "who knows."
Cody points out Zach saying he's Amanda's cousin brings Zach nothing in the game.
Caleb thinks if it's a twist and hes really Amanda's cousin he'll have to say the truth when they ask him. Caleb asks Zach and he said he wasn't
Cody thinks zach just likes to f** with everyone plus POWWOW was saying heaps of sh!t on her way out
Caleb thinks they looks a like Amanda and Zach.
Cody doesn't think so he hasn't spent a lot of time on it to be honest
Cody is looking forward to figuring out who everyone really is when he gets out he thinks some are questionable. Cody believes Caleb, Hayden, and Derrick are straight up. Caleb says Donny and brittany may have life back home they are not honest about. Cody says Brittany's husband is a paramedic, "apparently they make good money"
Caleb – "paramedics make bank"
they question Devins backstory.. Cody played soccer and the higher levels and hey never made as much money as devin was saying he made at semi pro baseball team
Try It Free! Get 24/7 access to the house PLUS more for 48hrs before you decide!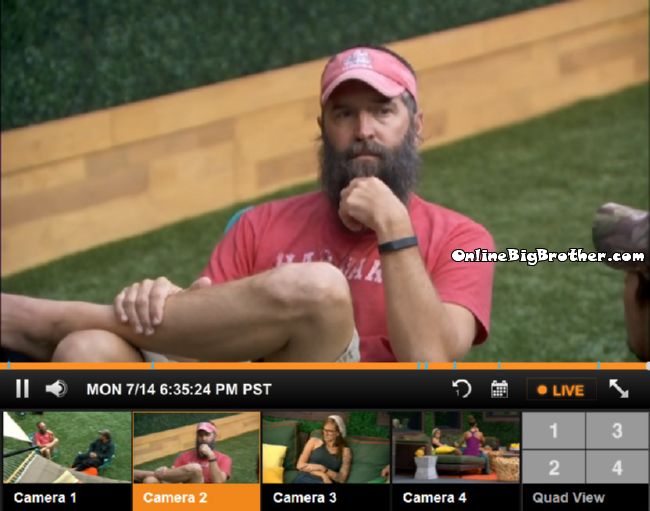 6:33pm Hammock area Donny and Caleb
Caleb says Devin screwed his game up. Caleb wants to know if Donny will give him his vote. Caleb mentions that Devin did Donny wrong. Donny says he gave POW that vote because he knew she was going home and she was his friend if the vote was going to be close he would have voted her out because he wanted to keep Zach.
Caleb says his targets next week are the people that are doing nothing. Caleb now claims the people who usually win Big Brother are the ones that do nothing.
Caleb – "The person in the end I don't want it to be another Andy I want it to be someone who deserves it" Caleb equates competition wins to deserving to win.
Brittany joins them.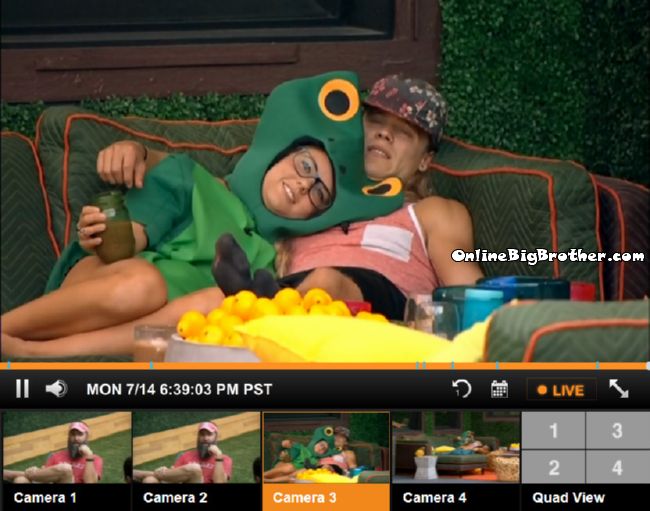 6:40pm Hayden and Nicole Backyard couch
Nicole says when she first saw Hayden she thought he was going to be super cool but then after talking to him she was into him, now she thinks he's really super cool. They giggle..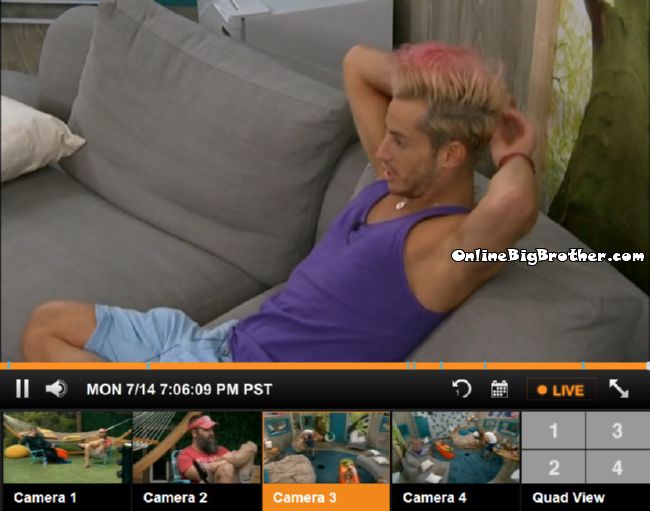 7:05pm HOH Derrick and Frankie
laughing about Zach saying he really is Amanda's cousin. Frankie – "Could you imagine"
Frankie fills Derrick on Devin asking Donny if he can get 6 votes and Donny told him no way. Deve then went to him and Cody and told them he's being pressured by production to campaign. Frankie explains what he told Devin about campaigning being a bad idea.
Alliances (Some of these only a few of the members actually think the alliance is real the bombsquad is done but some people still think it's real)
Zankie = Frankie/Zach
Bomb squad = Caleb, Amber, Frankie, Derrick, Cody, Christine, Zach, Hayden
Team America = Donny, Derrick, Frankie
Nicotine = Christine/Nicole
Not a showmance= Hayden/Nicole
Los Tres Amigos = Derrick, Cody, Zach
Feed watchers = Derrick/Nicole
We hate Devin = Christine and Zach
Outsiders = Brittany, Victoria, Jocasta, Donny
Old timers = Jocasta/Donny
Stalker = Caleb/Amber
Quad Kings = Derrick, Zach, Cody and hayden (still being built)
[polldaddy poll=8185492]
[polldaddy poll=8179403]