POV Holder:
Donny
Next POV
July 19th
POV Used
YES
POV Ceremony
July 14th
HOH Winner 1:
 Nicole
HOH Winner 2:
 Derrick
Battle of the Block Winner
Donny/Amber
Next HOH/ Next BOB
July 17/July 18
Original Nominations:
Derrick's Noms (Caleb & Jocasta) Nicole's Noms (Donny & Amber)
Final Nominations:
Caleb & Devin
Have Nots
Caleb, Amber, Devin, Hayden
POV Players
Derrick, Jocasta, Caleb, Christine, Devin, Donny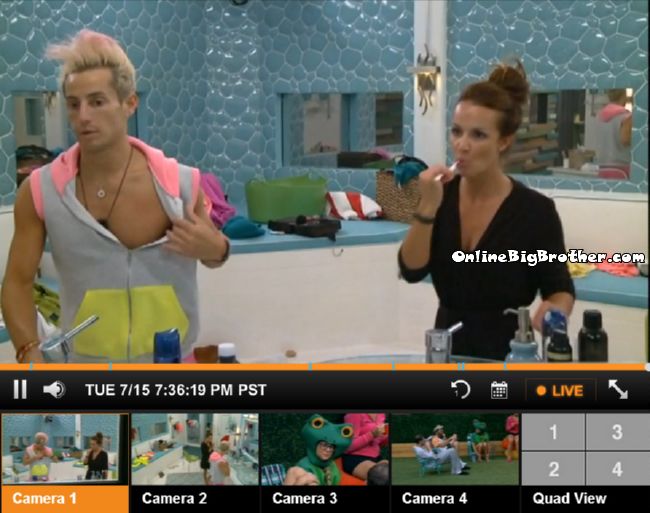 7:36pm Brittany and Frankie
Frankie he's going to put on light make up. He asks her if she's ever had plastic surgery. She said she had her boobs done. After all her kids they lost all their elasticity. She mentions how nobody knows she's had a b**b job but now all America knows. They laugh.
Frankie says he had his nose fixed, "I broke my nose twice"
Brittany says its nice cleansing your body from drinking. She knows she complains about not have any cocktails but she likes it right now.
Frankie says the first two weeks your body hates you the third week your mind hates yu but after that you are out of the woods.
Frankie – "The thought of not drinking every day it never occurred to me"
Frankie says Brittany's skin colour right now is stunning, "You look so exoctic.. you look columbian"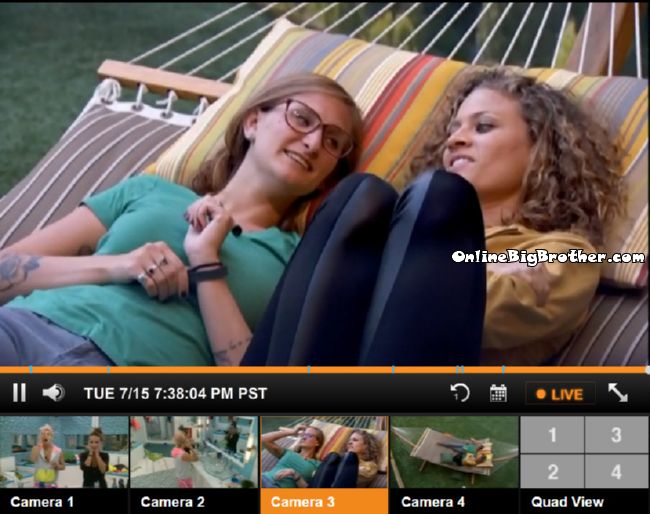 7:39pm HAmmock Amber and Christine
Chit chat about Tattoos.
Amber brings up not wanting to be in a showmance with Caleb.
Christine and Amber agree Devin isn't going to campaign to him, "He knows"
Amber – "He's been driving me crazy today" (Devin)
Christine – "I can't be around him"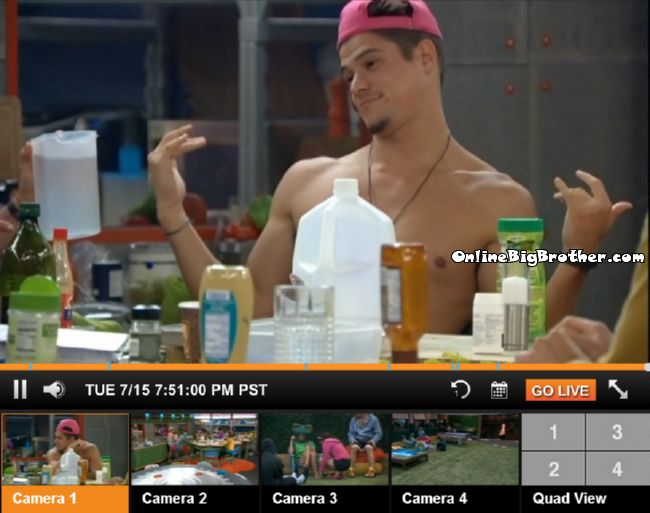 7:50pm Kitchen Frankie, Amber, Zach, Cody, Victoria
Frankie and Zach have a plan to pick up ladies/men
Frankie says the two of them are the perfect wingman Zach is super hot so the gay guys will be all over him, Frankie is super gay so all the girls will be over him. They would alterative Gay bar Straight bar. Zach – "You've ever heard of the bait and switch"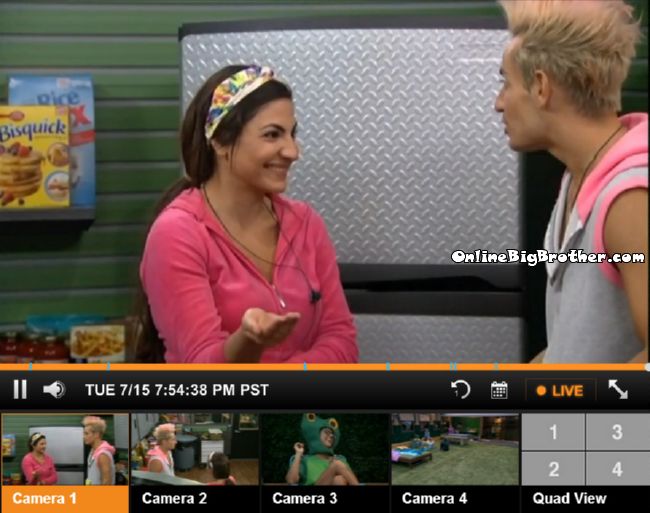 7:54pm Storage room Frankie and Victoria
Frankie mentions how Devin was campaigning. Devin came up to him and said he knows he said he wasn't going to campaign but he is going to. Frankie being sarcastic says "Thats so weird I never thought you would be a liar"
Frankie explains Devin's ploy to get votes by saying, he did a lot of stupid stuff, told a lot of lies, made a lot of mistakes but caleb is only going to fight for Amber.
Frankie laughs says caleb is the best person to keep in the house because he's predictable he'll go on the block for Amber. Frankie stress that Devin is the most unpredictable person He has ever met they have no idea what he'll do.
Victoria – he needs help,.. new flash he's a psycho
Try It Free! Get 24/7 access to the house PLUS more for 48hrs before you decide!

8:06pm HOH Frankie and Cody
Zach mentions Brittany was up here and asked him and Derrick if they want an alliance with her and Cody. Zach wanted to say yes right away but Derrick said they have to talk to calzone (Cody)
Cody says Brittany is smart she just doesn't know how to play the game. Cody mentions how she was recruited and had never heard of the game. She wants to work with people that are good at the game like them. Cody wants to work with Brittany but he's certain Derrick doesn't
Zach thinks Derrick and Brittany are really close now.
Victoria comes up, Zach – "F*****"
Victoria goes into the shower
Zach whispers to Cody that Brittany and Amber are at odds big time you can see it they both try to outdo each other what they do around the house. Dishes, LAundry cleaning etc etc
Zach is going to tell Brittany "To be honest Amber Brittany is out to get you" he wants to keep Brittany and Amber fighting.
Zach wants them to use Brittnay to do their dirty work.
Cody says Brittany can be used to get out the Ambers and Christines and they will take out Jocasta and Victoria.
Zach is going to ask her straight up if she's working with Donny.
Cody says the bombsquad is done for him he's ready to get Caleb out.
Zach says he's ready to.
Zach – Do we b@ckdoor him"
Cody – "Once the BOB is gone I have no problem putting him up go for the POV bro"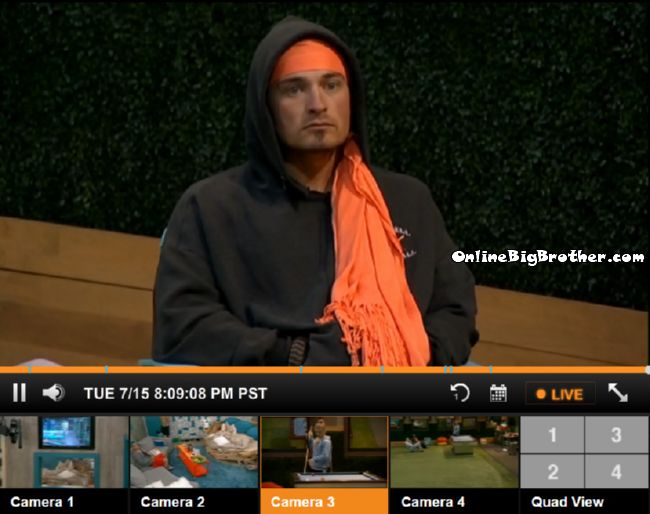 8:21pm
beast mode cowboy hasn't done much talking in a while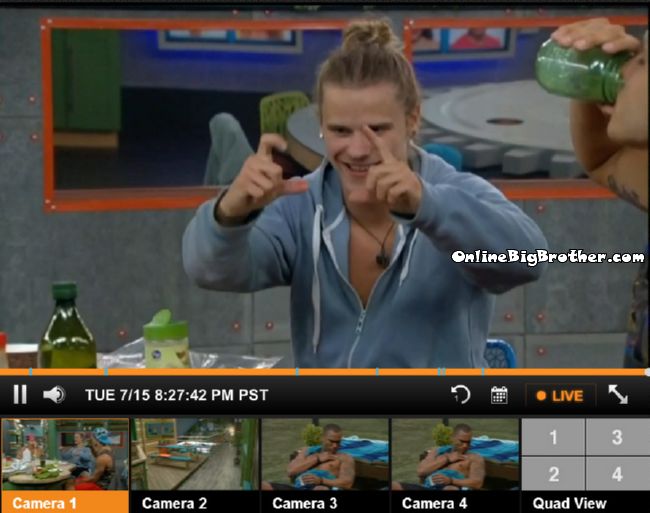 8:28pm Kitchen
Derrick at the HOH balcony says to a bunch of houseguests in the kitchen, There was a picture of Hyden C***k on the hOH camera and he left it there. Hayden also took a bunch of pictures of Victoria's a$$. Hayden goes on to explain how he was getting the pictures of Victoria. Derrick and Zach head to the HOH where Victoria is just getting finished up in the shower. Zach tells Victoria he wants to talk to her when she's done.
They start talking about how much they've already done to get to 3 weeks imagine how much more work is involved.
Zach – what is Jocasta's deal bro.. she does nothing.. she just chills she doesn't even talk much"
Zach wonders hey they made the picnic bench so uncomfortable nobody plays chess anymore. Derrick hasn't seen one person up there since he's been HOH. Derrick thinks they went with looks this year over function.
Zach can't wait for Devin to leaves thinks the entire house is going to change when that happens.
Zach – "Caleb is out of it dude"
Derrick – "He's on slop man"
They talk about Hayden thinking about beating the BB record for being a HAve nots. Derrick says he's already done 2 weeks if the record is only 5, 3 more weeks he can crush it out.
THey talk about Ian BB14 and how he has a have nots record.
Zach says Ian was a beast but lucky, Don't you think.
Derrick says Ian was smart had a strategy, won competitions when he had to and built an eclectic alliance.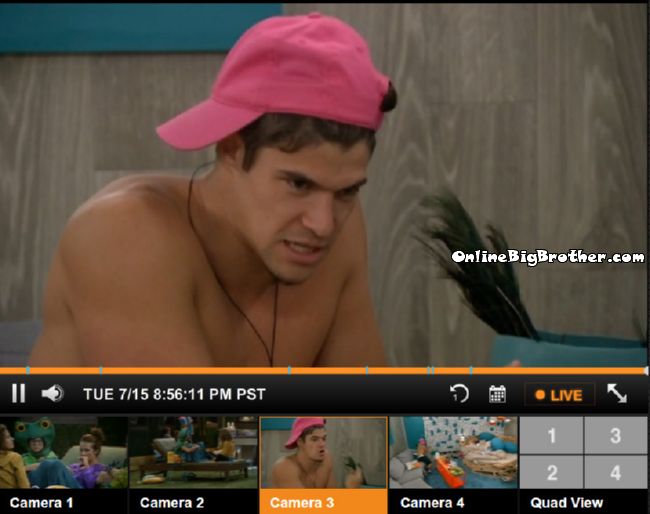 8:43pm Victoria and Devin
Victoria thinks theres a lot bigger targets than her out of the girls. Derrick tells her she's always got to prepare for the worst.
Victoria says she found out today that more people were watching.
Victoria says she has to take allergy medicine every morning and she talked to a Certain Doctor there you go get it? "they told her she's doing so great.
Zach comes in tells Victoria if he wins HOH he will not put her up. Zach asks her who she would put up for the BOB. Zach says he's not putting up Derrick and Cody. Zach tells her if he wins HOH he'll put up Jocasta and Donny.
Victoria might put up Frankie because he put her up, "I don't know where Frankie stands"
Zach "He's a flip flopper"
Zach – "He's close friends with Caleb"
Frankie – "He's close friends with everyone.. he put me up so I would put up a girl"
Zach – "would you put up Amber"
Victoria – I don't know.. she never put me up
Zach says DOnny is after him so he really wants to win the HOH.
Victoria hopes they both win HOH, Zach does to says he'll put up Donny and Amber and She can put up Frankie and Caleb.
She says she use to be close to Amber back when POW was in the house but not really as much anymore she's worried Amber talks to Caleb who she cannot trust.
Zach says theres one person in this house that Frankie is working with more than anyone else. they trust Frankie 100% and Frankie trusts them 100% but nobody knows who that is (Camera zooms in on Derrick).. "who is it nobody knows"
ZAch asks her why not put Donny or Caleb up over Frankie.
Victoria explains that Frankie put her up Caleb never did.
Zach tells him Caleb and Frankie are working closely together.
Zach asks how much does she trust Christine 1 to 10. Victoria says 6 and Nicole is 8
Zach claims to feel the same way.
Zach "I want Frankie gone sooner than later.. Frankie has control of people.. He's a better player than me"
Victoria – He has a really good social game.. hey he's an actor he knows how to connect with everyone he gets into character.
Zach asks her if Frankie talks game to her. Victoria says he does. She never talks game with Jocasta.
(Zach is bullsh!tting Victoria about Frankie)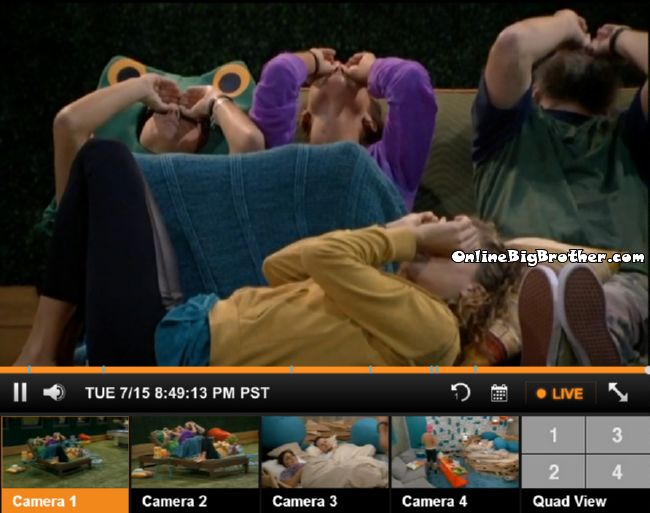 8:50pm
Backyard couch Frog, Amber, Brittany and Donny stargazing.