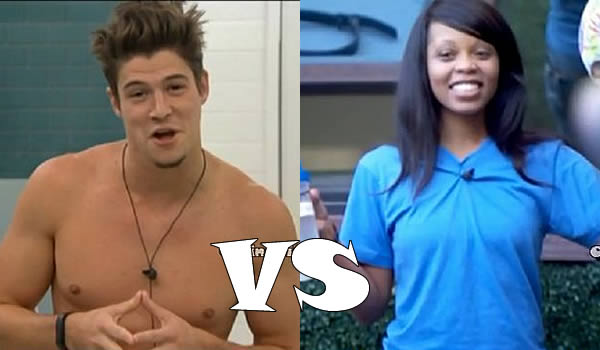 Last night the house flipped Derrick and Cody decided to break up their new alliance and keep Zach the person who was going home up to that point. The game has life again and with double eviction it's going to be some great feeds.
With a live feed subscription you can go back and watch any event that has been shown. Use our site as an index and watch only the parts worth watching.
Try It Free! Subscribe now to the official BB16 Live Feeds
Nicole forms the Rationales with Derrick, Cody and Hayden. The original name is the Quad Squad The Rationales want to take out Zach, Frankie, Christine. Everyone seems committed to it.
POV Players are picked: Nicole, Christine, Jocasta, ZachAttack, Caleb, Victoria. Christine wins the Veto.
Christine tells everyone right away she will not use the veto. It's suspected she privately feared that Frankie will go up and  become a target. She says she didn't want Nicole to get any more blood on her hands.
Derrick and Cody suspect they're being played by both Frankie/Christine and Nicole/Hayden they decide to play both sides against each other.
The idea is briefly brought up to Nicole that she should convince Christine to use the Veto so Nicole can Backdo*r Donny. The real plan was for them to put Frankie up.. Of course it's seen as too risky and the boredom continues….
POV Ceremony commences nothing new or extraordinary happens.. Nominations stay the same.
Christine starts campaigning to have Zach evicted from the house
Given this perfect opportunity the Rationales play along with Christine. They convince Frankie that Zach is trying to play Cody against Frankie. Frankie decides to vote Zach out. Derrick and Cody couldn't be happier
Frankie makes it official he's voting Zach out for playing both sides of the house.
Hayden notices that Frankie is acting like it's his plan to get Zach out last week. Like Caleb the week before with Amber.
In order to save the detonators in the event Zach blows them up Christine and Frankie will tell Caleb, Hayden, Nicole that Monday night Zach proposed an alliance be made called the detonators they never took him seriously.
Christine jumps the gun and tells Nicole before talking to the rest of the alliance. She says she was there when Zach brought up the alliance plan. Later Cody corrects the story to Nicole says Christine wasn't there.
Frankie and Christine rapidly lose influence.
Hayden is the first player inside the game that questions how Christine is with Cody says it's weird that she's married but is cuddling with him all the time.
Caleb will go with the plan to vote out Zach but thinks they have to go through the numbers again and make sure they still have the. Caleb suspect Christine will flip then they will lose the numbers. If they keep Zach the other side will lose a vote.
The plan is to vote out Zach Everyone with a vote is 100% on board
Last night Derrick suspects Nicole and Hayden are playing him. Cody does to but thinks Christine is playing them too
Derrick's main worry is Donny and he thinks Donny has a deal with Nicole and Hayden.
Derrick pulls the Detonators together they compare notes (they all lied and talked sh1t about each other) and decide to vote out Jocasta this week and take out Hayden, Donny and Nicole the following weeks.
OBB Predictions
Jocasta goes home
Actual results
It's a jury of 9 this year.
BOB returns after the double eviction
if you are out of the house doesn't mean you are not out of the game
Donny votes to evict Zach
Caleb votes to evict Jocasta
Frankie votes to evict Jocasta
Christine votes to evict Jocasta
Cody votes to evict Jocasta
Derrick votes to evict Jocasta
Hayden votes to evict Zach
Victoria votes to evict Jocasta
Jocasta is sent to the Jury house, Julie says she may have a chance into get back in the game.
HOH winner is  Caleb BEastmode cowboy
Nominations are Donny and Hayden
POV Winner is DONNY
POV used YES
Nominations are Hayden and Nicole
Cody votes to Evict Nicole
Christine votes to Evict Hayden
Derrick votes to Evict Hayden
Donny votes to Evict Nicole
Frankie votes to Evict Hayden
Zach votes to Evict Hayden
Victoria votes to Evict Hayden
Evicted house guest is Hayden , Julie says he might have a chance to get back in the game
Next Head of House hold competition will be played tonight..
Try It Free! Subscribe now to the official BB16 Live Feeds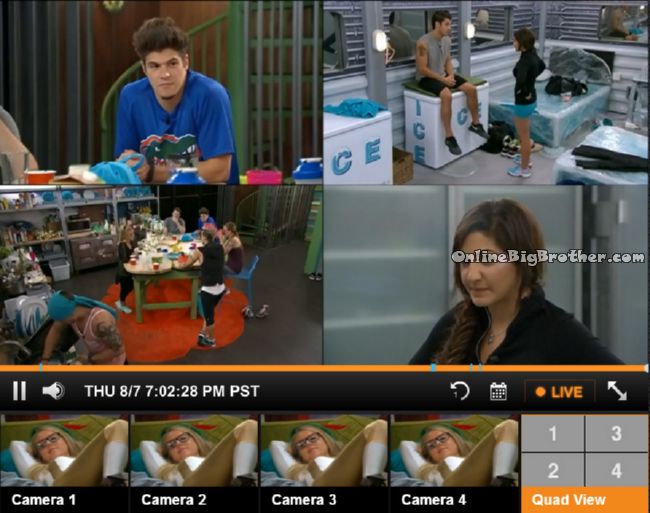 FEEDS BACK AND THEY ARE GREAT
More polls here https://www.onlinebigbrother.com/big-brother-compendium/big-brother-16-polls/
[polldaddy poll=8220599]
[polldaddy poll=8231622]