POV Holder:
Chrsitne
Next POV
Aug 2nd
POV Used
NO
POV Ceremony
Aug 4th
HOH Winner 1:
Donny
HOH Winner 2:
Nicole
Battle of the Block Winner
 Caleb/Victoria
Next HOH/ Next BOB
Aug 7/Aug 8
Original Nominations:
Donny's Noms (Victoria & Caleb) Nicole's Noms (Zach & Jocasta)
Final Nominations:
Zach & Jocasta
Have Nots
Frankie, Cody and Hayden
POV Players
Nicole, Christine, Jocasta, ZachAttack, Caleb, Victoria,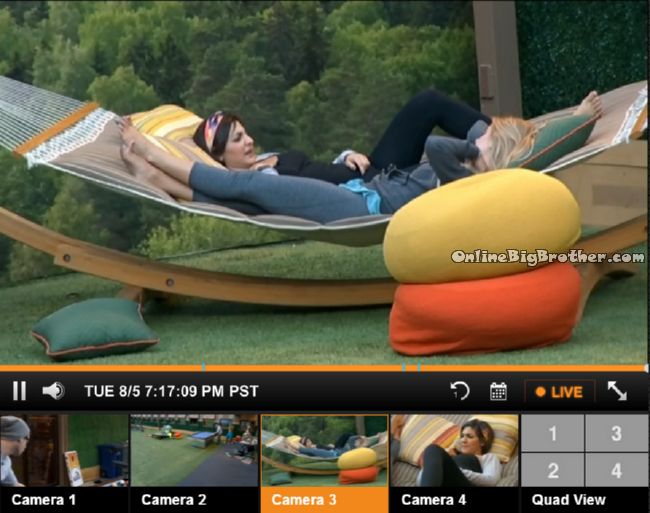 7:24pm Hammock Victoria and Nicole
Victoria about Christine – Are you close to her be honest
Nicole – I will be honest .. we're not as close as we use to be
Victoria – certain people in this game have come to me and told me I am the only person they have said something to that hasn't got out.. you can trust me 100% nothing people tell me gets out EVER
Nicole – You should trust me way more than her
Victoria – I don't trust her
Victoria says Christine told her that there was a guys alliance and they are keeping Zach.
Victoria – She talks a lot alot alot and it's getting caught
Victoria tells her if she wants to work with her they need to talk more game. Nicole wants to talk more with Victoria.
Victoria – trust me when I tell you i'm not as stupid and naive as I seem
Nicole – you need to win the HOH
Victoria – if it's endurance I will
Nicole – do you remember anything else she said.. try to remember what she tells you from now on.
Victoria says she still wants Zach out. Nicole pushes that Christine cannot be trusted. Victoria agrees says she can twist everything around. Nicole warns her not to tell anyone she said not to trust Christine.
Victoria says she knows Christine will manipulate her words to turn people against her "I know she thinks I am a pawn"
Nicole – I haven't been talking a lot of game with her
Victoria – "do you trust Frankie"
Nicole – I don't know.. I think so.. don't talk about me to him
Nicole adds that she's still trying to feel people out.
Victoria says she doesn't talk Game to Frankie
Victoria bring up her conversation with Frankie today when he said he's entertaining the idea of voting out Zach.
They agree everything you tell Christine goes to Frankie

7:51pm Zach and Derrick
Zach has noticed that Jocasta isn't really campaigning much, he wonders if Nicole will keep him in a tie. Derrick never notices Jocasta campaign much when she's on the block.
Derick is expecting a big twist "Something's coming bro something's come.. something is going to fuck with our game it's going to either fuck with our game or help others.. what if these trackers the two highest numbers are HOH"
Zach – I'll be so pissed if I went home in Thursday
Derrick – I don't blame you at all .. not one bit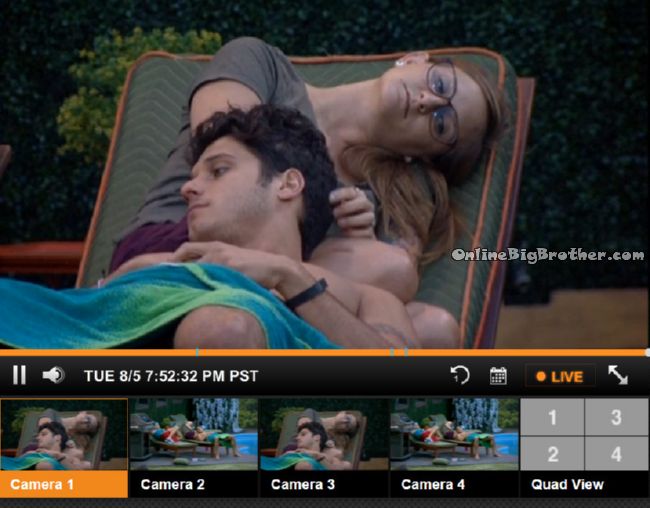 7:52pm Frankie, Christine and Cody chit chat
Christine – "i wonder what differences are going to be in my life when I get home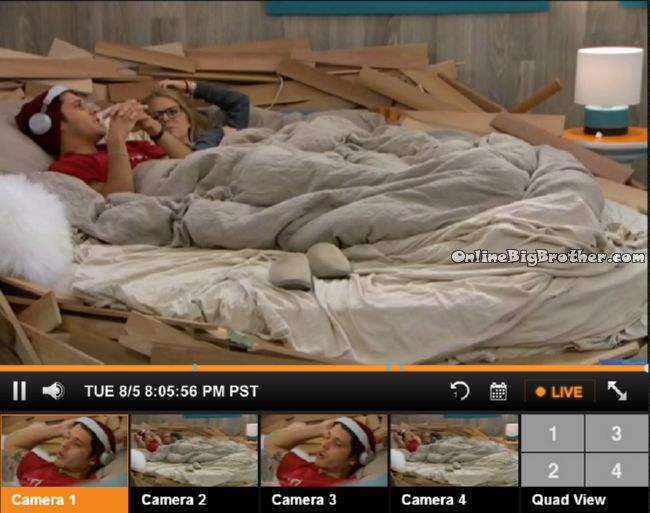 8:04pm HOH Nicole and Cody
Cody says Christine is trying to put seeds in people's head. Nicole brings up Christine wanting to work final 2 with Nicole early on. "She planted the seed in my head to put you and Derrick up"
Nicole wonders what Christine is trying to do saying there is a guys alliance
Cody – she said that today
Nicole – yes
Cody brings up Zach and the alliance he tried to form last night. Nicole wishes she could remember the name of the alliance.
Cody says Frankie and Christine are playing both sides of the house. "I'm seeing the game she's trying to play she's trying to play everybody"
Hayden rolls in
Hayden says he got Donny to name his targets in priority 1) Caleb, 2) Frankie, 3) Christine
Hayden – I feel it's the same thing we generally want
Hayden adds that Donny wants Derrick out 4th.
Cody – Derrick on the bottom then
Hayden says Caleb for Cody, Derrick and Hayden is fine he's not putting them up. The problem with Caleb is Nicole is second on his list.
Hayden says Caleb's targets are Donny, Nicole, Victoria and Jocasta.
Cody thinks Frankie wants Donny out but he's trying to play both sides.
Hayden Ya he's always said he wanted Donny out.. why what is he saying now
Nicole – he always has to poop it's so annoying… (LOL he's always coming into the HOH to use the bathroom)
Cody – I wonder who Victoria's targets are she makes me nervous
Nicole brings up Christine telling Victoria about a boy alliance.
Derick comes out spells out their name 'Rationale'
Derrick and Cody tell Hayden about Zach coming to them last night to form an alliance.
Cody "It was derrick me franke and Zach.. Zach was all like you guys we got to work together I know we trust each other we need the numbers"
"Frankie was like Christine needs to be in "
Nicole can't remember what the name was. Cody brings up that Christine wasn't even outside when Zach pitched the alliance so Frankie must have told her.
Derrick says he never said the name but he said it was going to be a play off the bombsquad.
Cody tells Hayden that Zach is targeting Hayden.
With a live feed subscription you can go back and watch any event that has been shown.
Use our site as an index and watch only the parts worth watching.
Try It Free! Subscribe now to the official BB16 Live Feeds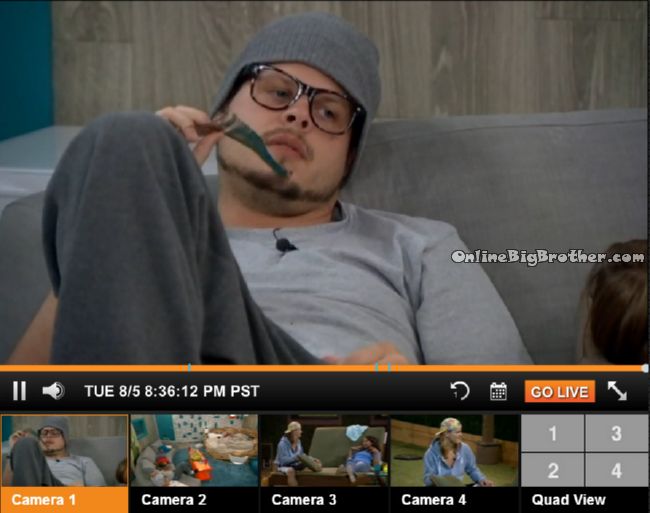 8:35pm HOH Derrick, Cody, Nicole and Christine
Chit chat about what Derrick really does. Derrick mentions that Frankie said he thought he was a cop
Christine – I don't think you are a cop you're too cool
Derick – thanks another insult.. cops can be cool
Christine – I have a bitter taste in my mouth
Derrick says he's gotten more tickets that Christine , Christine says she's been pulled over 7 times but never got a ticket.
Christine – When my car got stolen the cops really screwd us over so i'm pssed with them.
Derrick – F***g cops as long as they don't arrest me I'll be happy.. now if they arrest me I hate cops"
Christine – you getting arrested sounds hilarious
Derrick – I've never been arrested.. I've gotten in trouble.. the cops know of me.. that sounds so bad.. I don't think they do that was so long again I was a juvenile i'm 30 years old
Christine you're so old
Cody you're a grandpa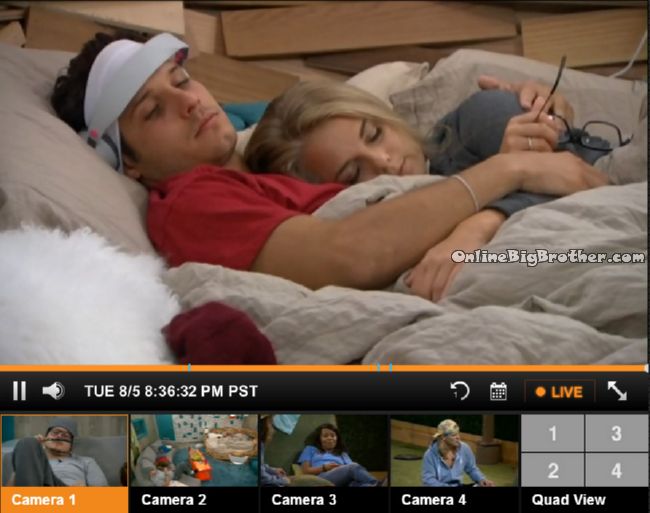 8:52pm Hammock Victoria and Hayden
Hayden – I'm Voting Zach out..
Victoria – Someone said to me this morning and told her that Hayden wasn't voting Zach out"
Hayden guesses it was Christen.
Hayden – Don't trust Christine at all and this definitely stay between us.. CHristine and Frankie are both not to be trusted at all
Victoria OH I know
Hayden – Christine has been planting seeds all week she is spreading a rumor that we were hooking up
Victoria – Are you serious .. if anyone believes that
Hayden – no one believes it.
Hayden – She wants all three of us to feud I thought i could trust her but not any more
Hayden says christine says sh1t about Victoria behind her back
Victoria what s to know. Hayden is reluctant to tell her.
hayden – " dumb things .. the same as Amber that you don't know what you are doing.. you know"
HAyden – she does that all the time it's non stop it's ever day .. everyone else in this house knows it.. The only person that trusts her is Frankie.. he's like the new Amber running around crazy
Victoria – He's me target.. oh I shouldn't have told you that"
Hayden tells her not to worry
Hayden says Christine is very manipulative and hard to read but Frankie can win competitions
Victoria brings up Christine telling them about a all guys alliance
Hayden says Christine told Nicole that Victoria and Hayden were making out and it was "Disgusting"
Victoria – That's insane..
Victoria says she told Christine she was saving her self for marriage all she really did was kiss a guy.
Where the Vote is..
Zach going home..
Alliances 
The Rationale = Nicole, Derrick, Hayden and Cody
Zankie = Frankie/Zach
The Detonators = Derrick, Frankie, Zach, Christine, Cody
"The HITMEN" – Cody & Derrick
Trilogy = Nicole, Christine & Hayden
Team America = Donny, Derrick, Frankie
Old timers = Jocasta/Donny
Nicotine = Christine/Nicole
bottomfeeders = Derrick and Nicole
More polls here https://www.onlinebigbrother.com/big-brother-compendium/big-brother-16-polls/