POV Holder:
Chrsitne
Next POV
Aug 2nd
POV Used
NO
POV Ceremony
Aug 4th
HOH Winner 1:
Donny
HOH Winner 2:
Nicole
Battle of the Block Winner
 Caleb/Victoria
Next HOH/ Next BOB
Aug 7/Aug 8
Original Nominations:
Donny's Noms (Victoria & Caleb) Nicole's Noms (Zach & Jocasta)
Final Nominations:
Zach & Jocasta
Have Nots
Frankie, Cody and Hayden
POV Players
Nicole, Christine, Jocasta, ZachAttack, Caleb, Victoria,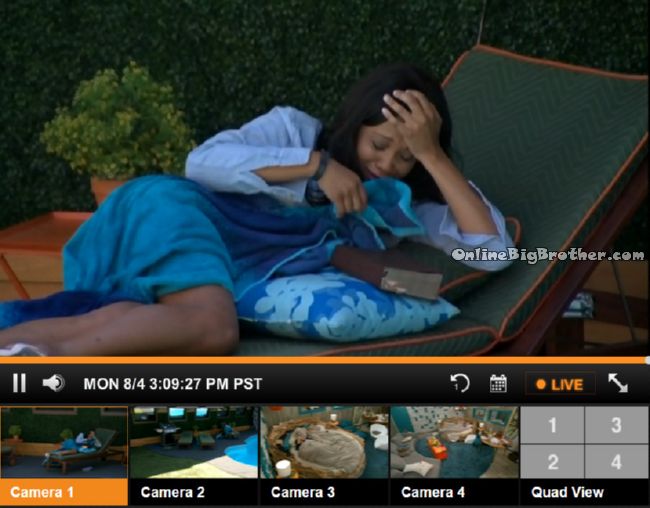 3:06pm Donny and jocasta
Donny says he hasn't been talking to her because he's a target and with him being a target near her she'll become a target. With her on the block it's dangerous there's nothing they can do if the vote changes.
He's heard the house say Donny and Jocasta.. Donny and Jocasta… Donny and Jocasta before they aren't right now DOnny wants to keep it that way.
Donny leaves says "DO you really understand "
Jocasta says she does understand she loves Donny.
Donny – "That's the hard part of the game"
Jocasa heads to the lawn chair and sobs opens the bible starts to read it….
With a live feed subscription you can go back and watch any event that has been shown.
Use our site as an index and watch only the parts worth watching.
Try It Free! Subscribe now to the official BB16 Live Feeds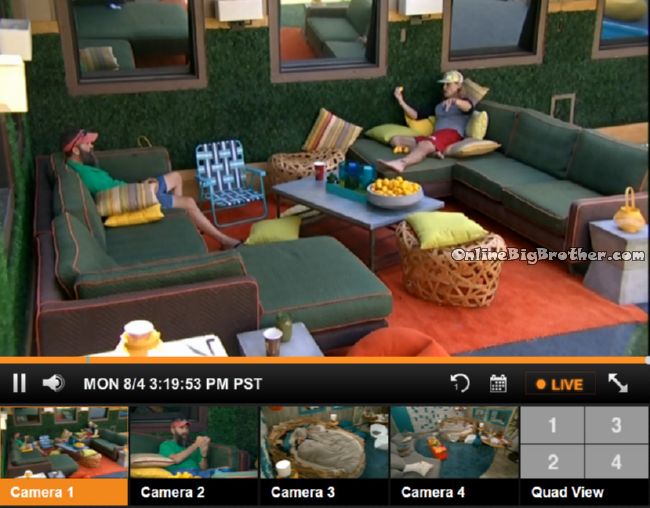 3:17pm Donny and Hayden
Hayden saying that Christine is trying to pull him and Nicole apart. Brings up Christine saying Hayden is making out with Victoria.
"Nicole and I are completely fine.. she knows it's fake it's a rumor.. I wonder why Christine would say that"
Donny says Frankie's goal was to put him up and get him out.
DOnny mentions when he was HOH Christine was trying to get Victoria and Cody up. He always sees Cody and Christine playing with each others hair he didn't want to have to break the news to him.
Hayden says the other side is Frankie, Caleb, Christine and Possibly Derrick.. Hayden isn't sure about Derrick, he thinks they can trust him.
Donny – He sure does shun me and that shows a lot.. he's not number one though..
Hayden doesn't think Derick is doing a lot of the work right now maybe he was in the beginning but not now. THe main people are Frankie and Christine with Caleb doing work for them.
Donny and Hayden try to decide who is more dangerous Christine or Frankie. Hayden says Christine is a really good actress she's hard to read and she's manipulative. Frankie has the physical and mental ability to win
Donny agrees asks him about this week whos the target.
Hayden – Zach's going home
Donny – there's pros and cons..
If Zach stays he has more of a chance to win things and Donny doesn't think he would put them up, "Jocasta isn't going to win Head of Household."
Hayden – Zach is a number for Frankie.. Frankie has him wrapped around his finger…Frankie thinks 100% Zach is staying
Hayden overheard Frankie and Zach saying they want to put up Zach and DOnny .
Donny – why am I the target
Hayden they are still set on this 8 person alliance.
Hayden – If Zach was here i honestly I think he could put you up"
Donny points out Jocasta will never vote against them "SHe's more valuable as a vote than a head of household"
Hayden agrees keeping Jocata is best for their game.
Hayden – if we take away Zach we take away a piece of Frankie
They mention how Christine talks sh1t about everyone in the house. SHe's the biggest complainer. Donny is nervous about Cody if he goes with the other side they lose the numbers. Hayden trusts Cody not completely but enough.
Donny thinks Cody is sharing news to Derrick, "When you talk to COdy and Derrick never say Donny.. I hope Jocasta this week don't say DOnny a lot and she shouldn't"
Hayden – I 100% believe Jocasta is safe.. the only people that will vote her out is Caleb and Frankie"
Hayden – If you won HEad of household who would you put up
Donny would put up Christine and Victoria
Hayden would put up CHristine and Frankie if its double eviction or single
Hayden mentions how Caleb isn't coming after him so hes not high on his target list. Hayden says the only problem with Caleb right now is he's targeting Donny.
Donny instructs Hayden to pull Caleb aside and try to tell him they need to get power players out try and move the target off Donny
Hayden say the only problem is Caleb is still loyal to the 8 person alliance for some stupid reason
Hayden says if it's a regular BOB HOH next week he would put up Jocasta and Christine/Frankie
Donny says they should put up Christine and Jocasta because she may not be able to win the Battle of the block with Jocasta on her team.
Hayden wants to blame the house flipping on Christine , "It is technically what she's trying to do.. I'll tell him that CHristine told me I was Zach's next target" Donny thinks it's a good idea but what if Christine wins the HOH.
Hayden – We can blame Zach going home on Christine
Donny – as of right now Frankie doesn't talk to me and Derrick doesn't talk to me.. Christine tries"
Hayden says he knows for certain Christine has been throwing all the competitions except for the last POV Citebase she knew Frankie was was in danger. Donny says Christine sure if going to be trying to win from now on.
Victoria joins them..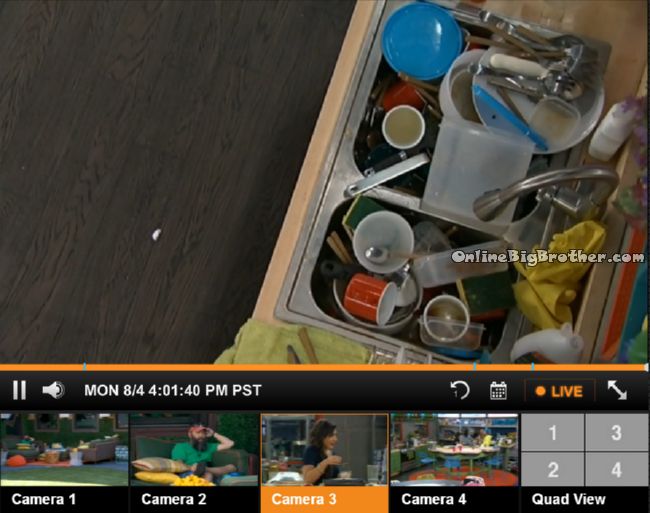 4:03pm Frankie, Victoria and Jocasta They decide to clean up the kitchen..
While they clean up they are studying the dates. outside Cody, Hayden and Donny are speculating about the HOH's and studying dates.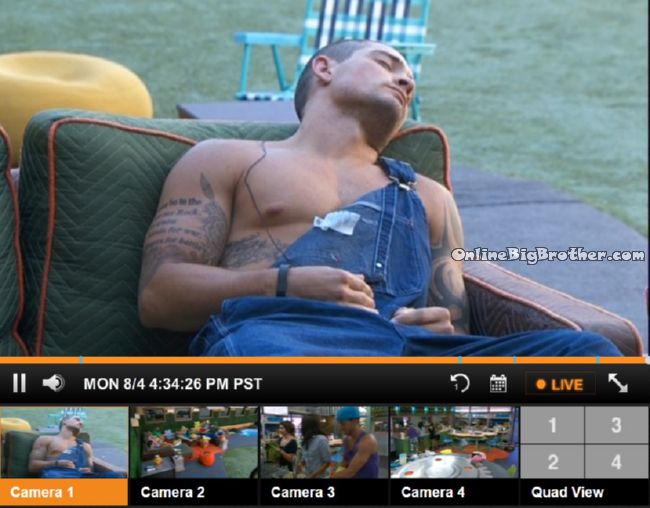 4:35pm Beast mode sighting He crawls into the backyard tells every one he's hungry "I feel like i'm corroding away"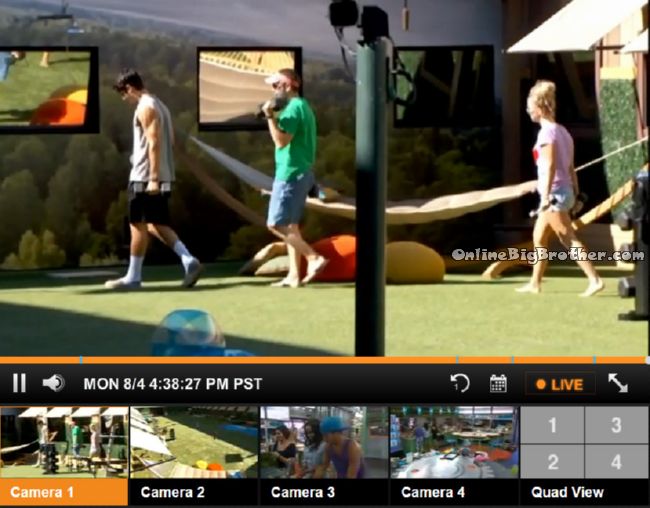 4:40pm Working out They walk around the backyard grab weights during one section and do curls.
Cody – look at us go we're crushing it
Nicole – I'm goign to switch to tens
Donny we're getting turnt up
After a couple laps Hayden joins them..
Donny – Hayden's a chop off the old block
Donny – Caleb if you want to jump in on the muscle train
Cody – That's what it's called the muscle train..
Donny – "Wimps need not apply "
After a couple more laps Cody says they accomplished have getting Caleb to leave.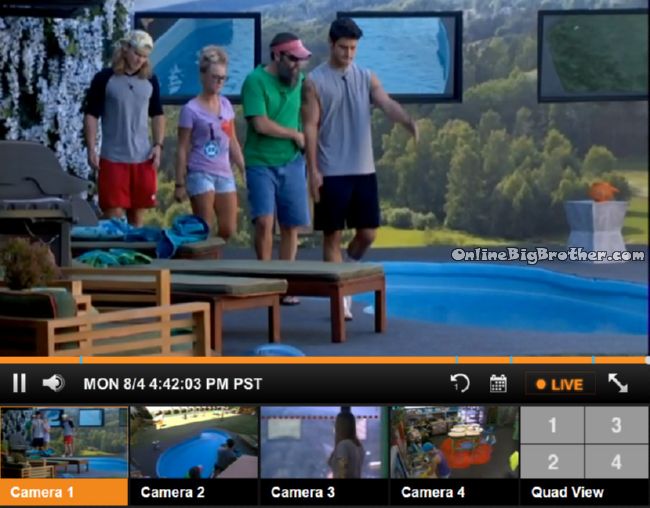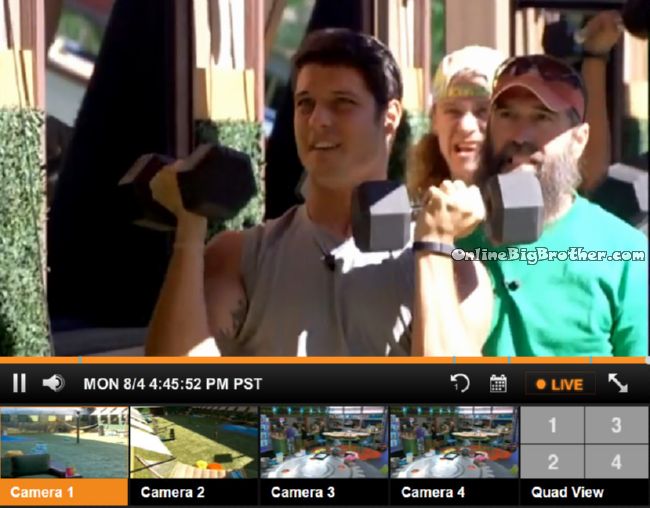 Where the Vote is..
Zach going home.. (He has two votes to stay right now)
Frankie, Christine, Zach and Caleb on one side. Donny, Nicole, Hayden, Jocasta on the other side. Derrick and Cody with both. Victoria is somewhere in the middle as well she's vocal about targeting Frankie but is heavily under the control of Derrick.
Alliances
Quad Squad = Nicole, Derrick, Hayden and Cody
Zankie = Frankie/Zach
The Detonators = Derrick, Frankie, Zach, Christine, Cody
"The HITMEN" – Cody & Derrick
Trilogy = Nicole, Christine & Hayden
Team America = Donny, Derrick, Frankie
Old timers = Jocasta/Donny
Nicotine = Christine/Nicole
bottomfeeders = Derrick and Nicole
More polls here https://www.onlinebigbrother.com/big-brother-compendium/big-brother-16-polls/