POV Holder:
Chrsitne
Next POV
Aug 2nd
POV Used
?
POV Ceremony
Aug 4th
HOH Winner 1:
Donny
HOH Winner 2:
Nicole
Battle of the Block Winner
 Caleb/Victoria
Next HOH/ Next BOB
Aug 7/Aug 8
Original Nominations:
Donny's Noms (Victoria & Caleb) Nicole's Noms (Zach & Jocasta)
Final Nominations:
?
Have Nots
Frankie, Cody and Hayden
POV Players
Nicole, Christine, Jocasta, ZachAttack, Caleb, Victoria,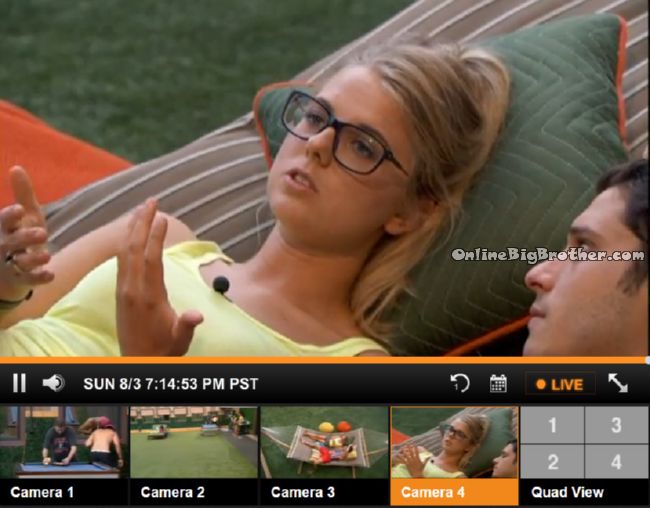 6:58pm Cam 3-4 hammock Nicole and Cody
Nicole says Frankie her his him his target's are Derrick and Cody and Christine told her that Zach is targeting Hayden.. "Frankie is trying everything to convince me to keep him"
Nicole – She told me she's going to convince the guys to vote Zach out..
Cody – she feels on the outs.
Nicole mentions that Christine is going to talk Frankie into letting Zach go this week. Cody doesn't see that happening it's too risky for Christine.
Nicole tells him CHristine told her if she did use the veto Nicole would have to put up Derrick or Cody to make sure they have the votes to evict Zach.
Nicole knows why CHristine isn't using the veto it's because she told CHristine she didn't trust Frankie."Christine's worried I might throw him up"
Nicole to Cody – You are Frankie's target 100% so be careful
Cody – Christine's been saying that Zach is saying sh1t to Frankie.
Nicole mentions she played dumb when talking to Christine and Frankie.
Nicole brings up Frankie calling Hayden, Nicole, Frankie and Christine as a group but Frankie doesn't call it an alliance. "I don't believe that for a second he will put up anyone but Christine if he needs to"
Cody – Well apparently I'm his next target.
Nicole – unless he gets pissed at me you and Derrick will be targets
Nicole saying that Frankie has divided the house up he told her it's frankie christine Hayden, Caleb against Cody, Derrick, Victoria, and Zach with Jocasta in the middle.
Nicole brings up Christine being a "mean friend" telling her that Victoria and HAyden were making out. Nicole knows that isn't true and doesn't care if it is just the fact that she would say that upsets her.
Nicole – She's really manipulative.. she's acting like she's doing me a favour by not using the veto.. saying that the only way to ensure Zach goes is to put up COdy or Derrick
Nicole warns him everything they tell CHristine will go to Frankie.
Cody knows Frankie sways the sh1t out of Christine, Zach and and has influence with Caleb.
Nicole – He thinks he can persuade me but he doesn't
Hayden joins them brings up that Christine told him Zach is targeting Victoria not him.
Nicole mentions Christine thinks it's her plan to send Zach out. THey all think it's suspicious that Christine is so quick to flip on him. Nicole "I'm so caught off guard how she flipped in one day"
Hayden warns that Christine tells Frankie everything.
Derrick joins them.
Hayden say Christine is trying to flip the house to get Zach out which is what they wanted all along.
Derrick says Christine is "so manipulative"
Derrick – guaranteed under five minutes frankie comes over here
Hayden – Frankie want Zack here 100%..
Hayden is worried more with Frankie than Christine "Christine is good with words and good at planning seeds but Frankie can actually get things done in the house"
Cody says CHristine is easily swayed but because of Frankie shes harder to deal with
NIcole – Now she wants to get rid of Caleb next week
Nicole says Christine is easily swayed. .
Hayden – I think she's smarter than that I think she pretends to be easily swayed.
Derrick – SHe's pretty f** good if she does
Derrick want to say something about Nicole in a negative way to see what Christine will tell Nicole.
Derrick thinks with all these stories back and forth Christine saying Zach is targeting Hayden and Frankie saying he's after Victoria the truth is Zach isn't saying anything it's all fabrications.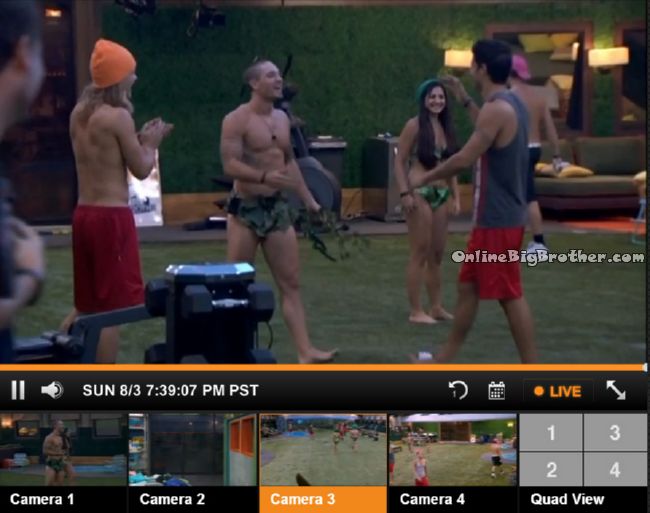 7:38pm Adam and Eve remove their chains.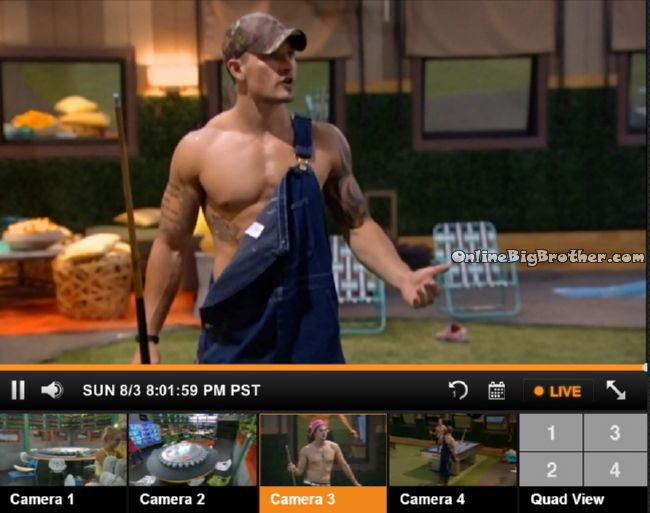 8:00pm Pool table Zach and Caleb
Zach asks him on a scale of 1 to 10 what was it like being attached to Victoria for 48 hours.
Caleb gives being chained with Victoria a 7 out of 10, Mentions the worst part was hearing her poop.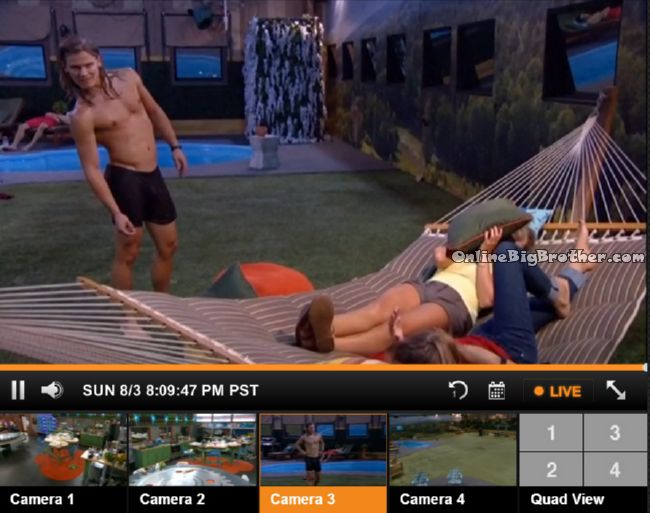 8:18pm Christine and Nicole Hammock
Christine says Frankie told her Nicole is ok with i'm voting zach to stay
Christine asks if the guys were talking about Getting out Zach.
Nicole didn't hear it mentioned
Christine – We gotta get to work.. "
Nicole wonders what Frankie's plan in the game is
Christine says his plan is to make sure people that would put him up are removed from the game.
Christine says Frankie is very good at the game
Christine says she can't keep looking over there at cody it's distracting.. "He's so attractive"
Hayden comes by and starts staring at Nicole…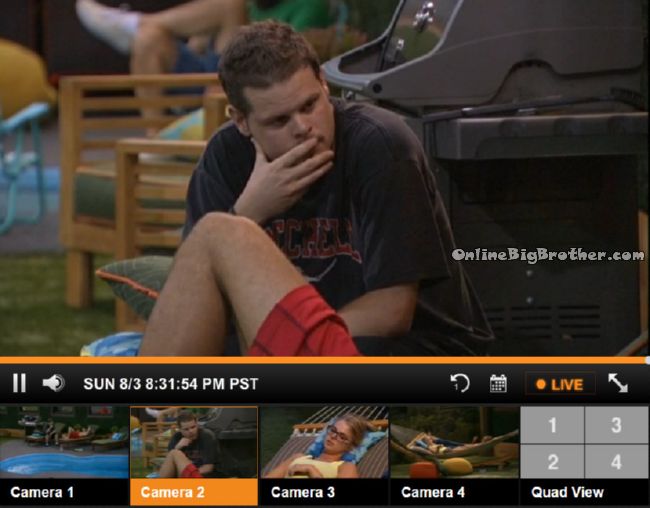 8:30pm Poolside Derrick and Cody
Derrick agrees what Zach has to go home but he isn't completely sold on who is trying to burn then Christine/Frankie or Nicole/Hayden.
Derrick thinks boths sides are stringing them along.
Cody – I Don't think Hayden is..
Cody adds Frankie told Nicole it's Frankie,CHristine, Hayden, Nicole and Donny against Derrick, Cody, Victoria, Zach and Caleb.
Derrick i'm just being straight up with you don't get twisted with Nicole because if she's working with DOnny. Cody knows he's not throwing the game away for anything stupid.
He mentions that Nicole was defending Donny on the hammock.
Derick – that is bad.. I know in my heart.. I catch Donny and Hayden talking all the time.. I catch Nicole and Donny chatting all the time.
Derrick warns Hayden and Nicole want Zach gone this week followed by Frankie and Christine "that's all the detonators"
Cody is going after DOnny next week. "Everyone that has their twos has gotta go.. Donny has Jocasta"
Derrick says once Zach goes they cripple Frankie.
Derrick – We got to keep chipping away at both side
COdy we don't need to commit to one side..
Derrick – I don't believe anything people are saying
COdy – not a chance
Derrick – we're the swing vote.
Derrick thinks Donny is letting Nicole and Hayden to all the work for them.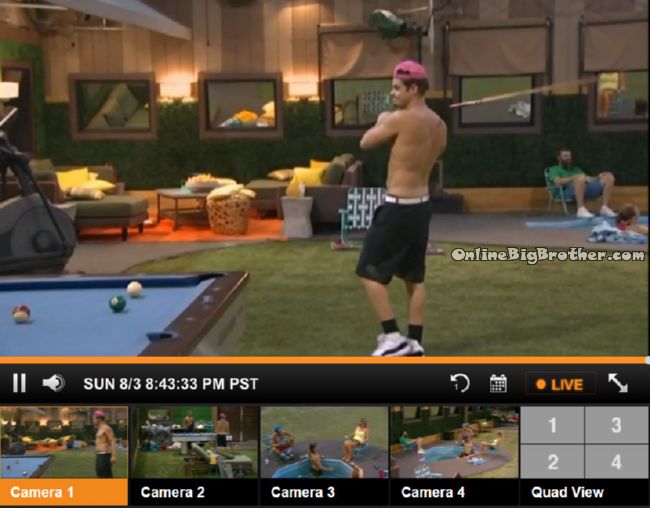 8:44pm POOL Beast mode and Zach
Caleb says Jocasta think she's staying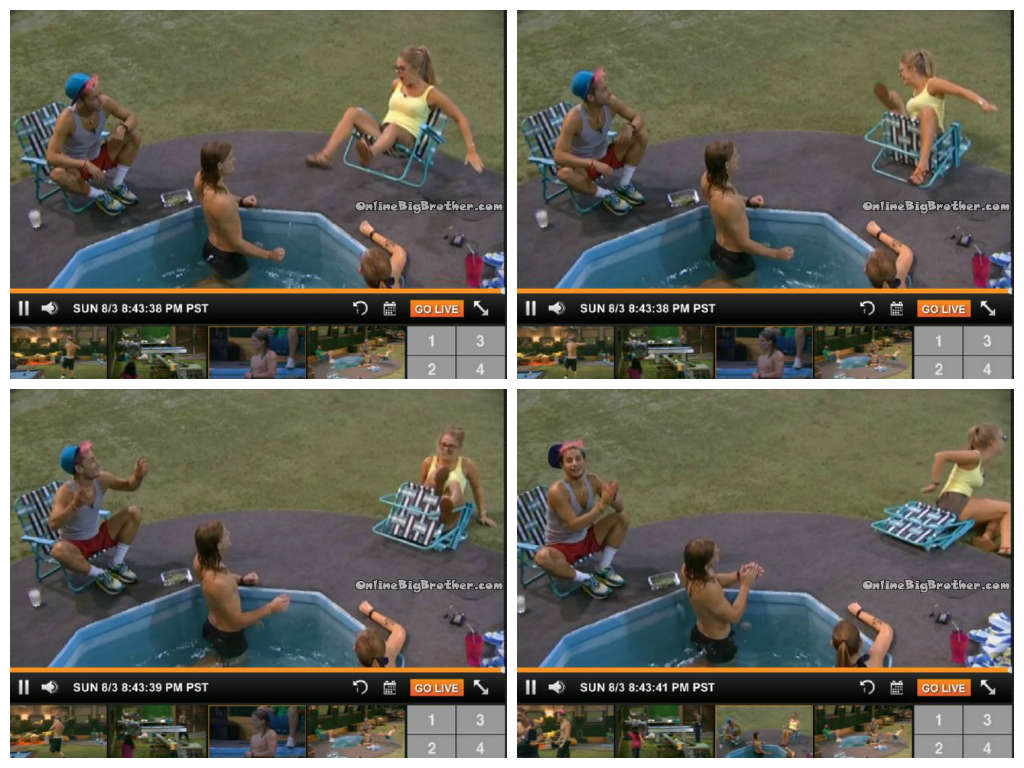 8:43pm Christine falls off her seat
With a live feed subscription you can go back and watch any event that has been shown.
Use our site as an index and watch only the parts worth watching.
Try It Free! Subscribe now to the official BB16 Live Feeds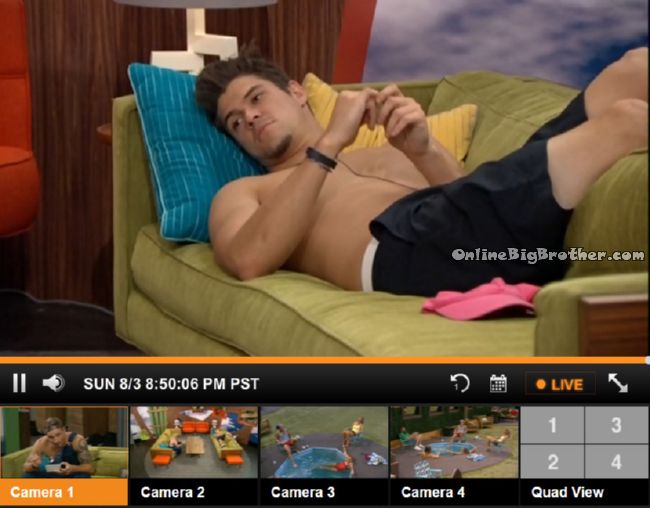 8:49pm LIving Room Caleb and Zach
Zach – So you Jocasta really thinks she's staying
Caleb says of course se thinks she's staying why hasn't Zach noticed that.
Zach – I think it's going to be 8 to zero
8:51pm Cody and Victoria
Cody tells her there's people in the house that are playing everyone and he doesn't like that. Victoria has noticed a lot of people be really sketchy and lie these past two weeks.
Cody says Christine and NIcole are super tight so people are getting paranoid they might use the veto.
Victoria doesn't think that will happen
Cody – I really don't think the veto is going to be used.. I really don't .. this thursday will be a double a eviction.
9:06pm Living room Frankie, Caleb and Zach
Mostly chit chat about how horny Frankie and Zach are.
Zach – You try and turn me gay every single day and I feel like you get closer and closer every time"
Frankie -Ya I know
Zach – You can still try I like it when you try
Frankie – I know you do
Where the Vote is.. 
Zach going home.. (it's very confusing right now lots of person X playing person Y playing person X etc etc.. At the end of the day… Zach doesn't have the votes right now)
Alliances
Quad Squad = Nicole, Derrick, Hayden and Cody
Zankie = Frankie/Zach
The Detonators = Derrick, Frankie, Zach, Christine, Cody
"The HITMEN" – Cody & Derrick
Trilogy = Nicole, Christine & Hayden
Team America = Donny, Derrick, Frankie
Old timers = Jocasta/Donny
Nicotine = Christine/Nicole
bottomfeeders = Derrick and Nicole
More polls here https://www.onlinebigbrother.com/big-brother-compendium/big-brother-16-polls/