POV Holder:
?
Next POV
Aug 2nd
POV Used
?
POV Ceremony
Aug 4th
HOH Winner 1:
Donny
HOH Winner 2:
Nicole
Battle of the Block Winner
 Caleb/Victoria
Next HOH/ Next BOB
Aug 7/Aug 8
Original Nominations:
Donny's Noms (Victoria & Caleb) Nicole's Noms (Zach & Jocasta)
Final Nominations:
?
Have Nots
?
POV Players
?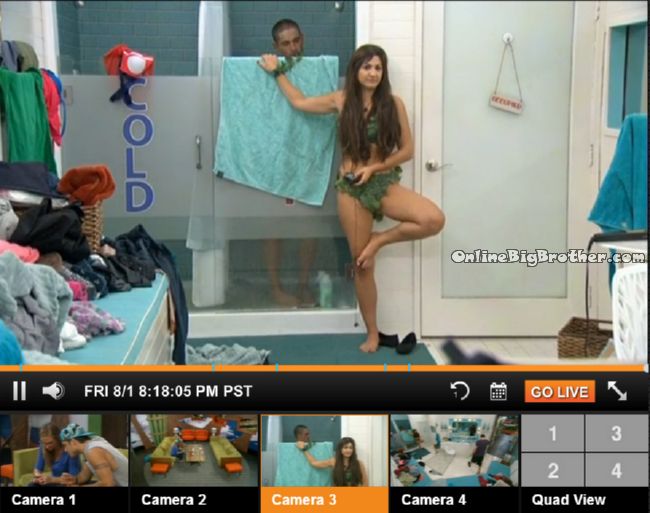 The Joys of being Adam and Eve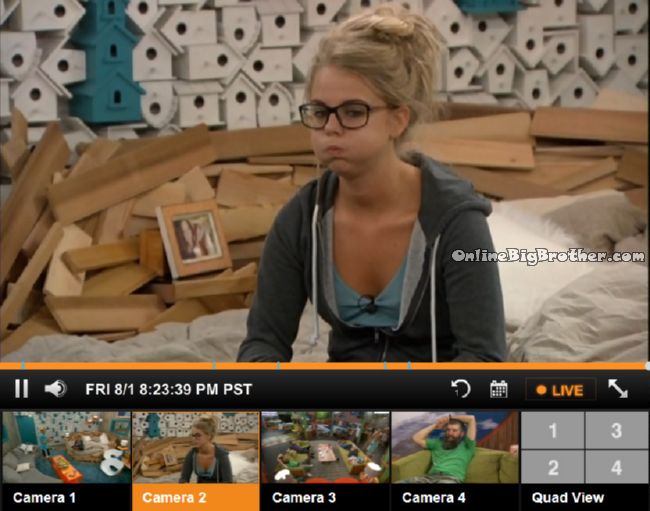 8:21pm HOH Christine and Hayden
Nicole says Frankie and Zach sketch her out so much she can't decide which one she wants gone. Hayden says there's a couple did ways they can so this week but they need to get the POV done.
They are worried if Frankie wins the POV and uses it on Zach.
Hayden is a bit worried that the POV will not be played and Jocasta goes home.
Nicole – You can't send JOcasta home that is a waste of a HOH..
Nicole asks if Donny and Zach are working together secretly. Hayden doesn't think so he's certain Donny will send Zach home over Jocasta.
Nicole – If I put up Frankie with him …
Hayden – Frankie goes home
Nicole – What if he doesn't…
hayden – if they are both up guaranteed one of them goes home..
Hayden explains if they get Zach and Frankie on the block they have the votes to get Frankei out because Jocasta will vote whatever Donny says, they have Donny, Jocasta, HAyden, Derrick, cody and most likely Victoria.
Nicole says Zach if targeting her.
Hayden – He dislikes Christine a lot if he has the choice he would take her out.
Nicole and HAyden both would rather Zach goes home.
Hayde – "For my game it doesn't matter.. but Frankie will win the next HOH
Frankie comes in says he's made some pasta.. he leaves..
Nicole – He's gotta go he's just like Amber he's everywhere.. so paranoid.. Frankie is so conniving and he's got Christine to.
Hayden mentions that Frankie told him he's in the game to cut throats.. make friends and stab them.
Nicole – OH M G if Frankie wins the Veto there's no one to put up.
They got back and forth who they want out Zach or Frankie..
Hayden says maybe if he wins POV he takes Zach down and she puts Frankie up.
Nicole – Oh so he's not coming after me so hard
Nicole – Zach's going to be campaign so hard for Frankie they're best friends..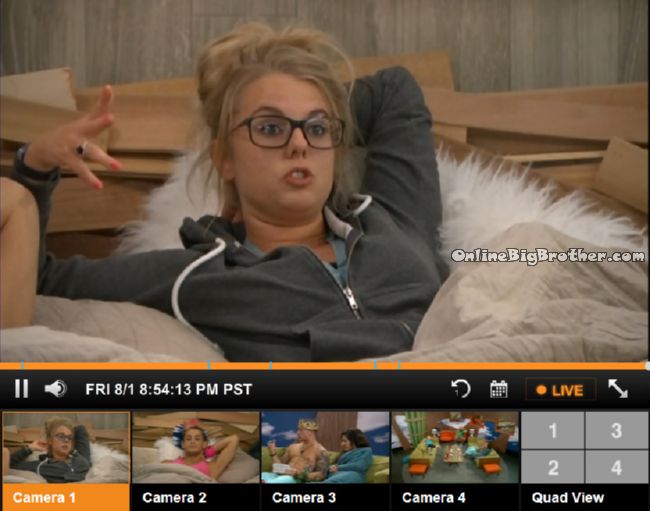 8:52pm HOH Frankie and Nicole
Nicole wants things to stay
Frankie says if DOnny wins and uses it on Jocasta it would be the worst thing
Frankie is unsure he would use it again because Donny has been all about telling people they are not working together.
Frankie says Zach might have another blow up this week, "He's so erratic"
nicole says Zach ask her in so many ways verbally twice he told her
Nicole – He's going around saying i'm his target
Frankie whats does hayden say
Nicole – we didn't really get to talk about.. I think he's offended what I said to Zach we never got to talk much..
Frankie- the dictionary thing?
Nicole doesn't know what Hayden thinks of all this "crap"
Frankie – people are just waiting to see after POV happens.. would be interesting what Hayden thinks
Nicole – I also want to know what CHristine thinks
Frankie says Jocasta has done nothing
Nicole doesn't want JOcasta going home on her HOH.
Frankie says it all rests on Hayden, "Whatever he's got planned"
Frankie says Caleb is a piece of work.. he's now walking around saying he should have thrown the BOB because it wasn't worth it.
Frankie – "But Donny gets to play in the HOH next week and he'll still go after Caleb.
Frankie thinks Donny will go after the people that put him up Caleb and Cody
Nicole I put him up
Frankie – he has no reason to put you up.
Frankie thinks Caleb is going to lose his mind being on slop for two weeks is going to be tough. Nicole says Hayden and Cody both volunteered to be have nots.
Frankie – I was vegan for 3 months I'm pretty sure I can survive slop"
Nicole do you think your hands are going to be fine
Frankie – they are working on it..
Frankie says the cold shower will be hard for him that is usually when he has an Attack they might just up his medication for the week "Which will suck"
Franke – I have a documented medical disorder it's not like DOnny .. OH my SHoulder "
Frankie – My circulatory medicine improves my circulation EVERYWHERE that is why it's been particularly challenging (he gets a boner)
Nicole – that would be awful
Frankie wonders how it is for people that work regular jobs going back to them after something like this.
Nicole says she's just an ordinary person she's going to be super happy just being a nurse.
With a live feed subscription you can go back and watch any event that has been shown. Use out site as a index and watch only the parts worth watching.
Try It Free! Subscribe now to the official BB16 Live Feeds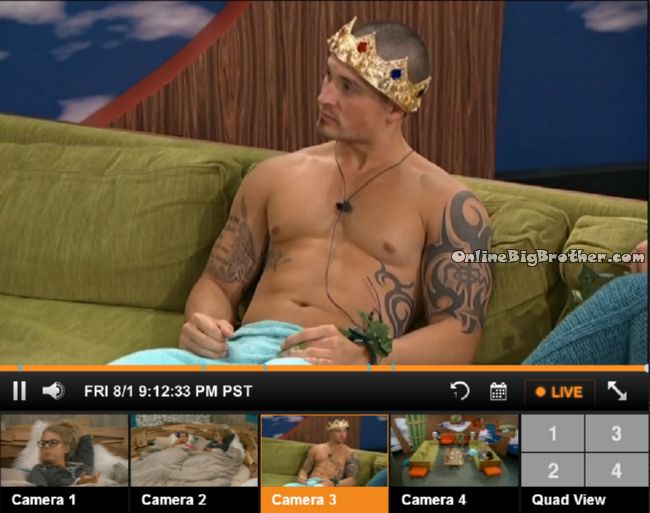 9:13pm Living room Donny, Victoria and Donny
Donny think they should have given them a rubber snake and apple. Caleb telling them that Women have pain during pregnancy because of the sins of Adam and eve. Donny and Victoria are agreeing with him
9:38pm Living room Donny, Derrick, Caleb and Nicole
Caleb asks her if Mariah will like him with his hair like that
9:38pm Cody and Derrick
Cody – I'm so beyond sketched out with Frankie.. he went to Hayden and Nicole to link up with them
Derrick has been sketched for awhile.
Cody says they have to make up a name so Nicole gets excited about it.(Hayden, Nicole, Derrick and Cody alliance)
Derrick says they got lucky with Hayden if he wasn't there bro they would be the ones going up this week.
Nicole comes up
Cody – how long until Frankie comes up here.
Nicole says Frankie told her he would use the veto on Zach.
Nicole – He wants me to pick him as houseguests choice,.. NEVER
Nicole says Frankie is trying to persuade her to put DOnny up.. basically he's telling me..umm.. He's showing his cards way too much now
Cody he's more paranoid than Amber
Nicole – way paranoid..
Nicole says the worst case scenario is if Frankie takes down zach
Cody and Derrick tell her they will not use the veto unless she wants to backdoor someone
Nicole We only need four votes.. "
Derrick – Zach could win the veto
Nicole – that won't be as bad as Frankie winning the veto.
Nicole – Frankie wants Jocasta to go home.. I don't want to waste my HOH
Cody says Frankie was pushing him heavy to put Brittany up explains that Frankie always pressures the HOH to put up the people he wants gone
THey all agree Frankie talks to everyone and tries to work with everybody but isn't sincere with his deals. Nicole says he wanted to work with her and now she finds out he was throwing her name out there.
Nicole mentions how sketchy it was Zach and Frankie got called out for using production as strategy
Cody – I said last week I would love to back door Frankie "
Nicole can you protect me from Zach next week if it's double eviction
Cody and Derrick agree to .
Nicole wants Zach and Frankie on the block so one of them is guaranteed to be evicted
Derrick proposes they pull Zach down they have his vote and Zach won't be mad.
Nicole – I don't want Frankie and Jcoasta sitting beside each other .. what if they both stay.. it would be horrible .
They agree best case scenario is if DOnny gets pulled to play in the POV and uses it on JOcasta.
Nicole wants to come up with a "Cool name" for their new alliance.
Derrick – Have you ever seen that movie 3 men and a baby.. how about 3 men and a lady (Three Men and a Baby/Three Men and a Little Lady
)
Nicole likes it but thinks it's a big long.
Cody – Wolf pack… like the four people in that movie hangover
Nicole – it's so generic though ..
Cody – you're the queen wolf
Derrick – we're your cubs
Nicole – no
Derrick – how about the quad squad..
Cody – QUAD SQUAD.. dude that is so cool
Nicole – that's perfect thanks .. what's up with the word squad..
Cody – I always thought goon squad coming in here.. obviously with Nicole here I wouldn't call us the Goons
Nicole- I wouldn't' care.
Nicole tells them she wants anybody but Frankie playing in the competition. Derrick says if he
The guys agree Jocasta could winning it tomorrow you never know
Nicole says she could cry right now she's so happy that she' just made an alliance in the HOH room. they hug it out (LOL)
Nicole says Christine and Frankie are super close she's already trying to persuade her to protect Frankie, There was three things that happened between her and I that sketched me out.
Derrick warns her not to tell Christine about getting rid of Frankie because it it doesn't work out and he wins HOH..
Nicole would never tell Cristine that.