POV Holder:
Chrsitne
Next POV
Aug 2nd
POV Used
NO
POV Ceremony
Aug 4th
HOH Winner 1:
Donny
HOH Winner 2:
Nicole
Battle of the Block Winner
 Caleb/Victoria
Next HOH/ Next BOB
Aug 7/Aug 8
Original Nominations:
Donny's Noms (Victoria & Caleb) Nicole's Noms (Zach & Jocasta)
Final Nominations:
Zach & Jocasta
Have Nots
Frankie, Cody and Hayden
POV Players
Nicole, Christine, Jocasta, ZachAttack, Caleb, Victoria,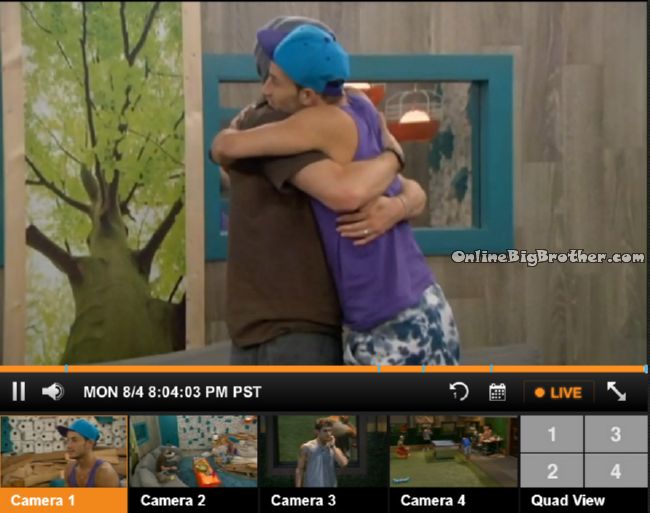 7:19pm Frankie and Derrick HOH
Frankie – We have to be clever moving Forward like Hayden hasn't picked a side yet
Frankie It's coming that we have to choose sides..
Derrick says Donny doesn't care about them
Frankie agrees asks him if he won HOH would he put Donny up. Derrick says he wouldn't he would look like an a$$hole
Derrick wants to call another group meeting, "it looks like you feel there is some dissension in the detonators"
Frankie does
Derrick – "You feel that there some more ulterior motives going gone
Derrick start beating the Team America war drum saying he's only focusing on the team america week to week because that is guaranteed money.
Frankie – I feel that Cody doesn't trust me with new information
Derrick asks him if he's ever said something negative about cody that may have gotten back to him.
Frankie told someone that Frankie and Zach are Super close
Derrick says They need Zach right now for their own game and Team America.
Frankie is concerned about HAyden, he thinks he's very close with Nicole "None of us have him"
Frankie brings up Donny and Hayden are working together, Zach told him that Donny asked him for an alliance with Hayden
Derrick – Cody doesn't know how close we are.. with team America and that grandfather thing we have a genuine bond. Derrick – Would you be opposed with me going to Cody and asking him what he thinks about the Detonators and Frankie.. maybe there is something there that he is sacred to talk about or maybe there is something you are scared to talk about it.. lets squash this.
Derrick wants to be the mediator
Frankie would rather talk to Cody directly.
Derrick asks him if they really need to keep Zach.
Frankie says he trusts Zach
Derrick – we'll keep Zach
Frankie asks him about the final 3 with Cody and Zach. Derrick denies it was serious Zach came to them at 4 in the morning while they were playing pool with Cody. The name was LTA Los tres amigos, "Zach was the sole person that initiated it we only really talked about it for the first couple days"
Derrick – You knew about that why didn't you come to me
Frankie – I just did come to you.. it's just been bothering me with Cody
Frankie – Do you still want to get to final 5 with the detonators
Derrick – Do we have any other choice.. what other choice do we have
Frankie we don't
Derrick is trying to highlight the reason they should get rid of Zach.
Frankie says that Zach has created the 3 and the 2 in the detonators.
Derrick proposes Cody, Frankie and Derrick solidify something go to final 3.
Derrick says Zach is playing Frankie he's putting a wedge in between Frankie and Cody. Frankie sees that now.
Derrick – I plan on going to the end with you
Frankie – I am to
Derrick propose they get rid of Zach this week they still have 5 because even though Caleb isn't in the detonators he's still part of the bomb squad. Derrick adds that once Zach is gone the 5 will be stronger than ever Cody and Frankie will be back close.
Derrick – We get rid of a guy that's trying to f*** you possibly from what you are telling me.. but that's your call
Derrick – What's your heart saying right now
Frankie – you are 100% correct
With a live feed subscription you can go back and watch any event that has been shown. Use our site as an index and watch only the parts worth watching.
Try It Free! Subscribe now to the official BB16 Live Feeds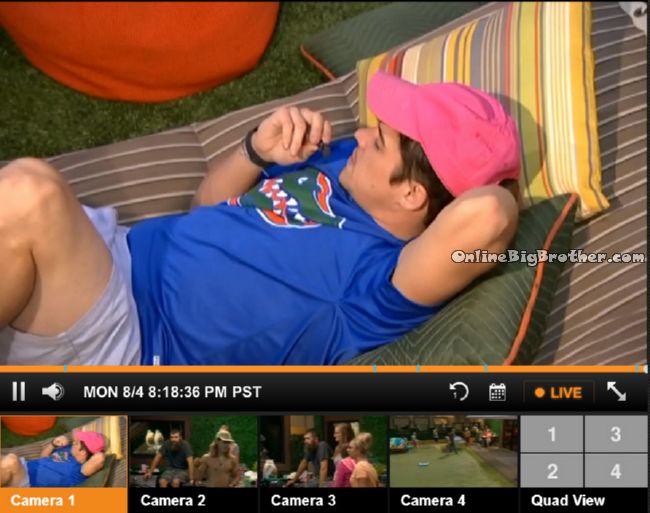 8:18pm Zach in the hammock talking into his microphone
"This is the Zach attack Big Brother report Frankie is shitting green from the peas, Derrick is going around looking for matching socks, Hayden and Cody are playing pool , Cody is on his third game in a row, Nicole is getting drunk from 1/2 a glass of wine, Caleb is working out, frankie is getting big, everyone in the big brother house is in a chirpy mood.

8:30pm Couch (A bunch of houseguests just Chit chat)
Hayden is pretending to be hitting on Victoria at a party. Zach says hadn't Hayden made out with 4 girls in one night.
Hayden – I definitely have made out with three not sure about 4
Hayden saying he had three new years eve kisses in night. Everyone laughing asking him how he pulled that off, Donny – Did you turn back you clock"
Zach – Were they smoked bombs
Hayden – nah
Zach – were they grenades
Hayden – nah
Zach says he made out with 10 girls before 8th grade, "I made out with a girl frist day 6th grade.. tonsil hockey.. We made out for 10 minutes it was sick I was 12 years old"
Zach mentions how Victoria beats them all
Christine – Ya making out when you were 8
Zach – what was it like.. you were still in diapers
Victoria jokes – Magical
everyone laughs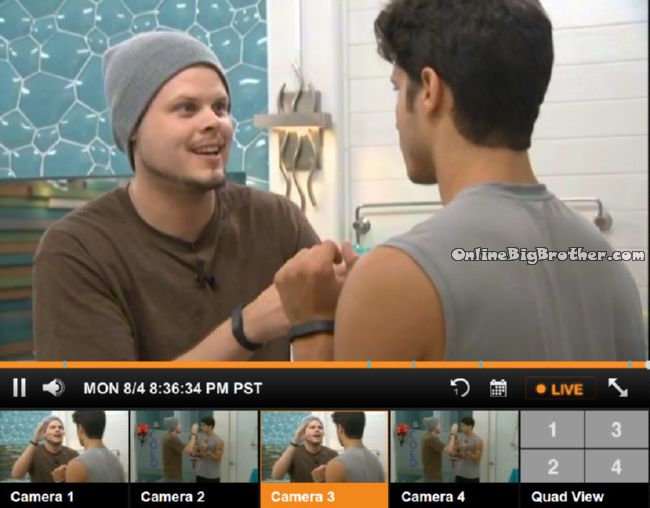 8:26pm Derrick and Cody Bathroom
Derrick brings up his conversation with Frankie, "Dude it was a perfect conversation"
Derick explains Zach has been playing all of them and it just came out to Frankie. Zach told Frankie about LTA trying to keep Frankie against Derrick and Cody. That is why Frankie has been acting the way he was. Derrick says everything is cool with him. Frankie is going to come talk Cody and clear things up. Frankie now knows Zach is messing up his game he's going to vote out Zach. "Zach is going home this week we're saving face with Detonators and Nicole"
Derrick goes up to the HOH tells NIcole "Frankie is contemplating getting rid of Zach this week"
Derrick fills Nicole in on some of his conversation with Frankie.. They are both happy because now they don't have to reveal their numbers.Nicole says Christine is working her magic on Frankie.
Nicole – We're the rationale we're behind everything
Nicole says this is how it works . You see it unfold on TV sometimes and are like "How does that happen"
Derrick says he's going to keep playing Frankie so don't think if something is up with i'm talking
Nicole says Frankie has to go soon. Derrick agrees.
Nicole trusts Christine a little bit more now that she' didn't use the veto but what Christine told her about Hayden making out with Victoria it sketches her out.