POV Holder:
Chrsitne
Next POV
Aug 2nd
POV Used
?
POV Ceremony
Aug 4th
HOH Winner 1:
Donny
HOH Winner 2:
Nicole
Battle of the Block Winner
 Caleb/Victoria
Next HOH/ Next BOB
Aug 7/Aug 8
Original Nominations:
Donny's Noms (Victoria & Caleb) Nicole's Noms (Zach & Jocasta)
Final Nominations:
?
Have Nots
Frankie, Cody and Hayden
POV Players
Nicole, Christine, Jocasta, ZachAttack, Caleb, Victoria,
Summary of events:
Amber is voted out by a vote of 9-0
Nicole and Donny win the HOH, Donny nominates Beastmode and Victoria, Nicole nominates ZachATTACK and Jocasta
Battle of the Block commences Beastmode and Victoria win however they get a punishment turning them into Beastmode Adam and Princes Eve
Donny is dethroned Nicole promoted to week long HOH she forms an alliance with  Hayden, Derrick, Cody called the Rationales
POV players are picked Nicole, Christine, Jocasta, ZachAttack, Caleb, Victoria,
The target is either Frankie or Zach but preferable Frankie.
Derrick and Cody get hit with some paranoia and start thinking they should stick with the detonators..
Christine tells Nicole a bunch of sh1t about Hayden loving Victoria.. Nicole knows this is a lie and is furious
10:30pm
Christine Wins the POV
Everyone collected around the kitchen talking about the competition.
Derrick says they will not be getting the BAckyard tonight because the competition was very elaborate.
Jocasta didn't come in last
Victoria "Blew d!ck" (According to Zach)
Competition was comic theme with houseguest as superheroes.
Zach's had "saving little broskis from danger everywhere"
Donny's had fear the beard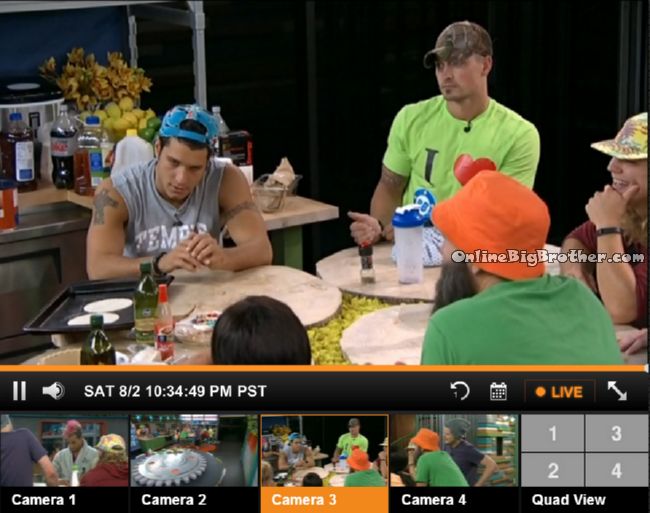 Donny collects COmic books he's got several thousands, "My oldest brother has one of the first Supermans that came out.. he's got one that is over double digits"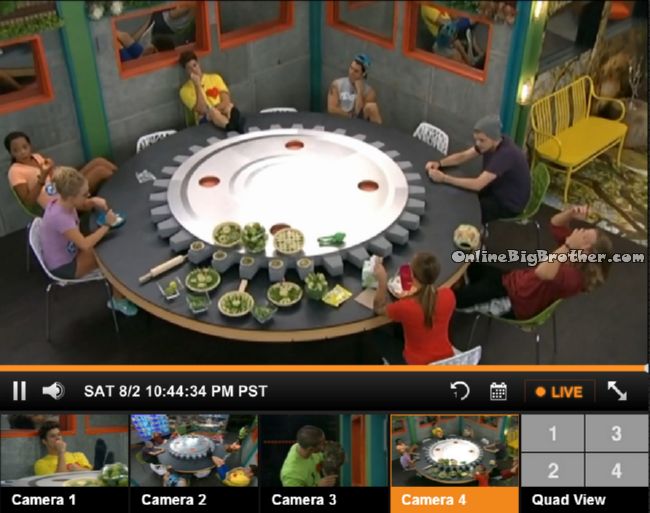 10:45pm Frankie is trying to make split pea hummus offers the make fish for everyone.
10:48pm Caleb and Derrick
Claeb says the leaves on his costume are scratching teh4 sh1t out of his leges.
11:03pm Storage room Nicole and Christine
THey hug CHristine says she did a great job. They agree to talk later "HAve a date"
11:15pm Bathroom Zach, Derrick and Cody
Derrick tell im he has to know go suck up to Christine kiss her a$$
Zach – WE'll at least I have a good speech prepared.. I added another verse to it.. It's EPIC..
"Roses are red violets are blue Nicole is my target I'm, coming for you"
"houseguest I'm begging please give me another chance if you want to follow me on twitter or instagram is rancy pants.
"I love all so much you and I am so grateful maybe I'll change my ways and not be so hateful"
"You all made it to jury you're on the right track fans at home hashtag zachattack"
"this ceremony is important the wrong choice might Cost ya if you head to the diary room vote to evict JOCASTA"
Zach – Do you think Nicole is going to get hyer to use it
Derrick – no
Zach – we're golden..
Derrick and Cody advice Zach goes up to Nicole and makes peace tell her he never intended on putting her up he's just making good TV.
Cody groans says he has to sleep on a rock all week
Zach – would you rather lay on a rock or be on the block


11:25pm HOH Frankie, Christine and Nicole
Frankie says Zach defeated himself during the POV. They talk about Zach throwing something at the camera and potentially damaging it.
Christine – Jocasta got third place
1st Christine
2nd Nicole
3rd JOcasta
4th Caleb
5th Zach
6th Victoria
With a live feed subscription you can go back and watch any event that has been shown.
Use our site as an index and watch only the parts worth watching.
Try It Free! Subscribe now to the official BB16 Live Feeds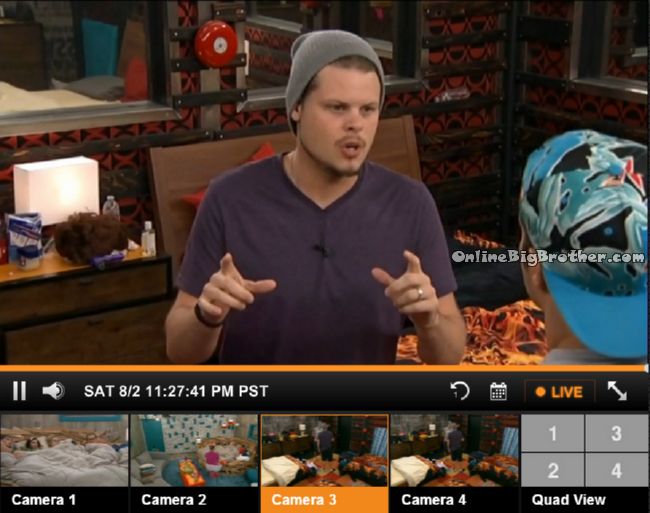 11:28pm FIREROOM Cody and Derrick
Cody – If CHristine uses the veto I'm calling her out
Derrick says if Christie doesn't use it they can work with her.
Derrick – We gotta keep Zack here.. right.. Can we afford to lose Zach..
Cody – I don't know
Derrick – we gotta come up with something by Monday
Frankie and Christine are working together they
Derrick – If we flip now and work with HAyden and Nicole we lose the numbers.. we're at the bottom of the totem poll because they have donny.
Derrick says they will continue working with Christine and frankie but ":Yank" them first
COdy – My nominations will be DOnny and Frankie and if POV is played I'm putting up CHristen
I'm not going to sit back and wait until they stab me in the back..
Cody point out Frankie and CHristine ran up stairs
Derrick says it looks bad
Cody – Donny lives Nicole
They both doubt Donny and Frankie
Derric – I'm going to get really close with Frankie these next couple days..
Cody – I really don't like this Frankie and Christine thing
Derric – same.. what is Frankie sn Christine's plan right now
Cody – Get us right now.. Frankie thinks he has Zach i'm going to blow that out of the water tonight..
Derrick says what is good for them right now is Caleb.
Derrick mentions that hayden is close to Victoria this week not because he likes her but because they are trying to rally the numbers.
Cody Christine plays this game scared as f**
Christine and Frankie join them Christine says she's not using the Veto. Nicole's going to have to chance her target.
Christine – "I have to convince her it's OK if Zach stays"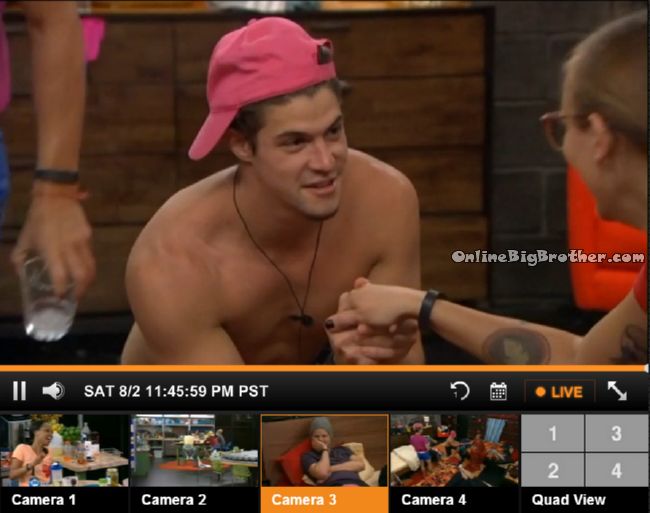 11:47pm Zach does the speeches for CHristine
Christine says the vote will; be 7-1 Jocasta to evict.

Back to Cuddling
12:30AM Kitchen
Chit chat.. P$nis talk..
Cody – #meatstick.. #packingheat
Hayden tried on Derrick's grey pants he wants to find out if his bulge is more revealing. Apparently Derrick was wearing the pants and his unit was showing through them.
They continue to talk about who's seen whose unit.
12:45AM Frankie and Derrick
Talking about Keeping Zach they need him for Team America missions.
Cody and Hayden juggling with the limes. Caleb starts flipping between one or two hands. in the kitchen Frankie ans Derrick watching from the Living room. Frankie says Caleb is good at everything but winning competitions.
12:57AM Back to Cuddling
Alliances
Quad Squad = Nicole, Derrick, Hayden and Cody
Zankie = Frankie/Zach
The Detonators = Derrick, Frankie, Zach, Christine, Cody
"The HITMEN" – Cody & Derrick
Trilogy = Nicole, Christine & Hayden
Team America = Donny, Derrick, Frankie
Old timers = Jocasta/Donny
Nicotine = Christine/Nicole
bottomfeeders = Derrick and Nicole
More polls here https://www.onlinebigbrother.com/big-brother-compendium/big-brother-16-polls/
[polldaddy poll=8220599]