POV Holder:
?
Next POV
Aug 2nd
POV Used
?
POV Ceremony
Aug 4TH
HOH Winner 1:
Donny
HOH Winner 2:
Nicole
Battle of the Block Winner
 ?
Next HOH/ Next BOB
Aug 8/Aug 1
Original Nominations:
?
Final Nominations:
?
Have Nots
?
POV Players
?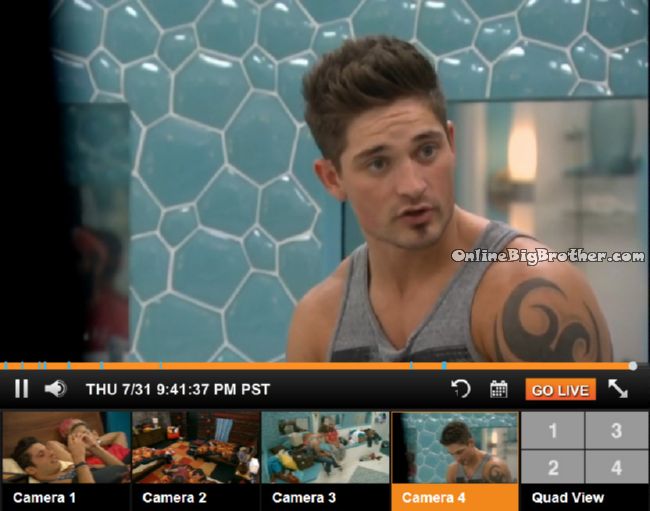 9:40pm Caleb and Donny Bathroom
Caleb says the only reason he put the Donny up week one when he was HOH was because Donny was the first on our in the HOH competition. "It was all Devin being suspicious of you"
Caleb – TEchnically you're HOH you are goign to do what you want to do.. At the end of the day i'm willing to make a deal with people.. I'm very capable to win competition and I think we all know that.. I'm a target in this house"
Caleb says if you give someone like him two chance to pull himself off he might be able to do it.
Caleb – So the feeling of being Backdoored could happen and I wouldn't like that at all. because then i'm in trouble
Donny – that is a bad feeling
Caleb ya at the end of the day …
Donny interrupts say Caleb's been on the block before it's not a good feeling
Caleb – you feel helpless..
Says he understand why Donny used the POV on jocasta she's the most hopeless person in the house. He feels there's people in this house that do not deserve to be in the game.
Caleb – Honest truth I put you up week one with POW because you fell off first"
Donny says he fell seconds before DEvin and Cody
Donny – you could have done what Frankie did and put up the first two that fell down"
Caleb – I wanted to put up one girl and one guy"
Caleb understand if Donny puts him up.
"At the end of the day if it does help if you don't nominate me I want nominate you and if you do get nominate by someone else and I win the Veto i'll use it on you.. if I gotta make a deal with someone.. at the end of the day you gotta do what's best for your game
Donny – whoever I out up there may not be the target. Donny says if a strong player goes up they still get to compete in the Battle of the block and if they win they are completely safe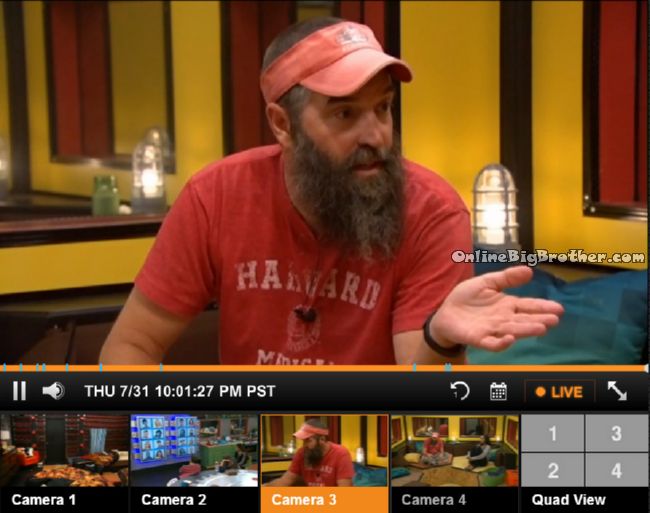 9:57pm BEEHIVE Jocasta and DOnny
Jocasta congratulates him says she's very proud.
Jocasta thinks that Nicole will put her up
Jocasta says Nicole and CHristine talk a lot whatever amber told them they ran over and told Caleb, Cody.
Donny says if Nicole puts up two weak players he'll be forced to put up two big boys to dethrone him.
Jocasta asks him he would put up Zach.
Donny – I wouldn't want someone so verbal coming after me
Jocasta warns him about Frankie he's the best social player and very good at competitions
Donny agrees says his strength to weight ratio is far better than anybody in this house. His dancing makes him flexible
Jocasta says Nicole might put her and Victoria up "It will be last week all over again"
Donny – WE'll see how it shakes down I can only nominate two and she might grab the two I want to"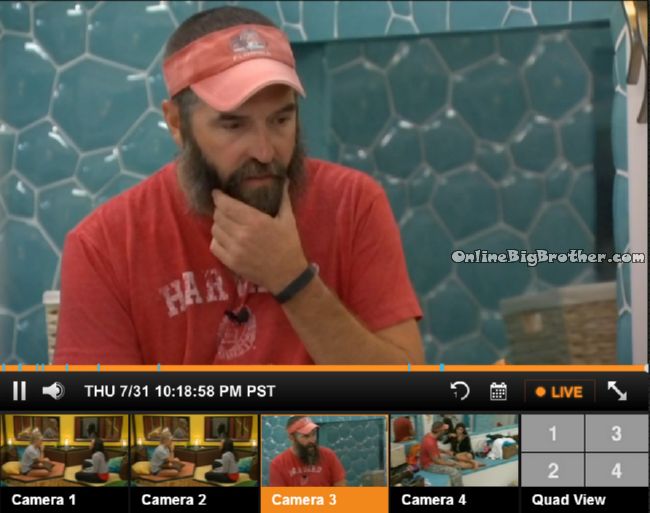 10:16pm Donny and Victoria
He tells her there's always the same people that are going up him her and jocasta .
THis week it's going to be a hard decisions.. The people the other side they claim are weak players theres not enough of them any more.. there will have to be some competitors in the battle on the block.." when it comes to these types of games we're all equal.."
Donny says they people think they are weak players but they are not.
Victoria agrees
Donny says if Nicole goes first she might pick two weak players and it's not going to give him a lot to go with "it's going to suck.. it;s really going to suck '
Victoria says she doesn't have any target but there's people that put her up before.
Donny says Cody and Caleb put him up but he wouldn't want to put two players like that up to compete in the bob.
Donny says the only thing he can promise her is if he gets dethroned he won't vote against Victoria ' THere's other targets in the house.. theres people in this house that underestimate me
Donny – how bad would you hate my guts if I put you beside Caleb
Victoria – Oh my gosh
Donny proposes if she went up with Caleb "He would go home 100%"
Victoria – to go up on the block again the emotions .. i don't know
DOnny says if he puts Caleb up against a big guy they will win the BOB and Victoria might find herself up with JOcasta. If i don't put you up with Caleb she might put you up with JOCasta
Donny – "What if it's hot outside.. look at the board theres not a lot to choose from" (Jocasta cannot handle heat if it's hot outside she'll lose 1 hundo percent)
Donny knows if he hadn't won HOH he would have been nominated.
Donny whispers " I don't want to get you out I want to get Caleb out "
With a live feed subscription you can go back and watch any event that has been shown. Use out site as a index and watch only the parts worth watching.
Try It Free! Subscribe now to the official BB16 Live Feeds
10:35pm Who wants to see my HOH room
Donny got a gilligan hat, journey's greatest hits, pop tarts, sea shells he picked with his girlfriend christine at myrtle beach.
Donny's letter is from his girlfriend christine
Hey DJ Skirl zippy poopie sweetie my love if you are reading this you won HOH you earned it and deserve it everyone is here we are so proud.
your house yard and chicken truck are all in good shape.. bear and jossie miss you they can't wait for belly rubs i still go to the gym a couple days a week and the pool on weekend and neither one is fun without you I get bored and lonely.. watching the fireworks with the dog this week its not the same without you
Been going to Albemale to look for house and visit Mom, Dad and Tommy and getting some home cooked meals.. narrowing down the list of houses, for when you get back.I miss you so much I miss your kisses.. holding you hand, your touch your hugs and your massages with those wonderful hands I miss snuggling with you and lying next to you i miss the way you smell since you've been gone I've realized there is an emptiness in my life. And a void in my heart without you here. You complete me and make me whole. You mean the world to me and i don't ever want to be apart from you ever again
Donny "no more big brother for me"
you are doing a great job over there sending my heart prayers, god be with you thank you for loving me.. love always your biggest fan christine.
Frankie- I want a massage
Nicole's letter is from her friend mariah (Caleb had commented on how hot she is) "She's my soul mate"
Nicole – Young Chipmunk
I want to start off by saying i'm so proud of you.. As for what's goign o in my life still living the dream as a waitress you know how much i love that NOT . also I recently got a boyfriend Oh my god i'm totally kidding
Nicole "I was going to say Mariah not when I'm gone "
I'm totally kidding your not going to buy that for a second but I thought I needed to throw in something exciting. I miss you so much this is by far the longest that we have gone without talking since we've met and it's a struggle. BUt like I said i'm seriously so proud and lucky to have you as my best friend even though I miss you I hope its another couple months before I hear from you. Keep having fun adn kicking buttand makign friends just don't make any friends you like more than my
love you so much
Mariah – young turtle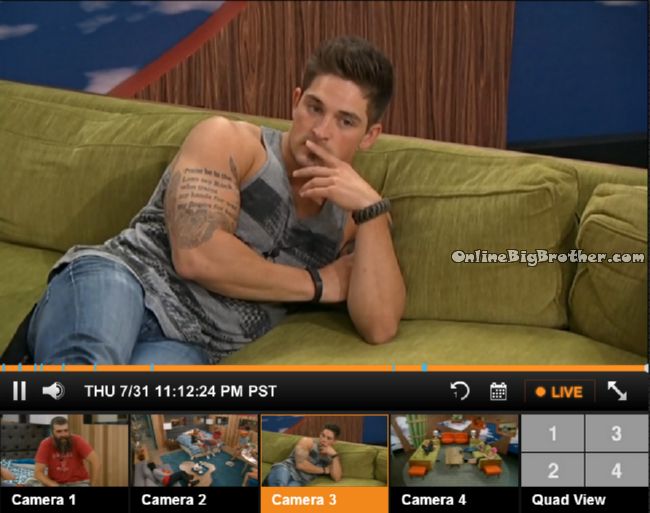 11:12pm Living room Caleb, Zach and Derrick
Caleb says he's going up 95% sure he also thinks Cody will go up because those are the two that nominated Donny.
Zach – there's two people that are going up this week Victoria and Jocasta
Derrick I agree with that, Donny puts up Victoria Nicole Jocasta
Caleb says they are safe they have the votes.
Zach – that's what Amber thought
Derrick says the best scenario if two of them go up it's on opposite ends. then they will be fine.
Cody joins them they agree if Nicole picks noms first and grabs Victoria /Jocasta it will force Donny to put up two strong beasts to make sure he gets dethroned. .
Cody thinks they will split up the strong players.. .one weak one strong. That way Donny gets no blood on his hands.